YES Basic Uninc 2022-2024 Snowboard Review
| | |
| --- | --- |
| Riding Style | All Mountain |
| Riding Level | Intermediate - Expert |
| Fits Boot size (US) | 8-10, 10-12 |
| Manufactured in | Dubai by SWS |
| Shape | True Twin |
| Camber Profile | Hybrid Camber |
| Stance | Centered |
| Approx. Weight | Feels Normal |
| Split | No |
| | |
| --- | --- |
| On Snow Feel | |
| Turn Initiation | |
| Skidded Turns | |
Where To Buy
80% of outdoor sports products are not listed or sold online.
Our team has relationships with hundreds of local snowboarding and outdoor sports shops.
We'll call the shops and email you a list of stores along with pricing and availability.
---
Not sure what to buy?
Get custom advice from Good Ride editors James and Steph.

Get Advice
YES Basic Uninc 2024 - 2022 Review by The Good Ride
The Basic Uninc 2024 has not changed since 2022 so this review still stands. 
Turn Ons/Swipe Right: Excellent Edge Hold, Great Pop, Stable, Twin with Set Back Inserts for powder.
Turn Offs/Swipe Left: Not Much. Limited Sizing. Will probably be gone next season.
Summary
The YES Basic Uninc is a hard gripping, stable poppy twin with a set back insert for powder. It's a very versatile one board quiver, all conditions ride.
Ethics Statement: We don't get paid by the manufacturer to write these reviews and this is our unfiltered opinion. We do make money from the "Where To Buy" links, but this is our best attempt at an honest and objective review from an average riders' perspective.
Yes Basic Uninc Snowboard Review- How it rides and who it is for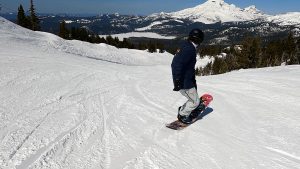 How This Yes Basic Uninc Review Happened:
Borrowed this for an extended demo and sent it back and I liked it so much we asked to keep it (we only do this with our favorites).
Size: 158
Days: 5+ and more to come.
Conditions: Varied spring like conditions.
Riders: James (Size 9, 5'10" 185-190lbs)
Boots: Burton Kendo
Insoles: F.I.T. Gamechangers
Bindings: Union Atlas
Jacket: Burton AK Gore-Tex Pro 3L Tusk Jacket, Volcom TDF Infuse 3L Gore-Tex Jacket, Burton Banshee Gore-Tex Jacket
Pant: Burton AK Gore-Tex Pro 3L Hover Pant, Burton AK Gore-Tex 2L Swash Pant, Burton Gore-Tex Ballast Pant
Helmet: Smith Maze, Smith Vantage
Goggle: Smith IO Mag, Smith 4D Mag
Gloves: Burton AK Guide Glove, Burton AK Clutch Mitt, Burton AK Clutch Glove, Burton AK Tech Leather Glove, Burton AK Tech Glove, CG Habitats Glove, CG Habitats Work Glove, Drop Tahoma Mitt, Drop Cascade Glove, Drop Web Glove,
Similar Boards (but not the same): Korua Otto, Lib Tech Terrain Wrecker, Capita Mercury,YES NSB, Endeavor Pioneer, Jones Mountain Twin, Endeavor Ranger, K2 Manifest, Yes Typo, Jones Frontier, Ride Algorythm, Ride Wild Life, Yes Basic,
Set-Up: 21.5" Wide. 15 front -15 back. Centered.
Approximate Weight:
The YES Basic Uninc feels pretty middle ground.  (We don't put in the exact weight because with wood cores there is no consistency in a boards weight)
Sizing
Here are some ideal US boot sizes for these YES Basic Uninc boards. You can of course go bigger or smaller but these work best for not turning the board slower than it should be and not having the dreaded Toe & Heel Drag.
149: 7-8
152: 7.5-8
158: 8.5-9.5
156w: 10-10.5
Shape/Camber/On Snow Feel/Ability Level
The YES Basic Uninc is a true twin so it feels very much like a centered mountain freestyle ride. The camber is a little more than most YES boards while still not being as much as their modern camber. It is stable bordering on the side being semi-locked in but can still skid turns well enough for intermediates. This is very much like the Globe NSB from 2020 only with more exaggerated camber as well as rocker. It is very consistent underfoot in all conditions you ride. It is a one footing and flat basing champ.

Flex Personality/Pop/Buttering/Dampness
Yes has a very rubbery flex that doesn't always pop as hard as some of its peers. The YES Basic Uninc still has that rubbery personality but a lot more pop than most YES boards. It is really fun to ollie but can still butter much easier on snow than you would think. This flex can get a little chattery in the tip/tail but it never gets cranky or unmanageable in varied terrain. It is a great all day ride.
Speed/Base Glid
The YES Basic Uninc Fast but not super fast base. It's a little behind the Jones Mountain Twin but no slouch by any means when well waxed. You can go well above moderate mountain speed if you need to point it too without the board falling apart.
Edge Hold
There is really impressive grip and the YES Basic Uninc can hold in hard to icy snow with the best of them.
Turn Initiation
Fast but not twitchy. You have a pretty narrow board compared to many modern shapes with a pretty turny sidecut. I love how this transitions from edge to edge.
Turning Experience/Carving
When you commit to a turn the YES Basic Uninc has a lot of spring out of it and it can competently turn just about any radius you are into. It doesn't seem like a lot of extra camber in comparison to other camrock boards in YES's line but you really feel it on snow. It leans a little more towards across the groomer carves but can easily do long drawn out down the line s-turns.
Powder
So with a 22.5" stance width you can get 2.25" back on center of board with these set back inserts. You just need full sized discs so you can use these. If you have mini discs (except Rome's) you can't use them and essentially have a twin. Combine this with the decent rocker and you have a pretty easy floater for what this board is. The Standard is a touch better here but I prefer the extra pop/camber/faster turn so I'm ok with a touch less float.
Switch/Pipe/Jumps
The YES Basic Uninc goes either way just like a double ender should. It also is one of my first choices for pipe riding. Jibbing isn't the strong point here but this can hit some big kickers. It doesn't hate small air either though and actually really shined there for yours truly.
Conclusion
So get this and get it quick if it calls to you. It will probably be gone next season and next season will probably have a different offering. I love this board. It is like the Yes Globe NSB 2020 only with a little more camber and a little higher rocker after. The Globe NSB had better graphics for an older guy but the Basic Uninc has a better/poppier ride. I had an Uninc Back in the day and loved it. This has evolved a ton since the 2000's and kept up well with the times.
YES Basic Uninc User Reviews
YES Basic Uninc 2022-2024 Snowboard Review
SKU
UPC
Model
YES basic uninc 2022
Feb 26, 2022
by
Edoardo
Ability Level: Advanced •
Riding Style: All mountain freestyle •
Days You Ride A Year: 10 •
Height, Weight And Boot Size (for Boards, Boots & Bindings): 172 cm, 74 kg, 8.5
I got the YES basic uninc in the 156W size paired with union Falcor bindings

I had a chance to test the board in a a spring kind of snow day, meaning that in the morning the groomers were decent, but from mid day to the afternoon it was sort of mushy.

The board: I feel the difference vs the Rossi one Lf in two areas mainly:

the pop and camber rebound and the fact that is a true twin; pop makes the board feel live and giving you back what you put in, though at the price of good coordination expecially when doing cross under carves. If you leverage the pop of the board it comes back underneat you effortlessly, but if you mess it up with coordination it returns not in timing with your action. On longher radius carves, the board push towards a more spring out of the turn, so a bit of different style vs the one, something to get used to again (the burton cusom X was similar). Going switch is really the same of going regular and you truly feel that the only difference is you and the body posture difference between the two sides, no excuse now it is you...but this is what I was looking for and is somehow educating you to ride the same...after two days on the board I already do quite ride the same but on the steapest sections. On carving larger turns i feel the board would like to get a smaller arc and get some skid into fore and aft sidecut (7.5 ish m radius), probably just a feeling and the snow was not the good one for such test, and by the way and no mean I am a tester.

The grip of the sidecut is wonder, probably better than the one Lf, very grippy also on blu ice.

On the bindings Union Falcor:

these have been surprising, very well made, the quality is very nice and the design too; if I crank the ankle strap expecially on the right side I feel a pressure point I did not have with the Burton Missions. They feel stiff on the highback, though sideways (tail to front of board) they are quite loose, and these surprised me and challenged since I felt lack of support I didn't expect from such bindings. Expecially on that mushy snow, the board was force to sudden stops or decelerations and my body was pushed on the front of the board and couldn't leverage on the bindings to avoid that.

Probably something I need to get used to and will pay off when trying some butters or freestyle moves letting me getting more easily on the tail or front of the board.

I believe we need to get used to equipment within a limit and not viceversa, since equipment evolves and we need to evolve too, I don't have a chance to ride so many days a year as you guys do so for me is not a continuous pattern on equipment, but a sort of pulse one. I need for sure to ride this combo a bit more to have a better feeling and in better snow conditions...will see. So far I am very pleased with the investment.

---
High hopes
Nov 04, 2021
by
Tim
Ability Level: Advanced •
Riding Style: All mountain •
Days You Ride A Year: 30+ •
Height, Weight And Boot Size (for Boards, Boots & Bindings): 6ft, 175lbs 11-11.5us boot
Had high hopes for this. I spent about 10 days on it trying to like it. 156 wide. I was expecting a lively nice carving board with superior edge hold. I found it lacking in energy l, slow edge to edge and didn't grip too well which is strange because I have other boards with same disrupted side cut( optimistic, hybrid dcp) maybe I had a dud. Anyway I sold and went back to my asymulator and bought mega merc.

---
If you can't buy through the links above, you can support the site with: