Drop Web Snowboard Glove Review
Drop Web 2021 Review by The Good Ride
Drop Web Snowboard Glove Video Review
0:00 – Intro, 0:11 – Summary, 0:43 – Fit/Dexterity, 1:16 – Nose Wipes, 1:37 – Construction, 2:02 – Warmth, 2:28 – Conclusion
The Drop Web Glove is tough to get on/off but it has amazing dexterity, is well made, and over time conforms perfectly to your hand.
The Drop Web Glove Review- How it fits and who it is for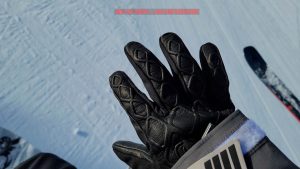 James' Glove Specs
Medium with Most Large with some
Wrist to Middle Finger: 19 cm
Circumference around Knuckles: 22.5 cm
Fit/Dexterity
There is a very tight fit and it really conforms to your hand/fingers. It makes for a very dexterious glove.
On & Off
If you have wet hands it is hard to get the Drop Web on and off. I wish there was a wider opening with a large tab to get this on and off easier.
Nose Wipes
The Nose wipes aren't the softest but sure do hold a lot of your nasty nose juice.
Construction
Like all Drop gloves this is really well made. It can easily handle a 100 day season if you treat them well.
Warmth
This is warm for a thin glove like this but not warm in the grand scheme of things. It is best for people who prefer dexterity over warmth. I found it good in the mid 20's up.
Waterproofing
Gore-Tex does it all and even though the glove is tight, the rain I was in one day didn't soak through the membrane.
Conclusion
The Drop Web Glove isn't an easy glove to recommend to everyone. It is marketed as a park glove but the Tahoma Mitt and Cascade glove can do that as well. If you want a really tight fitting dexterous glove then you get the Drop Web. I personally really like this glove and haven't felt a glove fit like this since the long discontinued Yeti Glove. It is just hard to recommend as a daily driver. It is a little easier though to recommend as a quiver glove.
Where To Buy
80% of outdoor sports products are not listed or sold online.
Our team has relationships with hundreds of local snowboarding and outdoor sports shops.
We'll call the shops and email you a list of stores along with pricing and availability.
---
Not sure what to buy?
Get custom advice from Good Ride editors James and Steph.

Get Advice
If you can't buy through the links above, you can support the site with: