Women's Best Powder, Freeride, and Alternative Freeride Boards For 2021
Women's Best Powder, Freeride, and Alternative Freeride Boards For 2021
Who Are We
We have ridden over 800 different men's and women's snowboards but we are far from being pro's. The Good Ride represents the voice of the average rider and we do our best to present honest and objective reviews. After extensive testing in lots of conditions these are the boards we call our favorites and want to have in our personal quiver. Here's a look at the top women's powder, freeride, and alternative freeride boards for the 2021 season.
Ethics Statement: We do make money from the "Where To Buy" links, but this is our best attempt at an honest and objective review from an average riders' perspective. We don't get paid by the manufacturer to write these reviews. We get these boards under the condition we are allowed to express our unaltered opinion.
Powder
What A Powder Snowboard Is To Us
These are boards that are by far the best in powder. Sure, some can ride on groomers but they really shine in powder. If you want a board that can turn really well to check out our Alternative Freeride Favorites.
Jones Mind Expander – Powder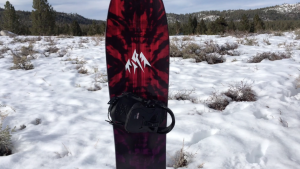 This board was instantly one of my favorites. It took almost no time for me to figure out its personality and start playing on every little stash I could find. It has a pretty aggressive rocker and a huge nose so floating on the Mind Expander is no problem. The nose stays well above the powder when riding deep snow, and the tail kind of sinks down. It is so quick to turn and maneuver so it does great off piste through trees and other obstacles. The Mind Expander has some sidecut disruption as well, so if you hit a weird icy, scraped off patch you won't loose your edge like most full rocker boards tend to do. This board is mainly a powder board, but I had a lot of fun riding this in soft groomers too. It inspires you to look through different lenses while riding, at least that's what it did for me.
Check the Jones Mind Expander Review here: Full Review

Help the Team Thrive and shop for it here: Evo, Moosejaw, The House

Yes 420 – Powder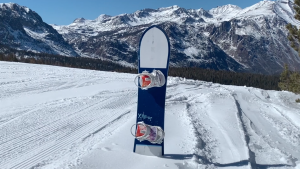 The Yes 420 is the cutest little powder rocker board I've ever ridden. (yes I called it cute) It has a wider waist width and mostly rocker throughout that really lets you stay on top of the snow. It relies on surface area instead of length to float in powder so you are able to size down considerably from you normal board size. This makes it really fun to make quick turns, and a lot of fun through trees and other off piste obstacles too. The edge hold is for softer snow, so I won't be great if you see a lot of scraped off or blown off areas on a powder day. It prefers powder and soft groomers. Paige and I both just instantly started having fun on the little 420.
Check the Yes 420 Review here: Full Review

Help the Team Thrive and shop for it here: Evo

Freeride
What A Freeride Board Is To Us
Freeride boards take it a step more directional than an All Mountain Board. These boards have more set back on board and start to have a little to a decent amount of taper in the tail. They might need a little more weight on the back leg on groomers but often have less rear leg burn in powder. They are really good in groomers but also do better in powder than an all mountain board would. Some even kill it there.
Jones Flagship – Freeride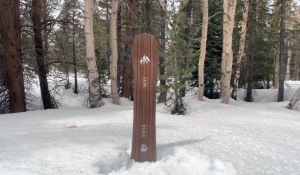 The Jones Flagship is a get down to business freeride board that really rides great in powder, and loves to carve some big open turns on groomers too. I enjoyed the Flagship the most on more solid smooth terrain. It is a great board to start the day with when the groomers are fresh, and the powder is deep. Once the snow starts getting chopped up and bumpy the Flagship sometimes takes on a mind of its own. It is tapered, directional, and has camber underfoot going to rocker on the nose and tail. If your priority is riding fast, carving turns, and plowing through powder, that is where the Flagship wants to be.
Check the Jones Flagship Review here: Full Review

Help the Team Thrive and shop for it here: Evo, REI

Lib Tech Dynamiss – Freeride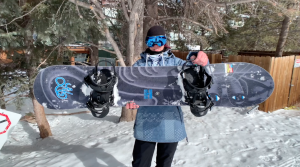 The Lib Tech Dynamiss is tapered, directional, and very quick to turn. It comes with Lib's C3 camber profile, which is mellow rocker between the feet and camber outside/under the feet. This mix helps the board to feel very nimble, while still giving it a lot of control and connection to the snow. Thea and I were instantly at home on this board. The Dynamiss looks like it will be a bit more aggressive feeling at first glace. Which, it can be. But it comes with that chargy attitude without trying to punish you at the same time. So it is easy enough for an intermediate rider to figure out, but has the capability to be enough of a board for advanced to expert riders. It has great edge hold on ice, can carve up a storm, and can float in powder too.
Check the Lib Tech Dynamiss Review here: Full Review 
Help the Team Thrive and shop for it here: Evo, Moosejaw, The House
Best Alternative Freeride
GentemStick Mermaid – Alternative Freeride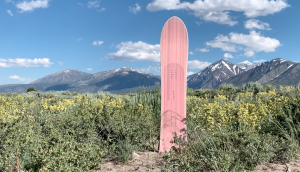 The GentemStick Mermaid is a very directional alternative freeride board that has this care free cruisy personality. It brings a turny feel that is somewhat slow motion and allows you to really enjoy the mountain in a different way. It comes with Gentem's acceleration camber that when weighted, lifts the nose out of the snow. This makes it great for powder, but also made the board feel a lot smaller than it actually was for me. To get the full effect of the Mermaid, GentemStick suggests you set the bindings up posi – posi. So it is a little different than your average board, but it is worth it to push outside of your comfort zone and try it with the positive stance angles. There is no rushing the Mermaid through life, the Gentemstick Mermaid will take its own path down the mountain and allows you to fully take advantage of every nook and cranny you come across in a unique way.
Check the GentemStick Mermaid Review here: Full Review

Help the Team Thrive and shop for it here: Evo 
Endeavor Archetype – Alternative Freeride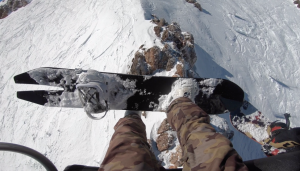 The Archetype rides way different than it looks. To me the Archetype portrayed itself as the classic swallow-tail powder/freeride board. But the first run I took on it threw all of that out the window. You don't even know you are riding a super directional swallow-tail board on groomers.
It comes with a directional camber that creates a very connected ride on groomers and harder snow. You can ride all mountain on it, and carve turns pretty hard with the amount of energy you get from the set back camber. But when the snow falls, the directional ride and the swallow tail kick in, giving you a decent powder board that still has the energy of a positive camber snowboard.
Check the Endeavor Archetype Review here: Full Review

Help the Team Thrive and shop for it here: Evo
What An Alternative Freeride Board Is To Us
Alternative Freeride Boards are like Freeride boards in the sense that they can ride both groomers and powder equally well but they just come in different shapes. Some are normal length boards but have more taper and/or more of a setback on board. There are some that are surface area shifted so they are meant to be ridden a little shorter and a little wider than you normally would. Others come in a really short/fat package, are more snow-surf oriented, or are super long. The taper can range from a massive amount to only a little. It's a very diverse group of boards.
Jones Hovercraft – Alternative Freeride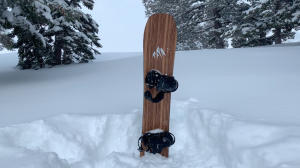 The Jones Hovercraft is a powder loving board that is also great at carving and you can even take it through bumpy terrain and still enjoy yourself. It is so easy to float through deep snow on this board. One time I tried to get it to sink and it just kept trucking through the snow while I did absolutely nothing. That's what won me over. It is a bigger board with a large nose on it so it isn't my favorite in tight trees, but if you have some wide open terrain this board is so much fun to throw some huge slashes on. It makes a great all mountain freeride board as well as a powder board.
Check the Jones Hovercraft Review here: Full Review

Help the Team Thrive and shop for it here: Evo, REI, The House

Honorable Freeride Favorite Mentions
These are some other great options that fit these categories. They almost made our favorites list… but maybe they could be your favorites.
Arbor Veda
The Arbor Veda is the new board from Arbor for us ladies this season. It is directional and tapered with a positive camber profile. It has a freeride personality while still being slightly playful and fun inspiring.
Check the full Arbor Veda Review here: Full Review

Help the Team Thrive and shop for it here: Evo, REI, The House
Burton Stick Shift
The Burton Stick Shift is mainly for powder but it's also not bad for those that also want a fun somewhat slashy approach to groomer riding too. It makes for a directional ride but doesn't make you feel like you have to only ride in that style. It feels comfortable underfoot and inspires you to be creative as well and think outside the box.
Check the full Burton Stick Shift Review here: Full Review

Help the Team Thrive and shop for it here: Evo, Moosejaw, The House
GNU Free Spirit
The Gnu Free Spirit is a pretty wide, aggressive, almost full camber, super set back, surfy freeride board for women. It's all about set back directional riding and riding something a lot wider than you would normally ride.  It's definitely a different take out there than most women's freeride boards out there that a lot might appreciate.
Check the full GNU Free Spirti Review here: Full Review

Help the Team Thrive and shop for it here: Evo