Drop Tahoma Snowboard Mitt Review
Drop Tahoma 2021 Review by The Good Ride
Drop Tahoma Snowboard Mitt Video Review Fast Forward Markers
The Drop Tahoma Mitt is a very warm and well made mitt. It ended up becoming my favorite cold weather choice and it is very recommendable.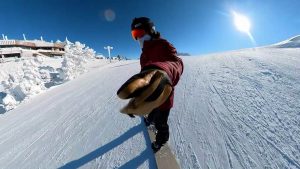 Size Tried: Medium
James' Glove Specs
Medium with Most & Large with some
Wrist to Middle Finger: 19 cm
Circumference around Knuckles: 22.5 cm
Leashes
Love a stretchy leash and the Drop Tahoma Mitt has that. You might have to tie a small knot to make them fit your wrist but it's super easy to do so.
Construction
Excellent construction. These held up well. Especially for a rider who likes to carve. It would take a lot of hand dragging to wear through.
Warmth
The Drop Tahoma is insanely warm. I run warm and this is pretty much all I need for the coldest days at Mt. Bachelor. These were the first Mitt's I reached for when it was cold. You can for sure go warmer but I run warm.
Snot Wipes
Not the softest out there but very absorbent.
Liner
The liner is a little loose in some places in the middle but it doesn't ever come out. It seems well secured at the top by the fingers.
Waterproofing
Gore-Tex is all you have to say. The Leather outer dry's pretty quick and even when it was soaked on the outside the inside was still dry.
Conclusion
The Drop Tahoma was something I wasn't that interested in when I first got it but it ended up being my first choice any time I was riding on a cold day. It is a very warm, well made and comfortable Mitt.
Where To Buy
80% of outdoor sports products are not listed or sold online.
Our team has relationships with hundreds of local snowboarding and outdoor sports shops.
We'll call the shops and email you a list of stores along with pricing and availability.
---
Not sure what to buy?
Get custom advice from Good Ride editors James and Steph.

Get Advice
If you can't buy through the links above, you can support the site with: