The Good Ride 2024 Snowsurf Favorites
Welcome to the The Good Ride's Snowsurf Favorites of 2024
How did these Snowsurf Favorites Make The List
This is no pay to play review like many "Best Of" or "Top" etc lists out there. These Snowsurf Favorite earned their spots by how they ride and through extensive comparisons. I almost never go up with just one board. I'm also an average snowboarder who has ridden about 800 different models of snowboards. On top of that surfing was my first passion and it lead me to snowboarding.
What is a Snowsurfer
You ride this really close to the tail like you would a surfboard and emulate the kind of turns you make when you surf. Like surfboards, these all have different personalities but they all have these in common.
They love a positive stance like +27/+9
All turn on groomers very well
Many float as well as a dedicated pow board.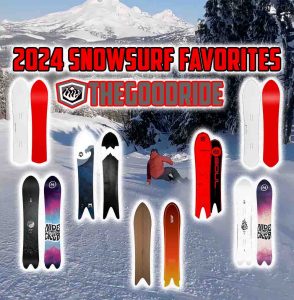 Lets get to the Snowsurf Favorites
FYI- this list is in no particular order and it is not ranked. All of these snowsurf favorites shine in their own way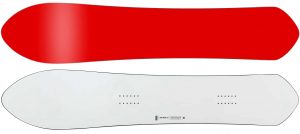 Positives/Swipe Right: Like a performance long board meets a short board. Floats super well in low angle pow. Easy to turn for its length/width
Negatives/Swipe Left: Doesn't carve as hard as many snowsurf boards but still fun.
I personally own the Korua Pin Tonic in a 164 and it is there with many of my favorite low angle pow boards. It has float but the length helps it keep the speed in low angle pow.  If you like a little bit of a performance longboard type of snowsurf ride this might call to you. What I love about this board the most is how easy it is to turn for a 164 and how far back on the tail you feel in pow. Turning on groomers is really fun but I do like the Café Racer a lot better on that aspect.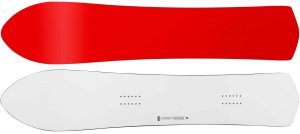 Positives/Swipe Right: Powerful super hard carver. One of the better snowsurf boards for going fast. Pretty good float.
Negatives/Swipe Left: Can feel like a lot of board in emerging moguls or more.
I personally own this in a 159 and it's one of my favorite boards to turn. It's hard to describe but there's this special super rewarding aggressive freeride turn to it without losing that set back surfy feel to it. Unlike the Pintonic it feels bigger than you would think for its length. This is a bit behind the Pintonic in pow but ahead on groomer carving. What I like about this board is it how its somewhat agnostic to how you weight a turn and set up your stance angles. It can take a front foot weighted carve just as well as a back foot weighted carve. It will also allow you to set this up slightly duck (+18/-3) and slowly work your way into a positive stance.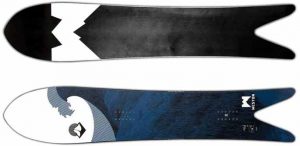 Positives/Swipe Right: Not just a pow board. Very competent groomer carver. Very down the line and drives hard through turns but doesn't feel hard to control. Fast Base.
Negatives/Swipe Left: Not Much.
I own this in a 159 and it hasn't changed much over the years so my older review still stands. This is marketed more as a pow board but its so fun to turn on groomers I couldn't call this a pure pow board. You get a lot out of this mellow camber. This is a very set back board that can go straight very well while still turning pretty quick in tight spots as long as you don't have to make throbbing hard rights and lefts. The base is fast, the float is exceptional and this board is damp in all conditions. This will shine a little brighter with a posi stance but works well any way you want to set it up.
Buy From:
Evo-Weston Japow
Backcountry- Weston Japow
Buy Direct from Weston

Positives/Swipe Right: Super fun turning circle carve friendly daily driver snowsurfer.
Negatives/Swipe Left: Base is fast but not super fast.
I own this snowsurf favorite but it recently had an update giving it a longer nose for extra float in powder. One area where it could improve a little. I used this in same day tests against the Dart (honorable mention btw) and liked the shift better. What I like the most is the flex is not super stiff but the board absorbs chatter like a champ. This is a great daily snowsurf driver but the problem with this is it only comes in one size. So if this size doesn't work for you probably can find the Korua Dart in a size that works for you.

Positives/Swipe Right: Light and poppy. Exceptional float. Super fast base. Fun to carve groomers.
Negatives/Swipe Left: Can be a little chattery for heavier riders.
I wish I own this board but I don't. It's special but its not damp like many of the boards on this list. Despite its somewhat chattery nature I still love this ride. The lighter you get from my weight the more minimized the chatter gets. This is such a fun set back ride but not too set back to where you feel you have no tail kind of ride. The other fishes in Gentemsticks Alternative line have less tail and that is why I like these two soo much. The way this floats in pow and turns on groomers is special. So is the Barracuda HP but I like the HP better on groomers and the standard better in pow.

Positives/Swipe Right: Forgiving, really unique camber profile. Super easy float. Really fun groomer turner.
Negatives/Swipe Left: Not for front foot weighted carvers.
Of all the boards on this list this is the most forgiving and easy snowsurf favorite for anyone. Moss Snowstick is also the brand that is pretty much all that is snowsurf. It just comes at a not for everyone price tag. This floated really well in knee high powder like it wasn't even trying but the surprise was how well it turned for back foot weighted carvers on groomers. This is just an exceptional ride with a super fast base. Riding Moss is like riding a living piece of snowsurf/snowboard history. They have been around since 1971. That being said this board is special even if they have been around a year.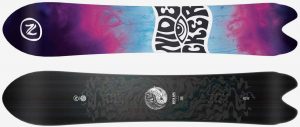 Positives/Swipe Right: Poppy, upper teir base and a great high speed front foot carver in a manageable size. Great float and turning experience in powder.
Negatives/Swipe Left: Not for those that like to back foot weight their turns.
This Beta APX is not quite as set back as many of these snowsurf boards on this list but its still set back a good bit further than most freeride boards. It drives hard off the front foot, loves a posi stance and has a pretty managable size in a narrower 157 for yours truly. It punches a little above its price point with a fast base and a very dynamic pop to it. The good part is it still doesn't feel too chattery in uneven snow.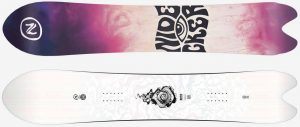 If you want a little damper ride but with a slower base and less pop than the Beta APX, the Beta is a great call. It's also a low cost favorite but don't mistake it as an entry level board. You just don't have many of those in this category.
So I hope this snowsurf favorites list here helps. There are many different snowsurf rides out there that appeal to all kinds of snowsurfers. So check our reviews, use the filter for Snowsurf and check all the other reviews I have up.
If this review helped, we'd appreciate if you: