Drop Cascade Snowboard Glove Review
Drop Cascade 2021 Review by The Good Ride
Drop Cascade Snowboard Glove Video Review
0:00 – Intro, 0:11 – Summary, 0:51 – Waterproofing, 1:07 – Fit, 2:04 – Leashes, 2:36 – Liner/On & Off, 3:05 – Snot Wipes, 3:26 – Construction/Reliability, 3:41 – Warmth, 3:52 – Conclusion, 4:22 – Outakes, 4:27 – About our reviews
The Drop Cascade can be a little sticky getting it on and off with wet hands but it is a very good fitting waterproof glove.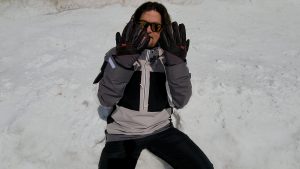 James' Glove Specs
Medium with Most Large with some
Wrist to Middle Finger: 19 cm
Circumference around Knuckles: 22.5 cm
Waterproofing
The Drop Cascade has excellent waterproofing. It's Gore-Tex so that is what you would expect.
Fit/Dexterity
This Drop Cascade fits my hand really well and I had a tight but not super tight fit with only a little room after the tip of my fingers. After a few days of riding the glove really conforms to your hand. It was easy to use my zippers and I could use my phone with the gloves on.
Leashes
I needed to tie a little knot to get the leashes to be tight enough around my wrist which is a pain when you buy them but once you are done you don't have to do it again. I love leashes and I'm glad that the Drop Cascade has stretchy leashes that don't break off easy.
Liner/On & Off
When my hands get a little wet the Drop Cascade can be a little hard to get on and off. However, that is the price you pay for a good fitting glove.
Snot Wipes
Great snot wipes. They aren't as soft as Burton but hold more of your nasty nose juice.
Construction/Reliability
Excellent construction and the Drop Cascades look like they can handle easily 100 days of riding.
Warmth
I run warm but these were good for most days with a high in the 20's. They didn't feel too warm with highs in the 30's either. All this being said warmth is a very subjective thing.
Conclusion
I really liked these Drop Cascades and I think they are a nice balance between warmth and dexterity.
Drop Cascade User Reviews
Where To Buy
80% of outdoor sports products are not listed or sold online.
Our team has relationships with hundreds of local snowboarding and outdoor sports shops.
We'll call the shops and email you a list of stores along with pricing and availability.
---
Not sure what to buy?
Get custom advice from Good Ride editors James and Steph.

Get Advice
If you can't buy through the links above, you can support the site with: