About The Good Ride
Thegoodride.com has put together objective, collective snowboard gear reviews in an e-commerce format so you can find and filter down to the gear that suits you best. In addition to reviews there are current and past, specs, images, company information, and price comparisons.
For The Good Ride, It's all about how the gear rides and I (James Biesty) try to get a collective perspective of riders from all ability levels and riding styles. We aren't paid by the manufacturers to write reviews.  We borrow gear for extended periods of time, go to some demos, occasionally rent it and sometimes even just straight-up buy it to get our reviews done. We don't keep much gear but we try to keep "Good Ride Favorites" to use as a standard to compare similar gear too. The Good Ride is not perfect but I'm constantly working on the site in the hopes we can help readers from all perspectives. Just like the industry evolves and changes with design, we do too with our rating system, review criteria and perspectives.
About Some But Not All The People Who Contribute To The Good Ride
James Biesty (Pronounced Beasty)
Editor, Owner and Gear Whore Extraordinaire
I'm the creator, writer of all the reviews and most people call me Biesty…kind of an oxymoron these days though.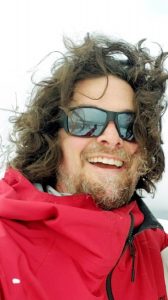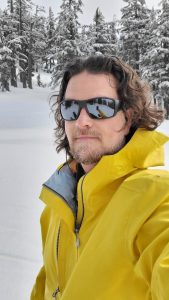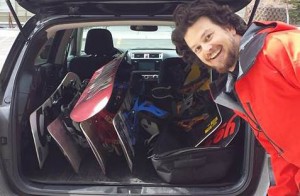 I grew up doing this…
Then I got into this…
Then I started learning this too…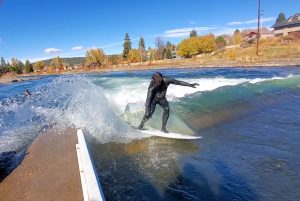 …and that is mostly what I do…
Comparing how snowboard gear works get me off. I don't get paid by manufacturers to write reviews or have a second job. I was just a consumer-like yourself. I wanted to help set the expectation level (like I did with my wife) so you know what you are getting into. It all started in 2006 when I was injured with a 5/6 AC Joint Separation. I couldn't stop obsessing on the gear I wanted to ride when I healed. By 2009 The Good Ride emerged in the form you see it now. It's come a long way since 2006 and I'm constantly working to make the site better. Hit me up if you want to shoot some feedback my way.
Years Riding: I rode my first snowboard in 1989 but I was more of an avid surfer who occasionally rode. However, since the early 2000's it has been exactly the opposite and I don't surf as much these days.
Days a Year: 80-100+, if I'm free of injuries and conditions are good.
How Much Gear I Try:  These days I usually ride 100+ boards a season and often compare it to favorites the same day.  I review around 30+ bindings a year and less for boots. Also, I get on tons of outerwear, accessories, and anything that's relevant to snowboarding.
Each season I try to focus on what's new or changed and if its the same or close to it I don't usually ride it unless it's a favorite in my quiver.
Riding Style: I love riding with friends when it's uncrowded. I love to carve, love riding switch and buttering around. Of course, I like powder too as long as it's not crowded.  I'm not a big jibber, pipe rider or jumper these days as it's hard on my beat-up body but I love it when I'm feeling good enough to do it. I just keep it small to medium and mellow.
Ability Level: I would never describe myself as an elite level athlete. I consider myself as a professional average guy because I know how my body interacts with snowboard gear pretty well.
Favorite Type of Board– Everyone asks me this question so here is the answer. I don't have a favorite.  I've been a full quiver rider for many years.  It's really fun to see how different designs react to different moods, riding styles and conditions. I love having at least one board for every riding style and condition. Only having one board to ride would be my nightmare.
Specs– 5'10″, 180-200+ Lbs, Size 9 Boots. These days I'm more on the 180ish side of things.
Set-Up–  I often ride a 22-inch stance width but I like riding the reference stance for the board as well. For most boards with a centered stance, I like riding 15 in the front and -15 in the back. For a more directional ride, I like having stance angles +21 to +39 on the front foot and -6 to +12 on the back depending on the board.
Stephanie Wilkerson
Snowboard Gear and Camp Editor
Steph loves to ride and has been our most consistent girl reviewer. It's great to have her in our crew. She is a PSIA-AASI Regional Snowboard Instructor Trainer and brings a strong park and all-mountain freestyle perspective to our women's reviews. Lately, she's been doing every aspect of the reviews and her voice will soon become consistent in every review on the women's side.
She is also a member of the PSIA-AASI National Team.
Want to snowboard with Stephanie? Sign up for one of her camps or ride days!
Check out her company here: Altitude Attitude Snow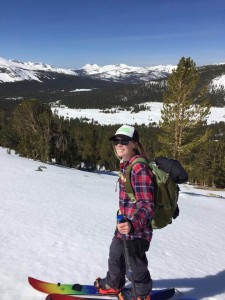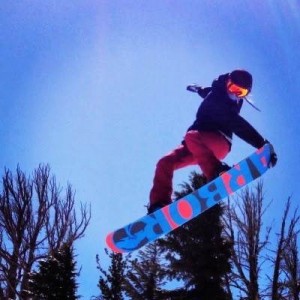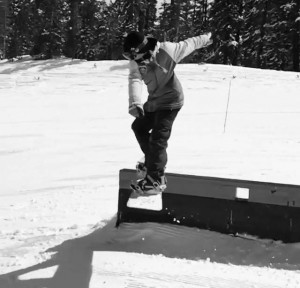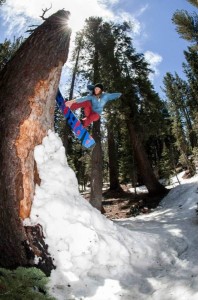 About Stephanie:
Years Riding: Since 2002, been living working and riding at Mammoth Mountain since 2010.
Days a Year: Everyday I can. Even doing endless winters sometimes.
How much gear I try: I wasn't able to try much different gear until I hooked up with The Good Ride this season. Before that, it was a couple boards a season and that's it.
Riding Style: Love freestyle, love powder, love bombing groomers, backcountry, if there's snow I'll ride it, even if there's not snow, I'll ride it. I love finding creative lines all over the mountain, side cuts, tree jibs, rock drops. Basically, as long as I can be sliding sideways somehow, I'm happy.
Ability Level: Advanced/Expert
Favorite Type of Board: Freestyle oriented boards, true twins, softer flex. Love me some reverse camber, flat to rocker. But for my more aggressive boards, I prefer camber in between the feet to rocker on the tip and tail.
Specs: 5'4", 109 lbs, Shoe size 7.5
Stance: Goofy
Stance Width: Approx 21.5″
Stance Angles: 15/-15
David Biddle
Content Manager, Editor, Publisher and Men's Product Reviewer
My name is David but you can call me Davey! I live for deep powder days with friends, and a cold beer after. I live in Bend Oregon and mostly ride Mt. Bachelor, however I do love to travel to new resorts when I can. Off the mountain I'm a busy dog dad. In the spring I enjoy touring in the backcountry and snow camping around the Three Sisters Wilderness here in Central Oregon. In the summer months I also contribute to our camp reviews.
About Davey:
Years Riding: 7 years, I actually started snowboarding kinda late when I was 21. As of 2023, I'm 28.
Days a Year: 100 days a year is a Good Ride company standard these days, and I'm not complaining!
How much gear I try: This is a tricky subject. I'm a big guy so I don't fit most of our demos. Luckily though, I've gradually been able to ride more and more of the sample models we get each year as wider, directional shapes become more popular.
Riding Style: Big Mountain Freeriding. Steep and deep baby!
Ability Level: Advanced/Expert
Favorite Type of Board: As most of us here do, I love a quiver. Directional Freeride boards are my favorite though. I also cannot live without a swallow tail to surf around with on the deepest of days, especially on Mt. Bachelor where it can get a little flat at times. I enjoy rocking around on a twin on slushy springs days but if there's powder to be had, I'm going to be riding something I can set my stance back with.
Specs: 6'4″, 230lbs, size 12 boot
Stance: Regular
Stance Width: Around 23″… Ive been known to tweak my stance width depending on a board's contact points
Stance Angles: 18 front/ 0 back
Paige Borges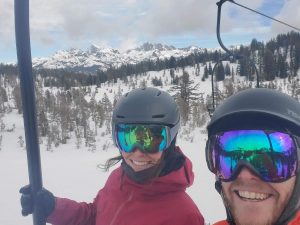 Years Riding: I have been sliding around on snow since I can remember. Started skiing at the
age of 4 (1996). Begged for a snowboard at the age of 13 (2005).
Years Obsessed: From the beginning. Got distracted with climbing for a few of the big drought
years, but recently have realized I have time for both activities in my life.
Days a Year: Most of my life I have lived on the California coast, riding 20-30 days a year. This
season (2019/2020) I relocated to the Eastern Sierra, riding 70+ days. Looking forward to many
more days of riding this 2020/2021 season!
Ability: Intermediate – AASI Level 1 Instructor
How much gear I try: Not a whole lot before reviewing with The Good Ride, but have always
enjoyed doing copious amounts of research before buying any piece of gear.
Riding Style: Cruisy, surfy, carvy. Powder lover – the deeper the better. Tight trees, yes please.
Favorite Type of Board: All-mountain board with camber in between the feet to rocker on the tip
and tail
Specs: 5'4" – 125 lbs – Shoe size 8
Stance: Regular
Stance Width: Around 21.5″ – centered
Stance Angles: 15/-12
Peter Sheiman
Gear Reviewer, Story Teller, Professional Hand Model, and Amateur Axe Juggler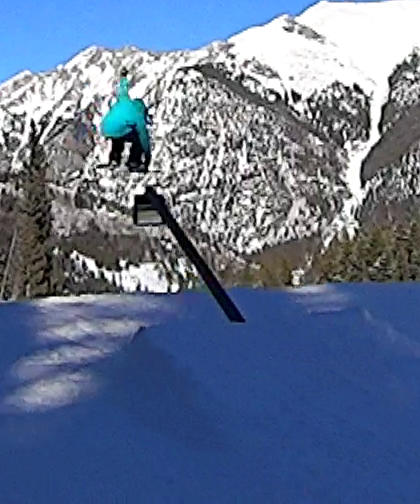 He has endured long road trips to multiple demos, worked the trade shows and has been helping the site since the beginning. He's also kept us all laughing through most of it.
Years Riding- Most of his life.
Years Addicted– Most of his life
Days A Year– 20-50
Riding Style– Peter has a wide-open slutty mind….when it comes to snowboarding and really likes anything that is good.  He spent most of his life following his big brother, Eli, down big mountains but now is comfortable anywhere. Peter loves Jibbing, Pow, Jumps, Steep/Sketchy terrain, Carving, riding switch. The only thing he doesn't truly like is the pipe but I'm going to change that one day.
Specs– 5'11″ 175lbs Size 8.5 boot
Regular
Favorite Type of Board– Hard to say because he's a quiver rider like me. He likes aggressive all-mountain to freeride boards for powder days, all-mountain freestyle boards for groomed days and he's been really into jib boards the last couple of years.
Stance Width– Peter usually he prefers something around 23-23.5 inches wide.
Stance Angles–  15 for the front and -15 in the back.
Jim "Jimbo" Marcotte
Renaissance Man With an Action Cam and a pretty funny guy.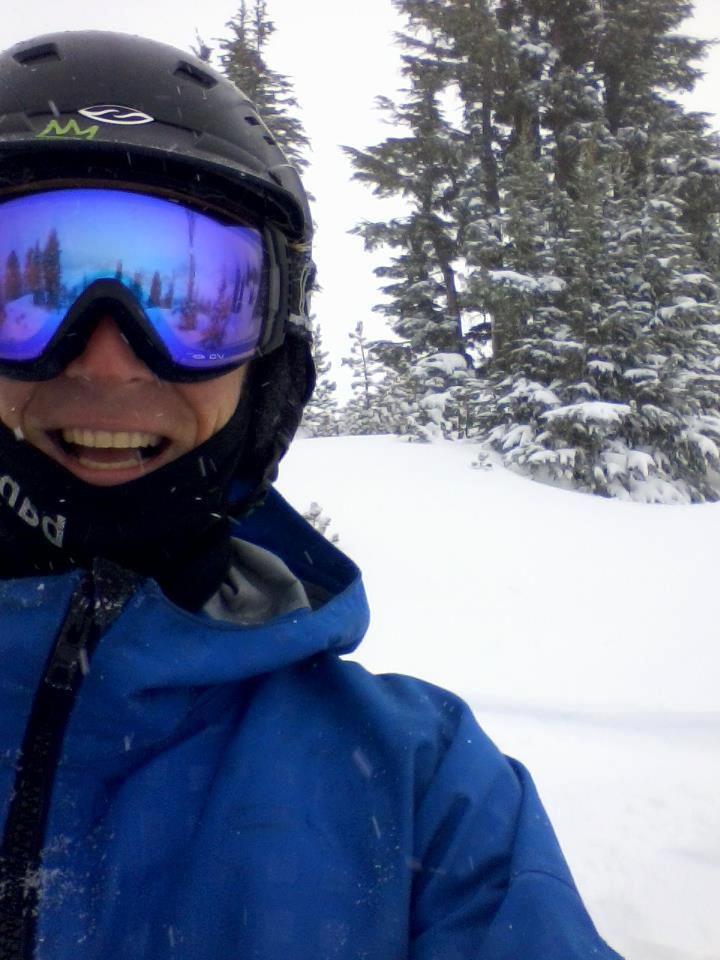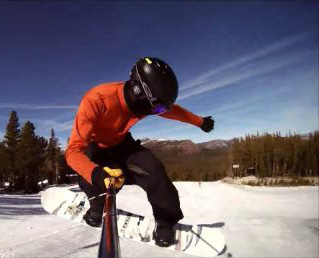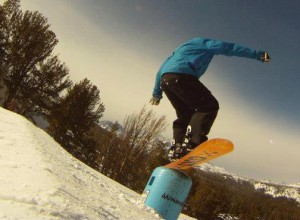 I find little vids like this that Peter and Jimbo film while I'm in the head.
I've been riding with Jimbo since the early 2000s and he's a very accomplished rider. 
Years Riding– Forever!
Years Addicted– Since the start.
Days a year– Almost always over 150 and sometimes he even breaks 200.  I think his record year is something like 237 days.
Jimbo is a Level 3 instructor at Mammoth Mountain and helped the editor in his early years become a competent snowboarder.  If you want one of the best instructors at Mammoth, call 1800 MAMMOTH and ask for Jimbo.
Riding Style– Jimbo is a true all-mountain freestyle rider.  He's more than competent everywhere from backcountry to the jib park. You won't see him going super big but he's that guy who is almost always in control on advanced jibs to medium Jumps to the super-duper pipe. He has a very creative style that is very atypical compared to most instructors you come across. It's fun to see how he approaches any terrain he comes across and makes you see things to do on the mountain you have never seen before. He rides so well switch you couldn't tell if he's regular or goofy. He also has zero ego and loves to ride with riders of any level. He's never worried about being cool or how people are riding.  He spends most of his life in perpetual motion and is one kinetic guy.
Favorite Type of Board- Freestyle to Aggressive All Mountain Freestyle Twins.  He's a big fan of hybrid rocker and hybrid camber boards that can handle anything regular or switch but he's open to trying anything and can make a freeride board look like a freestyle board.
Specs– 6′ 160lbs Size 10.5 boot
Regular but it's hard to tell because he can ride either way exactly the same.
Stance Width– Jimbo can ride any width you give him and constantly changes up his stance width but usually, he prefers something around 22-22.5 inches wide. He prefers a centered stance but has no problem riding a set back stance as well.
Stance Angles– He's up for anything and usually will defer to what the other good riders like because it's much more important to us than him.
Grant Moore
Likes snowboards and Surfs a lot too.
Years Riding: Since 93′
Riding style: Straight with the occasional carve and as directional as possible.
Favorite type of board: Stiff, set-back and cambered between the feet.
Specifications: Height 183.1cm, Weight 74.8kg, Foot 45.5
Stance: Very regular
Stance angles: 21/+6
Matt Zobel
An engineer by trade; Snowboarder at heart
Started snowboarding at age 8
Years Riding: 27+
Days a year: 80-100+
Riding Style: Big mountain with a side of park. If there are big lines to ride on the mountain he can be found crushing the steep lines, moguls, or trying to set new snowboarding speed records.  This year he ventured into the backcountry after completing his Avi1 course.  Then, to change things up, Matt can be found lapping the park to play around on mostly small/medium size features.  He can hit the bigger stuff but has a healthy respect for his body.
Fav Type of Board: Short cambered park freestyle twins. He can and will ride anything that will get him down the mountain, but always loves to set that edge on a nice turn.
Specs: 6'0″ 185lbs size 11.5 boot
Stance: Regular, but will ride switch just about as good
Stance Width: 22-22.5.  He rode 23/24 for a while but sized it back recently.  Most reference stances work well.
Stance Angles: 15/-15 unless riding a true directional board and then 18/-6
Years Riding: 20
Days a year: 100+
Riding Style: Jibber with an open mind anywhere on the mountain or on any type of board.
Fav Type of Board: Twin Jib boards but he's open to any shapes and sizes.
Specs: 5'8″ 155lbs size 10 boot
Stance: Goofy
Stance Width: 21.5-22″.
Stance Angles: 15/-15 unless riding a true directional board and then he keeps is mind and his stance angle open to what the board likes best.
Nick was born and raised in Milwaukee Wisconsin and was about 14 years old the first time he went to High Cascade Snowboard camp. From that point forward all he wanted was two things: 1. Move to Oregon 2. Snowboard every single day.  Since then he grew up competing in slopestyle and rail jam competitions. As he got older the concussions and broken bones started to add up. He took more of a back seat and instructed snowboarding for 10 years at his local hill. Then he was recruited by the Midwest Best Snowboard Team as head freestyle coach for the last 5 years.
Nick is also an avid kayaker and a diehard mountain biker. He used to love to race MTB but broke his neck and back in 2017. He has been a 5-year head coach for a high school mountain bike team in WI. Since moving to Bend he is in his second year coaching for the Bend Composite MTB team through the National Interscholastic Cycling Association.
He sells planks at the Bachelor demo shop and works the night shift at the hospital so he won't ever miss a pow day.  While Jibbing is what Nick grew up on he loves to ride the whole mountain and won't shy away from super tapered directional boards either.
Tim Scheffer
Web Developer and Gear Reviewer
Tim is the man who figures out what I'm thinking and then turns it into what you see on the site. Years ago he emailed me for gear advice, then offered greatly needed services and well one thing lead to another.  He's spent countless hours trying to figure out what I want to be done and how to do it. There is nothing better than having a nice guy who understands snowboarding taking your dream and making it a reality.
Tim mainly rides in Europe so if you see him somewhere in the Alps then buy him a drink.  He also has a good mind for how snowboard gear works and contributes to our reviews as well.
Days a Year-  15-20
Ability Level- Advanced
Riding Style- All-Mountain to Freeride.  Likes to ride in one direction, make hard turns and go as fast as he can but he's working on his freestyle skills and riding some twins here and there. 
Specs- 6'2″, 210lbs, Size 11.5 boot
Favorite Boards– Rossignol One Magtek, Never Summer Proto HD and the Jones Carbon Flagship
Stephen Hruby
My Cousin, Big Foot/Guy Perspective Gear Reviewer, and very Funny Guy.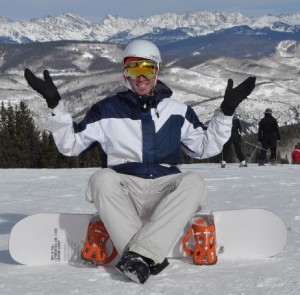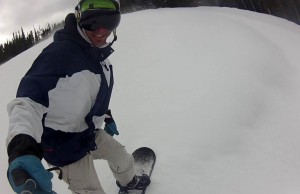 Stephen works at Beaver Creek, is an avid snowboarder and shows up to try boards with us when we are in Colorado every year for the demos. We've been riding together for a long time. 
Years Riding- Most of his life
Years Addicted- Ever since he started riding.
Average Day's on the hill- Nowadays he's getting about 100 days a year but most of his life was more like 30-50
Riding Style– Stephen likes to take it slow and just fool around the mountain.  He loves finding little jumps, buttering around the mountain and finding little natural features to play with.
Favorite Type of Board– Loves a good soft to med/soft flexing playful freestyle to all-mountain freestyle twins. He's a little preferential to hybrid camber twins but has met a few hybrid rocker boards that he loves as well.
Specs 6′ 4″ 190lbs and Size 13 boot
Stance Width– 24 inch width.
Stance Angles– Stephen prefers to ride duck with a 12 front -12 back for almost any kind of board he rides.
Kyle Maness
Kyle is a good friend, an avid snowboarder, and a buddy to all.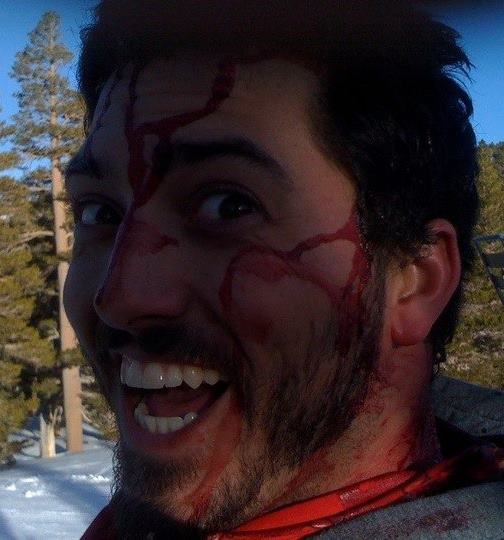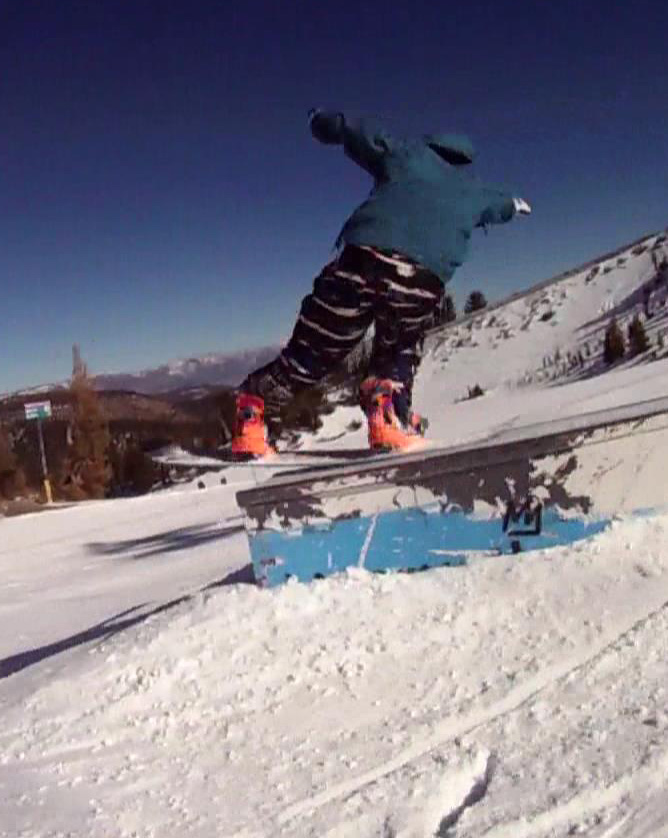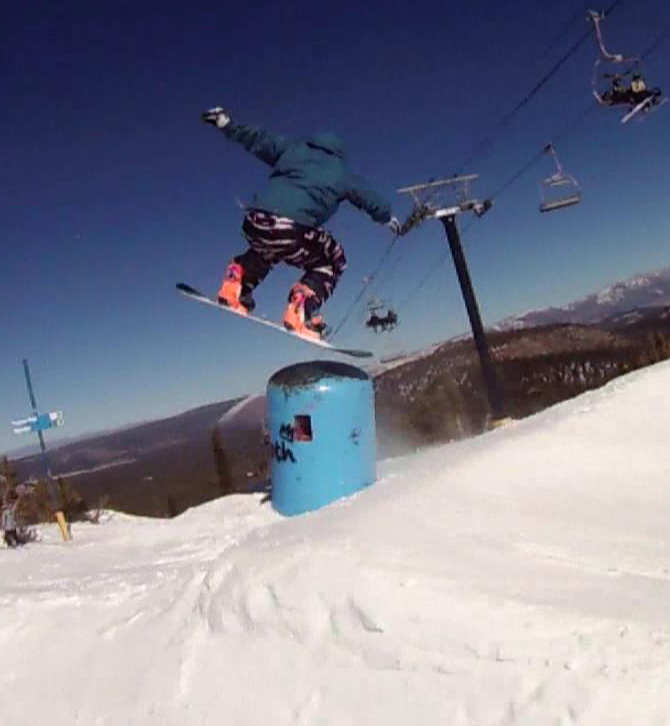 Kyle grew up near Big Bear and has been snowboarding most of his life.  Kyle has helped me a lot with reviewing gear and is one hell of a guy.
Days a Year– 70+ when he was younger and now about 15-30.
Riding Style- Kyle's core strength is park riding but he's a very good all-mountain rider too.  He likes to ride fast and push it as much as his body will allow.
Specs– 5'7″ 165 Size 11 Shoe
Favorite Type of Board- Freestyle to Jib Specific Twins but he also likes more aggressive all-mountain freestyle to all-mountain rides. He's even ok with a powder or freeride board. So basically he's a park rider who's open to trying anything.  He loves continuous rocker, hybrid rocker, and hybrid camber shapes.
Regular
Stance Width– Kyle usually prefers something around 21.5-22.5 inches wide but can also get into the 23's. He prefers a centered stance but has no problem riding a setback stance as well when it's more appropriate to the board's shape.
Stance Angles– He's up for anything
Thea Zobel
Elementary School Teacher turned Baker! She's also married to Zobel.  Good for Zobel but poor Thea!
Years Riding: Since 2009…I was late to the game, but fell in love/obsessed/addicted very quickly!
Days a year: 70+
Riding Style: all-mountain, loves riding with friends, loves pushing her skill level, small jumps, cruising groomers, riding through trees,
powder
is always awesome!
Riding Level: Advanced
Favorite type of board: true twins, true camber, prefers shorter boards for precise turning
Specs: 5′ 6″, 130 lbs, 8.5/9 boot
Stance: Regular, but likes to ride switch
​
​
Jack Lam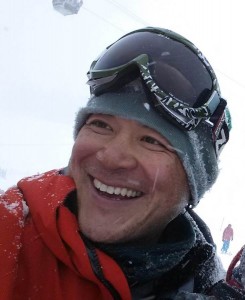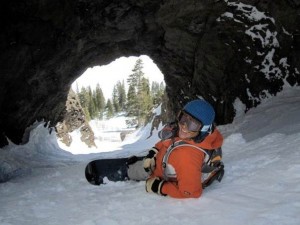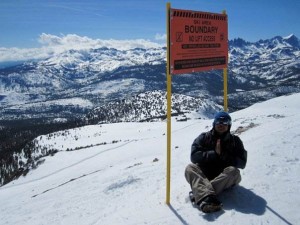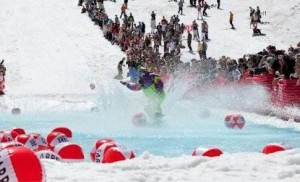 Years Riding: converted from skiing in 2004
Days a year: when LA-based 25+…now Mammoth based 85+
How much gear I try: I really didn't try that much gear until I started riding with The Good Ride…before I was just looking for the best deals and values
Riding Style: Big mountain, Steep and Deep, and Trees. Love riding the backcountry and off-piste as much as possible when inbounds. 50/50 toss-up for me between a wide-open bowl of powder or powder in the trees.  Recently acquired a liking to groom corduroy and a bit of park. Liking Moguls now for a good workout. Like to ride like a surfer still sometimes but appreciating and enjoying the standard AASI technical riding as well.  Been accused of going after crappy snow in the most obscure areas just to get lines less traveled to lay fresh tracks…I live to make fresh tracks…
Ability Level: Advanced
Favorite Type of Board: All-Mountain boards, hybrid camber and true camber with medium flex…but with the school of thought of adjusting to any board type/profile…
Specs: 5'9" 180lbs size 9 boot
Stance: Regular
Stance Width: 22-23 inches for my standard center stance is preferred but on those setback powder days just a bit narrower, please…
Ginger Mee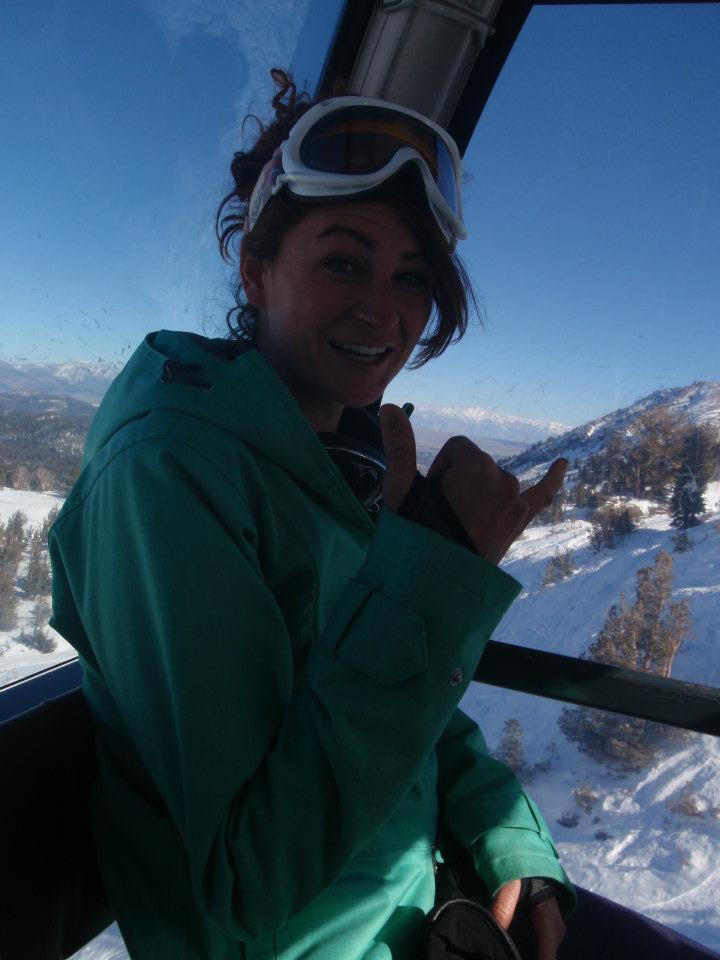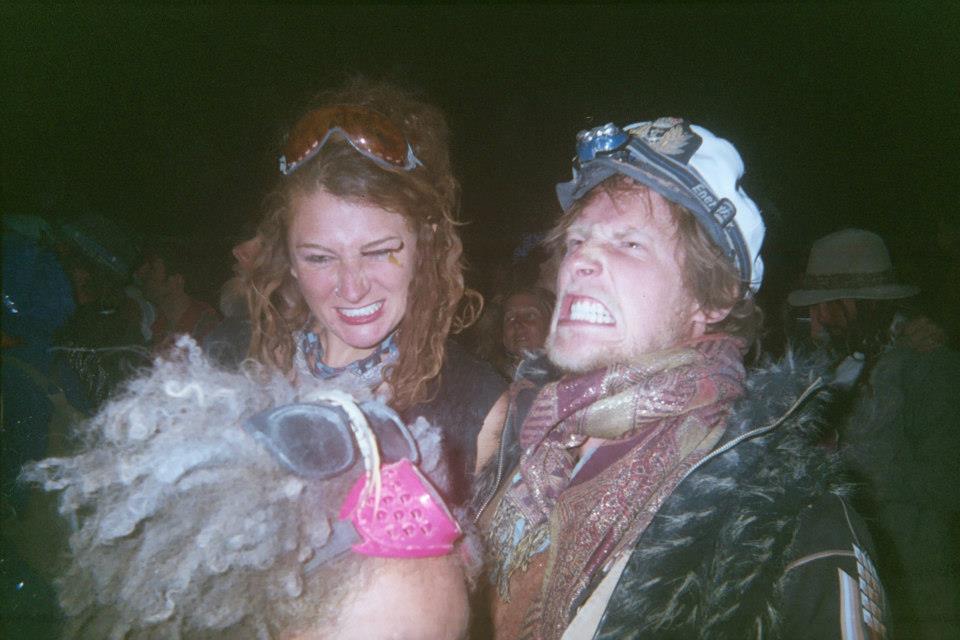 Ginger is a good friend of Peter and Tawny so it was just a matter of time before we started riding together.  She's a strong advanced/expert rider that keeps up with the boys.
Days a year– 20+
Riding Style– She's an Aggressive All Mountain to Freeride rider that loves powder, speed, and carving.
Favorite Type of Boards– Likes aggressive boards. Some of her favorites are the Jones Mothership, Gnu B-Pro C3 BTX, and the Yes Hel Yes.
Specs– 5'11" 130lbs Size 9 boot
Goofy
Stance Width– 23 inches
Stance Angles– 18 front -9 back
Mary "Sunshine On My God Damn Shoulders" Adam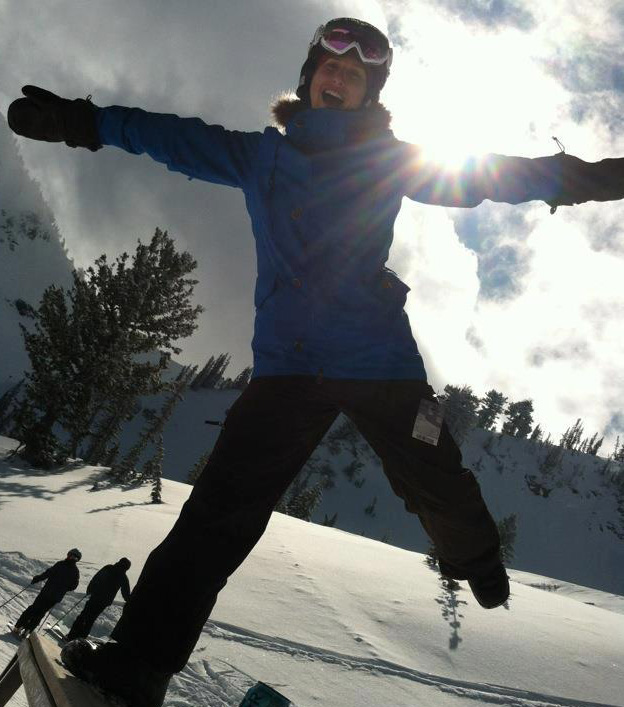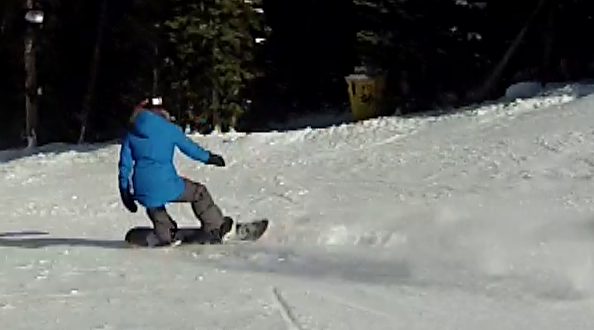 Mary was a Collegiate Boarder X National Champ, instructed for a few years, entered a few halfpipe contests in her day and even won a pond skim contest. She also plays men's hockey…..yep don't fuck with her.
Years Riding- Most of her teenage and adult life.
Years Addicted- 14
Average Day's on the hill- 100 when she was younger and now more like 10-30 depending on travel and injuries and work.
Riding Style– Mary comes from a bombing border cross background but also spent a good amount of time riding the pipe. She used to be scary fast and very technical but had a really bad ankle injury that ended her competitive side of the sport.   She's still pretty fast and technical but likes to take it easier these days and just have fun.
Favorite Type of Board– She spent years riding the custom x during her aggressive riding days. She now loves a more mellow hybrid camber ride and owns the Jones Mountain Twin.  She also is a pretty big fan of the NS Cobra too.
Specs 5'10″ 150lbs or just right and a Size 10 women's boot
Stance Width– Mary is very particular and likes a21-inch stance width.  Any other stance and she might not like the board.
Stance Angles– Due to her ankle injury she only has one set up that works for her.  She likes 18 in the front and 6 in the back.
Leland Green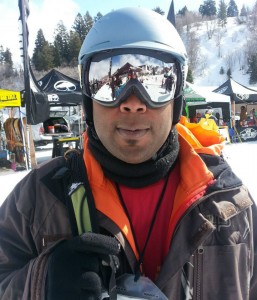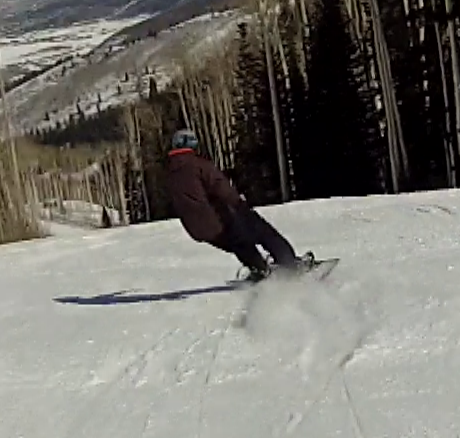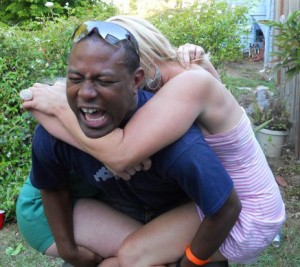 Lee and I are old friends.  Lee is a strong intermediate rider and we hook up a few times a year to ride.  When we do I usually have a lot of gear for him to try. At his day jo,b he's often speaking in public or being filmed so he's very very comfortable explaining an athletic intermediate riders needs.
Days a year– 3-10
Riding Style– Loves riding the mountain, working on directional riding/turning and squat thrusting women in the summer.
Favorite Type of Boards– Likes All Mountain boards. He really likes the Rossignol One Magtek, NS Cobra and Jones Mountain Twin.
Years Riding- 5 years
Specs– 5'8″ 190lbs size 11 boot
Goofy
Stance Width– 22 inches
Stance Angles– 15 front -6 back
Won Suh
Won is a buyer and longtime friend. He's the kind of guy that I can talk to and ride with all day.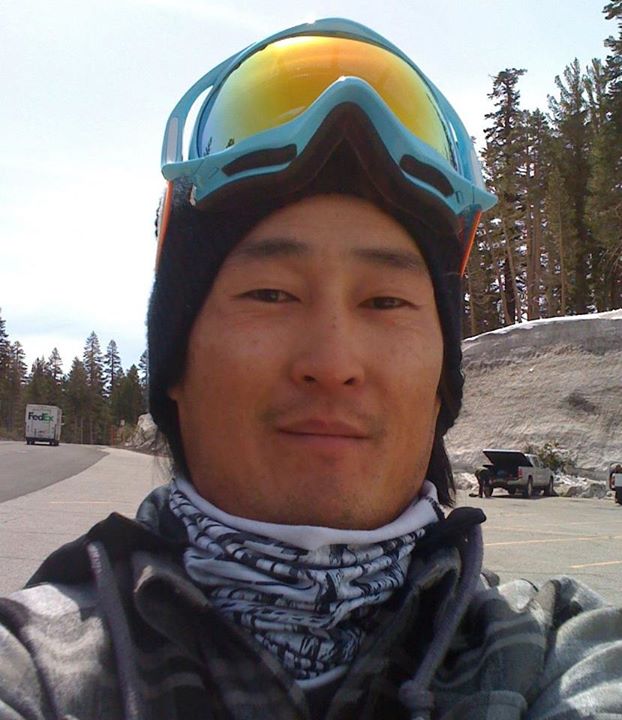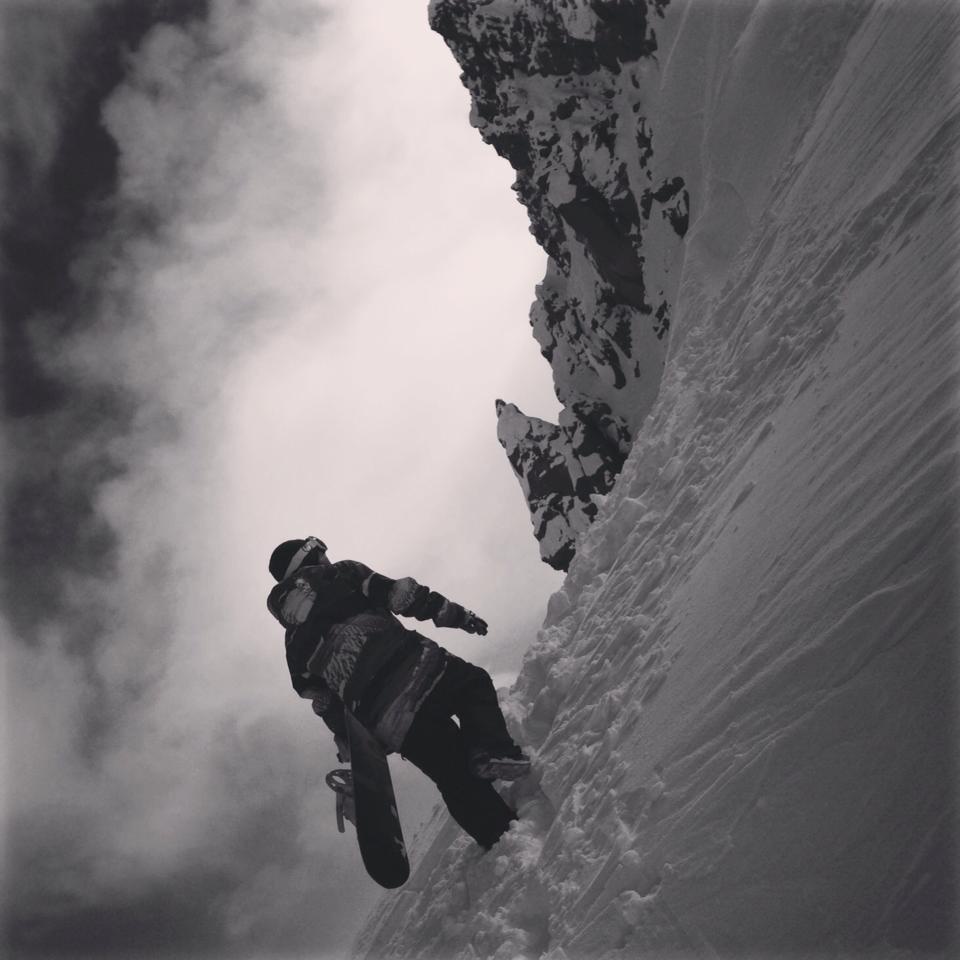 Won and I ride together a lot and talk a shit load about gear.  Won has extensive industry experience and often gives me the snowboard shop buyers' perspective on snowboard gear. There are many things that a consumer-like myself wouldn't think about so it's always good to hear that perspective. He shares my passion for gear and his conversations are often really inspiring.
Days a year– 70+ day's when work allows.
Riding Style– Loves riding the mountain but isn't shy of the park and pipe.
Favorite Type of Boards– Hybrid Rockers and straight camber. I often see Won on the Never Summer Proto and Never Summer Cobra.  He's into all-mountain and all-mountain freestyle boards.
Years Riding- A long time
Specs– 5'7″ 145lbs Size 7 boot
Goofy–
Stance Width– 22 inches
Stance Angles– 15 front -9 back
Mike "B'sheets" Bishop – Professional Road Trip Instigator, Adventurer, and General Silliness Propagator.
Years Riding: 11
Years Addicted: All of them
Days A Year: 20+
Riding Style: Mike started riding in high school as a full-time so-cal park rat but that changed after he got his first taste of real powder. Since then he spends most of his days on the mountain searching for the steep and deep. Backcountry hiking in the Tetons of Wyoming looking for the soft stuff with some friends and a few PBRs is where he's most at home.
Specs: 6'0", 170 lbs, Size 10 Shoe
Stance: Regular
Favorite Type of Board: An aggressive all-mountain board that can hold an edge in the steeps but still has a loose and playful feel.
Stance Width: 21 – 22.5 to inches wide.
Stance Angles: Centered +15, -9 for all-mountain days.  Set it ALL the way back +18, -6 for the days when we're hiking more than riding lifts.
Frank F Hsin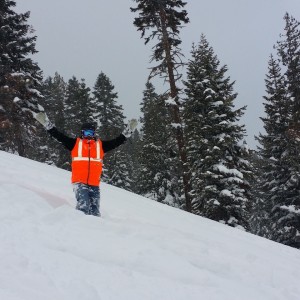 Specs: 5′ 11″, 193lbs Size 11 boot
Days A Year:  15-25
Riding Since:  2006
Ability Level: Advanced Intermediate
Riding Style: Working on speed and carving turns is what I enjoy most.  I have just started to enjoy more technical situations, having just achieved the necessary skill level.
Stance Width: 22.5″
Stance Angles: 15 front -6 back, Centered, goofy for most days I ride.
Dylan William- Online Marketing Master and one hell of a good snowboarder. He not only helps the site with design and SEO but also takes some of his time to review gear.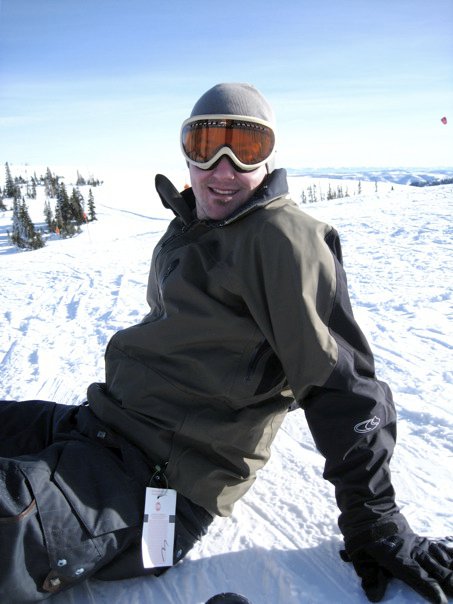 Heather Hambleton. She is an old and dear friend who helped me a bunch with women's specific boards. When she started dating and then married her husband he became one of my dear friends as well. 
Years Riding – 14 Years addicted- 8 Average Days A Year- 30-60
Likes to mach down groomers, steep runs hit a jump or 3 and the halfpipe. She is faster than most men.   Mynatt is a blue ball of fury.
5'4″ Size 6 shoe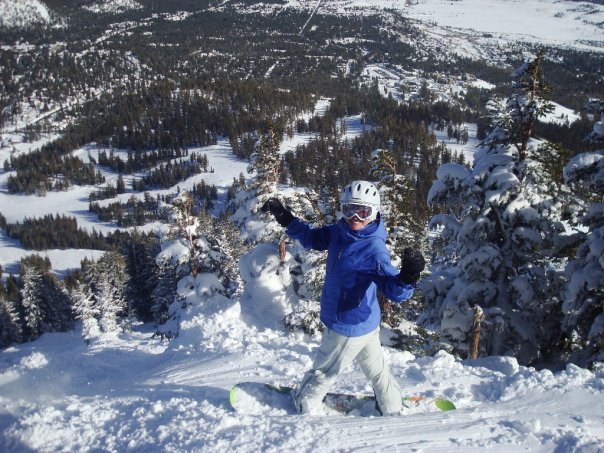 Chris Hruby– Is my cousin and he helps me with the site as well as reviews gear.  He's a strong intermediate and is one hell of a guy.
Dave Elrom
Reviewer and former Web Developer for the site.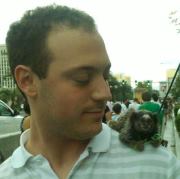 Dave is a serious gear whore who has contributed to reviews but he's also a software engineer. He spent a lot of time putting together the early stages of the design that is up now. He reviews gear with us as well as helps with the technical side of the site. If you run into this guy buy him some beer or bourbon.
Years Riding- 2
Days A Year- 15-30
Ability Level- Strong Beginner-Intermediate
Riding Style- All-Mountain but he's very open and into new things.
Favorite Boards- Rome Tour and Rossignol Templar
Specs- 5'8″ 155lbs Size 8 Shoe
Some people who don't review boards but volunteered their precious free time to help the editor figure out the difficult world of making a website. 
Aaron Waldman- Software Engineer Extraordinaire and one hell of a Beer Gamer
Dean Onishi- Web Designer, Snowboarder, and all-around good guy! He is also known for taking a nap whenever and wherever he can.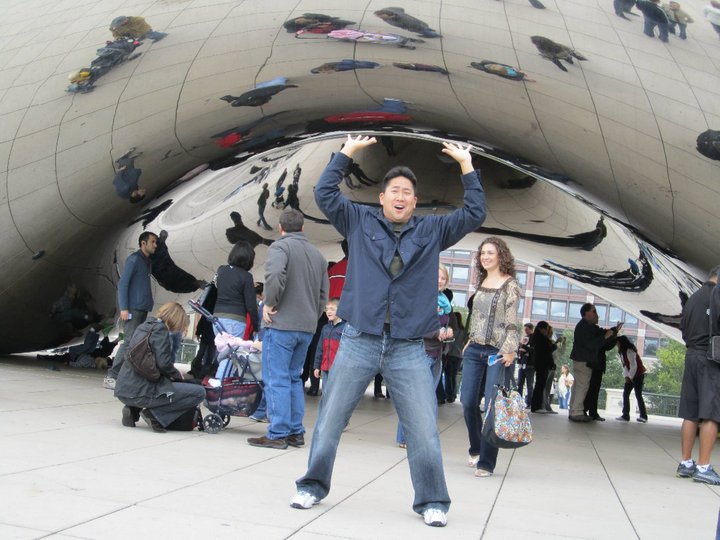 Betsey Biesty- is my wife and practically perfect in every way.  She doesn't snowboard, ski or even like the cold but she is more than cool with the editor doing all of this.  I'm pretty lucky.