Snowboard Shapes Explained
There are so many types of riding styles, camber profiles, flexes and of course, shapes out there. So here are the main snowboard shapes explained.
I'm James Biesty, The creator, editor and all around snowboard gear polyamorist. I've ridden over 800 snowboards and a lot more if you count variations of the same models. I've spent a lot of time learning about all the different shapes I've ridden over more years than I care to count.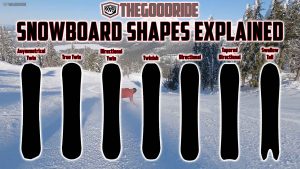 This is my breakdown of the deferent shapes out there.
Asymmetrical Twin

An Asymmetrical Twin is just like a twin except for one thing. They change the side cut to match a Duck (15 front -15 back or 12 -12 etc.) stance.  Most have a sidecut that is longer and more shallow for your toe side and shorter/deeper for your heel side. However, some keep the sidecut the same and just change the flex to match your stance angles. These are the truest form of a twin as they match up perfectly with the asymmetry of our stances and bodies to make the board feel the most symmetrical on snow vs. any other board. Turning edge to edge either direction just feels perfect. It even makes most average riders better at riding switch just because its easier to turn.
True Twin

A twin board is called a "twin" because the bottom half (tail) and top half (nose) are mirror images of each other and the flex is exactly the same on both ends. Back in the day these were called double enders. The nose and tail are the same shape, flex and same camber profile. . Twins have a centered stance, which means that the binding mounts are dead center in the board. So in summary everything about the board is symmetrical.
Directional Twin

A directional twin is a true twin on sidecut but often looks like a twin or is close to it but there is usually one, some or multiple things about it that aren't symmetrical:
1. The tail could have a stiffer flex than the nose
2. There could be a set back stance.
3. The camber profile could be different on the nose compared to the tail.
4. The board could have more surface area/length in the nose than the tail for easier float in powder.
Twinish

A Twinish or Twin Like board has a tip, tail and side cut that is slightly different in shape. At first look it seems like it might be a directional twin but then upon closer look you start to see how its a touch more directional
Directional

Directional boards have the same tail/nose width but there is usually a very noticeable difference in shape. Usually the nose is longer than the tail and the sidecut is directional. You can ride switch pretty well but it's noticeably different.
Tapered Directional

A tapered directional board is like a directional board but has a tail width smaller than the nose width. The nose is usually longer and has a little to a lot less surface area than the tail. The sidecut is directional too and the stance location is often set back on sidecut as well as set back on board. These are best for directional riding but most boards that aren't super tapered/directional can ride switch ok.
Swallow Tail

A Swallow Tail is usually a very tapered and very directional board with a little pizza slice cut out of the middle of the tail. You often see this with Snowsurf boards and its a great way to get the tail to sink in powder in order to keep the nose up for easy directional float.  Many of these boards have the stance located very close to the tail so its about as directional as you can get. Not good switch and best for those that like a very directional surf like board.