Union Atlas 2012-2023 Snowboard Binding Review
Where To Buy
No obligation, but these links & ads support the site.
Union Atlas 2023 - 2012 Review by The Good Ride
Turn Ons/Swipe Right: Excellent boot to binding and Stance Width Adjustability. Very damp. Super Reliable.
Turn Offs/Swipe Left: Liked the softer high back better. Not as much shock absorption as the Force. Forward Lean Adjuster doesn't seem as reliable as the older version.
Summary
The Union Atlas got a stiffer high back with a little different shape. I liked the older high back better but this is still my binding of choice for personal riding and testing.
Ethics Statement: We don't get paid by the manufacturer to write these reviews.  We do make money from the "Where To Buy" links, but this is our best attempt at an honest and objective review from an average riders' perspective.
Union Atlas 2023 Snowboard Binding Review- How it rides and who it is for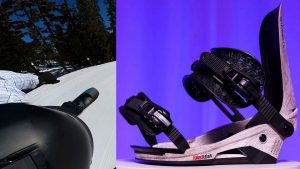 How This Review Happened:  Borrowed this for an extended demo and sent it back. Only because I already own 6 Union Atlas.
Days: More than I can count. Had it almost half of the winter.
Conditions:  Everything from spring snow, hard snow, deep pow, excellent groomers, uneven snow and an early morning slackountry time on groomers and all kinds of pow with Drift Boards & Union Rovers with Chargers
Riders:  James (Size 9, 5'10" 185-190lbs)
Boots: Burton Kendo, Ride Triad, ThirtyTwo TM-3XD, Nidecker Rift APX
Insoles: Footprint Insole Technology Gamechangers
Boards: Capita Spring Break 158 Powder Glider, Burton 3D Fish, Soul Blower, Korua Dart, Korua Pencil, Korua Café Racer, Weston Japow, Gentemstick Mantaray 156, Yes Hybrid, Endeavor Scout, Lib Tech Orca, Yes Hybrid,  Gnu Gremlin,Telos Backslash, Salomon Dancehaul, K2 Excavator, Yes Pick Your Line, YES PYL Uninc, Weston Backwoods, Cardiff Powgoda, Jones Mind Expander, K2 Manifest, Ride Algorythm, Yes Basic Uninc, Cardiff Lynx, Never Summer Protosynthesis, Yes Greats, Stone Message,
Jacket: Burton AK Gore-Tex Pro 3L Tusk Jacket, Volcom TDF Infuse 3L Gore-Tex Jacket
Pant: Burton AK Gore-Tex Pro 3L Hover Pant, Burton AK Gore-Tex 2L Swash Pant, Burton Gore-Tex Ballast Pant
Helmet: Smith Maze
Goggle: Smith 4D Mag
Gloves: Burton AK Clutch Mitt, Burton AK Clutch Glove, Burton AK Tech Leather Glove, Burton AK Tech Glove, CG Habitats Work Glove, Drop Tahoma Mitt, Drop Web Glove,
Similar (but not the same) Bindings: Union Atlas Pro Union Force, Union Strata, Union Falcor, Salomon Hologram, Nitro Phantom Carver, Rome Katana, Rome Vice,
How It Was Tested
I did same day tests with the Atlas Pro on one foot then the Atlas on the other. Then I switched feet. I did same day sampler tests with the same board and several different bindings like the Atlas FC, Union Atlas and many others just to see how they compared.
Weight
2.2 Lbs. Not super light but not super heavy either. Same weight as the Atlas Pro.
Highback Flex
So this is the main change from the 2022 Atlas. There is a stiffer high back that is the same flex of the Atlas Pro. I personally liked the softer high back of the 2022 and below Atlas bindings as it had a very unique feel that made the response feel a touch more symmetrical. On top of that it had such an easy feel against the boots. I like the new shape which seems to be a combo of the old Atlas, Strata and Force. Just wish it was softer.
Flex Underfoot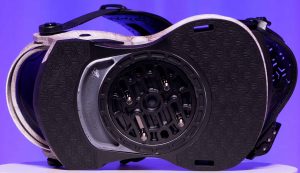 Same flex underfoot as before with a very damp rubber on the bottom. It does very well for a full sized disc because the rest of the binding has rubber underfoot in contact with the board. You can butter pretty well. The Force is a little bit easier with the softer EVA foam but both are close and they make the board feel stiffer underfoot but still not dead. In comparison to the Mini-Disc line like the Stratos the Union Atlas is not as buttery but more damp.
Turn Initiation/Response
The Union Atlas does great things when it comes to response. The Force is a touch faster with initiation but the dampness of the base plate makes it a little more responsive throughout the turn. When it comes to the Falcor the 2023 Atlas feels a little more responsive but they are very close. The Atlas Pro is a little more responsive but less damp.
Shock Absorption & Dampness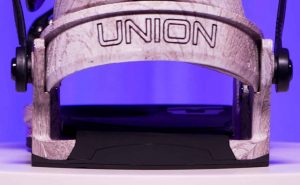 The more responsive you go up the line of Atlas for 2023 the less damp they feel. That is why I prefer this Union Atlas over the Pro and especially the FC. I do wish the rubber on the top was not as dense as the rubber on the bottom so it has a little more shock absorption like the Force and Falcor do. Even the Strata has softer heel padding.
Boot Support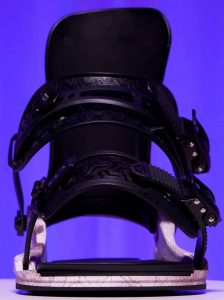 Love this support. Union has really dialed out their ankle and toe straps over the years. This is a great balance between support and freedom of movement.
Ratchets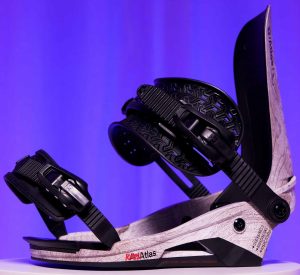 Not a fan of the thinner more flexy ladders in comparison to the older thicker ladders but this still ratchets on and off super smoothly. They are some of the best in the business.
Adjustability
Union really understands how important adjustability is. The Atlas has an adjustable heel loop and gas pedal. It is very easy to center your boot in the binding. Then you can turn your discs sideways and slide the binding tip to tail so you can get almost any stance width you want. Not many bindings can do this. The Forward lean adjuster doesn't seem as reliable as the old forward lean adjuster but the rest of the binding is like most others with tooless adjustability.
Conclusion
So I'm a little more partial to the 2021-2022 high back but I might be a minority here. Despite liking the older highback, the Union Atlas is still an excellent binding and I didn't notice to much difference ride wise in same day testing.
Average rating:
7 reviews
Nov 13, 2014
My buddies and are had some freaky mind-melding going on and all three bought this same style binding. They are extremely comfortable under foot, but still have decent responsiveness. I prefer a stiffer high-back, so I liked the feeling this binding offered there. The "gas pedal" design to the front and back of the footbed made carving a joy--especially on the toe side.



I would be remiss in my review, however, if I didn't tell you about the serious problems not one, but all three of us had with the hardware. I have lost two screws mid-mountain and a third at the top of a black diamond (thank god it was a groomer). Both of my other buddies have lost the hand screw on the side of the heel strap and one of them lost the high back adjustment screw.



If you go with this binding, my suggestion to you is to double check all your screws before each ride and double check the hand screw on the ankle strap multiple times a day. I'll confess, we ride relatively hard and are throwing a lot of torque into our bindings, but if you're riding the same way, I might consider something else.
May 21, 2014
For 2014, they also changed the heelcup making it taper down providing less ding on the lower back part from previous years. Also, the heel part of the footbed is now filled in with foam providing a solid stable contact with the board where as prior it was floating.
May 31, 2013
binding is great overall. it feels like feather and gives great response in almost any condition for edge to edge turns. although my board is (capita BSOD) is a bit on the stiffer side, I tried them in park and I was able to use its max flex with these bindings which gives a great versatility for these bindings. Landings were quite soft and you feel really comfortable even when you ride at higher speeds.

HOWEVER; there are well known problems with Union toe straps and buckles which Union said they made big improvements in 2013. I have New Balance 1971 boots and toe straps comes off almost in every ride and I have to re-attach them every time I get to lift. I have tried many different ways of mounting it, even took it to local shop and it is what it is. as for the buckles; its been said they resolved jamming issue however I have issues 3 times out of 4 and I almost slap it with my hand to open it. I had a long chat with local distributor of Union and they said 2014 models will have no buckle issues so I m hoping to get new buckles for my bindings.

Apart from well known strap and buckle issues, its a great binding. I have to take a star out due to those issues.



ps: I also have Union contact, it doesnt have toe strap issue but buckle remains.
May 3, 2013
This might be the best binding I have ever tried, I must confess I didn't see what all the fuss was about with Union and thought it was just a bandwagon thing, but now I have tried them I am a big fan.

I waaaaay prefer the way these flex outside the foot as opposed to the burton reflex system which flexes at the disc.

Whilst riding with these I noticed the following improvements -

my board had better edge grip, it was easier to get more pop off jumps and bumps, they were noticably lighter (than my '12 cartel reflex) and overall it just gave me alot more control over my board, made it easier to turn and gave me better dampening.

All this whilst being softer than cartes.

I bet these are the shit in powder!

Great binding!

I would recommend these for all mountain and park but not for a beginner cos they have too much response but as soon as you know what you are doing I think you will like them.
Feb 17, 2013
Boot size 8 (Burton Ion), binding size small. 2013 Atlas.



Got these after reading thegoodride review. Love them. I had some cartels, which were ok but i couldn't quite see why everyone says they're a really great binding. I had size medium in the cartels so it's possible they were a fraction too big for my boot. Anyway, the small Atlas fits my boot really snug and the ride is improved substantially. The toe-strap ratchet thing I've read about is a complete non-issue. You must be a tard if you can't work them. I feel the ratchet to be very secure and they never once slipped on me while riding. This is what you want right? I use the toe strap right over the top of my boot rather than around the front of my toe. I found it locked my boots in place and the toe strap never moved around at all for me. As for riding response, I really like them. I put them on a Jones Mountain Twin and also on a channel system Custom X. Superb on the MT and I actually preferred the Atlas to my cartel est on the channel board! Felt just more solid. I'm a Union fan now and will be looking at some of their other options when the end of season sales come around. The Atlas is great for all mountain cruzing, groomer bombing and a few natural jumps. SOLID!
Feb 5, 2013
Pretty much the best value for money bindings, that Union makes and probably in general best out there! Of course it's always about personal preference and some might miss a canted footbed here (coming '13/'14 with the T. Rice "Factory" pro model!), but these are just all around great for the money you pay. I have last year's SL's and can't really notice a big difference stiffness wise. They are a tad heavier than last year's SL's, but this year will be pretty much the same, as there's no more machine coring on the SL's. So safe the extra money! The GoodRide guys are right on: it's crazy how a highback can feel so soft (torsionally!) but be so responsive! I'm an agressive rider and I really don't miss stiffness/support there. From big carves on groomers to big backcountry lines I feel safe in these bindings! Buttering and park works great, too, due to the big ankle strap and torsionally soft high back. They are very well padded and shock absorbant. The ankle strap will be hard to improve - most comfortable they've made so far! Even when you crank them down, you don't really feel pressure points or get this "locked in" feeling, while actually being totally locked in! With some Burton ankle straps (Cartel) I feel a delay when I lay into a frontside carve, while with the Union's my edge is right there, no delay, full control! I'm riding Jones boards (Flagship/Hovercraft) and those binders bend them pretty much effortlessly. Also cool is the rather big/long baseplate. I'm riding the larges with US 10.5 Salomon Malamute boots (no reduced foot print) and the toe ramp / heel cushion gives me plenty of support, where I need it, while with some bindings out there the middle of my heel is almost "in the air" - mostly due to a non adjustable heel cup... (With Burton I need larges and scoot them all the way towards the toe edge to be really centered over the board, while my heel is fairly unsupprted / "in the air"! With no adjustable heelcup, in my opinion manufacturers actually would have to build 4 sizes of bindings to get it all set up properly...).

Well, who hasn't tried Unions yet: they are up there! Give it a go!
Jan 17, 2013
Im not a fan of these like I thought I would be. I dont know if its just personal preference/riding style but I dont like the high backs! They have decent fit and finish but the adjustability is not that great. I dont like the footbeds that much either. I prefer FLUX or Burtons over the Atlas line for All Mountain options, but I should give the Contact Pros a shot maybe...
Images

We try to get as many images of the , but forgive us if they're not all there.
If you can't buy through the links above, you can support the site with: