Union Ultra 2015-2024 Snowboard Binding Review
Where To Buy
No obligation, but these links & ads support the site.
Where To Buy
80% of outdoor sports products are not listed or sold online.
Our team has relationships with hundreds of local snowboarding and outdoor sports shops.
We'll call the shops and email you a list of stores along with pricing and availability.
---
Not sure what to buy?
Get custom advice from Good Ride editors James and Steph.

Get Advice
Union Ultra 2024 - 2015 Review by The Good Ride
Union Ultra 2023-2024 Snowboard Binding Video and Written Review
Here is the Union Ultra Snowboard Binding Review from an average rider with an exceptionally objective perspective.
Update 2024: The Union Ultra has not changed after the 2023 overhall so this review still stands. Union did an early release of the 2024 with different colors and that is about it. 
Turn Ons/Swipe Right: Smooth cush and buttery binding. Great adjustability. Very comfortable strap.
Turn Offs/Swipe Left: No Forward Lean.
Summary
The Union Ultra is an evolved more cush version of the Contact Pro for those that like the park or just like a mellow binding.
Ethics Statement: We don't get paid by the manufacturer to write these reviews. We do make money from the "Where To Buy" links, but this is our best attempt at an honest and objective review from an average riders' perspective.
A Breakdown of How it rides and who it is for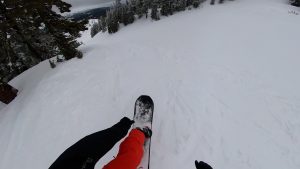 How This Review Happened:  Borrowed this for an extended demo and sent it back.
Days: 5+
Conditions: Everything from clean groomers to messy soft/wet snow to some firm snow to even a little wet spring pow.
Riders:  James (Size 9, 5'10" 185-190lbs)
Boots: Burton Kendo
Insoles: Footprint Insole Technology Gamechangers
Boards: Gnu Gremlin, Capita Indoor Survival, Jones Tweaker, Capita Mercury, Jones Mountain Twin, Yes Greats
Jacket: Burton AK Gore-Tex Pro 3L Tusk Jacket, Volcom TDF Infuse 3L Gore-Tex Jacket
Pant: Burton AK Gore-Tex Pro 3L Hover Pant, Burton AK Gore-Tex 2L Swash Pant, Burton Gore-Tex Ballast Pant
Helmet: Smith Maze
Goggle: Smith 4D Mag
Gloves: Burton AK Guide Glove, Burton AK Tech Leather Glove, Burton AK Clutch Mitt, Drop Tahoma Mitt, Drop Cascade Glove, Drop Web Glove,
Similar (but not the same) Bindings: Union Contact Pro/Union Superpro, Burton Cartel, Burton Mission, Burton Malavita, Salomon District, Nitro Team Pro, Nitro Team, Now Pilot, Now Select, Now IPO,
How It Was Tested
I put on my Union Atlas for a run and then switched them out for the Union Ultra to get my base line in. Then I rode the Union Ultra's with a bunch of different boards to see how they played out for me.
Weight
1.8lbs. The Union Ultra is pretty light compared to most bindings out there. However, weight isn't everything.
Highback Flex
The highback flex of the Union Ultra is not consistent throughout but that is pretty cool. It has a little stiffer outside that I would say borders on being medium in flex. Then inside it is super soft. Overall there is a very soft twisty feel that has the least calf bite of almost any highback I've ever tried. Conversely, if you like forward lean look somewhere else though.
Flex Underfoot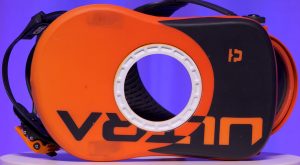 The Union Ultra has a very soft new form of rubber that feels one part plastic, one part EVA foam, one part rubber and 2 parts cush. Like the Contact Pro, there is such an easy flex underfoot that is a step up from the Strata and the Falcor when it comes to buttering ease.
Turn Initiation/Response
You aren't getting a very responsive binding with the Union Ultra compared to most Union bindings but it surprised me. I will say that it is much more responsive than you would think. It has this smooth easy response that I really liked.
Shock Absorption
Very good slow speed shock absorption. Additionally, the Union Ultra feels more damp than the Contact Pro it replaced. It still feels behind the Strata and Falcor when it comes to being damp but more shock absorbent for park riding than it's peers mentioned above.
Boot Support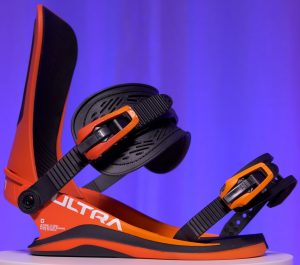 The Union Ultra has a new strap design that is super comfortable with several components. If you are someone that cranks your straps down…well you shouldn't…but if you do, the straps will cause less damage.
Ratchets
The ratchets are excellent but I just don't like the softer ladders. They bend a little too much so it isn't as easy to one hand it as it used to be.
Adjustability
There is tons of boot to binding and stance width adjustability with the Union Ultra. That is one of the things I love about Union. You can rotate the high back, adjust the heel cup to center your boot in the binding and slide the mini-disc tip to tail to get your desired stance width.
Conclusion
So if you want a mellow, smooth cush binding for the mountain this could for sure work. If you want the Union Ultra for a park or mountain freestyle ride this is a great option.
If this Union Ultra review helped, we'd appreciate if you:
 

Union Ultra Past Reviews

The Union Ultra is like the Contact Pro but with a ton of extra mustard on it.  It's lighter, has a more responsive high back and it's more responsive.

The 2019 Union Ultra is the same binding as 2018 when it comes to high back and base plate but it has these upgrades:
The washers that hold together the ankle strap, heel-loop, and high back are new and keep the screws from coming loose.  I tested these with my Union Superpros and they work really well.
The ankle strap was changed out and it's the same one we love that's on the 2019 Union Falcor.  It's much more comfortable and a little more supportive. Might be the best ankle strap from Union that we ever tried.
The Toe strap is slightly different but still very similar to the old one
Ethics Statement: We don't get paid by the manufacturer to write these reviews.  No one is perfect and we do make money from the "Where To Buy" links below, but this is our best attempt at an honest and objective review from an average riders' perspective.
Days:  10+
Riders: James, Jimbo, Peter, Matt
Boots: Burton Almighty, Adidas Tactical ADV, Burton SLX, Burton Rover,
Boards: OZ Custom Woody, Korua Puzzle, Yes Optimistic 2016, Jones Mountain Twin, Jones Ultra Mountain Twin
Flex: So the high back feels like the team-high back but it might be a little bit stiffer and it feels a little more snappy.
Adjustability: The Union Forged Ultra has similar strengths and weaknesses as the Union Contact Pro when it comes to dialing out the binding to your boot.  You can adjust the heel loop to fit your boot size which is super important if you are at the upper or lower end of the sizing recommendations and it really fits the in-between sizes like a 10.5 or 8 boot well.  There is no adjustability in the toe ramp but the adjustable Heel loop helps out with that. Some drawbacks are that you cant adjust the angles of the ankle strap without un-centering your boot in the binding and you can't rotate the high back without getting trick by pushing in one side of the heel loop.
Comfort: Nice very comfortable feel on the binding and with the 2019 ankle strap it's even more comfortable.  The high back is super stiff so it can bite into some larger calves like mine and even with a rotating heel cup, I couldn't get it to feel as good as the other high backs in Unions line.
Turn Initiation: Feels a little quicker than the Contact Pro and the forged carbon version of the team high back feels a little snappier. It still borders on the medium side of the response spectrum.
Buttering: Same amazing binding when it comes to buttering and the mini disc makes it a step above all other bindings in Unions line except for the Contact Pro which has the same one. It makes boards flex easier underfoot.
Boot Support: The 2018 Ankle strap isn't bad and is pretty good at giving you decent support as well as freedom of movement.  That being said the 2019 Ankle strap is way better.  It's super comfortable and pretty supportive.  Union offers other straps at C3 here so can change em out.
Ratchet System: Nice and easy on and off.
Shock Absorption: So the shock absorption felt like the Contact Pro except lighter and maybe a touch better which is outstanding.
So all in all this is a pretty expensive binding and other than the ankle strap I really liked the ride.  For this price, though I'm more fine with the Contact Pro and don't mind it's extra weight.
 

Union Ultra Images

We try to get as many images of the Union Ultra, but forgive us if they're not all there.
2023
2019
2018
2017
2016
2015
Union Ultra User Reviews
---
---
Union Ultra 2015-2024 Snowboard Binding Review
SKU
UPC
Model
Union Ultra
Mar 04, 2020 
by
Jakub
Ability Level: Advance+ • 
Riding Style: Agressive allmountain • 
Days You Ride A Year: 50 • 
Height, Weight And Boot Size (for Boards, Boots & Bindings): 183/89/10,5 
I have to agree with Harry in some. Paid a fortune for them. They started coming apart on the 3rd day. Carbon high back broken second day. Right one first and third day left one. Such a shame. I had my 7 years old K2 with me so I did enjoy the rest of the weekend. Seller send me new high backs( no white logo but all black), and after one week in Iranian powder looks good but I can see really small demage in the same place. Hopefully will not break again. Riding on it is awesome. Stifness, reaction but...

---
Union Ultra
Oct 19, 2018 
by
Harry
Ability Level: Advanced • 
Riding Style: Aggressive carver • 
Days You Ride A Year: 30-40 • 
Height, Weight And Boot Size (for Boards, Boots & Bindings): 180 cm 90 kilos size 10 boot 
Honestly, this binding is crap. Paid a fortune for them. They started coming apart on the 3rd day. Spent half the winter in the shop getting them fixed. The construction is flimsy and the parts are weak. .I was so frustrated, I just stuck them in the back of the garage. Bought a pair of Burton Freestyle (beginner bindings) for 1/3 the money. Yes, these are not great either, but on the other hand, when I wear them out, I wont be crying about the cost of replacement. They have already outlasted the Unions. Stick to Burton people. Not fancy, but generally tough as nails.

---
If you can't buy through the links above, you can support the site with: