Rome Vice 2018-2022 Snowboard Binding Review
Where To Buy
No obligation, but these links & ads support the site.
Where To Buy
80% of outdoor sports products are not listed or sold online.
Our team has relationships with hundreds of local snowboarding and outdoor sports shops.
We'll call the shops and email you a list of stores along with pricing and availability.
---
Not sure what to buy?
Get custom advice from Good Ride editors James and Steph.

Get Advice
Rome Vice 2022 - 2018 Review by The Good Ride
Turn Ons/Swipe Right: Excellent adjustability, adjustable response, damp ride, Great feel underfoot. Works with almost any board or boot.
Turn Offs/Swipe Left: response adjuster might have questionable long term reliability.
Summary
The Rome Vice is a lot lighter for 2022, is very damp, has excellent adjustability and has adjustable response. It also has a great feel underfoot.
Ethics Statement: We don't get paid by the manufacturer to write these reviews.  We do make money from the "Where To Buy" links, but this is our best attempt at an honest and objective review from an average riders' perspective.
Rome Vice Snowboard Binding Review- How it rides and who it is for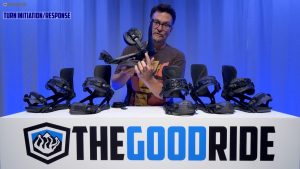 How This Review Happened:  Borrowed this for an extended demo and then returned it. Didn't want to though.
Days:  4+
Riders:  James (Size 9, 5'10" 185-190lbs),
Boots: Burton Kendo
Insoles: Footprint Insole Technology Gamechangers
Boards: Jones Mountain Twin, Rome Stale Fish, Rome Service Dog, Rome
Jacket: Burton AK Gore-Tex Pro 3L Tusk Jacket, Volcom TDF Infuse 3L Gore-Tex Jacket
Pant: Burton AK Gore-Tex Pro 3L Hover Pant, Burton AK Gore-Tex 2L Swash Pant, Burton Gore-Tex Ballast Pant
Helmet: Smith Maze, Smith Vantage
Goggle: Smith IO Mag, Smith 4D Mag
Gloves: Burton AK Guide Glove, Burton AK Clutch Mitt, Burton AK Clutch Glove, Burton AK Tech Leather Glove, Burton AK Tech Glove, CG Habitats Glove, CG Habitats Work Glove, Drop Tahoma Mitt, Drop Cascade Glove, Drop Web Glove,
Similar (but not the same) Bindings: Union Atlas, Union Strata, Union Force,Burton Malavita, Salomon Hologram, Nitro Team Pro,
These bindings can be like many other bindings though due to the adjustable ankle strap.
How These Were Tested
On the First day I took the Rome Vice out on my Jones Mountain Twin and did a sampler against the Union Atlas, Rome Cleaver, Rome Katana, Rome 390 Boss and Rome DOD. After that I put them on other Rome boards and throughout the day adjusted the ankle strap/pivot mount to see how they worked with different Rome boards.
Weight
The Rome Vice is 2 Lbs per foot with screws and discs in. They feel much lighter vs. the last time I rode these in 2018.
Highback Flex
I love this mellow high back flex. It has really good twist and a little give going back. The Rome Vice has enough response but doesn't bite into your calves when riding. Even if it's not rotated correctly.
Flex Underfoot
The quasi-mini disc of the Rome Vice is pretty cool because it is smaller than a full sized disc and bigger than a mini disc. You can mount the screws like a full size disc and have a little more board stability or mount it like a mini disc for more flex underfoot. The only real contact is the disc too. The rest of the base plate has eva foam so there is a very natural flex underfoot. It has a really good feel.
Turn Initiation/Response
So the Rome Vice can be many different bindings to many different boards and boots. I could dial this out for the Rome Agent just the same way I could dial it out for the Stale Fish.
It has an adjustable ankle strap angle. Some bindings have 2 ankle strap angle adjustments per side so you can lower it for less response/more freedom of movement or raise it for more response/support. Most have none. The Rome Vice has 4 options per side and after playing around with it you really feel a difference response wise. So you can use this binding with a quiver of boards and change up the response to each board. You can even put one side higher and the other side lower. It gives you a lot of different options. I only scratched the surface but I could have played around with this all season.
I do worry about the pivot mount's (ankle strap adjuster) long term reliability but not enough to say don't get this. It's just such a cool feature that it's worth a go.
Shock Absorption
The Rome Vice is a step behind the Katana, Black Label and Cleaver but on par with the DOD and 390 Boss. It felt pretty close to my Union Atlas. Those were more damp with the rubber along the base plate but these had better shock absorption with more EVA foam in the heel pad and Gas pedal.
There is also a canted base plate so you keep your joints in line better.
Boot Support
Just like response you can dial out your boot support. This is excellent for those with bad ankles or those that just like different support. One day it was a little messy I put it all the way up and had such a supportive locked in feel around the ankle. Then on another day when I wanted more freedom of movement with the Rome Agent I lowered the ankle strap.
Ratchets
Didn't seem amazing but didn't have any glaring issues either. Just never brought attention to themselves.
Adjustability
The Rome Vice has a massive amount of adjustability. There is an adjustable gas pedal and heel loop. This allows you to dial this out to your boot so you can center it on board. This is what I wish every binding had. Centering your boot in the binding also allows you to center your binding on board. This, along with rotating your highbacks really improves how you turn a board and it can eliminate issues when turning.
When centered on board you can actually turn the discs tip to tail and slide them to fit whatever stance width you want on the board you are riding. These mini-discs are not so mini that you can't mount them full size. This means they will work with set back inserts. You can't adjust them but you can at least do it. That is more than any other mini disc.
Then you have all the other toolless adjustability for forward lean, ankle straps, toe straps etc so it is pretty easy to tweak this on the mountain.
Conclusion
So in my excessively average and humble opinion, the Rome Vice for 2022, with its lighter build, became a very recommendable binding. It will match up with just about any board if you take the time to adjust it accordingly.
 

Rome Vice Past Reviews

The Rome Vice is new this year and takes a lot of the tech from the Katana and puts it into a lower price point. You aren't seeing tech like D30 but to us, it felt like you got a lot of the same ride at a similar price point.

Ethics Statement: We don't get paid by the manufacturer to write these reviews.  No one is perfect and we do make money from the "Where To Buy" links below, but this is our best attempt at an honest and objective review from an average riders' perspective.
 

Rome Vice Images

We try to get as many images of the Rome Vice, but forgive us if they're not all there.
2022
2020
2019
2018
Rome Vice User Reviews
---
---
Rome Vice 2018-2022 Snowboard Binding Review
SKU
UPC
Model
Rome Vice Bindings
Jan 13, 2021 
by
Rob Listy
Ability Level: Advanced • 
Riding Style: All Mountain • 
Days You Ride A Year: 50 • 
Height, Weight And Boot Size (for Boards, Boots & Bindings): 5'9" 200lbs. 159 Rossignol One Mag Snowboard, Size 10 Ride Trident Boot, size M/L Rome Vice Bindings 
I rode the Rome Vice Bindings with my Rossignol One Mag snowboard this weekend. I really enjoyed everything about the bindings and it was a perfect match to my board. I loved the adjustability, the bindings were comfortable and had good response teamed up with the Ride Trident Boots. They seemed damp enough but I was on perfect groomers so I didn't get to try them through cruddy snow.

---
If you can't buy through the links above, you can support the site with: