Ride Fuse 2021 Snowboard Boot Review
Where To Buy
No obligation, but these links & ads support the site.
Ride Fuse 2021 Review by The Good Ride
Ride Fuse Snowboard Boot Review Fast Forward Markers:
0:00 – Intro 0:11 – Summary 1:29 – Sizing 2:29 – Adjustability 3:05 – Heel Hold 3:16 – Response 3:40 – On & Off 4:38 – Flex Retention 5:25 – Shock Absorption 6:10 – Traction 6:27 – Reduced Footprint  6:57 – Conclusion 7:37 – Outtakes 7:53 – About The Reviews
Swipe Right: Excellent adjustability. Strong Heel Hold. Pretty comfortable right out of the box. Fits a wide variety of riding styles and ability levels.
Swipe Left:  Slow on and off.
The Ride Fuse is a very adjustable snowboard boot that holds in your heal well and works well with a wide variety of riding styles.
Ethics Statement: We don't get paid by the manufacturer to write these reviews.  We do make money from the "Where To Buy" links, but this is our best attempt at an honest and objective review from an average riders' perspective.
Ride Fuse Snowboard Boot Review: How It Rides And Who It Is For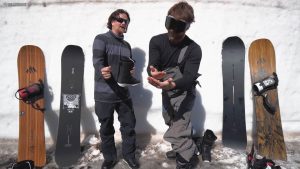 How The Ride Fuse Review Happened:  We borrowed this for an extended demo and then returned it.
Days: 10+
Size Tried: Size 9
Riders: James (Size 9, 5'10" 185-190lbs), Peter (Size 8, 5'11" 185lbs)
Insoles: Footprint Insole Technology Gamechangers, Footprint Insole Technology Gameghangers Low Profile, Sandsole Custom Insoles
Bindings: Union Atlas, Ride C10, Ride C8, Union Stratas
Boards:  Burton Skeleton Key, Gentemstick Mantaray 156, Jones Hovercraft, Jones Ultracraft, Endeavor Pioneer, Ride Wild Life, Yes 420, Yes 420+, Yes Hybrid, Weston Hatchet 152
Similar (but not the same) Boots: Adidas Tactical ADV, Burton Kendo, Burton Imperial, Vans Implant, Vans SQL, Ride Lasso Pro, Ride Trident, Adidas Tactical Lexicon,  Adidas Response
James' Foot Specs
Foot Size: 9 US
Foot Width: E
Arch Length: Right 9.5 and Left 9
Calve Circumference: Top of boot 17" & Bottom of boot 12"
Sizing/Fit
The Ride Fuse fit my true size 9 feet pretty well but I think if I wanted a proper fit I would size down to an 8.5 and after a few days it would feel really well. Peter, a true size 8.5 would really like the 8's. As far as width goes it was just wide enough for my E width and I didn't feel cramped inside like I can with boots that work better for narrower feet.
Construction/Flex/Flex Retention
The Ride Fuse felt and looked well built. We can't say for sure but it should last a long time. So should the flex with the articulating cuff and stiff spine.
Adjustability/Heel Hold
Traditional lace is the best for adjustability. We love how the laces are locked in at each rung. That makes it very easy to have this boot fit around your foot and leg. The BOA around the Ride Fuse ankle really help with heel lift too. It's not quite there with Focus BOA that has 2 BOA's overlapping your ankle but those boots have a fraction of the adjustability.
Response/Turn Initiation
The Ride Fuse has a nice smooth response that sits pretty much in the middle of the response spectrum. It matches up well with a wide variety of boards and bindings.
Shock Absorption/Board Feel
It looks like there is a lot of shock absorption in the sole but we didn't feel it underfoot. It's average and has more of a skate shoe feel. So that could be bad if you want a cush ride but good if you like more board feel.
Traction
Great traction here with the Ride Fuse.
Footprint
You get a pretty reduced footprint with the Ride Fuse. I would love to compare a size 8.5 Ride Fuse to a Burton boot (same fit) to see how they compare but they aren't much bigger than our 8.5 Adidas which are really reduced.
On & Off Ease
Traditional lace isn't easy but that is not why you buy the Ride Fuse. You get this for adjustability. Still, it's not that slow on and off.
So overall, the Ride Fuse worked really well for us. Boots are a pain in the ass to buy and feet are all very different but this has a fit that will work for a pretty wide variety of riding styles and foot types.
Ride Fuse Images

We try to get as many images of the Ride Fuse, but forgive us if they're not all there.
2021
2018
2017
2016
2015
If you can't buy through the links above, you can support the site with: