Burton Cartel X Re:Flex 2021-2023 Snowboard Binding Review
Where To Buy
80% of outdoor sports products are not listed or sold online.
Our team has relationships with hundreds of local snowboarding and outdoor sports shops.
We'll call the shops and email you a list of stores along with pricing and availability.
---
Not sure what to buy?
Get custom advice from Good Ride editors James and Steph.

Get Advice
Burton Cartel X Re:Flex 2023 - 2021 Review by The Good Ride
Burton Cartel X Re:Flex 2021-2023 Snowboard Binding Video and Written Review
Welcome to the Burton Cartel X Re:Flex Snowboard Binding Review from average riders with extensive binding knowledge. Peter can also dive catch these as well. 
Turn Ons/Swipe Right: Cush but pretty responsive binding at a reasonable price…for Burton.
Turn Offs/Swipe Left: Potential Toe Strap Ratchet Issues. No stance width adjustability for non-est boards which is most of the market.
Summary
The Burton Cartel X Re:Flex might have some toe strap ratchet issues but even so it has a really good feel underfoot at a price much better than the Genesis. With the Burton Genesis X now gone, the Cartel X Re:Flex takes its place at a much more reasonable price. If you want a little more response compared to the new re-designed Cartel but still want that easy flex underfoot then this is a great choice.
Ethics Statement: We don't get paid by the manufacturer to write these reviews.  We do make money from the "Where To Buy" links, but this is our best attempt at an honest and objective review from an average riders' perspective.
A Breakdown of How it rides and who it is for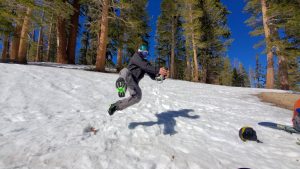 How This Review Happened:  We used this a few times at a few of the demos we attended.
Days: 2
Riders:  James (Size 9, 5'10" 180-190lbs), Peter (Size 8, 5'11" 185lbs),Grant (Size 11 6' 160lbs),  Jimbo (Size 11, 5'11" 160lbs),
Boots: Adidas Tactical ADV
Insoles: Sandsole Custom Insoles, Footprint Insole Technology Gamechangers, Footprint Insole Technology Gameghangers Low Profile
Boards: Burton Family Tree Daily Driver (review coming)
Similar (but not the same) Bindings: Union Atlas, Union Strata, Union Force, Burton Genesis X, Salomon Hologram, Salomon District, Nitro Team Pro, Nitro Team, Now O-Drive, Now Drive, Now Pilot
Approximate Weight
We didn't get the Burton Cartel X Re:Flex on the scale but it seems pretty light like all higher end Burton bindings.
Highback Flex
Much stiffer than the Cartel 2021 and past models as well. The Burton Cartel X Re:Flex Highback is stiffer than the Cartel but not quite as stiff as the X. It is great for those that want minimal flex and twist out of their high backs.
Binding to Boot Adjustability
There are a lot of cool adjustability features with the Burton Cartel X Re:Flex. You can center the boot pretty well in the binding by using the disc inserts and the adjustable gas pedal. It is not the best if you are in between sizes but it works well enough for the other boot sizes. The highback rotation is exceptional and it makes it easier for even featured to big calve guys like yours truly to ride. It also lines up better with the heel side edge for more symmetrical response. Straps have a hybrid screw/tooless adjustability so you can adjust either way.
Stance Width Adjustability
If you ride with a channel system board, it is infinite but non-existant if you ride a board without. Most of us will be riding on a traditional insert pack. If you are, you can't turn the disc sideways and slide tip to tail like you can with other bindings.
Boot Support
This ankle strap is super comfortable for us and really wraps well around our boots. It makes the Burton Cartel X Re:Flex a very supportive semi-locked in binding. The Toe strap when it fits well can really pull your boot into the heel cup but the ratchets can pop loose.
Ratchet System
The Ankle strap ratchets on the Burton Cartel X Re:Flex were fine. The Toe Strap ratchets were not. They popped back out a lot and came loose easy. We often found our toe strap out of place and not doing its job any more towards the bottom of the run. It might be a demo issue but this could lead into production. We'll have to see. Still the anke strap can handle doing all the work if need be but it isn't ideal.
Turn Initiation/Response
The Burton Cartel X Re:Flex has smooth continuous response that turns a board well. The softer the torsional flex the faster the Re:Flex tech can turn it. If you are dealing with a really torsionaly stiff board it won't be as responsive as some of its peers because the Re:Flex tech won't allow the flex to mellow out underfoot as much. Still we noticed it was a good bump up from the Cartel and overall it is pretty responsive for Burton. It is the best option in their line for a responsive binding at a reasonable price point.
Flex Under Foot/Buttering
Burton Re:Flex does such a great job buttering and allowing a board to flex easier underfoot. It makes most soft to mediumish boards feel softer and flex easier from tip to tail.
Shock Absorption/Dampness
Very good shock absorption.
So, all in all, the Burton Cartel X Re:Flex is a great option for those that want more response from their Cartels. We liked the Discontinued Genesis X a little better but the Cartel X Re:Flex is soo much cheaper that this is not a bad pick over the two.
If this review helped, we'd appreciate if you:
Burton Cartel X Re:Flex Images

We try to get as many images of the Burton Cartel X Re:Flex, but forgive us if they're not all there.
2023
Burton Cartel X Re:Flex User Reviews
---
---
Burton Cartel X Re:Flex 2021-2023 Snowboard Binding Review
SKU
UPC
Model
Cartel X reflex
Feb 28, 2021
by
Mike
Ability Level: Expert •
Riding Style: Hard charger •
Days You Ride A Year: 22 •
Height, Weight And Boot Size (for Boards, Boots & Bindings): 5'10", 200 lbs size 10.5 Wide
I wanted to love these but had to send them back. Burton's website lists them at the far end of the stiff scale so I expected a stiff binding to replace my Burton CF with the carbon composite high backs. The Cartel X base plates will flex when you are sitting on your but and moving your boot. They introduced a dead zone in my board control going edge to edge. The ratchets only tighten down to a point and then the pop back a notch. Maybe that is tight enough but I'll never know for sure. The forward lean adjustment is difficult and impossible with gloves on. I had the adjustment piece run out of threads and pop out at one end the first time I tried to adjust. I had to get a tool to pry the highback appart enough to get it started again. I realize most people don't charge hard and fast like I do so most may not need a stiffer binding but Burton has no business calling these bindings fully stiff.

---
If you can't buy through the links above, you can support the site with: