Volcom Guide Gore-Tex Jacket 2016-2022 Review
searchtopAffiliates
Where To Buy
No obligation, but these links & ads support the site.
Volcom Guide Gore-Tex Jacket 2022 - 2016 Review by The Good Ride
Swipe Right: Backpack Compatible Hand Warmer Pockets. Excellent Waterproofing & Flattering Fit.
Swipe Left:  Expensive. Proprietary Powder Skirt. Small Skin Pocket.
Summary
The Volcom Guide Gore-Tex Jacket's powder skirt isn't compatible with other brands but has 4 backpack compatible front pockets, excellent waterproofing and a flattering fit.
Ethics Statement: We don't get paid by the manufacturer to write these reviews.  We do make money from the "Where To Buy" links, but this is our best attempt at an honest and objective review from an average riders' perspective.
Volcom Guide Gore-Tex Snowboard Jacket Review: How It Rides And Who It Is For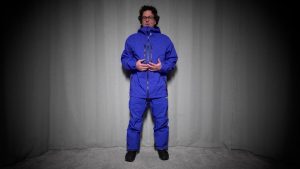 How This Review Happened:  Precious Good Ride dollars were spent to buy this and review it.
James' Jacket Specs
Size: Large
5'10" 185 lbs
Chest: 43.5"
Arm Length (pit to wrist) 19.5"
Neck: 16″
Torso Length (collarbone to pant line) 23"
Shoulder Width 19" wide
Inseam 30"
Gloves: Burton AK Guide Glove
Helmet: smith maze
Goggles: Smith 4D Mag
Fit
The Volcom Guide Gore-Tex Jacket has a very flattering fit. It makes guys like me who have size medium arms, an XL chest and L torsoe look more even featured. It fit's pretty normal too. Not baggy or tight. Right in the middle.
Construction
Excellent construction that matches the price point.
Waterproofing/Breathability
The Volcom Guide Gore-Tex Jacket is rain ride ready. It is a little behind Gore-Tex Pro but it's all shades of excellent. The breathability is great but just a shade behind some other tech out there. Still it's very breathable.
Hood/Helmet Compatibilty
I love a contoured hood and this size L jacket can handle a L or possibly an XL helmet from most brands. It also contours around the googles to help protect the sides of your face from the elements.
Cuff/Glove Compatibility
The cuff is on the wider side so it slides right over your gloves when you put them on. It isn't like many Patagonia jackets where the cuffs are too narrow to do that.
Pit Zips
There is a pretty thick mesh happening  with Volcom Guide Gore-Tex Jacket so they don't open up super wide. That is good for some and bad for others depending on preference.
Pockets
It is great to have 4 outer pockets that are back pack compatible. The only bummer is the goggle/skin pocket inside barely fit's 2 skins. I prefer Jones & Burton split board friendly jackets better when splitting.
Powder Skirt
The Volcom Guide Gore-Tex Jacket only has the zip tech so it isn't compatible with other jackets anymore. I personally don't care but some will that own non-Volcom pants.
Conclusion
So going to 4 pockets makes this a great jacket for me personally. I mainly use approach ski's like Drift Boards & Union Rovers so I don't care too much about the skin pocket. It makes this an excellent resort to slackcountry jacket for those who see a lot of wet weather.
Volcom Guide Gore-Tex Jacket Past Reviews

The Volcom Guide Gore-Tex Jacket Is missing waist pockets and if you can get past that you have a minimalist, incredibly waterproof, lightweight jacket for anyone who is into the backcountry, and it's ok for the mountain too.

Ethics Statement: We don't get paid by the manufacturer to write these reviews.  No one is perfect and we do make money from the "Where To Buy" links below, but this is our best attempt at an honest and objective review from an average riders' perspective.

A big thanks to Gravity Sports at Mt Bachelor for giving us access to this.

Grant's Jacket Specs

Size: Medium
6'0"
165lbs
Chest: 42"
Upper Chest by lats: 42"
Arm Length (pit to wrist) 22.5"
Neck: 16″
Torso Length (collarbone to pant line) 22"
Shoulder Width 17.5" wide
Gloves: Burton AK Guide Glove
Helmet: Smith Vantage
Goggles:  Smith IO Mag

James' Jacket Specs
Size: Large
5'10" 185 lbs
Chest: 43.5"
Upper Chest by lats: 46"-47"
Arm Length (pit to wrist) 19.5"
Neck: 16″
Torso Length (collarbone to pant line) 23"
Shoulder Width 19" wide
Gloves: Burton AK Guide Glove
Helmet: Smith Vantage
Goggles:  Smith IO Mag

The Volcom Guide Gore-Tex Jacket doesn't have a great media pocket but just about everything else about this pant matches well for anyone who is into the Backcountry. Or if you are someone who sees a ton of weather when riding/hiking around the resort and doesn't care that it's missing handwarmer pockets, then this could be a great call for those that want top tier waterproofing.

Ethics Statement: We don't get paid by the manufacturer to write these reviews.  No one is perfect and we do make money from the "Where To Buy" links below, but this is our best attempt at an honest and objective review from an average riders' perspective.

Size Tried: Large
James' Specs:
Height: 5'10"
Weight: 185 lbs
Chest: 44"
Upper Chest by lats: 45"
Neck: 16″
Torso Length (collarbone to pant line) 23"
Widest Width Upper Body (Just below shoulders) 21" wide (52" Circumference)
Shoulder Width 19" wide (48" Circumference)
Arm Length (pit to wrist) 19.5"

Helmet: Smith Maze

Goggles:  Smith IO Mag

Fit: Very flattering fit and the size Large worked well for my specs above.

Construction: The Volcom Guide Jacket has one major flaw and that is the lack of a decent media pocket.  When I am on a long hike there is no better motivator than listening to some good tunes and this makes it difficult. If you have a bib pant you will most likely have a media pocket there though. Everything else about this jacket is well thought out and really well done. The construction is almost flawless and I couldn't find even a minor flaw. The front pockets are massive and designed to hold as much as possible on the outside with a pretty sizeable backpack around the waist. I love the zippered goggle pocket because now that it doesn't have a single button it can be more than just a goggle pocket.  I always forget to mention that there is a face mask in the hood that you can pull out which isn't a bad idea. I don't like wrist gators but as far as wrist gators go they are really well done.

This isn't something I normally talk about but the color of this and the blue Volcom Guide jacket is quite a change up from the colors we have seen from Volcom in the past.  They usually had one super outrageous color and then 1-2 ultra subdued colors. Both the Blue and Red really have a multifaceted color scheme to it that I can't stop staring at. In lower light, it seems like a deep dark red but as the sun comes out it really lights up and almost seems like a different Jacket.  Same for the blue jacket but even to a lesser extent, the grey jacket does the same thing. My camera doesn't do this jacket any justice.

Hood: The contoured hood is great and even though doesn't look as good as the articulating hood it sure protects your face a lot better.

Insulation/Warmth: Almost none but that is expected of a 3 layer shell of this type.  It does set you up perfectly when creating a barrier against wind chill so you don't have to layer up as much below when it's super windy.

Waterproofing: 3 Layer Gore-Tex. Almost enough said.

Breathability: I have experienced a few (not many) Jackets that have better breathability than Gore-Tex but not many wraps it all up in a reliable super waterproof package like this jacket.  That being said this is incredibly breathable and better than many Gore-Tex Jackets I've owned.

Packability: Very light and takes up little space in a bag.

Overall: The colors called me to the Volcom Guide Jacket but the construction, waterproofing, breathability, and fit really work for me. If you can get past the lack of any viable media pocket or handwarmer pockets, then you have a pretty special jacket.

The Volcom Guide Jacket is a pretty technical backcountry shell made for those who always have a backpack on.  It's also got a face mask and wrist gaiters for those that want a little extra for a technical shell.

Size Tried: Large
James' Specs:
Height: 5'10"
Weight: 192 lbs
Chest: 44"
Neck: 16″
Torso Length (collar bone to pant line) 23"
Shoulder Width (widest point of shoulders) 22"
Arm Length (pit to wrist) 19.5"

Helmet: Smith Vantage

Goggles: Smith IO7
Volcom Guide Gore-Tex Jacket Images
Volcom Company Information
Volcom Guide Gore-Tex Jacket User Reviews
If you can't buy through the links above, you can support the site with: