Burton Tourist 2021 Snowboard Boot Review
Where To Buy
No obligation, but these links & ads support the site.
Burton Tourist 2021 Review by The Good Ride
Burton Tourist 2021 Snowboard Boot Video Review Fast Forward Markers
0:00 – Intro
0:11 – Summary
1:35 – Sizing
2:15 – Flex/Response
4:26 – Construction & Flex Retention
7:35 – Lacing & Adjustability
8:40 – On and Off Ease
9:16 – Insoles
10:06 – Traction
10:48 – Reduced Footprint
11:33 – Conclusion
Swipe Right: Great boot for split boarding or drift boarding but still good for resort riding
Swipe Left: Expensive.
The Burton Tourist 2021 Snowboard Boot offers up a pretty easy negative flex for skinning but also is more than fine for riding at resorts. It is great for those that want one boot for your splits and solids and I found this to be a good choice for my slackcountry morning adventures before the lifts open.
Ethics Statement: We don't get paid by the manufacturer to write these reviews and this is our unfiltered opinion.  We do make money from the "Where To Buy" links, but this is our best attempt at an honest and objective review from an average riders' perspective.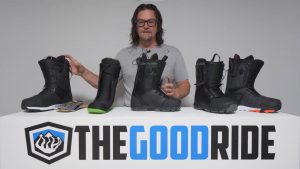 How This Review Happened: We spent our precious Good Ride dollars to buy this and review it.
Days: 2
Size Tried: 9
Conditions: Pretty ugly late summer conditions with my Drift Boards. Looking forward to real winter conditions though to follow up on em.
Riders: James (Size 9, 5'10" 185-195lbs)
Insoles: Footprint Insole Technology Gamechangers
Bindings: Union Contact Pro/Union Superpro
Boards: Yes Greats and the Burton Kilroy Pow Camber (review coming)
James' Foot Specs
Foot Size: 9 US
Foot Width: E
Arch Length: Right 9.5 and Left 9
Calve Circumference: Top of boot 17" & Bottom of boot 12"
Sizing/Fit
The Burton Tourist fits my size 9E very well and I don't feel any pressure on the sides like I do with some narrower boots. It is best for medium to mid/wide feet but still can sometimes fit a narrower foot.
Construction/Flex/Flex Retention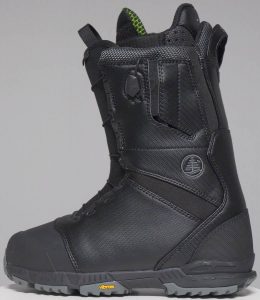 The overall construction is going for a balance between being comfortable and lasting close to 100 days. I didn't really need any break in period and these felt pretty comfy day one. I'll know more about long term flex retention when I get more time on these as I own them.
Adjustability/Heel Hold
I'm more than fine with the heel hold of the Burton Tourist but those that like a lot of wrap around the ankle might have to look for another boot.
Response/Turn Initiation
Not quite there with the Ion but close when it comes to response. I think the Neoprene at the top of the boot that allows the Burton Tourist to have more negative flex also detracts from its response.
Shock Absorption/Board Feel
Pretty good shock absorption but far from being the best amongst its peers. The Burton Tourist is going more for board feel than a cushy shock absorbent ride.
Traction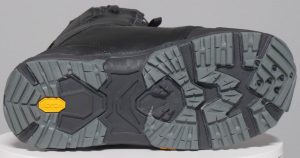 Top notch traction and this is the kind of boot I would like to have under my feet if I would have to hike in a sketchy spot.
Footprint
Just like all the other Burton boots which is great. There is a very reduced footprint throughout all sizes in the Burton Tourist. It will help reduce toe/heel drag and that can be very dangerous.
On & Off Ease
Double BOA is easier off but this speed lace is easier on.
So, overall, I like the feel of the Burton Tourist and it is exactly what I want for when I skin up on good powder days before the lifts open.
Burton Company Information
Burton Tourist User Reviews
If you can't buy through the links above, you can support the site with: