Jones Flagship 2011-2024 Snowboard Review
| | |
| --- | --- |
| Riding Style | Freeride |
| Riding Level | Advanced - Expert |
| Fits Boot size (US) | 8-10, 10-12, > 12 |
| Manufactured in | Dubai by SWS |
| Shape | Tapered Directional |
| Camber Profile | Hybrid Camber |
| Stance | Setback over 20mm |
| Approx. Weight | Feels Normal |
| Split | No |
| | |
| --- | --- |
| On Snow Feel | |
| Turn Initiation | |
| Skidded Turns | |
Where To Buy
80% of outdoor sports products are not listed or sold online.
Our team has relationships with hundreds of local snowboarding and outdoor sports shops.
We'll call the shops and email you a list of stores along with pricing and availability.
---
Not sure what to buy?
Get custom advice from Good Ride editors James and Steph.

Get Advice
Jones Flagship 2024 - 2011 Review by The Good Ride
Jones Flagship 2020-2023 Snowboard Video and Written Review
Hope you are here to enjoy the Jones Flagship Snowboard Review from an average and very objective riders perspective. 
Update for 2024: The Jones Flagship hasn't changed much or at all from 2021-2024 so this review still stands. 
Turn Ons/Swipe Right: Really forgiving for such a stiff aggressive ride. Very fast base. Lots of sizing options
Turn Offs/Swipe Left: Not for those that like a turny ride. Really wide reference stance and set back insert stance width.
Summary :The Jones Flagship is a fast aggressive board that also is very easy to skid a turn. The 2021 model now has setback inserts for deep powder vs. the 2020.
Ethics Statement: We don't get paid by the manufacturer to write these reviews and this is our unfiltered opinion. We do make money from the "Where To Buy" links, but this is our best attempt at an honest and objective review from an average riders' perspective.
How this rides and who it is for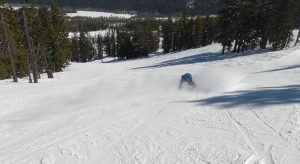 How This Review Happened: We liked it so much we asked to keep it (we only do this with our favorites).
Size: 158 & 161
Days: 10+
Conditions: Everything from micro bumpy hard snow to pretty deep powder  and an early morning slackountry time with Drift Boards.
Riders: James (Size 9, 5'10" 185-190lbs), Peter (Size 8, 5'11" 185lbs), Jimbo (Size 11, 5'11" 160lbs), Zobel (Size 11.5, 6' 180lbs), Grant (Size 11 6' 160lbs), 
Boots: Adidas Tactical ADV, Burton SLX, Burton Almighty, Burton Ion
Insoles: Sandsole Custom Insoles, F.I.T. Gamechangers, F.I.T. Gameghangers LP
Bindings: Union Atlas, Union Strata, Union Falcor, Union Force, Burton Genesis X, Burton Cartel and many more…
Similar Boards (but not the same): Yes Pick Your Line,  Burton Flight Attendant, Never Summer West Bound, Rossignol XV, Lib Tech BRD, Weston Backwoods, Burton Hometown Hero, Korua Otto, Ride Wild Life, Jones Ultra Flagship, Jones Stratos
Set-Up: 21.5"- 22" Wide. 21 front -6 back and several other stance angles. . Close to Reference and Set as far back as we could for a 21.5″ stance width.
Approximate Weight:
Feels normal and not quite as light as the Ultra Flagship this year.
(We don't put in the exact weight because with wood cores there is no consistency in a boards weight)
Sizing
Here are some ideal US boot sizes for these boards. You can of course go bigger or smaller but these work best for not turning the board slower than it should be and not having the dreaded Toe & Heel Drag.
151: 6.5-7.5
154: 7-8
158: 8-9
161: 8-9
164: 9-10
167: 9.5-10.5
172: 10-11
159w: 10-11
162w:10-11
165w: 11-12
169w: 12.5-13.5
I was right in between the 164 and 161. So is Peter. Peter prefers the 164 cuz he likes to bomb. I prefer the 161 because I like more control and to turn a lot.
Shape/Camber/On Snow Feel/Ability Level
The Jones Flagship has a very stable ride that doesn't feel as tapered as the specs would lead you to believe. It is an aggressive ride but the camber going a little past the bindings seems to make it a much more forgiving ride. Its super easy to skid a turn with this if you are in steep terrain or off your game. The Spoon tech in the nose/tail stops about where the camber begins so it doesn't feel edgless/washy in harder snow like some boards can with lifted tech. It is a very stable all conditions ride.
Flex/Pop/Buttering
The Jones Flagship doesn't win when it comes to pop compared to the Ultra Flagship or Stratos. Those two boards are much more poppy and lively. Surprisingly its pretty easy to butter for being stiff under the bindings, medium to medium/stiff in the nose and medium stiff in the tail. It takes some work but its doable.
Speed
Fast! The Jones Flagship is really fast and for 2021 this and the Hovercraft are the dampest boards for riding in all conditions. The Ultra versions are a little faster in perfect snow but not riding all day at a resort. The base just glides and keeps its speed incredibly well. You can get out of a flat section much easier than most of this boards peers.
Uneven Terrain
Speaking of riding all day at a resort, the Jones Flaghip does soooooooooo much better now. It used to be a cranky nightmare when the conditions started to get uneven but the 2021 and 2020 both have much better tech to absorb all kinds of uneven snow. So it might not pop as hard as the Stratos but does masively better when its uneven. Its closer with the Ultra Flagship but we both preferred the Flagship in uneven terrain.
Edge Hold
Great hard snow grip without being grabby in soft snow.
Turn Initiation
Pretty quick edge to edge but the acceleration slows down after you imitate a turn. It is a pretty good board for
Turning Experience/Carving
The Jones Flagship doesn't light the carving world on fire but it has a satisfying carve. It really likes a narrow long S-Turn and speedy down the line kind of turns. I liked the way the Stratos turned and carved better and if it didn't chatter soo much I would like it better.
Powder
The new set back inserts for the 2021 Jones Flagship make this a better powder board compared to the 2021. Now you can get -4.625" back from center of board when set all the way way back with a 23.6" stance width. Add the 12.5mm of taper and the early rise in the nose you have a very floaty ride. It feels more in the powder than the Hovercraft but the nose does an amazing job at keeping up. The pretty sizeable Spoon tech makes turning faster/more enjoyable in powder. It has such a nice roll from edge to edge. So if directional float in powder is important to you, then the 2021 is the only call. It is a really good call for those that see a lot of steep angle powder.
If this review helped, we'd appreciate if you:
Jones Flagship Past Reviews

The Jones Flagship 2020 had a nice overhaul that gives it a different nose/tail with a lot more taper in the tail (1mm vs. 12.5mm) and somewhat mellowed out flex that gives it much better uneven terrain performance than it had before.

Ethics Statement: We don't get paid by the manufacturer to write these reviews.  We do make money from the "Where To Buy" links, but this is our best attempt at an honest and objective review from an average riders' perspective.

How This Review Happened:  We borrowed the 165w for an extended demo and then returned it and rode the 158 at the demos.
Size: 158 for Peter and James, 161 for James and 165w for Grant
Days: 2 but many more to come with the 161…
Conditions:    and an early morning slackountry time with Drift Boards.
Riders: James (Size 9, 5'10" 185-195lbs), Peter (Size 8, 5'11" 185lbs),Grant (Size 11 6' 160lbs)
Boots: Adidas Tactical ADV
Insoles: Sandsole Custom Insoles,  Footprint Insole Technology Gameghangers Low Profile
Bindings: Union Atlas, Burton Malavita,

Similar Boards (but not the same) That We Compared This To:
Jones Mind Expander, Jones Hovercraft, Yes Pick Your Line, Burton Flight Attendant, Gnu Mullair, Jones Flagship, Never Summer West Bound, Rossignol XV, Lib Tech BRD, Jones Frontier, Korua Otto and Loaded Algernon

Set-Up: 22" Wide. 21 front -6 back. Close to Reference and Set all the way back. 22" Wide. 15 front -15 back.  Centered.

Approximate Weight:

Sizing: There is a wide variety of sizing with the 2020 Jones Flagship. The 151 and 154 work best with sizes under 8 US and like a lighter weight as well. Then from 158 to 164 it's good for size 8-10 US. The 167 and 172 can work with 10-11 easily but after that size, it's more about the footprint of your boot. Then they have the mid/wide to wide sizes that work with most 11 and up boots. As the size get's bigger, size 12+ boots can work too like with the 169w.  The Jones Flagship can also handle a decent amount of weight.

Flex/Buttering: The flex is definitely more mellow this year but it still doesn't lose the aggressive bomber identity the older flagship had. The 2020 Flagship gives you a little more butterabilty than before and it feels like it has more accessible pop for the average rider like us.

On Snow Feel/Ability Level/Skidded Turns: The Jones Flagship is still a powerful ride but it just mellowed out enough to give it a little different personality underfoot than it did in the past. It's still stable underfoot and the rocker in the tip/tail makes it very easy to skid a turn for an aggressive board like this so even an athletic intermediate committed to the sport could swing this. The Frontier would be better but those who are on their way to see a lot of deep powder might like this better. What changes up the ride more than the flex we discussed is the taper and while it is still stable for one footing and flat basing it doesn't feel like a double-ender any more. I wouldn't say it feels like the 12mm of taper it has now but it does feel more directional and surfy/slashy than before without feeling too washy.

Edge Hold: The Mellow mag is still mellow but effective. It doesn't grab much or at all in powder or softer snow but is very competent when the snow gets hard.

Turn Initiation: The Jones Flagship loves long almost straight-lining narrow S-Turns but it is also pretty quick edge to edge for making quick adjustments in tight spots. It's great slaloming through trees but It slows down a little if you try to make a hard right or left.

Turning Experience/Carving: So there isn't a ton of camber here but for what is there the Jones Flagship can carve pretty hard. Maybe our only critique of the new design would be more camber towards the tail so we could get a little more powerful carves that is on par with many of the directional camber rides out there with camber from the tail to the front binding. The camber here is still in between the inserts and while it still can carve pretty hard it's not as powerful and springy as some of its peers when it comes to laying down hard turns.

Powder: The Jones Flagship can float really well and is almost there with the Hovercraft but a little behind the easy float of the Mind Expander. At a 22.75″ stance width set all the way back there is a 6.5″ difference between nose and tail, or a 3.25″ set back from the center of the board. That combined with the bigger nose, ton's of taper in the tail compared to last year (12mm vs. 1mm) and early rise in the nose make for a great floater. The Jones Flagship has turned-up sides on the nose so it rolls easier from edge to edge in the powder and we felt it when we compared this to some super floaty boards that don't have this tech. What really makes this ride, isn't the above-average float, but the super-fast easy-gliding base that goes faster in powder than almost any other board in this price range we have tried. It just kills traverses and get's you out of long flats or weird you can often ride back to the chair on a powder day. In our crew, whoever has a sintered 9900 base from Jones goes first on the traverse. Peter and I both feel that the 161 is probably the better daily driver for our specs but if we bumped up to a 164 it would float closer to the Hovercraft 156 we love. However, both of us would still prefer a 158 Mind Expander over both of these boards. It's just unsinkable.

Speed: As we said above, the base has some serious glide to it so it keeps its speed in good snow better than almost any board we tried and outshined all our favorites. The Never Summer Westbound was pretty close though and if we sized up one size from the 157 we rode to the 160 it might be the same when it came to easy glide. It also doesn't seem to need to be waxed every day. You can let it go a day or two before that magic glide starts to wain. That and the damp, stiffer flex works really well with making the Jones Flagship one of the better rides out there for bombing. It's only outshined by the Carbon Flagship.

Uneven Terrain: So the Carbon Flagship is damper and more bomb friendly at very high speeds but it is much more cranky in uneven terrain than the Jones Flagship and that is why 8 times out of 10 we recommend the Flagship to those that never know what conditions they will face when they head up to their mountain. The uneven terrain performance has really changed over the years. When we first started riding this we wanted to put it away right when the conditions start to change mid to late morning before it would get cranky on you. Now it's pretty much on par with most other freeride boards. It still runs stiff and aggressive but now it's just a typical freeride board that can ride all day instead of a board you would like to put away. It can weave around or over bumps pretty well.

So overall the changes to the Jones Flagship keep a lot of things that we loved about the older model but add more taper and better uneven snow performance.

The Jones Flagship is for someone that likes a stable fast board for powder, bombing and carving up morning groomers.   That being said it can skid out a turn super easy if you get off your game which is pretty uncommon for this type of board. Year over year it is often one of the more recommendable freeride boards. we ride.

Ethics Statement: We don't get paid by the manufacturer to write these reviews.  We do make money from the "Where To Buy" links, but this is our best attempt at an honest and objective review from an average riders' perspective.
2017-2019 Jones Flagship Review
The 2017 Jones Flagship is now made at SWS instead of GST. The SWS Jones has a more forgiving ride in uneven snow and what they call Spoon Tech which is a lifted side to help it float/displace powder. Other than a few tweaks to the flex, the 2018 and 2019 Jones Flagships are very similar to the 2017.
Size:  158 and 161
Days: 5+
Conditions: CO snow to Sierra Snow to eastern PNW snow so everything from hard to a bit of powder.
Riders: James, Peter, Jimbo
Boots: Burton Almighty, Adidas Tactical ADV, Burton SLX,
Bindings: Burton Cartel, Union Atlas, Burton Genesis X,
Set Up:  Set back a bit 15 to 18 front -3  to -6 back approximately 22.5″ to 23″ wide.
Approximate Weight: Felt normal
Flex: The flex from the SWS factory is a touch more mellow.  It feels a bit softer and has an easier flex to it.  The Old Flagship had much more of a stiff wood feel to it where this has a little more of a rubber feel to it which is a great improvement.  We already felt it was stiff enough so the changeup is very welcome.
On Snow Feel: The feel underfoot is the same stable feel as the GST models from 2016 and below.
Edge Hold: Same great mellow mag edge hold that doesn't shine on ice but handles soft snow to hard snow very well.  It's a great board for those that know they are going to ride on all but the shittiest days out there.
Turn Initiation: Same quick turn initiation as the 16 and below Jones Flagship.  It's really quick edge to edge in tight spots however when you are engaged on the edge for a longer turn the radius isn't that tight. So it's great with short quick turns side to side when dogging trees and then on groomers, it likes bigger radius turns when on edge.
Skidded Turns: The Flagship is really easy to skid turns and it makes it a great board for not making you pay when you get off your game.  It really can flick quickly from skid to skid in steep stuff.
Carving: So I was a bit concerned with the new spoon tech when it comes to a carve because we didn't like it on the Aviator.  The Aviator seemed to wash out when you really laid it over on a rail.  We didn't find this to be as much the case with the Flagship.  I think it's because it has less camber than the Aviator so you already know where the camber is. The Aviator gives you a false sense of camber where the Flagship better sets the camber expectation level on a carve.  It's still a little washier than the old Flagship but it felt like the carving didn't change too much.  I'd like to see them move the spoon tech up completely past the camber and only exist in the rocker section so that way it still carves like a champ and still has better powder displacement. It also drives well off the front foot or centered on the board as well as the back foot without being that washy.
Speed: Even though it's a little softer than the old Flagship it's not noticeable when you point it.  It seems like it lost a little stiffness but gained more dampening tech which we all like.  It no longer feels like an early 2000's freeride board.
Uneven Terrain: We were getting pretty tired of the old Flagship when it came to mid to late day resort snow. It was to the point that we were going to remove this from the favorites list.  However, the new SWS build really improved the ride in the uneven snow.  It's still not an easy ride but it's much better than before. It used to be a poor ride in the uneven shit but now it's average.  You can get through a whole day of riding without it getting too cranky.  It can slam through tracked powder though like a champ and just take it but when it goes from tracked to bumpy and messy it's not perfect but much better.
Powder:  Still a champ in powder and the spoon tech is a little more subtle than they say but it does help improve the float.
Switch:  Same as before. Doable but not great.  Get the Explorer or Ultra Mountain Twin if you want to ride switch more.
Jibbing: Nope
Pipe: You know if you are ok with directional pipe riding this can work no problem. I've carved some pipe walls with the Jones Flagship and it's been very doable.
Jumps: Nice pop off the tail and the new SWS made Jones Flagship have a little more spring off the tail.  It's a great board for directional air.
2015-2016 Jones Flagship Review
The 2015 and 2016 Jones Flagship have a very similar ride.
The 2015 Jones Flagship has the same shape, specs and overall ride except for one thing.  The 2015 core is a little livelier, snappier and a slight bit more aggressive than the 2014 and similar in flex to the 2013 model. The Build quality and base of the 2015 to 2013 line is much better than the past models. There is also just a little bit more camber. Also for 2015 year the Flagship comes in women's sizing which is better.  They use to have a women's board called the Mothership which was a women's flagship so this makes it simple with the Flagship working for all gender and sizing.
Size:161 and 164
Days: 30+
Conditions: Everything from bullet proof groomers to 2 to 3 feet of thick sierra snow.
Riders: James, Peter, Eli, Billy and a few others. 
Boots: Burton Ion, Burton SLX, Burton Imperial, Nike Kaiju, DC Judge, Nike Lunarendor,
Bindings: Burton Diode, Flux DM, Flux SF, Now O-Drive, Union Factory, Now Drive, Now IPO
Set Up: 23 inches wide 18 front 0 back and 22 inches wide 18 front and -3 back.
The Jones Flagship 2015-2013 is the same general design but it's made from a different manufacturer.  Jones use to be Nidecker but that factory was having issues the past few years. They moved to GST out of Austria which is one of the better factories out there. As a result the construction quality of the 2013 -2015 is better and the base seems to be faster for 2014 and 2015. Also the board isn't as stiff for 2014 and feels lighter.  It even feels like it borders on being light. The 2015 feels a little stiffer but maybe the same weight or even a bit lighter.  The move to GST successfully reduced most of the minor issues our readers were experiencing and customers were experiencing with production models.
On Snow Feel: There is Such a huge difference between the Rossignonl Experience Jones model and this model.  The Design is very similar but the stiffness in the nose makes the board soo much fun to ride on groomers. The Experience had such a soft nose that it was very much like having a clown shoe.  The Jones Flagship isn't as much as a carvy snowboard as it is a straighline everything you see kind of board.
Powder: The Jones Flagship has an effortless float in powder and the steeper it is the better it performs.  The set back on side cut is -20mm but on the board its more like -75mm. So that combined with rocker after the bindings and the set back camber makes the Jones Flagship ride bigger than it's size and float like a dedicated powder board. You know when you are bombing on a fresh line and hit a tracked up path it doesn't even feel like anything.  It's a chunder buster for sure.  It handles high speed powder assaults better than almost any other board out there.  It's got a nice semi-surfy feel that will allow you to keep afloat in even the deepest of deep.  If you need to dart between trees it handles it well in powder for a board this stiff.
Turn Initiation: For a board of this stiffness and size the turn initiation is surprisingly very good.  Because of it's stiff flex it's more work in the rutted mogul like crud you can find on the well tracked routes back to the chair but it can turn pretty quick edge to edge. One thing that's interesting about the Jones Flagship is it makes skidded turns pretty easy for those that are in tight steep spots. It's also not bad at all in the trees.
Speed: We went down this run that is soo steep the Cat has to winch into a tow cable to groom it.  The Jones Bombed down this steep run like we were straight lining on an intermediate groomer. The 2012 and below base is pretty fast and the board is chatter free. The 2013 and 2014 has the same damp ride but an even faster base that does an amazing job picking up speed and keeping speed in the flats. Same with the 2015. This is at the top of the speed spectrum and has a race car kind of feel.  The design seems to truly match Jeremy's riding style so much it can make you feel a bit inadequate when trying to mach down a steep run. There aren't many people that have the ability to take this board to it's limits.
Uneven Terrain: The Old Jones Flagships that were thick mean and stiff. They were made by Nidecker and were pretty rough after things got tracked out. The new lighter softer flexing Flagship is going to be a lot easier in bumpy uneven conditions and it's got a lighter more forgiving ride. The 2013 was a little better but the 2014 is a little easier than the 2013. It now almost borders on good for dealing with bumps.  I just found this out when I got to play around with some production models. It's still going to be a damp chunder busting board but it's got a more friendly all terrain ride now that borders on good. The Flagship is going to shine when it comes to morning groomers and powder runs but if you are looking for a mogul board look elsewhere. The 2015 model steps back into the 2013 realm of flex and it's a little stiffer and more cranky.
Approximate Weight: This use to be one of the heaviest boards we have recently come across. The 2013 was a little lighter and the 2014 seems even lighter than the 2013 and it borders on being light. The 2015 feels a shade lighter as well but it's pretty close to the 2014.  It feels very easy on the foot going up the chair lift and the weight reduction really changes up the board.  Normally a little weight reduction doesn't matter but when the board was soo heavy a weight reduction does matter.
Edge Hold: This type of magnetraction makes for very solid edge hold with out changing the characteristics of the ride.  In icy conditions and snowment the Jones Flagship holds an edge very well. All years hold about the same.
Flex: The Pre-GST models use to have an ultra stiff flex like the freeride boards of old.  It was also heavy and unforgiving. The flex was a little better in 2013 but the 2014 borders on being Medium/Stiff and it's mellowed out.
Carving– Really fun to carve in almost any type of condition and it's got decent spring out of the turn.  The 2015 is a little more springy but not by much when it comes to a carve.  However it's more fun to just go as fast as you can go instead of lean out and carve.  If this had just a little more camber extending further towards the tail this could be an amazing carver.
Switch: The Jones Flagship is not bad switch for a board of this shape with a little taper.  You can comfortably mix it up and give your back leg a break here and there but it's no twin and it feels very different.
Jumps: Obviously this is great for natural hits but not really that good when it comes to the park. There is good snap off the tail but the newer models pop a little better than the earlier models. I'd say the 2015 has the most pop.
Pipe: The Jones Flagship will climb a pipe wall well but it's just not built for the pipe. It's a little too directional and long but it can work in there.
All in all year in and year out the Jones flagship is a fast aggressive and pretty forgiving board for it's flex.  If you live for going fast on morning groomers, super steep terrain on powder days and a great freeride board.  No board is perfect but it has a consistent ride in every condition that never gives you a surprise.
2014 Jones Flagship
Jones Flagship 2012-2011 Review.
To start off with the board is different than almost any other board out there with the exception of the Rossignol Experience and the Rossignol Krypto.  All three seem to have the same shape/design. The big difference between the Jones and the Rossignol versions is the camber seems more pronounced with the Rossignol where the Jones seems almost like a flat/rocker board.  The same goes for the Magnetraction for the Experience and Krypto where the Jones is almost un-noticeable.  Another thing is the Jones is much more stiff than the Krypto and Experience.  The first thing that's almost impossible not to notice is how heavy this board is.  The 2012 seems a bit lighter but it's still heavy.  So far it might be the only flaw we have found.  Riding this board gives us a tiny little port hole into the world of Jeremy.  So let's get to the breakdown.
The Jones Flagship is feels like this is really what Jeremy rides. Jones incorporated "Mellow Magnetraction" which is a barely noticeable Magnetraction like extension of the edges throughout the board.  It's nothing like Magnetraction from Lib-Tech and Gnu's.  It's much more mellow but still does a good job holding an edge.  The top sheet is a bit puzzling because it looks like un-treated wood but they soaked it with some sort of sustainable treatment. Some people like this top sheet and some hate it so it's up to you to decide how you feel about it. Top Sheet or no you can't deny that the Jones is one bomber of a big mountain board.  The 2011 & 2012 boards are not much different. The ride, feeling and style are very similar.
If you are an accomplished freerider that likes speed, big chutes, wide open runs and carving then this will be a very fun board.
Jones Flagship Images

We try to get as many images of the Jones Flagship, but forgive us if they're not all there.
2021
2020
2019
2018
2017
2016
2015
2014
2013
2012
2011
Jones Flagship User Reviews
Jones Flagship 2011-2024 Snowboard Review
SKU
UPC
Model
Nice Board
Mar 23, 2022
by
david
Ability Level: Intermediate •
Riding Style: All mountain •
Days You Ride A Year: 10
I went with the 159w, its a big board. I can't speak about park riding as im too old for that stuff these days. But it is big, stable and doesn't have any chatter. It worked well on icy patches. This board is very stiff. I don't have any real complains about it.

If you are getting older and are looking for a good cruising board, this is a great option. I was able to really get tear down the mountain on it and it felt very stable. it goes from edge to edge nicely as well.

Im sure an expert rider would have more to say about how it handles, but for me, it ran like a 1970's Cadillac, smooth and comfortable.

---
Jonesey
Nov 10, 2021
by
martin
Ability Level: Intermediate - advanced •
Riding Style: Freeride •
Days You Ride A Year: 14 •
Height, Weight And Boot Size (for Boards, Boots & Bindings): 5'11, 82kg, UK10
Have had 3 Flagships over the years and loved them all. Were all 162w.

Great in the powder, and easy to ride in shit conditions. Pretty forgiving.

A bomber on piste also.

---
Pretty Sweet
Oct 11, 2018
by
Mark Neal
Ability Level: Advanced •
Riding Style: All mountain •
Days You Ride A Year: 10 •
Height, Weight And Boot Size (for Boards, Boots & Bindings): 6'4,100,Euro47
I have the 2018 165W. I've had one day on this so far. Really enjoying the extra firmness relative to my now retired Burton Mayhem. Rides switch better than I expected. Kept me upright on some ice where I think the ol' Burton would have dropped me. Looking forward to it's next day out.
Minor quibbles:
I'm lucky i didn't cross thread a hole when I was mounting bindings. Turns out there was some fibreglass in the thread, which I got out, then it was fine.
It is a beautiful board, but the edge of the topsheet does wear a little, even after one day - you wouldn't mistake it for a new board now.
I put a gouge in the base from a rock, and it seems a bit deeper than the equivalent challenge would have put in my ol' Burton.

---
If you can't buy through the links above, you can support the site with: