Cardiff Powgoda 2021-2023 Snowboard Review
| | |
| --- | --- |
| Riding Style | Freeride |
| Riding Level | Intermediate - Expert |
| Fits Boot size (US) | < 8, 8-10, 10-12 |
| Manufactured in | China |
| Shape | Tapered Directional |
| Camber Profile | Directional Camber |
| Stance | Setback over 20mm |
| Approx. Weight | Feels Normal |
| Split | Comes in split |
| | |
| --- | --- |
| On Snow Feel | |
| Turn Initiation | |
| Skidded Turns | |
Where To Buy
80% of outdoor sports products are not listed or sold online.
Our team has relationships with hundreds of local snowboarding and outdoor sports shops.
We'll call the shops and email you a list of stores along with pricing and availability.
---
Not sure what to buy?
Get custom advice from Good Ride editors James and Steph.

Get Advice
Cardiff Powgoda 2023 - 2021 Review by The Good Ride
Update 2024: The Cardiff Powgoda has changed for 2024 and I haven't had a chance to test the production model. So removing the favorite badge till I do. 
Turn Ons/Swipe Right: Close to excellent float, really fun groomer ride/back footed carver. Excellent directional all conditions ride.
Turn Offs/Swipe Left: Not much to mention.
Summary
The Cardiff Powgoda is almost there with some of our favorite powder boards but when the pow is gone it is a really competent groomer ride.
The 2023 Cardiff Powgoda is the same board as the 2021 and 2022 models we own and have tested. 
One interesting thing. Cardiff puts a 3M protective film over the top sheet to give it a little longer life span. That is why the demo board we had looked like it was delaminating near the binding inserts. This is a great idea and something pretty unique to the industry.
Ethics Statement: We don't get paid by the manufacturer to write these reviews and this is our unfiltered opinion. We do make money from the "Where To Buy" links, but this is our best attempt at an honest and objective review from an average riders' perspective.
Cardiff Powgoda Snowboard Review- How it rides and who it is for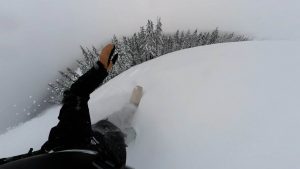 How This Review Happened: We borrowed this for an extended demo and sent it back.
Size: 158
Days: 8+
Conditions: Hard but edgeable snow, excellent groomers, a little pow, more pow and then pretty deep pow along with some early morning slackountry time with Drift Boards.
Riders: James (Size 9, 5'10" 185-190lbs)
Boots: Burton Kendo, Burton Tourist,
Insoles: Sandsole Custom Insoles, F.I.T. Gamechangers, F.I.T. Gameghangers LP
Bindings: Union Atlas
Jacket: Burton AK Gore-Tex Pro 3L Tusk Jacket, Volcom TDF Infuse 3L Gore-Tex Jacket, Burton Banshee Jkt.
Pant: Burton AK Gore-Tex Pro 3L Hover Pant, Burton AK Gore-Tex 2L Swash Pant, Burton Gore-Tex Ballast Pant
Helmet: Smith Maze, Smith Vantage
Goggle: Smith IO Mag, Smith 4D Mag
Gloves: Burton AK Guide Glove, Burton AK Clutch Mitt, Burton AK Clutch Glove, Burton AK Tech Leather Glove, Burton AK Tech Glove, CG Habitats Glove, CG Habitats Work Glove, Drop Tahoma Mitt, Drop Cascade Glove, Drop Web Glove,
Similar Boards (but not the same):
Capita Spring Break 158 Powder Glider, Jones Mind Expander, Gentemstick Mantaray 156, Burton Showstopper, Jones Ultra Mind Expander, Gentemstick Giant Mantaray,
Set-Up: 21.5" Wide. 18 front -6 back, 21 front -3 back, 21 front +3 back 24 Front +6 back.  Close to Reference and Set all the way back. All stance angles felt good with the Cardiff Powgoda and it doesn't favor one stance angle over another.
Approximate Weight:
Feels pretty normal. (We don't put in the exact weight because with wood cores there is no consistency in a boards weight)
Sizing
Here are some ideal US boot sizes for these boards. You can of course go bigger or smaller but these work best for not turning the board slower than it should be and not having the dreaded Toe & Heel Drag.
152: 7-8
155: 8-9
158: 9-10
162: 10-11
Shape/Camber/On Snow Feel/Ability Level

The shape of the Cardiff Powgoda is pretty directional but not super directional. There is a big ass nose going down to pretty small tail. There is a good bit of taper and you feel it. Especially with the set back camber. It really is a back footed ride but it isn't technical or catchy. It is very forgiving and easy to skid a turn.
Flex/Pop/Buttering
The Cardiff Powgoda has a medium/stiff flex but the tip and tail are much easier to butter than you would think for it's flex. The pop is really good off the tail and there is a nice balance between feeling damp and poppy.
Speed
The base of the Cardiff Powgoda is super fast. It has a really easy glide to it and it is up there with the best of the best. If you want to bomb get the Bonsai but this isn't going to fall apart if you point it now and then.
Uneven Terrain
I found the Cardiff Powgoda to be a great board for all day resort riding. I was most comfortable turning around bumps and slowing down in messy snow but it powered over uneven snow at moderate speeds pretty well. Micro bumpy snow was handled no problem as well. It isn't ultra damp or rubbery but also never uncomfortable in any condition I tried it in.
Edge Hold
Pretty solid grip in medium/hard snow for a board without any disruption in the sidecut. Not a hard snow specialist but it doesn't grab at all in softer snow.
Turn Initiation
The Cardiff Powgoda has a smooth but medium/fast turn to it. I never felt like I needed more in tight spots.
Turning Experience/Carving
I love the camber in the tail and it makes the Cardiff Powgoda soo much more than a pow board. You can make these quick slashy turns and it springs pretty hard. If you lean back into the camber it is a much more rewarding carve than you would think. It has a pretty rewarding and springy circle carve to it.
Powder
So the Cardiff Powgoda didn't quite float as well as the  Capita Spring Break Powder Glider but it is pretty close. There is a good bit of set back on board. With a 22" stance width at what I think is the reference stance there is a 3.375" set back on board. Set all the way back at 22" you can get 4.375" back from center of board. Combine that with all that rocker from the front foot to the big shovel nose, the small tapered tail and you have a very easy floater. It might not float as well as some of my favorites but I love the pop off the tail and would be happy to ride it when it's deep. The split 158 is wider than than the solid and I felt that extra width helped it float like my favorite solid pow boards. It is one super fun split as well.
Conclusion
The Cardiff Powgoda can float but the surprise is how much fun it is to turn on groomers. It was a lot of fun to get to know this board last season and its one I would love to have in my quiver. This, the Season Forma & the Bonsai were the biggest surprises for me last season and it is a very recommendable ride.
Cardiff Powgoda User Reviews
Cardiff Powgoda 2021-2023 Snowboard Review
SKU
UPC
Model
Orca Killer
Oct 13, 2021
by
Frank
Ability Level: Advanced •
Riding Style: Freeride •
Days You Ride A Year: 20 •
Height, Weight And Boot Size (for Boards, Boots & Bindings): 6'1" 225lbs 162 board ,size 12 Salomon launch, SP SLabone Bindings
Traded the Orca in after a demo in UT. This slays the Orca. Hands down my favorite board purchased ever. Floats, rips, and is smooth all day. Love it.

---
If you can't buy through the links above, you can support the site with: