Capita Navigator 2019-2023 Snowboard Review
| | |
| --- | --- |
| Riding Style | Freeride |
| Riding Level | Intermediate - Expert |
| Fits Boot size (US) | < 8, 8-10, 10-12 |
| Manufactured in | Austria by The Mothership |
| Shape | Tapered Directional |
| Camber Profile | Directional Camber |
| Stance | Setback over 20mm |
| Approx. Weight | Feels Normal |
| Split | No |
| | |
| --- | --- |
| On Snow Feel | |
| Turn Initiation | |
| Skidded Turns | |
Where To Buy
No obligation, but these links & ads support the site.
Capita Navigator 2023 - 2019 Review by The Good Ride
Update 2023: The Capita Navigator has had minimal changes since 2021 so this review still stands. 
Turn Ons/Swipe Right: Buttery in the tip/tail. Dynamic poppy flex. Very unique tapered directional mountain freestyle.
Turn Offs/Swipe Left: Edge hold lacks in harder snow. Not for those looking for a traditional freeride shape.
Summary
The Capita Navigator has a mountain freestyle flex put it into a tapered directional shape that isn't set back too much. It's best as a softer snow ride.
Ethics Statement: We don't get paid by the manufacturer to write these reviews and this is our unfiltered opinion. We do make money from the "Where To Buy" links, but this is our best attempt at an honest and objective review from an average riders' perspective.
Capita Navigator 2021 Snowboard Review- How it rides and who it is for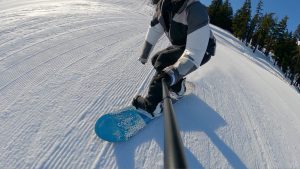 How This Review Happened:
We spent our precious Good Ride dollars to buy this and review it.
Size: 158
Days:  3
Conditions:  Some stormy but good groomers, some sunny hard groomers and and an some Knee High pre-season slackountry powder time with Drift Boards.
Riders: James (Size 9, 5'10" 185-190lbs)
Boots: Burton Kendo, Burton Tourist
Insoles: F.I.T. Gamechangers, F.I.T. Gameghangers LP
Bindings: Union Atlas, Union Strata, Union Contact Pro/Union Superpro, Union Expedition
Similar Boards (but not the same): Yes Pick Your Line,  Burton Flight Attendant, Never Summer West Bound, Rossignol XV, Lib Tech BRD,
Set-Up: 21"- 21.5" Wide. 21 front -6 back. Close to Reference and Set all the way back.
Approximate Weight:
(We don't put in the exact weight because with wood cores there is no consistency in a boards weight)
Sizing
Here are some ideal US boot sizes for these boards. You can of course go bigger or smaller but these work best for not turning the board slower than it should be and not having the dreaded Toe & Heel Drag.
147: 6-7
151: 7-8
155: 8-9
158: 9-10
161: 9.5-10.5
164: 10-11
Shape/Camber/On Snow Feel/Ability Level

The directional camber profile of the Capita Navigator is a little more on the locked in side of medium but still pretty forgiving when you need to skid a turn. The older model was easier but this isn't bad.
Flex/Pop/Buttering
Such a great flex. The tail is more buttery/playful than between the feet and the nose is even more so. The Capita Navigator also pops pretty hard and it doesn't take a lot of strength to make it happen. Capita is doing great things with their flex personality these days. I feel its a great balance between being flexy/rubbery and poppy.
Speed
The base has good glide for this price point and the structure is great for any kind of snow. You can point Capita Navigator for a short straight line but it isn't really a bomber.
Uneven Terrain
The Capita Navigator has a flex personality that is non-fatiguing when it comes to all day riding. It can't power over chunder at high speed but it does a great job at bending over all types of uneven terrain without passing up much or any chatter into your joints.
Edge Hold
I wish the Capita Navigator had a little more grip. It lets go pretty easy in harder snow so you need to do some torsional twisting to get it to grip better in hard snow.
Turn Initiation
The Capita Navigator is pretty quick edge to edge even with more mellow bindings like the Union Contact Pros.
Turning Experience/Carving
The change from flat to rocker to more of a directional camber makes the Capita Navigator a lot more fun to turn on soft groomers. There is a good bit more pop and spring out of the turn over the older model I tried a few years ago. You can play around with just about any radius turn and it's a pretty balanced turner.
Powder
There is decent float but not amazing float. The Capita Navigator felt on par with a lot of good all mountain boards but it would be shelved on a deep day in a heartbeat if I had just about any Spring Break Powder ride.
Conclusion
So the Capita Navigator is going to be a great call if you generally ride in softer snow and want the soul of a dynamic flexing mountain freestyle board in a tapered directional shape.
Capita Navigator Past Reviews

The Capita Navigator is basically an evolved Charlie Slasher which is a board I used to own years back.  It's a great powder board for those looking to quiver up on a budget.

Ethics Statement: We don't get paid by the manufacturer to write these reviews.  We do make money from the "Where To Buy" links, but this is our best attempt at an honest and objective review from an average riders' perspective.

Size: 155
Days:  4
Conditions:  Soft wet spring conditions and almost 1.5′ of powder in some places.
Riders: James (Size 9, 5'10" 185-195lbs), Grant (Size 11 6' 160lbs)
Boots: Adidas Tactical ADV, Vans Implant, Vans Infuse
Insoles: Sandsole Custom Insoles
Bindings: Union Atlas, Union Superpro
Set Up: 22-22.5" Centered 15 front -15 back

Approximate Weight: Felt light but it was a 155.  I bet the 158 would feel normal.

Flex: On snow, the board felt Med/Stiff between the feet, pretty easy flex in the nose and felt a little stiffer off the tail.

Sizing: The 158 would of been great for my weight and height but the 155 was fine for my boots.

On Snow Feel: It's very stable and feels pretty directional for a Capita board.  Capita often leans more towards the twin to double ender feel.  Other than their spring break division boards this is probably the surfiest in their line.

Edge Hold: Probably it's one weakness but hard to fault the Capita Navigator too much here because it will mainly be ridden in powder.  Just be careful if you encounter an icy route to the deep deep.

Turn Initiation: Pretty quick and I'd have no problem weaving quickly through the trees on the 155 or 158 Capita Navigator.

Turning Experience:  It needs a little extra weight on the tail for a turn but it's pretty fun for the kind of board it is.

Carving: Doable in soft snow but kind of boring.  It's not bad for what it is.

Speed: Pretty decent mountain speed and you can point this.

Uneven Terrain: Capita has come so far when it comes to making boards that handle uneven terrain of all kinds.  It's going to be a champ in that micro bumpy shit on groomers, can handle crud pretty well and will jam through bumps. The only place it's not exceptional is powering through a traversing area and it can get a little bucky.

Powder: This is what the Navigator is made for and it's not a bad powder board.  I have this feeling that based on how it performed in 1.5′ of snow the Capita Navigator might be a bit of work in the really deep stuff. It's not going to be a rear leg burner or anything like that but you will have to work on it a bit.  Still, with over 5″ of set back on boards, a decent amount taper, a good bit of rocker in the nose and a smaller tail it will do a good enough job for this price point.  Also if you are someone that doesn't want a 100% directional ride the Navigator does take it switch pretty well for the tapered directional shape so that's definitely something to factor in.

Buttering: Pretty easy off the nose but the tail is a bit more work.

Switch: It doesn't feel super awkward switch and can be easily ridden both ways.

Jumps: The Capia Navigator pops well off the tail and it seems to help with getting some decent directional air.

So all in all the Capita Navigator is a good powder board for the price and steps up your powder game.
Capita Navigator Images

We try to get as many images of the Capita Navigator, but forgive us if they're not all there.
2021
2020
2019
2018
Capita Navigator User Reviews
If you can't buy through the links above, you can support the site with: