YES Standard 2015-2024 Snowboard Review
| | |
| --- | --- |
| Riding Style | All Mountain |
| Riding Level | Intermediate - Expert |
| Fits Boot size (US) | 8-10, 10-12, > 12 |
| Manufactured in | Dubai by SWS |
| Shape | Directional Twin |
| Camber Profile | Hybrid Camber |
| Stance | Centered |
| Approx. Weight | Feels Normal |
| Split | No |
| | |
| --- | --- |
| On Snow Feel | |
| Turn Initiation | |
| Skidded Turns | |
Where To Buy
80% of outdoor sports products are not listed or sold online.
Our team has relationships with hundreds of local snowboarding and outdoor sports shops.
We'll call the shops and email you a list of stores along with pricing and availability.
---
Not sure what to buy?
Get custom advice from Good Ride editors James and Steph.

Get Advice
YES Standard 2024 - 2015 Review by The Good Ride
Update 2024: The YES Standard has not changed over the years so this 2021 review still stands. 
Turn Ons/Swipe Right: Buttery & Forgiving. Near Excellent Edge Hold. Great set back on board for powder.
Turn Offs/Swipe Left: Need Full Sized Discs To Use the Set Back Inserts. Not a great hard turner/carver. Missing pop some YES boards Have.
Summary
The YES Standard is lacking pop and a satisfying turning experience but is a buttery, forgiving, grippy and good floating ride.
The 2022 model did not change vs. the 2021 in this review or since this model was updated in 2018. This review has been re-done to reflect how it sits in 2022.
Ethics Statement: We don't get paid by the manufacturer to write these reviews and this is our unfiltered opinion. We do make money from the "Where To Buy" links, but this is our best attempt at an honest and objective review from an average riders' perspective.
YES Standard 2021-2024 Review- How it rides and who it is for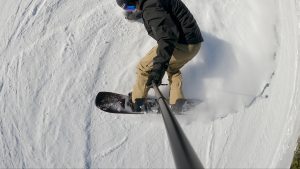 How This Review Happened:
Precious Good Ride dollars were spent to buy this and review it.
Size: 153 In This Review and 156 in Past Reviews.
Days: 5+
Conditions: Everything from hard snow to good snow and even a foot of powder along with some slackountry time with Drift Boards.
Riders: James (Size 9, 5'10" 185-190lbs)
Boots: Burton Kendo, Burton Ion, Burton Tourist, Burton Imperial, Burton SLX, Adidas Tactical ADV
Insoles: Sandsole Custom Insoles, F.I.T. Gamechangers, F.I.T. Gameghangers LP
Bindings: Union Atlas
Jacket: Burton AK Gore-Tex Pro 3L Tusk Jacket, Volcom TDF Infuse 3L Gore-Tex Jacket, Burton Banshee Gore-Tex Jacket
Pant: Burton AK Gore-Tex Pro 3L Hover Pant, Burton AK Gore-Tex 2L Swash Pant, Burton Gore-Tex Ballast Pant
Helmet: Smith Maze, Smith Vantage
Goggle: Smith IO Mag, Smith 4D Mag
Gloves: Burton AK Guide Glove, Burton AK Clutch Mitt, Burton AK Clutch Glove, Burton AK Tech Leather Glove, Burton AK Tech Glove, CG Habitats Glove, CG Habitats Work Glove, Drop Tahoma Mitt, Drop Cascade Glove, Drop Web Glove,
Similar Boards (but not the same): Korua Otto, Lib Tech Terrain Wrecker, Capita Mercury,YES NSB, Endeavor Pioneer, Jones Mountain Twin, Endeavor Ranger, K2 Manifest, Yes Typo, Jones Frontier, Ride Algorythm, Ride Wild Life
Set-Up: 21", 21.5" Wide. 21 front -6 back, 15 front -15 back. Close to Reference and Set all the way back.
Approximate Weight

:
(We don't put in the exact weight because with wood cores there is no consistency in a boards weight)
Sizing
The YES Standard worked really well for me in a size 153 and to my surprise it has more surface area than the longer narrower model in 2017 or the 2021 Globe Traditionalist that fit me perfectly. Same goes for the Basic Uninc and the other seasonal releases in 155 and it is close to the 158's. I am in between the 153 and 156 though. The 153 works best with my size 9 boots and the 156 works best with my 185 lbs and less importantly, my 5'10" frame.
Here are some ideal US boot sizes for the YES Standard. You can of course go bigger or smaller but these work best for not turning the board slower than it should be and not having the dreaded Toe & Heel Drag.
149: 8-9
151: 8.5-9.5
153: 9-10
156: 10.-11
159: 11-12
162: 12-13+ depending on your boots footprint and stance angles
167: 12-13+ depending on your boots footprint and stance angles
Shape/Camber/On Snow Feel/Ability Level
The YES Standard has a directional volume twin shape that acts pretty much like a true twin when on reference stance. When set back it acts a little bit like a tapered directional ride in powder. There is a very mellow camber between the inserts with a pretty pronounced and extended rocker after. Most YES Camrock boards have more camber. It makes it very easy to skid a turn and it's very forgiving but still has a pretty stable feel underfoot for one footing off a chair or flat basing.

Flex Personality/Pop/Dampness
The Flex of the YES Standard is medium but on snow it feels much softer. Especially in the tip/tail. In comparison to all the other YES all mountain boards this is really easy to butter. It butters more like a mellow park board which is great for some and a surprise for me coming off off of the Globe Traditionalist or boards like Yes Basic Uninc or Typo. It doesn't pop very well but it has a very rubbery feel that can handle all types of terrain without getting cranky underfoot as long as it is at slower speeds.
Speed
YES Standard is not for bombing unless you really size up. The 156 and 153 both had a bouncy nose/tail but a base with above average glide.
Edge Hold
Almost excellent grip and just a shade behind YES' underbite technology. This is a great board for hard to icy snow. It is only a little bit behind Underbite and full Magnetraction from Lib-Tech/Gnu. It is ahead of disrupted sidecuts like from Arbor and Jones or mellow mag from Lib-Tech/Gnu.
Turn Initiation
The mid-bite technology of the YES Standard provides close to excellent grip but also provides quicker turn initiation than you would think for this width over the bindings. If you size this correctly for your boots it is medium to medium quick.
Turning Experience/Carving
When you get the YES Standard on edge it isn't very satisfying turning experience. The camber profile is more like the early YES boards 10 years ago when it didn't go past the inserts. Most YES boards have more camber and provide a more springy turn. It can still lay it out in all conditions but if this is important to you look for another board. If you like mellow turns it can do most radius turns.
Powder
With a 20.7" stance width you can set it back 2.25" back from center of the board when using the slam back inserts. You add all this rocker and the tail with less surface area you get a little bit of that tapered feel in powder that freeride boards have. It makes the YES Standard one of the better all mountain boards out there for powder. I felt it floated so easy in 1 foot of powder and it wasn't even trying yet. It still isn't going to keep up with Alt Freeride and Freeride boards like the Y, Hybrid, Optimistic or Pick Your Line but it does really well for a directional twin.
Switch/Pipe/Jumps
When on reference the YES Standard rides like a true twin on sidecut. It doesn't quite feel like a true twin but it is super close to the point you might not notice. When it comes to jumps you would think it wouldn't track well into them with this deeper sidecut between the bindings. However, the sidecut mellows out over the inserts so it tracks really well.
Conclusion
So overall, the YES Standard, doesn't have the camber/pop/turning experience that I prefer but it has near excellent grip, butters super easy, floats in powder really well and gives a really forgiving ride. I find myself often recommending it to committed beginners and intermediate riders looking for a one board quiver. Especially those that ride in harder snow.
YES Standard Past Reviews

The YES Standard offers a pretty forgiving board that progressively get's wider as it goe's up in size and if your boot size matches up well to it you could have a pretty solid one board quiver to do a little bit of everything on the mountain. The one thing with the Standard is you need full-sized disc bindings (not mini-disc) to get all of the directional float it can offer with its slam back inserts in powder.

Ethics Statement: We don't get paid by the manufacturer to write these reviews.  We do make money from the "Where To Buy" links, but this is our best attempt at an honest and objective review from an average riders' perspective.
2018-2020 Yes Standard Review
Other than adding a 167 to the sizing, the 2020 YES Standard has not changed since 2018. We did update the written portion of this review was updated to reflect how this rides in comparison to what else is out there in 2020.
**For 2020 & 2021 the YES Ghost now has Slamback Inserts as well so it isn't as far behind as the standard in powder this year. Also if there are any contradictions between the video review and written, go with what's said in the written review.**
Size: 156
Days: 3+
Conditions:  Pretty good mid-winter PNW conditions.
Riders: James (Size 9, 5'10" 185-195lbs)
Boots: Adidas Tactical ADV, Adidas Acerra
Insoles: Sandsole Custom Insoles,  Footprint Insole Technology Gameghangers Low Profile
Bindings: Union Atlas
Set Up: 22.5" Centered 12 front -12 back
Similar Boards (but not the same) That We Compared This To: Korua Otto, Lib Tech Terrain Wrecker, Loaded Algernon, Capita Mercury, YES Ghost, YES Not So Basic Globe
Approximate Weight: Felt normal and well constructed.
Sizing: The Mid-Bite sidecut has an indention near the wast so the YES Standard is actually wider over the bindings than the waist width would lead you to believe. So you can generally go with a little bit bigger in boot size than you normally would.  As the length increases the width of the YES Standard increases too. It starts out in the smaller sizes (149-153) as a board that is best for size 8-10's. Then it gets a bump width-wise at 156-159 and it makes it a great board for those 10-12 boots. The 162 and 167 like that 12+ rider.  For me at size 9 boots the 153 would be a great call but the 156 fit's my weight better.
Flex/Buttering: The Yes Standard has a flex that is softer than what YES says so it's easier on snow than you would think to butter.  It has a nice rubbery but not a noodely pop to it that gives it a pretty playful feel. It doesn't have the spring to the Ghost on an ollie but it sure does butter easier. We don't feel it's a 7 out of 10 but more like a 5 out of 10. So what I'm saying is it butters really well and the nose/tail with that rocker flex easier than you would think on snow than when you flex it in the shop.
On Snow Feel/Ability Level/Skidded Turns: This hybrid camber profile called Camrock has a nice balance between rocker and camber that gives you stability underfoot in all conditions and is very forgiving for those that skid your turns often or just want a more forgiving ride when you get off your game. It's a big bump down in comparison to the augmented camber of the YES Ghost which has the same shape and specs except for the camber profile. This is much better for intermediate riders or for those more advanced/expert riders that want a more forgiving ride.
Edge Hold: The Mid-Bite tech has a really strong grip that doesn't grab too much in softer conditions. If you ride in harder snow often this is a good call.
Turn Initiation: The Mid-Bite Tech grips but also provides a little faster turn initiation for how much surface area is on snow. For example, the 156 was still slow for me at size 9 boots but it could have been a lot slower.  At size 10-11 it would turn really well and most would call it med/fast edge to edge. I would love to see how a 153 turns. I am much happier on boards like the YES Not So Basic Globe for my boot size.
Turning Experience/Carving: So if you want a more powerful turner the YES Ghost with that extra camber or boards like the Korua Otto or Loaded Algernon will give you a more rewarding turning experience. The 2020 YES Ghost also has set back inserts (Slamback) for powder days so you aren't compromising as much as you were in 2019. This isn't boring though and you can still get some good turns with the YES Standard.
Powder: So if you need full-size disc bindings like from NOW, Jones, Burton Re:Flex, Some Union Bindings like the Atlas and Force and others to make this work on the slamback inserts for setting it back in powder. If you have mini-discs all that I say below won't matter. At a 21.5″ wides stance width the YES Standard can give you a 4.5″ difference between nose/tail, or a 2.25″ set back from the center of the board. That is really good directional float for an all-mountain board. Then throw in a nose with more surface area than the tail combined with a good big of early rise you get more float than you would think for a directional twin. Now that the Ghost has slam back inserts too it's pretty close to the Standard but overall this has a little easier directional float.
Speed: The nose and tail of the YES Standard can clown shoe a bit but overall it's got pretty good mountain speed. The base has good glide too. Nothing exceptional but above average with a good wax job. For us the YES Ghost's extra camber helped to make it feel a bit damper even though it has the same flex.
Uneven Terrain: For someone like me with size 9 boots on a 156 this sucked turning through bumps. However, if you are the right size like a 10-11 you will have a pretty good time. The rubbery personality of the YES Standard is good for creating a nice protection layer for all that is happening underfoot when you ride. It powers over chunder and tracked up snow pretty well if you size it right for your boots.
Switch: So this is called a "Directional Volume Twin" and that means it's a twin on sidecut with a centered stance but the tail has less surface area than the nose. So it doesn't look as much like a twin as it rides on snow. Good board for those that like to ride with either foot forward but still want to set it back far for powder. The YES Basic Globe is a better call if the 155 or 158 fit you.
Jumps: The Ghost is better for going bigger but the YES Standard is better for going small to medium while still being forgiving. It's got a nice wide platform underfoot that is stable for take-off's and landings.
Jibbing: You can jib with the Standard but if that's your thing go with the Jackpot. It's not a bad here though for what it can do everywhere else.
Pipe: There is good edge hold for hard pipe's and it inspires confidence while still being forgiving. If you are driving hard wall to wall and going bigger it's all about the Ghost but this is great for most.
So, all in all, The YES Standard offers up a great all-mountain ride that gives you a little taste of what a Freeride board is like in powder when setting back and a strong all-mountain freestyle ride on non-powder days. Get this if you want something more buttery, forgiving and more playful. Get the Ghost if you want something more powerful on a carve and more pop and you don't mind it being less forgiving.
The 2018 Yes Standard had a major overhaul.  It adopted the Middle Bite tech from the Yes Jackpot, got a blunt nose/tail, changed the waist width sizing and considerably narrowed the reference stance.  It's still a great board but it favors a bigger foot now. Also, the limited stance width options might be tough for riders who prefer a wider stance. Still, if your stance width and boot size work with the new specs this could be a good board. No real changes were made to the 2019 but I got it mainly to compare against the Yes Ghost.
2018 Yes Standard vs. 2017 Yes Standard
They added the middle bite which is a pair of indentations in the sidecut below the inserts. It increases edge hold and improves turn initiation for a board of a wider width underfoot.
They kept the directional volume twin but added a bigger blunt tip/tail that not only looks good but also improves the float a little bit over the smaller nose/tail.
They widened up the sizing across the board to accommodate size 10+ riders and got rid of the under 10 sizings for the bigger boards. For example, in 2017 there was a 156 and a 156w.  Now there is just a 156 with a similar width to the 2017 156w.
They narrowed the stance width considerably. For example, the 156 used to have a 23" reference stance and now 23.1" is a wide as you can get on the standard inserts.  5 is the reference stance now. So if you want to use the slam back inserts a 21.5" stance width is what's required.
Size: 156
Days: 5+
The first day I rode it with the gang for a few runs at the demos but then kept it for a little over a week.  Over that week I rode it a bunch.  I also tested it against the Jones Mountain Twin, Ultra Mountain Twin, 2017 Yes Standard, Oz Custom Woody and a few other All Mountain boards like the Yes Libre.
Conditions:  Really good spring conditions almost every day and only a few hard mornings.
Riders: James, Jimbo, Matt, Peter and a friend of ours named Ren,
Boots: Burton Almighty, Adidas Tactical ADV, Burton SLX, Burton Rover, Burton AMB,
Bindings: Union Atlas, Union Superpro with team ankle straps (similar to the contact but with taller straps), Burton Genesis,  Burton Genesis X,
Set Up:  about 23" one day and closer to 22.75" on others.  15 front -15 back and centered.
Our Recommended Boots: Adidas Tactical ADV, Burton Imperial, Burton Ion
Our Recommended Bindings: Union Atlas, Union Force, Union Contact, Union Contact Pro, Burton Cartel, Burton Genesis, Burton Mission,  Salomon Hologram, Now Pilot, Arbor Cypress,
Sizing: The sweet spot on the 156 seems like it's closer to a size 10-11 boot. The 2018 156 Yes Standard was just not that fun for me and my size 9 boots compared to the 2017 model.  I thought about trying the 153 but the max stance width is 22.1 so I couldn't even get to my minimum 22.5″ stance width for that board. Also the stance width is pretty narrow this year at a 21.5″ reference stance.  It would be fine if they had 6×2 centered inserts per binding but at 5×2 it minimizes the max stance width too much.  It's just not for everyone anymore like it was last year.
Flex: Felt medium across the entire board and maybe bordering on the medium soft side of medium. There was a nice smooth easy flex. It feels softer than its rating on Yes' site.
On Snow Feel: Feels like the wide version of the Standard I use to own.  Big, stable and sluggish but still a great board for bigger feet. Super easy to one foot and flat base.  It's got this kind of consistency in every condition from hard snow to powder that you can really fall in love with.  It takes a few days of riding in varying conditions to really appreciate.
Edge Hold: The edge hold of the 2018 Yes Standard has greatly improved and it can handle hard snow no problem.  It can even do pretty well in ice if you have to ride it.
Turn Initiation: The 2018 Yes Standard is super slow compared to the 2017 Yes Standard I owned. It also made the Jones Mountain Twin and Ultra Mountain Twin feel like a fast turner and that's not a fast turning board. It's not a board I'd take into the trees or ride in tight spots. Jimbo and Zobel, with their size 11's, we're fine with the turn initiation though.  The 2018 Yes Standard is made for them and therefore the turn initiation for their 11 boots is med/fast. Toe drag sucks for big boot riders and that was one of the goals this year for the Yes Standard so I get that.  However slow turn initiation for smaller boot riders, although not as bad as toe/heel drag, sucks a lot too.  I constantly spend my time trying to match the right waist width to the right boot size so I'd like to see more waist widths for such a great board. The 2018 156 seems like it's also slower than the 2017 156w by a little bit as well.
Turning Experience: Once it's over on edge turning this board is pretty fun and the sidecut seems to like all kinds of turning radius'.  However, I still personally felt out of my element with the wider waist compared to the 2017 model. If your boots match the width it's a great board to turn.
Carving: We liked the improved edge hold with Middle Bite and it helps the board carve better in harder conditions. There isn't a ton of camber underfoot but there is enough to give you some spring out of the turn.  A little bit more camber in the profile would make this more fun.
Skidded Turns:  The rocker in the tip/tail makes the Yes Standard very easy to skid out if you get off your game.  It can really handle riders of any level.  Even if you are a beginner who is committed to the sport you could go with this.
Speed: It's no bomber but it's got enough to handle big, steep wide open groomers and then slow down and butter around when it gets flat.
Uneven Terrain: If your boots fit the mid/wide sizing then you will be able to weave in and out of bumps really well. For me, this would not be fun to ride on a messy bumpy day.
Powder: The set back on board 4.5″ is the same as it was before but just with a more narrow stance.  The blunted tip/tail is great for a little extra float than the 2017 model.  The lower volume nose allows the tail to sink a little better and combined with those slam back inserts the board transforms from a directional twin to a board that feels more like a directional freeride board when you get into the deep stuff.  The YES Standard does this better than most all-mountain boards because of this setback and the reduced volume in the tail.  Just don't get this if you have mini-disc bindings because then you can't use the slam back inserts.
Buttering: Such a great board for buttering.  The rocker in the tip/tail makes it really easy.  It doesn't have that snap back when it's bent like many good hybrid rocker boards but it's still a great butter board.
Switch:  So you think it would be noticeable with the different shaped nose/tail but it's barely noticeable with the Yes Standard riding fakie. It's a twin on sidecut.
Jumps: Pretty good pop here.  Nothing out of the ordinary but it can ollie rather well.  It's also a great board for lapping the kicker line and you can take off or land either way.  So it's great from a natural feature on the mountain to a medium-ish to a big kicker in the park.
Jibbing: The Yes Standard is a better jibber than you would think.  It's not perfect but it's got some strong jib personality.
Pipe: The improved edge hold will make this a great pipe board.  It's a board you can lap the park with the Yes Standard all day.
So overall we love the blunt tip/tail, the addition of middle bite tech and feel it's still a great board.  It's now just for size 10+ riders in the bigger sizes that prefer a narrower stance. In the smaller sizes, it works well with under size 10 boots but again the stance width options are limited and on the narrow side.  If it has the sizing range and reference stance of the YES Typo and Yes Libre line then this would have been amazing for riders of all sizes but for this year it's a bit more specialized. This is a shame too because all mountain boards, like The Yes Standard, are bought more than any other model so it would be great to see a size to match most riders specs and stance width.
The 2017 Yes Standard Snowboard Review
The 2017 Yes Standard has much more of an all mountain/all conditions appeal to it this year and is now a lot like what the 2016 Yes Optimistic use to be.  The biggest change is the camber profile went from mostly camber (modern camber) to hybrid camber (camrock).  That combined with the slam back inserts ( 1 x 2 set 1.5″ back) makes it a great take on a modern all mountain board.
Size: 158 and 156
Days:  6+
Conditions:  Really good Sierra snow with ony a few hard patches.
Riders: James, Matt,, Peter, Jimbo and many others
Boots: Burton Almighty, Burton SLX, Nike Lunarendore
Bindings: Union Force
Set Up:  Centered 23″ wide 15 front -15 back
Approximate Weight: Felt normal bordering on light.
Flex: The flex has come a long way since the old GST days and the new SWS model is softer and it doesn't feel like a 4.5 out of 5.  It feels more like a 3 and it can butter now. Even the tip/tail butter easier than they use to.  It's still not like the Jackpot but it sure does butter easier than it use to.
On Snow Feel: Not as catchy as it use to be after the transition from mostly camber to hybrid rocker. It's got a great stable feel to it and its got a camber feel underfoot that doesn't catch.  It's a fun board to turn, ride fast, hit the pipe and get air with.
Edge Hold: The 2017 Yes Standard grips well but it doesn't grip like the Under Bite or Middle Bite tech.  Still it's got enough to ride in harder snow as long as you don't fully commit in harder snow.
Turn Initiation: Super quick edge to edge and it will have no problem snapping around in any tight spot.  It's fun on all radius turns and it really fit our feet well.  Well not Jimbo's but he would love the mid/wide 156w.
Skidded Turns: Way easier than last year and you can loose a little control and skid your way out.  It's now intermediate friendly where before it was mostly for advanced riders.
Carving: Really fun to carve.  It's not a specialist but for an all mountain board it can get you off.  You can really lay it out.
Speed: Good mountain speed and we had no problem with a strong straight line.
Uneven Terrain: So the Yes Standard has a much more forgiving way about messy resort snow and it can really turn quick through bumps.  Also if you have to deal with chunder or hammer over the mess instead of weave around it the Standard can do that too. Pair this with a good shock absorbent binding and it's going to be pretty good on the joints.
Powder: So Yes says this board is centered but if your stance width matches the reference stance you can get back a lot with the Slam Back inserts. You can get almost 4.5″ back on board if you can use the slam back inserts at a 23″ stance width on the 156.  With the 158 it's 23.5 and with the 154 it's 22.5″ and so on.  That's really far back for an all mountain board.  If you are looking for a one board quiver this is why we recommend boards like this because they can double as a set back surfy freeride board when set all the way back and give you a taste of that directional freeride feel.  That combined with the tail that has less volume than the nose after the effective edge you get some pretty good directional float. On groomers it acts like a twin on edge but in powder this floats more like a directional board.  I haven't ridden the Standard in powder but did with the Yes Optimistic 2015 and it had a really easy float. The Optimistic 2016 and Standard 2017 have the same directional volume twin shape and same camber profile so I can vouch for the Standard. The only issue here is the Slam back inserts require a full size disc binding. A mini disc won't work.  I'd love to see the Standard have 5 x 2 inserts per binding centered and then 2 x 2 set back instead of 1 x 2 set back.  That way there are more options for different types of discs on different types of bindings.
Switch: So even though the tail has less volume it doesn't until after the effective edge so it's a twin between the feet.  It's only a touch weird buttering on the tail compared to the nose but most will really enjoy this board when the stance is centered on the 5 x 2 per binding inserts.
Jibbing: Not really a jibber but it's doable.
Pipe: The Yes Standard is a great Pipe board and I can't wait to get more time in this pipe when we get this board for the season.
Jumps: Really strong pop on the mountain as well as a good board to hit kickers with.
So all in all the Yes Standard continued on where the 2016 Optimistic left off and even though it has a moderately stiffer flex it's a really fun quick turning all mountain ride.
2016 Yes Standard Review
The Yes Standard is updated for 2016 and has some changes that make it less friendly for less advanced riders but make it more friendly for the strong expert rider.
The 2016 Yes Standard Snowboard Review
The 2016 Yes Standard has a few changes to the ride. that make it a little different than the 2015. Here are the differences:
The stance this year is centered where last year it had a -10mm set back. Well it's kind of centered.  The sixth insert in each set is set back further than the rest so if your reference stance matches the corresponding sizes reference stance you can still get some set back going on like an all mountain board. For example if you get the 156 and have a 23″ wide stance then the set back inserts will work for you.
The board is made from SWS in Dubai instead of GST in Austria.  GST closed down. It's a different feel and has a little more dynamic/snappy ride than before.
The board has more camber and only a little bit of early rise rocker in the tip/tail.  It's almost all camber now and will look like a camber board unless you look closely. Last year it already had more camber than many of the YES boards and this year it seems like it has even more camber than before.
So the changes that made to the Standard this year give it more of an aggressive all mountain freestyle flavor this year than before.  You could easily call it aggressive all mountain or aggressive all mountain freestyle.
Size: 156
Days:  1
Conditions:  Hard snow in the morning going to medium/good/soft mid day.
Riders: James
Boots: Burton Fiend LTD
Bindings: Burton Diode
Set Up: Centered 15 front -15 back 23″ wide.
Approximate Weight: Feels on the light side of normal
On Snow Feel: Very aggressive and all about bombing the hill regular or switch.  It's not for the kind of rider that wants a forgiving easy board to skid your turns.
Powder: The extra camber (almost all camber) and centered stance detract from it's float from last year.  It's still not bad for a mostly camber mostly twin ride but it's more for the expert rider use to camber than those use to easy floating hybrid shapes. If your stance corresponds to the set back inserts then you can get a little more directional float.
Turn Initiation and Carving: Same kind of turn initiation as before but just a little more technical and expert oriented than before.  Not for those that like to skid their turns. It's for those that know how to turn correctly all the time. If you know how to turn it's quick.  It's for those that love to carve switch and regular and it does it very well. It's not as good as those long freeride super carvers but it's about as good as a twin can get.
Speed: It's a pretty fast board and likes to bomb for sure.
Uneven Terrain: Not bad here for such a stiff flex.
Edge Hold: Nice solid grip that doesn't wash easily when it get's hard. It's not an ice specialist but good in the conditions most find acceptable.
Flex: Pretty stiff but still lively and dynamic.  If you are a strong rider then you will like this.  It takes some work to butter.
Switch: The tip and tail have different shapes but the contact with the snow is a twin so other than buttering it's practically perfect switch. If you get this board it's meant to be ridden switch a lot so don't buy it if you are a directional rider.
Jibbing: Not a jib board and I wouldn't like to do anything other than a forgiving easy box.
Pipe: It's just the kind of pipe board a really accomplished rider will like but it's not a forgiving easy ride for those that aren't that strong.  I actually prefered the Yes Optimistic because it's a little more forgiving and I'm not a standout pipe rider.  However if you are a strong technical pipe rider you will prefer the extra pop from the standard that will help you boost more.
Jumps: Really solid pop and great for those who like to get big air.
So all in all the 16 Standard isn't as versatile as the 15 Standard but still can make a really strong technical aggressive all mountain freestyle rider happy.
2015 Yes Standard Snowboard Review
The Yes Standard is one of those boards that is aggressive harder charging ride but still doesn't quite have the consequence that camber does.  it's a ride that allows you to get a camber feel that allows you to go big with less consequence and floats better in powder.
We thought this had a centered stance during the demo's but we were wrong. It's got a -10mm set back. That makes it more aggressive all mountain if you can get a little more set back and directional.
Size: 156
Days: 4
Conditions:
Riders: James, Peter, Jimbo, Mike
Boots: Burton Imperial, Burton Hail, Burton SLX, Nike Lunarendor
Bindings: Burton Diode, Flux SF, Union Factory, Salomon Defender
Set Up: Centered 23″ wide 15 front -15 back

Approximate Weight: Feels normal
On Snow Feel: Stable to even semi catchy. It's got one of those types of rides that keeps it's stable aggressive personality in all types of conditions and never changes on you. I think that is what I like about Yes and their sister companies with their hybrid camber tech.
Turn Initiation: It's not for the kind of rider that isn't good at turning but for those that are it's quick and snappy edge to edge. Short to wide radius turns are fun and have a nice spring out of them.
Flex: Feels pretty medium/stiff bordering on stiff. Kind of almost there with the Yes Pick Your Line. It's not as hard to butter as you would think but you do have to put a little more strength into it.
Edge Hold: I thought it should have a mellow magnetraction thing that many Yes boards use to have but it's not that necessary as I thought it would be. The Standard grips in .
Powder: Would of loved to see -15mm or even -20mm set back instead of a -10mm set back but it's not been tested in powder by us. Hopefully I will ride this board more in the winter and find out how well if floats or doesn't float. It seems like it can float well but I'm skeptical with the minimal mellow rocker and the only -10mm set back. I think the extra volume in the nose will help though but I'm not sure how much. It seems like one of those boards that's better than camber for sure but more for the rider that knows how to plane well, keep their speed and really own a powder day even with a camber board. If you are that kind of rider the extra tech will make it easy.
Carving: Very fun to carve and this mostly camber board really makes for good lay it out springy carving turns.
Speed: This board is very damp and stable at speed. It feels damp and shock absorbent as you pick up speed. It doesn't feel like it's super stiff like boards of old but instead it feels like there is a rubbery bit of insulation. It's not enough to take away from feel of the board but just enough to make it feel damp without not being dead
Uneven Terrain: The board turns quickly through moguls and makes for better ride than you would think in uneven terrain. It also doesn't punish you in inconsistent end of the day snow like some stiff boards do.
Switch: I really wasn't buying into the directional volume twin thing at first but after riding switch with a centered stance it felt almost the same. I kept thinking I would feel the tail act differently than the nose but it doesn't on groomers and I ended up riding switch a lot.
Jumps: It pops really well on snow for an ollie and it also can launch off kickers of any size. It's also not super unforgiving on small to mid jumps either. The mellow rocker in the tip/tail gives it just enough to make it forgiving on semi-awkward landings.
Jibbing: No thank you. I'd slide across a wide box but I'd get bucked if I went any further than that.
Pipe: Man this is a fun pipe board for less accomplished riders like me but also strong pipe riders as well. It holds an edge well enough but also drives well from wall to wall.
So all in all my crew and I had a great time with this ride and I think every one of us would like to have this board in our quiver.
YES Standard Images

We try to get as many images of the YES Standard, but forgive us if they're not all there.
2022
2020
2019
2018
2017
2016
2015
YES Standard User Reviews
YES Standard 2015-2024 Snowboard Review
SKU
UPC
Model
Far from "Standard"
Dec 24, 2020
by
Michael
Ability Level: Intermediate •
Riding Style: Resort riding primarily •
Days You Ride A Year: About 25 •
Height, Weight And Boot Size (for Boards, Boots & Bindings): 5'8" 160lbs size 9
I want to start by thanking James and the Goodride crew for their exceptional advice on helping me choose this board. I had ridden many exceptional all-mountain boards the last few years (Typo, One LF, Mountain Twin), but hands down nothing has truly matched how amazing the Standard has been for me.
1. I dialed in my size at 153 paired with Burton Stepon X Carbon bindings and the response is lightning quick matching the turn initiation of the Typo, and amazingly so forgiving when I need to skid a turn or get wobbly on a landing.
2. This board is perfectly damp for resort chunder, then surprisingly lively for jumps, ollies and side hits. It has two personalities wrapped into one.
3. Not for everyone, but if you like a narrower stance width, but want a bigger board this hit the mark for me at a 19.5" width at a comfortable length of 153.
4. Handles hard snow like a champ, yet is pretty effortless through thicker soup like snow. Just point it and go.

Happy shredding!

---
Great board - for the rider
Oct 03, 2020
by
Dan
Ability Level: Advanced - Expert •
Riding Style: All Mountain Freestyle •
Days You Ride A Year: 60 •
Height, Weight And Boot Size (for Boards, Boots & Bindings): 5'11 180
The rubbery feel quoted in this review is Bamboo. It's almost doing a disservice to not point that out. Board construction is a huge piece to how it rides.

Second. This board isn't the Ghost, and isn't trying to be. You guys always gravitate to freeride boards. That's fine. This is an outstanding all mountain deck that allows you to go from park to peak.

It would be also good to point out that this board also has slamback inserts like the Ghost referenced.

This takes a more playful approach to the mountain, where the Ghost takes a more aggressive approach to the mountain. Neither is better. Just depends on riding style and goals. That said, both boards are outstanding in their own right.

Constructive thought, but you guys needs to review these boards for the rider their built for - not for you.

---
Loving the setback
Jan 23, 2020
by
Hilton
Ability Level: Intermediate-High •
Riding Style: All mountain blasting •
Days You Ride A Year: 25 •
Height, Weight And Boot Size (for Boards, Boots & Bindings): 187cm, 92kg, US12
Been riding the Standard for 25 days so far and loving it, paired with some 2020 Burton Malavita Re:Flex bindings. I've ridden in pretty much all conditions, from wind blown icy hard pack (thanks Australia), slush, chunder, late-day marbelled runs , and -20C dry dry powder (Whistler last week).

I'm not gonna repeat the reviews below or above - its pretty much my ideal single do-everything board.

I just wanted to add that the setback options really make this board shine in powder. I ride true-twin most of the time, centered ref stance on the 159 board.. but, with 10cm powder, moving back one notch (15mm setback) makes it so much easier without sacrificing the bite on the groomers or ability to ride switch comfortably.

Once you get deeper pow, like drop-ins and bowls, the slam-back is just awesome. Its completely worth changing the bindings position, and it changes the feel of the board completely, in a very good pow-way.

With the slam-backs, it loses some of the edge bite and becomes a little looser on the hard pack, but the nose floats effortlessly thru thigh-deep powder and means you don't have to keep back-foot pressure to keep the nose up, helping the board to plane on top of the powder (powdered snow is a fluid - works like a water ski).

Before I spent a couple of weeks in Whistler I was wondering if I'd down-sized a step too far - but the wide nature of the board has left me no regrets and it eats up powder, whilst still giving me the super responsive edge-to-edge all mountain freestyle ride I was looking for.

I'm recommending this board to friends, but they need to have big feet for the width (edging is a leverage thing).

---
If you can't buy through the links above, you can support the site with: