YES Greats 2011-2023 Snowboard Review
| | |
| --- | --- |
| Riding Style | All Mountain Freestyle |
| Riding Level | Beginner - Expert |
| Fits Boot size (US) | 8-10, 10-12 |
| Manufactured in | Dubai by SWS |
| Shape | Asymmetrical Twin |
| Camber Profile | Hybrid Camber |
| Stance | Centered |
| Approx. Weight | Feels Normal |
| Split | No |
| | |
| --- | --- |
| On Snow Feel | |
| Turn Initiation | |
| Skidded Turns | |
Where To Buy
No obligation, but these links & ads support the site.
Where To Buy
80% of outdoor sports products are not listed or sold online.
Our team has relationships with hundreds of local snowboarding and outdoor sports shops.
We'll call the shops and email you a list of stores along with pricing and availability.
---
Not sure what to buy?
Get custom advice from Good Ride editors James and Steph.

Get Advice
YES Greats 2023 - 2011 Review by The Good Ride
Update 2023: The YES Greats is now called the YES Greats Uninc but it is pretty much the same ride as the 2022 in this review. It actually hasn't changed much since 2019 when they changed the design. 
Turn Ons/Swipe Right: Perfect Switch. Near Excellent Edge Hold. Great Turning Experience. Consistent feel underfoot in all conditions. One of all of our crews favorites.
Turn Offs/Swipe Left: Could use a little more pop.
Summary
The YES Greats could use a little more pop but that is about the last bad thing we have about it. It is our crews favorite mtn freestyle rides.
Ethics Statement: We don't get paid by the manufacturer to write these reviews and this is our unfiltered opinion. We do make money from the "Where To Buy" links, but this is our best attempt at an honest and objective review from an average riders' perspective.
YES Greats 2022-2024 Snowboard Review- How it rides and who it is for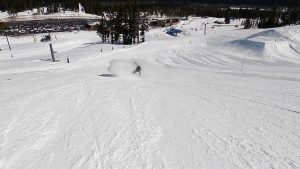 How This Review Happened:
We borrowed this for an extended demo and sent it back only because I already own two.
Size: 151 & 154 but I've rode the 156 in the same model in the past.
Days: 50+ since we started riding this model in 2019
Conditions: Everything from hard snow to 1.5 feet of powder.
Riders: James (Size 9, 5'10" 185-190lbs), Peter (Size 8, 5'11" 185lbs), Jimbo (Size 11, 5'11" 160lbs), Zobel (Size 11.5, 6' 180lbs), Grant (Size 11 6' 160lbs), Nick (Size 10, 160lbs, 5'8"), Stephen (Size 12.5, 215lbs, 6'3")
Boots: Burton Kendo, Burton Imperial, Burton SLX, Adidas Tactical ADV, Adidas Tactical Lexicon,Vans Infuse, Vans Baldface
Insoles: Sandsole Custom Insoles, F.I.T. Gamechangers, F.I.T. Gameghangers LP
Bindings: Union Atlas, Union Strata, Union Contact Pro/Union Superpro, Burton Cartel, Burton Malavita, Salomon Hologram, Salomon District, Nitro Team Pro, Nitro Team, Now Drive, Now Pilot, Now Select, Now IPO,
Jacket: Burton AK Gore-Tex Pro 3L Tusk Jacket, Volcom TDF Infuse 3L Gore-Tex Jacket, Burton Banshee Gore-Tex Jacket
Pant: Burton AK Gore-Tex Pro 3L Hover Pant, Burton AK Gore-Tex 2L Swash Pant, Burton Gore-Tex Ballast Pant
Helmet: Smith Maze, Smith Vantage
Goggle: Smith IO Mag, Smith 4D Mag
Gloves: Burton AK Guide Glove, Burton AK Clutch Mitt, Burton AK Clutch Glove, Burton AK Tech Leather Glove, Burton AK Tech Glove, CG Habitats Glove, CG Habitats Work Glove, Drop Tahoma Mitt, Drop Cascade Glove, Drop Web Glove,
Similar Boards (but not the same): Never Summer Protosynthesis, Stone Message, Prior Wildcard, Marhar Darkside, Lib Tech Box Knife, Capita Outerspace Living, Yes Basic, Rossignol Jibsaw, Ride TwinPig,
Set-Up: 21", 21.5", 22" Wide. Close to Reference and Centered back. 15 front -15 back.
Approximate Weight:
The YES Greats is not too heavy or too light. It's right there in the just right category. (We don't put in the exact weight because with wood cores there is no consistency in a boards weight)
Sizing
For me, with a size 9 boot, The YES Greats is best with a 151 but the 154 is better for my weight. I ride both but if I had to choose one size it would be the 154. The 156 is fun but a little too slow for my boot size. The Asym Mid-Bite tech makes the board look narrower than it is in the waist but wider than its underfoot.

Here are some ideal US boot sizes for the YES Greats. You can of course go bigger or smaller but these work best for not turning the board slower than it should be and not having the dreaded Toe & Heel Drag. This is not completely a mid-wide so these recommendations are not set in stone. You can ride this wider than you normally would.
151: 9-10
154: 10-11
156- 10.5-11.5
159- 11-12
Shape/Camber/On Snow Feel/Ability Level
The YES Greats is an asym twin so it's about as true as a twin can get for anyone that rides this with a perfectly duck stance. The camber is mellow but it extends well past the bindings before rockering u a little before the nose/tail. It makes for a really fun but stable ride that is the same in all conditions. While not the easiest to skid a turn when you get off your game it is still not that locked in and it tracks really well one footing and flat basing.

Flex Personality
YES makes a rubbery kind of board and that works for us. It's not quite the poppiest ride but it is far from dead. I wish they could do a little more to get this to snap harder on an ollie without loosing too much of that buttery easy riding personality in all conditions. It really is a great all day resort ride. The YES Greats never gets cranky in any kind of hard uneven snow and never passes up the chatter happening underfoot into your joints. It butters really easy and every size I've tried from 151-156 wasn't hard.
Speed
The base glide is great but not excellent and there aren't any complaints when its waxed. The YES Greats is a good step ahead of the Jackpot and Dicey when it comes to more comfortable mountain speed but it still chatters a lot in the tip/tail if you really push it.
Edge Hold

Now something about the Asym Mid-Bite makes the YES Greats a really competent gripper. Something about this more angular cut grips harder compared to bump like disruptions other brands have. It is an excellent hard to icy snow board and it doesn't grab too hard in softer snow.
Turning Experience/Carving
So again the Asym Mid-Bite. It seems to make the turning easier for how wide it is underfoot. It has a very manageable smooth medium turn initiation to it. Once you get it on edge it comes alive and it has a duplicitous personality to it, and that is good when it comes to snowboarding. It loves to make across the groomer turns and circle carve style turns but it can also make really fun longer drawn out s-turns. The YES Greats isn't a full on carving powerhouse but it sure is fun. It feels like a skateboard and surfboard had a baby.
Powder
You can't really set this back much or at all so not for those who like directional float. That being said it's not bad for a twin in powder. If you size up it is even better but if you can swing it get something like the YES 20/20 if you want a pow twin or get the Capita Spring Break Powder Twin. They ride much better.
Switch/Pipe/Jumps
The YES Greats is perfect either way switch or regular. I love asym twins for riding switch. It makes me look better and I definitely need that. You can jib with this but the Jackpot or Dicey is much better. Jumps go to the Greats here and it tracks really well into a jump so well. You can go bigger than with this than Dicey and Jackpot as well when it comes to air. Riding a 151 is so much fun in the pipe and I love taking it in there for some modest wall work.
Conclusion
So other than missing the perfect amount of pop, the YES Greats is an amazing mountain freestyle ride. It is often the board I take out on my non review groomers to light pow days.
 

YES Greats Past Reviews

The 2019-2020 Yes Greats got a major overhaul and it's not the greats it used to be. There is a lot more width/surface area in each size than before that can fit more boot sizes and there is a disrupted sidecut between the bindings called Asym mid-bite that gives better edge hold/improves turn initiation. Despite all these changes, it's still one of the most fun all mountain freestyle boards we have recently tried.

The 2020 Yes Greats is the same board as the 2019 Yes Greats. The only difference is it comes in a size 148 now.  We did update the review to reflect how it compares other model snowboards in the 2020 season, got Stephen's take from a size 12 boot perspective, and added a comparison vid between the Yes Greats, Never Summer Proto Type Two and Nitro Quiver Fury.

Ethics Statement: We don't get paid by the manufacturer to write these reviews.  We do make money from the "Where To Buy" links, but this is our best attempt at an honest and objective review from an average riders' perspective.

How This Review Happened: We borrowed the 156 at a demo for a few runs. Then we borrowed the 154 for an extended demo for a couple weeks. Then we liked it soo much Grant bought the 156 and I bought the 151.

Size: 151 (own it) 154 and 156
Days: 40+
Conditions:  Everything from pretty good CO snow to pretty good PNW snow with only a little hard snow here and there. We even got a little bit of powder up to 1.5 feet and some slackountry time with Drift Boards.
Riders: James (Size 9, 5'10" 185-195lbs), Peter (Size 8, 5'11" 185lbs),Grant (Size 11 6' 160lbs), Nick (Size 10, 160lbs, 5'8") Stephen, Jimbo (Size 11, 5'11" 160lbs),
Boots: Adidas Tactical ADV, Burton SLX, Adidas Acerra
Insoles: Sandsole Custom Insoles,  Footprint Insole Technology Gameghangers Low Profile
Bindings: Union Atlas, Union Superpro, Now Drive, Union Strata, Burton Genesis, Burton Genesis X
Set Up: 21.5″-22.5" Centered 15 front -15 back and 12 front -12 back.

Approximate Weight: All felt normal for the surface area but a little heavier for each perspective size we tried.
Size 156- Felt heavier than the old 156 and more like the narrower 158 models from 2018 or earlier
Size 154- Felt more like the size of the narrower 156 from 2018 or earlier
151- Felt more like the 154 from 2018 or earlier.

Sizing: Before the Greats maxed out at a size 10 but now the bigger sizes (depending on the footprint of your boot) should fit up to a 12 ish size. The width under the bindings is wider than the waist width would lead you to believe and that's because of the Asym Mid-Bite indention in the waist.  It's like what is on the YES Jackpot but worked into an asymmetrical sidecut. I think that with the increased width/surface area sizing down works with my specs (Size 9 boots, 185lbs, 5'10").  Same with Peter at a size 8.5 the 151 or 154 is the better call. For Jimbo and Grant at a size 11 boot, I think the 156 is just right but the 154 could work too width wise….well depending on the footprint of the boot.  For Stephen at size 12.5 boots, it's all about the 159 and the 156 was a bit too narrow.  The size 154 and 151 didn't feel too big for me but the 154 felt more fun to turn and felt like it was closer to the sizing equivalent of the older model 156 from the 2018 season and before.  That's because of the Greats, like the , has a waist that's tapered in to fit wider feet but also turn faster.  This similar mid-bite tech didn't work as well for Peter and me with the Standard or Ghost but it sure does with the Greats and Jackpot. Also, we couldn't really size down like we could with the Standard and Ghost because the stance width range was too narrow for us. I was feeling like I wanted something playful small and buttery at the time of buying this board and I'm super happy with the 151.  However, the 154 would have been the better call for more of a true mountain freestyle ride. The more I ride the 151 it feels like its size/overall ride feels like it's in between the older model 154 and 156 and the 154 in between the older 156 and 158.  The 156 felt bigger than them all and massively bigger than the older 156 models.

Flex/Buttering:  Same great flex that the Old Yes Greats had.  It has a medium flex bordering on med/soft that isn't like the companies rating.  It feels medium in the middle but softer in the tip/tail when you butter it on snow. It's a very easy board to butter and people of almost any ability level can do so with the new Greats. The overall personality of the Greats is like a lot of YES boards in the sense that it feels rubbery/flexy to the point where it feels like it can bend further without causing stress on the board.  That seems to take away a little overall pop but it's far from dead.

On Snow Feel: Same stable feel underfoot but the wider platform makes The Yes Greats feel even more stable but still not catchy.  Very easy to one foot, flat base, and skid a turn without it wanting to auto-spin on you much or at all. I'm not sure how YES did it but there is a similar personality to the old Greats and I felt like I was on a wider Greats.

Edge Hold: Huge improvement here and a great call for those that see harder snow.  It's not going to compete with let's say a board like the Lib-Tech TRS with its full mag in terms of grip but it's going to have a less spinny/loose feel underfoot in the hard stuff that inspires confidence when you aren't on edge.  It's now a really competent hard to icy snowboard where it used to barely hang in hard snow.

Turn Initiation:  Now I thought the 2019 Yes Greats would get super slow like the Yes Standard but it's not at all. It's slower than the older models but not as slow as expected.  Especially with the 154, I could get where I needed when I needed with a little bit of work. It also helps to have a little more responsive bindings/boots than before.

Turning Experience/Carving: The extra edge hold, as well as width underfoot, steps up the carving joy in most conditions you want to ride but it's just not something that really rails out a hard springy carving turn. It's far from boring though and I can even lay the 151 Yes Greats all the way over without any fear of toe/heel drag.  I wonder what the Yes Greats would be like with modern camber but then you would sacrifice powder float so it's a give n take.  Overall the turning experience felt like it was a nice balance between being fun, forgiving and still having some rocker for float.

Speed: The Yes Greats is a little chattery in the tip/tail with all sizes we tried but really stable between the feet.  Even the 151 and 154 felt like it was riding much bigger than it's length.

Uneven Terrain: Not super quick in the bumps but the overall board's personality likes to absorb chatter.

Powder: A really good float for a twin and I think the extra surface area will be a good board for those that like riding powder centered as well as riding switch. This could pass for a powder twin if you size it up and would probably earn a little better powder rating than it has now.  For example, I'm between the 151 and 154 size wise but If I choose the 156 I would have some pretty solid float with all that surface area for a twin. Even the 154 would be pretty comparable to even a touch better to the older narrower model in a size 156. Now if you are someone who likes to set your board back in powder you need to get a different board like the Yes Standard, Yes Ghost or Yes Not So Basic Globe that has set back inserts for really good directional float in powder.  Or get a second board like the PYL or Hybrid or Y or Optimistic or 420 or 420 Powder Hull.

Switch:  Perfect either way.  Perfect for a duck and centered stance as all asymmetrical twins are.  The Yes Greats really nailed this asymmetrical mid-bite and it's got that same easy switch feel as the previous model.

Jumps: The Yes Greats, in all sizes we tried from 151-156 has some pop but it doesn't really pop super hard.  What it does do well is create a super stable platform underfoot to take off and land.

Jibbing: Very doable for sure. Especially if you size down a little more than you should.  For example, when I (Biesty) sized down from the 154 to the 151 I felt like it was a much more friendly jib/freestyle ride.  I still would rather be on the Jackpot but it's far from being a slouch.

Pipe: I thought I wouldn't like the 154 in the pipe at Mt. Bachelor but I had a blast carving the walls.  Love the extra edge hold too. It's not as ideal as narrower boards like the 157 Proto Type Two or 157 Nitro Quiver Fury but it's doable with someone with a size 9 boot for sure. The 151 was better and although still a bit slower I had a great time doing some spring pipe riding.

So, all in all, it was fun for me and my size 9's to go a little smaller but not lose the surface area or the fun turning experience. Also, it was fun for our bigger footed crew and for once they got to feel what us smaller footed riders felt in

The Yes Greats is a really well-liked mountain friendly asymmetrical twin among our crew.  The 2016-2018 Yes Greats are from a different factory so they feel less stiff but more poppy and playful than the previous model.  It makes it much more of a well rounded less aggressive mountain freestyle twin. 2018 Yes Greats Uninc is the same board as 2017 except the reference stance width is narrowed 1″ for most boards to help out riders with narrower stances.
2017-2018 Yes Greats Review
Nothings changed from 2016 to 2017 except the 154 now has a 23″ reference stance.  The 2016 said the 154 had a 23″ stance but it was really more like 22.5″ so looks like it's fixed.
This is the 2016 YES Greats on the table but it's exactly the same as the 2017 Yes Greats
Here are some of the changes for the Yes Greats of 2016 and 2017 vs. the 2015 model:
Made in Dubai by SWS this year instead of GST in Austria because GST closed down.
Different flex and feel.  It's still a strong all mountain freestyle board that can charge but now you can slow down and butter it. Also the flex feels more poppy and dynamic edge to edge.
Slightly tweaked sidecuts and nose/tail.  We didn't notice this as much as we noticed the flex change but it's still really fun to turn.
Size: 156, 154 and 152
Days:  10+
Conditions: Good but somewhat uneven Rockies snow and 4 days of rough spring conditions in the Sierras. About 8″ of powder and perfect sierra snow.
Riders: James, Peter, Jimbo
Boots: Burton SLX, Burton Imperial, Burton AMB,  Salomon F3.0, Burton Fiend LTD
Bindings:  Burton Genesis, Burton Cartel, Union Atlas, Flux DS, Now IPO
Set Up: 156- Centered 23″ wide 15 front -15 back.  154-  Centered 22.5″ to 22.5″ to 23″ wide 15 front -15 back.  152- Centered 22.5″ 15 front -15 back.
One thing I noticed was the 154 does not have a 23″ reference stance as stated but instead a 22.5″ reference stance.
Approximate Weight: Felt like on the light side of normal.
Sizing: The nose and tail are pretty wide compared to the waist width so by the time you get to the binding mounts the board can fit a boot a little bigger than what you would think from the waist size. The 156 can easily fit a size 10
On Snow Feel: So some complain that asymmetrical boards feel hookey and don't track well but none of us have ever felt that with the YES Greats or almost any Asymmetrical boards. We always set it up with an exact duck stance and always keep it centered which is important for riding an asymmetrical board.  Asym Twins require complete stance symmetry to work.  If you prefer a duck stance, ride switch a ton and love riding the mountain as much as you do hitting kickers and pipe then this could be a really solid board.  The hybrid camber profile is balanced well and borders on being mostly camber.  However it still has that mostly catch free stable feel that remains the same in all conditions. It really has a consistency to it that never feels catchy, hooky or loose.  Also it has a very surfy feel for a twin that's a lot of fun to ride.
Powder: No powder with this board for a few years now but I still remember the feel.  It's much better than a camber twin and has a good plane to it if you keep your speed. It's really for those that ride switch a lot in powder.  If you only have one board and like to set your stance back then you should get the Standard or Typo as it allows for much better directional powder riding.  You will be able to make quick slashy turns with The YES Greats.
Turn Initiation: The Yes Greats is a really fun board to turn from short to wide radius turns.  If you know how to turn correctly it's got an easy edge to edge snap that's a little more dynamic compared to the 15 model. Its a board for those that really enjoy making all kinds of turns as well as buttering and jumping. It's not just a board that makes boring turns from one trick to the next.  It allows you to enjoy almost every aspect of riding the mountain.
Skidded Turns: Very easy to skid turns with the rocker in the tip/tail.  A mountain freestyle oriented intermediate looking to progress will be fine with this board.  So will a beginner if they are willing to shell out that much cash for a beginner board.
Carving: Ok this twin can carve and it's pretty fun.  If it had a little more edge hold and a little more camber (just a little) this would be about as good as a forgiving asym twin can be for carving.  There is a lot of spring out of the turn and it's great to carve regular or switch. The side cut seems to really like to get you into a pretty tight circle carve when fully committed to it.
Speed: Not quite as fast as last year but it's pretty close for having a softer flex.  You can bomb with this twin.
Uneven Terrain:  Much better this year in uneven snow thanks to the softer but more shock absorbent flex.
Edge Hold: Same solid hard to soft snow grip as always.
Flex: Really liked the improvement in the flex for the 2016.  The 2013 was almost UN-butterable. Every year after it was softened a bit but still had a similar personality but for 2016 it's softened up to the point where it's fun to butter now.  The middle has about the same flex but the tip/tail have a softer flex. Also the snap of the flex just feels more dynamic under foot than past years and we like this poppy/flexy change to the ride.
Switch: Pretty much perfect switch thanks to this asymmetrical design. All of us feel like we ride better switch with Asym twins like this and it's a real confidence booster. If you spend 30%-50% of your day riding switch this could be a really good friend.
Jibbing: A little better than before but still not a really solid jibber. Not the kind of board you would want if that's your thing.
Pipe: What a fun pipe board. Especially so for someone who knows what they are doing in the pipe and rides it switch a lot.  It will boost a little higher this year and also has a nice drive from wall to wall. We all love lapping the pipe with this board.
Jumps: To us this is about as good as it gets. It's got the flex and speed to handle the biggest kickers out there but it's also a great board for going medium or small.  The Yes Greats was always a poppy board but this year its up a level and it's a great board to find natural features to launch off on the mountain as well. It's also forgiving when it comes to landings and isn't very catchy.
So all in all the 2016 and 2017 Yes Greats didn't do too much to drastically change the ride but instead improved on the areas where it wasn't as much fun.  It went from a board mainly for aggressive riders who don't like to butter to a board for riders that like to do everything from butter to carve.
2016 Yes Greats Snowboard Review
2015 Yes Greats Review
The Yes Greats is back for 2015.  Well it didn't really leave because in 2014 it was called the Asym but it was the same ride.  So it's a fun mountain friendly asymmetrical twin that isn't as aggressive as past years and it's a little bit easier to butter these days.
So just like the prevous years models the Yes Greats has a good amount of camber going on between the feet extending past the binding mounts and then transitioning to a mellow rocker after.  There is more camber than rocker with this board but it still doesn't feel catchy.  I would call this forgiving aggressive. Its stiffer flex and camber allow you to go big but the rocker in the tip/tail allow you to not be on your game all the time and survive.
Size: 156
Days:  2
Conditions:  Perfect Sierra Snow one day and spring conditions the other that were hard in the morning transitioning to soft/slushy in the early afternoon.
Riders: James, Jimbo, Kyle,
Boots:  Burton Hail, Burton Ambush
Bindings: Burton Cartel, Union Charger
Set Up: Centered approx 23″ wide 15 front -15 back
Approximate Weight: Feels normal
On Snow Feel: It's got that stable and easy to ride feel one footing and flat basing and no different than the previous years Asym or Greats models. It's mostly camber profile with a little rocker in the tip/tail that makes it more forgiving but definitely gives this board more of a traditional camber feel.
Turn Initiation: Nice and quick edge to edge for those that know how to turn.  The asymmetrical side cut makes short to wide radius turns easier than they should be for this flex and camber profile.  They are rewarding and springy with good pop out of each turn.
Flex: Nice improvement with the flex.  The older models had a little too much stiffness in the tip/tail so it was almost impossible to butter unless you were very strong and technical.  Now it's still not a butter specialist but it's doable.  It's more in the realm of the Jackpot.
Edge Hold: Same solid edge hold it's had over the years that sits about mid way in the hard snow category.  I've felt this side cut hold in many surprise hard patches over the years of riding.
Powder:  No powder with this board but I've ridden the older models in a foot or two of powder.
Carving: This really rails a turn for a twin.  It's a great carver and has a nice spring out of the turn.  Very fun to carve regular or switch.  I could spend the whole day carving up the mountain.  I'd just need some tape for my nips. The thing that keeps this from being an exceptional carver is the asymmetrical side cut makes it best to carve with a duck stance.  For me that's fine because I like to work on switch carves but for many who really like to carve have a much more directional stance so they can really lean out over the snow.
Speed: This is a very fast twin and it's right up there with many aggressive all mountain boards.  It's got a lot of speed for it's size and the base has a good glide to it.
Uneven Terrain: It can get a little cranky when it comes to bumpy terrain but its still very doable at the end of a crowded day.  It's quick around moguls but not quite perfect in messy end of the day resort snow.
Switch: Asymmetrical Twins are about as easy as it gets for riding switch these days.  Even though this board is not for the faint of heart it's very easy to ride switch and makes you a better rider. Well at least it did for me.
Jumps: Real nice pop and it's fun to ollie anything with this board.  It's also a great board for hitting kickers of all size in the park. If you like to go big here it's a good board for doing so.
Jibbing: Not quite a jib board.  It's too stiff for our taste.
Pipe: Really fun pipe board for us.  It's got a solid drive from wall to wall with a forgiving catch free feel. If you like a camber board in the pipe you would like the Greats.
In 2014 the Greats changed it's name to the Asym but the ride is still almost the same as the Greats.
2013 Yes Greats Review
The 2013 Yes The Greats comes from a line of Greats from the past few years. There was the YES Great Dudes of History for 2011 and the Yes Great Women of History for 2012. The 2013 Greats mellowed the edge hold, changed the nose design and has a more sturdy/better made all around feel to it making it a nice improvement over the past models. 2011 Snowboard Magazine Platinum Pick. 2013 Good Wood Award Winner.
This review is for the Yes Great Dudes of History, Great Women of History, Great Boobs of History and Great Riders of History.
Days:60+
Conditions: Everything from a foot or 2 of powder to borderline icy snow.
Size: 158, 154156
Riders: James, Jimbo, Kyle, Peter, Stephen and a few other riders not on the site.
Boots: Burton SLX, Rome Libertine Pure Flex, Salomon Synapse, Nike Kaiju, Burton Ion, Burton Imperial, Nike Zoom Ites
Set Up- 23.5 15 front -15 back.  22.5 12 front -12 back 23″ 15 front -15 back all set ups were centered.
This is a board that reacts best to riding duck or very close to it because that is how the asymmetrical side cuts are designed for.
This all started to with the 2010 Yes Twin Rocker 156.5 Asymmetrical and evolved into it's own line that's had a "great" theme/name since. We have seriously enjoyed the past models and the 2013 model is different but equally enjoyed.
The 2013 significantly changed the design making it a completely different ride.  To us the 2013 YES Great's is the best of them all but it's so different it will appeal to a completely different style of rider than the past models will. The 2013 is much more of an Aggressive All Mountain Freestyle ride where the older models were more of a mellow all mountain freestyle ride.
The demo model and production models were drastically different so you will see some reviews based on the demo model and others based on the production model.  This is the production model. 
Here is a summary of some of the major changes in the 2013 YES Greats this year. 
1. No Ultimate Grip–  It no longer has the chain saw like ultimate grip between the bindings.  Instead they say it has ultimate traction which is a mellow magnetraction like side cut but it's not on there.  It's just a normal side cut.  This new change to what they call Tragna Maction is much more fun in softer snow but not as good as it use to be in ice.
2. There is much more camber.  It use to be a little bit of camber that ended before the bindings.  The 2013 has camber that extends a little past the bindings before the rocker starts.  It makes it more aggressive but much more fun to carve and much more lively when it comes to ollies and hitting kickers. This is a very good blend of camber and rocker. It's no longer the butter/press board it use to be and now it's much more of an ollie, carve and pick up some speed kind of board.  This is now a borderline aggressive all mountain freestyle ride where it use to be a pretty mellow all mountain freestyle to freestyle ride. The 2013 is much more for advanced to expert riders where the 2012 and below is more of an intermediate to expert kind of board.
3. Asymm Nose/Tail- The Nose/Tail now has an asymmetrical design that accentuates the asymmetrical side cut and also is nice on the eye.
4. Made at GST now instead of Nideckers remote plant. The build quality and all around feel to the board seems much more stronger and more reliable. The board seems to be a little more thick as well.  It feels like it will last as long as any board out there.
If you are a more aggressive all mountain freestyle rider the 2013 is the call.  If you want more edge hold for icy riding and like to butter the 2012 and below is the call.
On Snow Feel– The small camber between the feet makes it stable for one footing and flat basing. It's stable but there are no consequences for that stability. If you take a switch and regular approach to the mountain you will really like this board for a buttery but it's stiffer flex allows you to take on a all mountain freestyle ride. The 2013 Greats has a lot less of a buttery feel and feels better taking a more carvy/jumpy more aggressive all mountain freestyle approach to groomers. We like the extra camber for mountain riding and it makes the board feel more stiff/aggressive even though the flex is pretty similar to the older models. It's stable but now is a little catchy like a forgiving camber board.
Powder: You can't really expect much from a twin snowboard with a centered stance but this hybrid camber shape is more like a rocker board when it comes to powder.  It floats well in most moderate powder situations and allows a more effortless float for a park inspired attack.  The YES The Optimistic  or Big City will do a better job in powder but again we were surprised on how well the Dudes/Women could ride in powder even with a centered stance for a park board. The 2013 Greats is little less floaty as the 2012 and below models but it's still pretty close to the point where the rating of good won't change.  It's just more on the bottom of Good where the 2012 and below was a little closer to great.
Turn Initiation and Carving– The 2012 and below models are very easy edge to edge. You could make tight or wide turns very easy and both were a pleasure to do so with. The mini camber between the feet makes you feel like you are riding a smaller board and smaller boards are easier to turn.  It's hard to describe but the It takes a little getting used to but after a few runs you will be very happy. The Asymmetrical shape is not very noticeable to us but switch or regular turns were super easy.  Maybe that is what it's supposed to do though.  The 2013 Greats is a little different because of the extra camber. It's not as easy for quick edge to edge transitioning but wider radius turns are much more fun than the 2012 and below models.  The extra camber makes the 2013 carve much better than the 2012 and below models.  There is much more spring out of a hard turn and it feels almost like a normal camber board.  The 2012 felt like you were carving on a much smaller board than you are riding so we are happy with the 2013 changes.
Speed: These YES boards are pretty fast for their riding style. We are pretty impressed with the ability to straight line.  It's no freeride board but it does very very well for an all mountain freestyle twin. The 2013 has a noticeable improvement when it comes to speed. The extra camber and thickness reduces the chatter we felt with the 2012 and also makes for a more stable ride between the feet.
Uneven Terrain: Very easy negotiating any bumpy terrain and not bad going over it too.  The 2013 isn't as mellow as the older models but it can deal with crappy snow pretty well too.
Approximate Weight– The Greats boards have been getting lighter over the years but for 2013 the board is a little heavier.  It's also thicker and more reliable.  The 2013 Greats was made at a different/better factory and it's noticeable when it comes to the construction but not as much the weight. It feels thicker in the waist but not any heavier.
Edge Hold: The combination of hybrid camber giving more pressure between the feet and the chain saw like shaped edge between the feet makes for great edge hold.  It will climb a pipe wall or get you through an icy patch without much of a problem.   It's a little grippy in softer snow but excellent for riding in hard pack.   The 2013 model says it has "Tragnemaction" or mellow magnetraction but none of us could really see the bumps like we could with the Pick Your Line or other boards that have it in the line.  This is our one complaint about the 2013 model. Most of us were happy to see the ultimate traction go because it can be too grippy but we wanted to see some or more mellow magnetraction. The Greats went from excellent in 2012 for edge hold to being on the good side of great for edge hold in 2013.  Maybe next year they can add a little more "tragnemaction" to match the Jackpot and Pick Your line.  Still the edge hold does well in most conditions you want to ride.
Flex: The 2012 flex is almost medium between the feet and the rocker makes it feel soft at the tip/tail. You seem to get more out of the flex than you should and it's super easy to butter or press. The 2013 Yes Greats has a stiffer flex throughout the board and combined with the camber it feels much more stiff/aggressive than the older models.  It's much less easier to butter than the 2012 and below models and it changes the personality of the board.  We are happy to trade that in exchange for the extra pop and stability that the stiffer flex offers.  It took the board from an all mountain freestyle ride to an aggressive all mountain freestyle board.  It's much better now for jumps and carving than before but no where near as good for butters and presses.
Switch: Super easy to ride switch and it should be with the twin shape and asymmetrical side cut. The asymmetrical side cut might even make this board easier to ride switch than a regular twin or that could just be in our head. All years pretty much ride the same here because this has been symmetrical since it's inception.
Jibbing– The 2012 and below was pretty good. It was more like a Good rating on rails and jib's but it's not as good as some of the noodle boards on technical challenging rails.  The 2013 is just not there any more for jib park play. It's much more suited for jumps, pipe and mountain riding.  We preferred the Yes Jackpot much more in this category.
Pipe: Oh yeah this is a lot of fun.  The 2012 and below Greats has enough edge hold to ride the pipe and also a lot of forgiveness to allow for a sketchy re-entry. If you like a softer board for the pipe this will be really fun.  The 2013 lost some edge hold which isn't ideal but it made up for it with the extra camber that makes it more fun to drive the board toward the wall in the flats.
Jumps: The 2012 and below was not a bad jump board when it comes to lapping the roller coasters of almost any size.  The YES Great Dudes/Women of History also has an average amount of spring when it comes to making a board ollie over something on the mountain.  There are many more boards out there that have more spring but it's still not terrible.  The 2013 has a lot more pop and is now closer to the top of it's peer group.  It's fun to ollie all over the mountain and there is more spring off kickers of almost any size. The 2013 is a much better all around jump board.  It's not as forgiving but it has more spring so most will really like that.  It's super fun to ride around the mountain at higher speeds and look for shit to launch off of too.
All in all we were very impressed with the new 2013 YES Greats.    We are especially fond of the more balanced blend of camber and rocker with the 2013 model and this is the choice for most riders.  The only ones who might like the 2012 and below models are those that ride in icy conditions or like buttering over all other things.  If you are about pop, jumps, carving and better speed regular or switch the 2013 is the call.  Also the construction quality is better too and it just feels like a better ride.
 

YES Greats Images

We try to get as many images of the YES Greats, but forgive us if they're not all there.
2022
2020
2019
2018
2017
2016
2015
2013
2012
2011
YES Greats User Reviews
YES Greats 2011-2023 Snowboard Review
SKU
UPC
Model
Wouldn't change a thing
Apr 02, 2022 
by
Noah
Ability Level: Expert • 
Riding Style: All mountain freestyle • 
Days You Ride A Year: 120 • 
Height, Weight And Boot Size (for Boards, Boots & Bindings): 5'9" 165lbs Size 10 US 
I think a great freestyle/freeride board should inspire confidence in the rider and that is exactly what this does. I never question my edge hold, never feel like I'm going to get bucked in uneven/choppy snow, it just does exactly what you want it to. I see people on the fence with the newer mid-wide design, but I own a Greats of the same length (156) the year before they went to the mid-wide design and I think the newer design out performs it in almost every way. If you're debating between this and the Jackpot, go Greats unless you absolutely need a softer board. The Greats does just about everything, but butter and jib better, and I own a 154 Jackpot as well. The only thing I will say about the new design is be vigilant and meticulous in waxing, especially when spring comes around. This board needs wax, the edges can go dry in one full day of riding on a warm day. Overall, most confident I've felt on a snowboard.

---
Great Switch
Jan 09, 2022 
by
Grant
Ability Level: I can rip • 
Riding Style: Freeride • 
Days You Ride A Year: 50 • 
Height, Weight And Boot Size (for Boards, Boots & Bindings): 5'7" - 165 - 10.5 
After way too many years riding in one direction - I picked The Greats up for Covid and taught myself to ride switch on it. Its a great great board for learning switch! Its also a great little carver - even on firm snow. Its got some pretty good pop to it, and its got a nice sweet spot for learning butters too. Its not the softest board in the world, and I don't know about rails and boxes, but it tracks and jumps really well. Very happy I bought this board.

---
Be careful
Feb 20, 2021 
by
MH
Ability Level: Intermediate • 
Riding Style: Freeride/slope • 
Days You Ride A Year: 25-30 
I was so stoked about 2019-2020 model of Yes Greats that I have bought it despite the controversial reviews. Anyway I found that it is greatly overestimated regrettably.
The proportions of the deck are wrong and even 151cm is too wide. I have size 10 boots and it is just too wide. This ruins the whole thing IMO. It requires efforts to get it on edge and the turn initiation is anything but intuitive and quick.
It totally sucks in soft snow! If you let the pressure of the back foot just for a second , the nose sinks immediately even in 10cm of soft snow. I never would bring this thing in powder day. Probably the worst board for soft snow that I have ever ridden. It is good only for carving and hard snow, everywhere else is average at best. It needs total overhaul and I cannot recommend it to anyone. Please, be very careful with this deck, I could make a mistake getting it!

---
If you can't buy through the links above, you can support the site with: