Salomon Dancehaul 2022-2023 Snowboard Review
| | |
| --- | --- |
| Riding Style | Alternative Freeride |
| Riding Level | Advanced - Expert |
| Fits Boot size (US) | 8-10, 10-12 |
| Manufactured in | |
| Shape | Tapered Directional |
| Camber Profile | Mostly Camber |
| Stance | Centered |
| Approx. Weight | Feels Normal |
| Split | No |
| | |
| --- | --- |
| On Snow Feel | |
| Turn Initiation | |
| Skidded Turns | |
Where To Buy
80% of outdoor sports products are not listed or sold online.
Our team has relationships with hundreds of local snowboarding and outdoor sports shops.
We'll call the shops and email you a list of stores along with pricing and availability.
---
Not sure what to buy?
Get custom advice from Good Ride editors James and Steph.

Get Advice
Salomon Dancehaul 2023 - 2022 Review by The Good Ride
Update 2023: The Salomon Dancehaul has little to no changes for 2023 vs. 2022 so this review still stands. 
Turn Ons/Swipe Right: Soft, buttery, poppy, fun, playful, good float in powder.
Turn Offs/Swipe Left: Not for people that like to bomb.
Summary
The Salomon Dancehaul offers up a really easy riding, soft, playful and poppy shortish/wideish ride that still doesn't get too bucky in uneven snow.
Ethics Statement: We don't get paid by the manufacturer to write these reviews and this is our unfiltered opinion. We do make money from the "Where To Buy" links, but this is our best attempt at an honest and objective review from an average riders' perspective.
Salomon Dancehaul Snowboard Review- How it rides and who it is for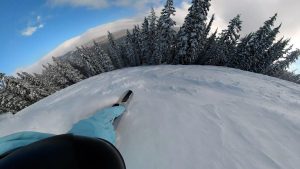 How This Review Happened:
Precious Good Ride dollars were spent to buy this and review it.
Size: 152
Days: 6
Conditions: Good Groomers, excellent groomers, some messy snow, some knee high wind affected somewhat thick pow.
Riders: James (Size 9, 5'10" 185-190lbs)
Boots: Burton Kendo & ThirtyTwo TM-3XLT
Insoles: F.I.T. Gamechangers
Bindings: Union Atlas
Jacket: Burton AK Gore-Tex Pro 3L Tusk Jacket, Volcom TDF Infuse 3L Gore-Tex Jacket, Burton Banshee Gore-Tex Jacket
Pant: Burton AK Gore-Tex Pro 3L Hover Pant, Burton AK Gore-Tex 2L Swash Pant, Burton Gore-Tex Ballast Pant
Helmet: Smith Maze
Goggle: Smith 4D Mag
Gloves: Burton AK Guide Glove, Burton AK Clutch Mitt, Drop Tahoma Mitt
Similar Boards (but not the same): Gentemstick Mantaray 156, Yes Hybrid, Endeavor Scout, Jones Hovercraft, Lib Tech Orca, Never Summer Harpoon, Niche Pyre, Yes Hybrid, Yes Y, Cardiff Powgoda, Gnu Gremlin
Set-Up: 21.5" Wide. Sance Angles +18/-3, +18/-9. Close to Reference and Set all the way back.
How It Was Tested
On some days I compared it to the Lib Tech Orca, YES Hybrid and Gnu Gremlin with the same boots and bindings on.
Approximate Weight
The Salomon Dancehaul is on the light side of normal. (We don't put in the exact weight because with wood cores there is no consistency in a boards weight)
Sizing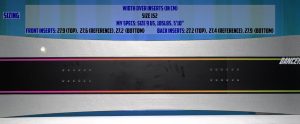 I was a little heavy for the 152 Salomon Dancehaul but not too much that it was a deal breaker. It worked really well with my size 9 boots too.
Here are some ideal US boot sizes for these boards. You can of course go bigger or smaller but these work best for not turning the board slower than it should be and not having the dreaded Toe & Heel Drag.
152: 9-10
157: 10-11

Shape/Camber/On Snow Feel/Ability Level
The Salomon Dancehaul has a pretty tapered directional shape but with a centered stance on sidecut so it feels pretty centered when on reference stance despite that bigger nose and tail. It needs a little more back footed weight than a twin but not by too much.

Salomon calls the camber profile Rock Out Camber which is mostly camber with only a touch of early rise. However when you strap in the weight lifts the tip/tail and it doesn't feel like a mostly camber ride. It borders on being stable and somewhat forgiving instead of being super locked in.
Flex Personality/Uneven Snow
The medium flex really gives the Salomon Dancehaul a buttery and playful ride with easily accessible pop for average riders like me. I loved how easy it was to ollie and how well it springs out of a turn. On top of that the way this performs in all conditions is much better than many salomon boards that don't have ABS sidewalls like the Sick Stick and others out there in the line. It is a great all conditions ride from micro bumpy hard snow to soft messy snow. Don't get me wrong, it can't hammer through it all at high speeds and it does buck and bounce you around but it just doesn't get cranky and send the chatter up into your joints like the old sick stick 151 used to.
Speed/Base Glide
The Salomon Dancehaul base glide is good when well waxed. Not exceptional but definitely good. I like the structure in the base too. It makes it good in wet spring snow as well. The Dancehaul isn't a bomber though but it can handle short straight lines no problem.
Edge Hold
There is very competent edge hold happening here with the Salomon Dancehaul. It doesn't have a disrupted sidecut but it held well enough in hard snow for my taste.
Turning Experience/Carving
What I love about the Salomon Dancehaul is how the board initiates a turn pretty easy for its width but when you get this sidecut engaged it has a balanced turning experience that leans more on the turny side of things. Across the groomer carves and quick hard carving turns were super springy. If you like a stiffer board for a carve you won't be super stoked but I really enjoyed how easy it was to make it happen.
Powder
Set all the way back at a 21.75" stance width (same as reference) you can get 4" back from center of board. Add in the 12mm of taper, a big nose and small tail surface area wise you have very easy directional float. In knee high powder the Salomon Dancehaul stayed on top of the snow well and I could tell it could handle a lot more snow before it was challenged.
Switch/Pipe/Jumps
Very doable switch for how tapered and directional the Salomon Dancehaul is. I think this is a pretty fun park ride too.
Conclusion
Overall, I really like the construction and all around feel of the Salomon Dancehaul soo much that I'm glad I bought it. It won't be going anywhere and it is a very recommendable ride for a quiver or as a daily driver. For 2023 there are some slight tweaks to the core profile but it is still very much the same ride.
If this review helped, we'd appreciate if you:
Salomon Dancehaul User Reviews
Salomon Dancehaul 2022-2023 Snowboard Review
SKU
UPC
Model
All-time Favourite.
Jun 13, 2022
by
Reza
Ability Level: Intermediate •
Riding Style: Freeride •
Days You Ride A Year: 40 •
Height, Weight And Boot Size (for Boards, Boots & Bindings): 167cm, 76kg, 41EU
It's as if Salomon assembled all their engineers and asked them to design a board specifically for me. For that, I will always be grateful to Salomon and forgive them the monstrosities that they used to make 10 or 15 years ago.
This is simply the best carver I have ever ridden, and I qualify this by saying that it allows most riders to reach their optimal carving capability, more easily than other hardcore Freeride boards.
Simply, it is very accessible by the majority who will ride this board (if you know how to carve).
Or more eloquently put, "It democratises carving for the masses".

It makes for any kind of turn that you like; short quick, or long and arched. Although short-quick turns are not its forte due to its shifted volume.

The base has some structure and is fast enough (Not the fastest but perfect for the board) if you wax it often.

The nose is wide and very buttery, and tail is stiff, but still butter-able.

The only point I take issue with TheGoodRide review is the Uneven Terrain category, which they have marked as "Great".
It is far from Great when the going gets choppy. The softer flex and absence of dampening tech, makes it very uncomfortable on chopped up end of day snow, and very jarring on icy patches.
For that reason I would hesitate to call this a FreeRide board, although it does have many FreeRide characteristics.

But on a good snow day, on a Blue run, with some powder on the edges of the slope, you cannot get better (all things considered).

---
If you can't buy through the links above, you can support the site with: