Nidecker Mellow 2018-2023 Snowboard Review
| | |
| --- | --- |
| Riding Style | Alternative Freeride |
| Riding Level | Intermediate - Expert |
| Fits Boot size (US) | 8-10, 10-12, > 12 |
| Manufactured in | Tunnisia by Nidecker |
| Shape | Tapered Directional |
| Camber Profile | Directional Camber |
| Stance | Setback over 20mm |
| Approx. Weight | Feels Normal |
| Split | No |
| | |
| --- | --- |
| On Snow Feel | |
| Turn Initiation | |
| Skidded Turns | |
Where To Buy
80% of outdoor sports products are not listed or sold online.
Our team has relationships with hundreds of local snowboarding and outdoor sports shops.
We'll call the shops and email you a list of stores along with pricing and availability.
---
Not sure what to buy?
Get custom advice from Good Ride editors James and Steph.

Get Advice
Nidecker Mellow 2023 - 2018 Review by The Good Ride
Nidecker Mellow Snowboard Video and Written Review
We have here the Nidecker Mellow Snowboard Review ridden in everything from groomers to deep pow. 
Turn Ons/Swipe Right: Excellent Turning Experience. Near Excellent Pow Float.
Turn Offs/Swipe Left: Wish there were more sizes.
Summary
We tested the Nidecker Mellow for a full season against many of our favorites and its turny, floaty personality really shined in all conditions. Its really changed up from the older Mellow we tried.
Ethics Statement: We don't get paid by the manufacturer to write these reviews and this is our unfiltered opinion. We do make money from the "Where To Buy" links, but this is our best attempt at an honest and objective review from an average riders' perspective.
Nidecker Mellow 2023 Snowboard Review- How it rides and who it is for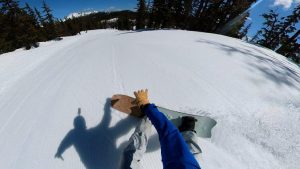 How This Review Happened:
Borrowed this for an extended demo and liked it soo much we asked to keep it. We only do that with favorites.
Size: 155
Days: 20+
Conditions: We got the Nidecker Mellow in everything from rain, summer snow, spring snow, mid-winter pow, decent groomers and varied spring groomers as well as an early morning slackountry time with Drift Boards
Riders: James (Size 9, 5'10" 185-190lbs),Davey (Size 12, 240lbs 6'4")
Boots: Burton Kendo, Burton Ion
Insoles: F.I.T. Gamechangers
Bindings: Union Atlas, Union Force, Nidecker Kayon X, Nidecker Supermatic and a lot of other bindings.
Jacket: Burton AK Gore-Tex Pro 3L Tusk Jacket, Volcom Guide Jacket, Burton Gore-Tex 3L Treeline Jacket, Jones Peak Bagger Jacket.
Pant: Burton AK Gore-Tex Pro 3L Hover Pant, Burton AK Gore-Tex 2L Swash Pant, Burton Gore-Tex Ballast Pant
Helmet: Smith Maze
Goggle: Smith 4D Mag
Gloves: Burton AK Guide Glove, Burton AK Clutch Mitt, Burton AK Clutch Glove, Burton AK Tech Leather Glove, Burton AK Tech Glove, CG Habitats Work Glove, Drop Tahoma Mitt,
Similar Boards (but not the same): Gentemstick Mantaray 156, Yes Hybrid, Jones Hovercraft, Lib Tech Orca, Never Summer Harpoon, Yes Hybrid,  Gnu Gremlin, Ride Psychocandy, Telos Backslash, Korua Transition Finder, Salomon Dancehaul, K2 Excavator
Set-Up: 21.5" Wide. Sance Angles +18/-3, +18/+3, +24/+6. Close to Reference and Set all the way back.
How It Was Tested
We rode this in many same day samplers with the same boots/bindings on but also just took it riding. I compared this to soo many different boards there are too many to mention.
Approximate Weight
The Nidecker Mellow felt on the light side of normal. (We don't put in the exact weight because with wood cores there is no consistency in a boards weight)
Sizing

Here are some ideal US boot sizes for the Nidecker Mellow. You can of course go bigger or smaller but these work best for not turning the board slower than it should be and not having the dreaded Toe & Heel Drag.
150: 9-10
155: 10.5-11.5
160- 12-13
For weight I would stay close to the Brands recommended weight ranges but we went over by a good bit and the Nidecker Mellow could handle it no problem without feeling bucky/bouncy. If it comes down to boot size or weight, I would make sure it fits your boot first and then your weight a close second.
Shape/Camber/On Snow Feel/Ability Level

The Nidecker Mellow doesn't have much taper but has a very directional set back shape. I personally like this set up because it likes back foot weight on a turn but you don't have to put a lot of weight there to keep it from washing.

When it comes to the camber profile the Nidecker Mellow has a set back camber starting from almost the tail and then ending at about the front insert. From there you have a mellow early rise leading up to a big ass nose. It makes for a very stable and forgiving ride that tracks really well one footing or flat basing. Pretty easy to skid a turn even though the 155 was a bit wide for my size 9's. This is a good board for most ability levels.
Flex Personality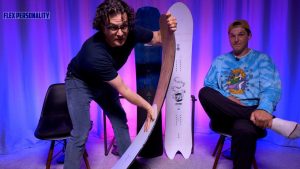 The flex between the bindings of the Nidecker Mellow is pretty stiff, the tail is a little softer but not by much and the nose is a good bit softer but not super soft. Overall it has a very medium/stiff flex going. Pretty standard for this type of board. There is a little of that wood topsheet dampness in the nose but the spring off the tail is more lively on an ollie. So you think the board will feel dead on an ollie but it pops pretty well. I could butter pretty well off the tail and pretty easy off the nose.
Speed
The Mellow is more damp than you would think for having soo much rocker and such a long nose after. You can point it and have a good time but it isn't a board you get if you want to straight line everything. Get the Jones Hovercraft if you want that kind of board.
When it comes to base glide the Nidecker Mellow is for sure above average. Not quite as fast as the fastest of fast but pretty good.
Edge Hold

I really thought there was a disrupted sidecut by the way it griped snowment patches bordering on being icy when I was unlucky enough to ride in them. The Nidecker Mellow does very well and it is a competent hard snow board for sure.
Turning Experience/Carving
The overall turning experience of the Nidecker Mellow is on the turny side of balanced. You can circle carve and across the groomer carve no problem but also make turns that are just shy of straight lining and it won't fight you like some turny boards can. I could even drive a little off the front foot and the Mellow wouldn't wash on the tail. It shines though if you really lean into that back seat camber and there is above average spring out of the turn. I don't know how to describe it except to say Davey and I both had a lot of fun turning this board.
Powder

We got the Nidecker Mellow in everything from a little bit of powder to 2+ Feet of powder and it never felt like it was trying. Even without a lot of taper it has such an easy set back float happening. That early rise into that super sized nose makes this on par with many dedicated pow boards. With a 22.5" stance width you can get -6.125" back from center of board. That is really far back. Even on Reference you can get -4.875" back from center of board which is further back than most boards in this peer group.
Conclusion
So the 2022 and 2023 Nidecker Mellow was one of the highlights of our tests last season (we test a year ahead) and I can't wait to get back out on this when there is enough snow not to damage it.
If this review helped, we'd appreciate if you:
Nidecker Mellow Past Reviews

The Nidecker Mellow is kind of an oxymoron just like my last name might be too.  It's Biesty (pronounced Beasty).  Regardless it's a lively, set back semi-surfy, carvy, wideish board that we had a pretty good time on. It's got a nice well-rounded ride for those that like to make good set back, directional turns and we'd like more time on it than the quick taste at the demo's we had. It would be great to put on bindings we know, compare it to some of our favorites and really put it through its paces.

Ethics Statement: We don't get paid by the manufacturer to write these reviews.  We do make money from the "Where To Buy" links, but this is our best attempt at an honest and objective review from an average riders' perspective.

Size: 155
Days:  1
Conditions:  Spring conditions and it was starting to warm up.
Riders: James (Size 9, 5'10" 185-195lbs), Jimbo (Size 11, 5'11" 160lbs), Zobel (Size 11.5, 6' 180lbs, Peter (Size 8, 5'11" 185lbs)
Boots: Adidas Tactical ADV, Burton SLX, Burton Rover,
Insoles:  Footprint Insole Technology Gameghangers Low Profile
Set Up: 22" Pretty far out 18 front -9 back
Nidecker Mellow User Reviews
Nidecker Mellow 2018-2023 Snowboard Review
SKU
UPC
Model
Japan gives it a thumbs up
Jan 15, 2020
by
Nick
Ability Level: Intermediate •
Riding Style: Powder, Carving, All Mountain •
Days You Ride A Year: 20-25 •
Height, Weight And Boot Size (for Boards, Boots & Bindings): 66kg, US 9, Medium Flux bindings
Ridden this board now for 2 seasons. I'm riding a 150 and it's become my do it all board that I pick pretty much each time I go out. Floats me well in light dry Japan powder and lays a great carving trench on a groomer - Euro style. Board is well constructed but agree slightly heavy (I use a Head The Day 147 for backcountry as it's lighter for hiking with and floats a bit better in deep powder). The Mellow is a solid board and very enjoyable once you get your technique in tune with it. I picked it up on deep discount and just thought I'd try it - couldn't be happier with how that impulse purchase has turned out.

---
The most underrated board ever
Apr 04, 2019
by
Marcus
Ability Level: Intermediate •
Riding Style: Powder carving, all mountain •
Days You Ride A Year: 20 •
Height, Weight And Boot Size (for Boards, Boots & Bindings): 5'11" 190lbs US 13
This board rips on groomers its fast stable and amazing edge hold, I will apologize I live in the midwest other than groomers and slush that's all I was able to ride this on, this board lights up like MFing light when I got it into when you get into slush or anything that is deep if slush is any indication this thing with hog around and hunt for powder like a truffle pig and when it gets there it goes hog wild. And should be an amazing board when I make it out west next year

---
Fun day
Apr 16, 2018
by
Lawrence Woods
Ability Level: Expert •
Riding Style: Surf and carve •
Days You Ride A Year: 8-10 •
Height, Weight And Boot Size (for Boards, Boots & Bindings): 5'8.5"/165lbs/US 9
Picked this (155cm) board at an end of the season sale (40% off) and got one ride on it today. Highly variable conditions with mostly medium-soft and hard pack snow day up high, with powder here and there near the trees, then great spring softened snow toward the lower half of the mtn. Typical spring day! The board performed with aplomb in all conditions, but really showed its surfer personality in the softened spring snow. I was able to effortlessly surf this board with some of the finest feeling turns that I had experienced. The carving on the shallow and medium inclined harder snow was also exceptional. The steeper inclines with hard snow definitely required much more forward front foot riding, perhaps owing to the generous set-back. I didn't notice any washout, but did experience some heel-side 'chop' if I didn't stay on top of it on the steep hardback (operator error), maybe helped by the rocker up front and shorter board length for me, but really it was probably only a bit more than my old camber (non-tapered, 162cm) all-mountain board.
All in all, I think I got a steal and had a smile on my face all day.

---
If you can't buy through the links above, you can support the site with: