Rome Stale Fish 2022 Snowboard Review
| | |
| --- | --- |
| Riding Style | Alternative Freeride |
| Riding Level | Advanced - Expert |
| Fits Boot size (US) | 8-10, 10-12 |
| Manufactured in | Dubai by SWS |
| Shape | Tapered Directional |
| Camber Profile | Directional Camber |
| Stance | Setback over 20mm |
| Approx. Weight | Feels Normal |
| Split | No |
| | |
| --- | --- |
| On Snow Feel | |
| Turn Initiation | |
| Skidded Turns | |
Rome Stale Fish 2022 Review by The Good Ride
Turn Ons/Swipe Right: Excellent powder and groomer carver for the price.
Turn Offs/Swipe Left: Hard to be too critical at this price point.
Summary
The Rome Stale Fish takes the shape we loved from the Pow Division but gives it more camber as well as more lift to the sides of the nose.
Ethics Statement: We don't get paid by the manufacturer to write these reviews and this is our unfiltered opinion. We do make money from the "Where To Buy" links, but this is our best attempt at an honest and objective review from an average riders' perspective.
Rome Stale Fish Review- How it rides and who it is for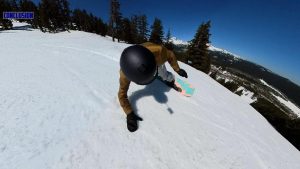 How This Review Happened:
Borrowed this for an extended demo and sent it back.
Size: 157
Days: 4+
Conditions: Mostly ugly but fun spring conditions and a little wet spring pow…well almost.
Riders: James (Size 9, 5'10" 185-190lbs)
Boots: Burton Kendo
Insoles: F.I.T. Gamechangers, F.I.T. Gameghangers LP
Bindings: Union Atlas, Rome Katana, Rome Vice, Rome Cleaver
Jacket: Burton AK Gore-Tex Pro 3L Tusk Jacket, Volcom TDF Infuse 3L Gore-Tex Jacket, Burton Banshee Gore-Tex Jacket
Pant: Burton AK Gore-Tex Pro 3L Hover Pant, Burton AK Gore-Tex 2L Swash Pant, Burton Gore-Tex Ballast Pant
Helmet: Smith Maze
Goggle: Smith 4D Mag
Gloves: AK Clutch Mitt, Burton AK Clutch Glove, Burton AK Tech Leather Glove
Similar Boards (but not the same): Korua Dart, Korua Pencil, Korua Café Racer, Weston Japow, Moss Jellyfish, Gentemstick Barracuda, Season Forma, Gentemstick Mantaray 156, Yes Hybrid, Endeavor Scout, Jones Hovercraft, Lib Tech Orca, Never Summer Harpoon, Niche Pyre, Yes Hybrid, Yes Y, Cardiff Powgoda, Gnu Gremlin, Burton Show Stopper
Set-Up: 21.5" Wide. Sance Angles +18/-3, +18/+3. Close to Reference and Set all the way back.
Approximate Weight
The Rome Stale Fish has a pretty normal weight. Not too heavy or too light. (We don't put in the exact weight because with wood cores there is no consistency in a boards weight)
Sizing
The 157 is a little wide for my specs but it's more than manageable. Like the Pow Division, I'd probably like the 153 a little better.
Here are some ideal US boot sizes for these boards. You can of course go bigger or smaller but these work best for not turning the board slower than it should be and not having the dreaded Toe & Heel Drag.
148: 8.5-10
153: 9-10.5
157: 9.5-11
Shape/Camber/On Snow Feel/Ability Level

The Rome Stale Fish is pretty directional and set back but not massively set back like many snowsurfers. There is a good bit of back seat camber and it has more than the old Pow Division. The lifted sides on the nose are pretty prounounced so it lessens some of the catchiness but it still feels closer to camber than hybrid camber. What I liked about this camber profile is how you didn't really feel the lifted sides until you got into softer snow and then it just made turning more fun.
Flex Personality
There is a stiff tail, medium stiff middle and nose a little softer than the middle. I could butter ok with the Rome Stale Fish but not amazingly well. The lifted sides make you skid out a little on a nose butter on groomers but it's a little better in powder. There is more pop than the old Pow Divisions and it springs hard into an ollie or through a turn.
Speed
The base isn't amazing but it's good for the price point. When well waxed it has good enough glide. The Rome Stale Fish can point it pretty well for having such a turny sidecut and it's pretty damp.
Uneven Terrain
So the Rome Stale Fish has a cool balance between being rubbery and poppy. It can handle uneven snow really well. You can power over uneven snow pretty well and as long as I didn't have to turn through big bumps with this wider overall width I was good. It is a good all day resort ride.
Edge Hold
Pretty competent grip on some harder spring mornings I had. Not amazing but held well.
Turning Experience/Carving
The Rome Stale Fish is a little slow edge to edge but once you get the sidecut engaged it has a very fun lively turning experience. It really steps it up from the Pow Division here and you feel that extra camber in the back foot give a satisfying spring out of the turn. It is not super circle carvy but definitely leans on that side of the spectrum. It surprised me with how well it made longer down the line turns too.
Powder
Man I wish I had more powder as I'm 99% sure this is close to being an excellent floater just like the Powder Division. I got this in a little wet powder but got the Pow Division with the same shape in waist deep pow. There is more camber with the Rome Stale Fish but the sides are lifted more too so it should all even out. Then you have that big ass nose, tapered tail and a setback on board of 5.5" with a 21.75" stance width. That makes for great directional float and the lifted sides in the nose help it turn soo well.
Conclusion
So the Rome Stale Fish carves hard and floats really well. It's a great addition to a quiver or even a great daily driver. It will be hard to find something better at this price point.
Rome Stale Fish User Reviews
If you can't buy through the links above, you can support the site with: