Never Summer Proto Ultra 2022 Snowboard Review
| | |
| --- | --- |
| Riding Style | All Mountain Freestyle |
| Riding Level | Intermediate - Expert |
| Fits Boot size (US) | 10-12 |
| Manufactured in | USA by Never Summer |
| Shape | True Twin |
| Camber Profile | Hybrid Rocker |
| Stance | Centered |
| Approx. Weight | Feels Normal |
| Split | No |
| | |
| --- | --- |
| On Snow Feel | |
| Turn Initiation | |
| Skidded Turns | |
Where To Buy
No obligation, but these links & ads support the site.
Never Summer Proto Ultra 2022 Review by The Good Ride
Turn Ons/Swipe Right: Stiff, fast, hard carving aggressive all mountain twin.
Turn Offs/Swipe Left: Not easy to butter. Mid/Wide only.
Summary
The Never Summer Proto Ultra has a stiff freeride flex in a twin shape. It makes for a very hard carving, damp, hard charging ride.
Ethics Statement: We don't get paid by the manufacturer to write these reviews and this is our unfiltered opinion. We do make money from the "Where To Buy" links, but this is our best attempt at an honest and objective review from an average riders' perspective.
Never Summer Proto Ultra Review- How it rides and who it is for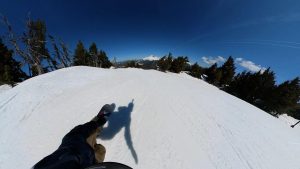 How This Review Happened:
Borrowed this for an extended demo and sent it back.
Size:154
Days: 3
Conditions: Good Spring Conditions
Riders: James (Size 9, 5'10" 185-190lbs)
Boots: Burton Kendo
Insoles: F.I.T. Gamechangers
Bindings: Union Atlas
Jacket: Burton AK Gore-Tex Pro 3L Tusk Jacket, Volcom TDF Infuse 3L Gore-Tex Jacket, Burton Banshee Gore-Tex Jacket
Pant: Burton AK Gore-Tex Pro 3L Hover Pant, Burton AK Gore-Tex 2L Swash Pant, Burton Gore-Tex Ballast Pant
Helmet: Smith Maze
Goggle: Smith 4D Mag
Gloves: Burton AK Guide Glove, Burton AK Clutch Mitt, Burton AK Clutch Glove, Burton AK Tech Leather Glove, Burton AK Tech Glove, CG Habitats Glove, CG Habitats Work Glove, Drop Tahoma Mitt, Drop Cascade Glove, Drop Web Glove,
Similar Boards (but not the same): Never Summer Protosynthesis, Yes Greats, Stone Message, Marhar Darkside,
Set-Up: 21.5" Wide. Sance Angles +15/-15. Close to Reference and Centered.
How It Was Tested
I took the Never Summer Proto Ultra out with the NS Tripple Camber Twin and then realized they weren't that similar. Then I compared it to the Stone Graham. Another stiff but full Camber Twin. All boards had the Union Atlas on em.
Approximate Weight
The Never Summer Proto Ultra feels pretty normal weight wise.
(We don't put in the exact weight because with wood cores there is no consistency in a boards weight)
Sizing
The Mid/Wide sizing of the Never Summer Proto Ultra was not ideal for my size 9 boots but despite that I had a really fun time on the 154. Even the weight was fine for my 185-190 lbs.
Here are some ideal US boot sizes for these boards. You can of course go bigger or smaller but these work best for not turning the board slower than it should be and not having the dreaded Toe & Heel Drag.
154: 9.5-10.5
157: 10-11
160: 10.5-11.5
Shape/Camber/On Snow Feel/Ability Level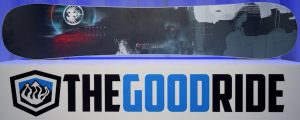 The Never Summer Proto Ultra is a true twin so it has a very centered ride.

The camber profile is called Shockwave. There is a mellow short rocker between the feet that quickly transitions to two very healthy bow's of camber. This is a step up from Ripsaw. It has the pop and drive that is equal to a full on camber board but at the same time has a feel underfoot somewhere between hybrid rocker and camber. The Never Summer Proto Ultra doesn't feel as locked in as triple camber rides like the Tripple Camber Twin or Proto Fr but it does feel more stable than ripsaw. It is only a touch auto spinny in hard snow when one footing or flat basing.
This is not super easy to skid a turn compared to other hybrid rocker boards but felt a bit more forgiving compared to Tripple Camber or Directional Camber like the Proto Fr or Hammer.
Flex Personality
The Never Summer Proto Ultra has the stiff flex of a freeride board in the shape of a twin. It was not easy to butter. It isn't easy to pop for a board with rocker in the middle. That being said it popped pretty hard when I put in the effort.
It is a very damp ride for a stiff 154. It didn't feel dead or lacking pop which is a very hard thing to do at this flex. This does incredibly well in all conditions for a board this stiff. It handles uneven snow very well.
Speed/Base Glide
This little mid/wide 154 can bomb and I felt like it was capable of higher speeds than I cared to discover. The tip/tail barely chattered.
The base glide of the Never Summer Proto Ultra is very good. Even when the base got dry it had good glide in spring conditions that can be grabby and slow.
Edge Hold
So strangely enough I had better edge hold from the Tripple Camber Twin. That I would be comfortable committing to the edge in hard snow. I would be a little more tentative with the Never Summer Proto Ultra in the same conditions but it still does a very good job.
Turn Initiation
So my perspective of riding a mid/wide with a size 9 boot would not be a fair way to rate this. It was medium to me but to the right size boot like a 10 or 10.5 it would be medium/fast.
Turning Experience/Carving
What a fun board to turn. I got so much spring out of the turn with all kinds of turns. The twin shape of the Never Summer Proto Ultra didn't need your knees to send pressure out to the tip/tail to keep it from washing. There is soo much camber you can lean back or forward into it with your knees together and really get it to carve hard.
Powder
I got no powder but this seems better than a camber twin but not a board I'd like to be on in powder. I prefer floaty directional twins or really set back directional rides.
Switch/Pipe/Jumps
When riding switch the Never Summer Proto Ultra was great either way. I had fun making old man turns through the pipe and can feel the potential for going super big when it comes to kickers.
Conclusion
I really enjoyed the Never Summer Proto Ultra. I enjoy the Proto Synthesis a little better just because it can carve hard but is still mellow enough to play around and butter with. It also comes in a width better suited for my boot size. If you want an aggressive but not too unforgiving stiff carvy twin this is an excellent choice.
Never Summer Proto Ultra Specs
Never Summer Proto Ultra Images
Never Summer Company Information
Never Summer Proto Ultra User Reviews
If you can't buy through the links above, you can support the site with: