Jones Mountain Twin 2011-2023 Snowboard Review
| | |
| --- | --- |
| Riding Style | All Mountain |
| Riding Level | Beginner - Expert |
| Fits Boot size (US) | 8-10, 10-12, > 12 |
| Manufactured in | Dubai by SWS |
| Shape | Directional Twin |
| Camber Profile | Hybrid Camber |
| Stance | Centered |
| Approx. Weight | Feels Normal |
| Split | Comes in split |
| | |
| --- | --- |
| On Snow Feel | |
| Turn Initiation | |
| Skidded Turns | |
Where To Buy
80% of outdoor sports products are not listed or sold online.
Our team has relationships with hundreds of local snowboarding and outdoor sports shops.
We'll call the shops and email you a list of stores along with pricing and availability.
---
Not sure what to buy?
Get custom advice from Good Ride editors James and Steph.

Get Advice
Jones Mountain Twin 2023 - 2011 Review by The Good Ride
Jones Mountain Twin Snowboard Video and Written Review
You about to read and watch the Jones Mountain Twin Snowboard Review from an average rider with an exceptionally objective perspective.
Update 2023: The Jones Mountain Twin hasn't changed since 2021 so this review still stands. 
Turn Ons/Swipe Right: Stable, tracks well into jumps, fast base, turns easier in soft snow. Great one board quiver.
Turn Offs/Swipe Left: Needs a little more responsive binding.
Summary
The 2021 Jones Mountain Twin has a longer effective edge and spoon tech in the nose tail making it for an easier turning poppier ride than past models.
Ethics Statement: We don't get paid by the manufacturer to write these reviews and this is our unfiltered opinion. We do make money from the "Where To Buy" links, but this is our best attempt at an honest and objective review from an average riders' perspective.
A Break Down of How it rides and who it is for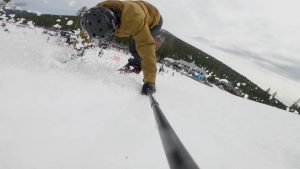 How This Review Happened: We borrowed this for an extended demo, sent it back but then liked it so much I bought it…and I bought the split for some me time in the spring when the reviews are over. 
Size: 157
Days: 3 but more to come. 
Conditions: Some pretty rough, wet hard to ride spring conditions, some ok groomers, and some early summer slackountry time with Drift Boards.
Riders: James (Size 9, 5'10" 185-190lbs), Peter (Size 8, 5'11" 185lbs)
Boots: Adidas Tactical ADV, Northwave Decades
Insoles: Sandsole Custom Insoles, F.I.T. Gamechangers
Bindings: Union Atlas, Union Strata
Similar Boards (but not the same): Korua Otto, Lib Tech Terrain Wrecker, Capita Mercury,YES NSB, Endeavor Pioneer, Jones Mountain Twin, Endeavor Ranger, K2 Manifest, Yes Typo, Jones Frontier, Ride Algorythm, Ride Wild Life,
Set-Up: 21", 21.5", 22" Wide. 21 front -6 back. Close to Reference and Set all the way back.  22" Wide. 15 front -15 back.  
Approximate Weight:
Feels Normal bordering on light. 
(We don't put in the exact weight because with wood cores there is no consistency in a boards weight)
Sizing
Here are some ideal US boot sizes for these Jones Mountain Twin sizes. You can of course go bigger or smaller but these work best for not turning the board slower than it should be and not having the dreaded Toe & Heel Drag.
151: 8-9
154: 8-9
157: 9-10 Width over inserts. Front Inserts: 27(Top), 26.7( Freestyle Ref), 26.3 (Freeride Ref) & 26.1(Bottom) Back Inserts: 26.2(Top), 26.6( Freestyle Ref), 26.8 (Freeride Ref) & 27.2(Bottom)
160: 10-10.5
163: 10-11
156W: 10-11
159W: 10.5-11.5
162W: 10.5-12
165W: 12-13
168W: 12-13
Check Their sizes as well for their take and especially so for weight. 
Shape/Camber/On Snow Feel/Ability Level
It has a shorter spooned nose/tail, longer effective edge, slightly tweaked traction tech and a new base. Despite all the changes it still defines what we call a one board quiver/all mountain board. The shape of the Jones Mountain Twin is still a directional twin, still has a longer nose than tail and still has more set back on board than most directional twins with a centered stance.
The new shape has spoon tech in the nose tail but it seems to mellow out or straight up stop right about where the camber ends. So it still feels like a hybrid camber ride in harder snow but the spoon tech kicks in while in softer snow making it turn a little easier than before. This makes for a very consistent feel underfoot in all conditions when one footing off the chair or flat basing. The Jones Mountain Twin can skid turns too. 
Flex/Pop/Buttering
The Jones Mountain Twin has a medium flex between the bindings with a little softer flex in the nose. It makes for a board that is pretty easy to butter because the rocker in the tip/tail already get you started. The pop has improved for 2021 and we feel like we can get a little more air out of an Ollie with the 2021 over past models. It was one area where we felt Jones could improve the ride in the past. It tracks really well into jumps too.
Speed
The base of the Jones Mountain Twin is super fast for this price point. Jones always puts out a board with a fast base. 
Uneven Terrain
This isn't going to power over chunder and tracked up snow like some Jones boards but it has this really fatigue free all day ride that we really like. 
Edge Hold
The traction tech changed from 2.0 to 3.0. What does that mean? Hard to say but there is still a mellow disruption in the sidecut similar to the older model. It held great in the hard patches we encountered and didn't grab in even the wettest messy snow we had which was most of our time on this. 
Turn Initiation
So before the Jones Mountain Twin was bordering on the slow side of medium. Now it is more in the middle. This is great for tracking in a stable easy way to a natural feature on the mountain or a kicker in the park when you want to get air because it doesn't feel like the board is asking you to turn. It just says…yeah…ok…I'm in. What is cool though is it borders on being medium/fast in softer snow and in powder. It just helps you initiate the turn a little faster and makes it easier in messy bumps or in the trees on a powder day. This is a nice change over the past models. Still we like going with medium to med/fast response bindings with this board. 
Turning Experience/Carving
Really engaging the sidecut makes the Jones Mountain Twin grip and carve well in most condition you want to ride. It powers through a hard turn well enough but doesn't have that ultra satisfying mostly camber carve either. That is the price you pay for being so forgiving a ride. 
Powder
The Jones Mountain Twin can't hang with the more directional Jones boards in the line but really does well for a Directional Twin with a centered stance. You can actually set it back 1.75″ back from center of board with a 22.8″ stance width and get close to 1″ with the 22.8 Freeride Reference Stance Width. If you choose the freestyle stance of 22.8″ as well you can get .25″ back on board and ride it more like a true twin in powder if that is what you are into. This is what makes this such a versatile one board quiver to us. On top of that there is early rise in the nose/tail and the mellow spoon tech helps this board roll easier into a turn in powder. We didn't try this in powder but based on our experience in powder with former models we just know the new nose, although shorter will float just fine.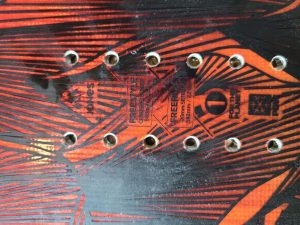 Conclusion
So there are lots of changes to the 2021 Jones Mountain Twin but the main take away is more pop and a board that turns a little faster. It is a solid recommendation for those that can only get one board and want it to do a little of everything. Especially good directional float in powder. 
If this review helped, we'd appreciate if you:
Jones Mountain Twin Past Reviews

The Jones Mountain Twin doesn't stand out in any one category but it's got a consistency underfoot in any condition or terrain that makes it pretty fun almost anywhere you go. If you want a damper faster version of this board then check out the Jones Ultra Mountain Twin. Or, if you want somethitng a bit more directional, faster turning and more floaty the Jones Frontier is a great choice.

We didn't ride 2020 Jones Mountain Twin but other than a change to a more eco-friendly resin and a slightly updated core it's the same ride as before. So the 2018 review still stands and the changes weren't big enough to tax Jones to borrow the board again.

The 2019 and 2018 Jones Mountain Twin are pretty much the same rides and the only thing really new for 2019 is the addition of a 167w for the tall big-footed rider. Also, we mention how much stiffer it is than the past year but our demo model turned out to be stiffer than the production models we have encountered. It's still a bit stiffer torsionally than the past models but they are not as stiff as the 2018 demo we tried.

Ethics Statement: We don't get paid by the manufacturer to write these reviews.  We do make money from the "Where To Buy" links, but this is our best attempt at an honest and objective review from an average riders' perspective.

How This Review Happened:  We borrowed this for an extended demo and then returned it.

Size: 157
Days:   4
Conditions: Pretty good sierra snow.
Riders: James (Size 9, 5'10" 185-195lbs), Jimbo (Size 11, 5'11" 160lbs), Zobel (Size 11.5, 6' 180lbs, Peter (Size 8, 5'11" 185lbs)
Boots: Adidas Tactical ADV, Adidas Acerra, Burton SLX, Burton Almighty, Burton Rover,
Insoles: Footprint Insole Technology Gamechangers, Footprint Insole Technology Gamechangers Lite,
Bindings: Union Atlas, Burton Genesis X,
Set Up: 22.75" Centered 15 front -15 back

Approximate Weight: Feels pretty normal.

Flex/Pop/Buttering: It's got a pretty mediumish flex across the board but on snow, the tip/tail feel softer. It is pretty easy to butter too. One thing we would like to see is a little more pop through a little more camber or some other tech that can help this snap harder.

Sizing: The 157 works for my specs. You know me…Biesty…the guy who writes all this shit. Works well for Peter too. However, for Jimbo and Zobel the 158w is for sure the call.

On Snow Feel/Skidded Turns: The Jones Mountain Twin is a super stable ride but isn't catchy.  It tracks super well when one footing off a chair or down a long flat cat track without the fear of catching an edge. It's got a very smooth cruising type of personality that blends with a wide variety of riders and really defines the one board quiver ride well. Ride it like a mountain freestyle twin on groomers but then set it back in powder and get some pretty good directional float if you don't feel like riding switch.  Super easy to skid a turn and it works for just about any ability level rider.

Edge Hold: Really strong grip without being grabby. Might not be perfect for those that see a lot of ice but for most of us at good West Coast or Central mountains in the good old US of A this is all we need.

Turn Initiation:  One of the biggest complaints with the Jones Mountain Twin is the edge to edge transitioning.  It needs a pretty responsive binding and boot to start to respond and many of us have felt it a little slow in the trees. Some love this ultra-stable feel but others, including most of the crew at The Good Ride, would like a little faster turn initiation.

Turning/Carving: These days it's not quite as exciting as it used to be but that's mainly because many boards in the industry have added boards with a little more camber and a little less rocker but it's still fun. It holds through a carve rather well though.

Speed: Very stable and easy at speed between the feet but the nose tail do bounce around a bit more than we would like. The real strong point for us is this base seems to push the Jones Mountain Twin past most on those long flats you can often see at resorts. Even though it's not the fastest base Jones makes it has really good glide to it.

Uneven Terrain: We actually like the Jones Mountain Twin better here with uneven terrain than the Jones Ultra Mountain Twin.  Both are a bit sluggish turning through the bumps but the MT handles the crowded messy resort snow a bit better than the UMT.

Powder: There is a very good directional float when you set it all the way back at a 22.75″ stance width. If you do you get a 3.5″ difference between nose and tail or a 1.75″ set back from the center of the board.  That combined with the early rise rocker in the nose gives much better float than most mountain freestyle twins that have minimal set back on board that is often closer to 1″ back from the center of the board. It's also pretty strong if you want to center it up for switch powder riding so it's a pretty versatile powder ride. It's no powder specialist but like any good all-mountain board it's competent almost anywhere and powder is no exception. We have had many days on the Jones Mountain Twin in Powder and it does a good job acting like a more directional powder board when you set it back.

Buttering: For the flex, you would think the Jones Mountain Twin would be tough to butter but it's pretty easy and fun.

Switch: Really good switch and just a little shy of a true twin.  If you like to center it up and ride groomers/park switch this is a great call.

Jumps: Wish there was a little more pop but everything else about the Jones Mountain Twin does great on kickers any size.  Picks up speed quickly, very stable approaching and very easy/forgiving when landing.

Jibbing: It's a little on the stiff side for jibbing but you can make it happen.  Even I don't have issues on mellow features.

Pipe: We have ridden a lot of pipe with the Jones Mountain Twin and like it.

So all and all, the Jones Mountain Twin from years 2017-2020 is a fun ride that will fit a wide variety of riders.  So if you are ok with the mid-level pop it has a very consistent personality in all conditions and it still remains one of the best one board quivers you can get your hands on these days.  Lately, we have been liking the easier uneven snow performance on the Mtn Twin a little more than the Ultra Mountain Twin but it can go either way.

There isn't much difference in terms of ride between the 2015 and 2016 Jones Mountain Twin in terms of ride so the 15 review stands pretty much the same.  Just some very minor tweaks. There are more sizes though.

2015 and 2016 Jones Mountain Twin Review
** The 2015 Jones Mountain Twin is not centered.  The product brochure had a typo.  It's still set back like it's been for years now **
The 2015 Jones Mountain Twin is very much like the 2014 except it has a lighter more lively core. It's still pretty much the same ride but just pops a little better on an ollie and springs out of a turn a little better.   Also the tip and tail seem to chatter a little less than previous models. It's just another improvement on the existing ride. Never the less here is our take on how the 15's lighter core played on snow compared to the 2014 and 2013 models.
Size:  157
Days:  15+
Conditions:  Really good snow, some lighter left over rockies powdwer, some left over sierra powder along with hard snow slowly changing to slush over the day.
Riders: James, Jimbo, Peter, Mary, Kristi, 
Boots:  Burton SLX, Burton Fiend LTD, Salomon F3.0, Burton Fiend, Burton Ion, Salomon Synapse
Bindings: Burton Cartel, Burton Genesis, Burton Diode, Flux SF, Flux DS, Flux TT, Union Factory, Union Contact Pro, Salomon Hologram, Salomon Defender
Set Up: Guys- Centered approx 23″ wide 15 front -15 back Girls- Set Back 10 mm 15 front -6 back.
Approximate Weight: The 2015 Jones Mountain Twin 157 weighed in at 6.0 lbs which is .4 lbs lighter than the 2014. Now this is just a comparison between my board from last year and my board from this year.  Wood Cores vary in weight so your board could weigh less or more.
On Snow Feel:  The personality of the board never changes from powder to ice or from peak to jib park.  You always know exactly what you are going to feel under foot. Many boards personalities change acording to the conditions but the Jones Mountain Twin does not and that's hard to do in this hybrid world of snowboards. Usually they excel in one condition but falter in another but not this ride. This is why it's always one of our top recommendations for those looking for a one board quiver.  It's got the stability of camber and the catch free feel of rocker. It's an easy ride one footing off a chair or flat basing on a long flat run. It's a forgiving board that applies to a wide variety of riding styles. It's the kind of board that can butter, carve, ollie, ride switch all over the mountain.  It can also stop in the pipe and jump park no problem as well as hit some mellow jibs. There are no surprises
So just to get a little into the tech the Jones Mountain Twin has about a 50/50 camber rocker combo and a set back camber so there is more rocker in the nose than the tail. Also the nose length is longer than the tail length.  Then with a set back of -20mm its kind of a stretch for Jones to call this a twin. I'd actually like to see them call this the Jones All Mountain. This design hasn't changed since 2013 and it's the same great on snow feel.
Turn Initiation: Same middle ground turn initiation that isn't instantaneous but isn't hard either. Maybe it's the mellow magnetraction bump in the middle but it just doesn't snap edge to edge super quick. Still turns are fun on all radius levels.
Flex: This year the flex is a little bit more stiff in the tip and tail but it seems about the same in the middle.  Still it's easy to butter. I would disagree with the 7 out of 10 flex and say it feels a little more on the medium side instead of med/stiff.
Edge Hold: A step below magnetraction for sure.  The mellow mag has no grab in powder or soft snow which this board excels in and it holds pretty well in hard conditions. I wouldn't call it an ice specialist though.  It's the kind of edge hold that I really like because it performs well in just about any condition the average rider wants to ride.
Powder: Every Jones board knows the importance of easy float in powder and the more powder days I get the more I appreciate the Jones Mountain Twin. I'd say my only complaint with the Mtn Twin is the turn initiation is not that fast in tighter tree situations. I'd love to see them make it a little faster edge to edge. Other than that the Jones Mountain Twin floats almost as well or almost as well as many dedicated powder boards. It stays above the snow well even when it's centered.  It's -20mm set back on the effective edge but more like -38 mm (1.5″) set back on the board. That combined with the directional rocker and larger nose it floats really easy when set all the way back.  So when set all the way back with an approximately 22.75″ stance width I'm 3.5″ back on board which is pretty far. This is a stand out when it comes to powder riding compared to most all mountain boards out there.
Carving: It's not a dedicated carver but it's got some good qualities. The extra rocker in the nose takes away some camber from the profile that could of made it a better carver but then you sacrifice some float in powder.  Again it's all about compromising with a one quiver board and I think most prefer the extra float in powder. I'm probably in the minority by saying that I'd like to see the camber extended a bit to lock in and spring out of the turn better. I love that it has more camber than the older Nidecker made model but over the years of riding this board I'm kind of wanting a little more these days. So basically it's got about as good carving ability as you can get for the amount of float you get in powder. With a strong lean I can lay a driving carve back up hill and have fun doing it. I've found that carving is better with the Twin when you set back the stance so it's centered over the set back camber so if you don't ride switch much set it back a bit.
Speed: There is a bit of improvement when it comes to speed and the nose/tail doesn't chatter as much as it use to from 2013 and even 2014. The base when waxed still has a great glide that holds it's speed for a long ride. I find myself passing people left and right on long flat cat tracks.  I don't worry about making it through the flats but I do worry about weaving in and out around slower skiiers and riders when I'm on this board.
Uneven Terrain: With a little extra work it can weave in and out through bumps but it's not a specialist here.  Dealing with small inconsistent groomers is easy.  The Jones isn't a chunder buster but its pretty good passing through a tracked out snow line without getting messy or bucking you.
Switch: Now as I mentioned before the Jones Mountain Twin has a lot of directional tech with this board that makes it less than perfect to ride switch when centered. However it still is a very easy board to get to know riding the other direction. I mainly ride this board centered but even when it's a little set back to get more centered over the camber it's easy to ride switch.
Jumps: The new core gave a decent improvement to the pop this year when it comes to an ollie but it's still not a pop master. Hitting kickers is very predictable and stable. It's easy on approach and forgiving on the landing.
Jibbing: This is probably the weakest part of the ride but it's not that bad either.  I've had no problem on more mellow entry level boxes and bonks but it's not something I'd like to ride on more technical advanced jibs. As the board softens up as it's ridden more jibs do get easier.
Pipe: One of those boards that's forgiving, has solid edge hold and drives well from wall to wall.  It's not perfect but it's really fun for all but the super technical go massively big riders.  You can easily spend a whole day lapping the pipe with the Jones.
So other than the slightly slow turn initiation I'd say that this is a board that can make the average rider (like us) happy just about any where on the mountain. This is about as close as a board can get to being a quiver of one. It's one of those boards that can wear many hats on the mountain.  If I can only take one board on a road trip this would be it.
Jones Mountain Twin 2014-2013 Review
The 2014 Jones Mountain Twin is very much a continuation of the 2013 model so the 2013 and 2014 review is pretty much the same..
The 2013 Jones Mountain Twin is a lot different than the 2011 and 2012 models.  They had a centered stance and a very small camber between the feet that ended before the binding inserts. It's an extended camber profile and set back the stance -20mm.  It's now just barely a directional twin but a much better All Mountain Ride. In addition the build quality is much better than the older models.
2013 Model Size 160 and 157
2014 Model 157, 160 and 160W
Days: 50+
Conditions: Pretty much everything from 2+ feet of powder to ice.
Riders: James, Jimbo, Peter, Kyle, Stephen, Mary, Lee and a few other friends not on the site.  I think we have about 8-10 friends of The Good Ride try this board. 
Bindings:  Now IPO, Now Drive, Now Select, Burton Cartel, Burton Cartel Limited, Burton Diode, Union Force, Flux DMCC, Flux SF45,Burton Genesis, Union SL, Union Atlas, Union Contact Pro and a few others.
Boots: Burton Ion, Burton SLX, Burton Imperial, Nike Kaiju, DC Judge, Nike Zoom Ites, Burton Ambush, Burton Ruler, Salomon Synapse
Stance–  23 in wide 12 -12 centered.  23 in wide 18 -9.  22.5 in wide 15 -15. 23 in wide 18 -3.  We have tried many more too depending on conditions, riding styles and moods.  Centered for more all mountain freestyle riding and directional for powder or more directional all mountain riding. Basically this board is very versatile.
You always compromise when choosing one board for everything but this is one of the best one board solutions we have come across.  We lost the YES Big City but gained an updated version in the 2013 Jones Mountain Twin.
We all love the more pronounced camber upgrade along with the set back of -20mm. The camber ends at about the the last binding inserts giving the Jones Mountain Twin a whole new feel. Before the camber ended before the first binding inserts on the inside. It will be recommendable for a much wider range of riders than the previous years models.  This is now a better extra camber version of the now discontinued Yes Big City and will appeal to a wide variety of riders looking for a one board solution.  No one had a bad thing to say about this board and everyone wanted it.  Needless to say it was the unanimous favorite in the All Mountain Category.
Size 157 Weight:  6.4 lbs
On Snow Feel:  The extra camber adds some stability but it still doesn't feel catchy. If you live to ride groomers and stay mostly on the mountain the New Jones Mountain Twin will make you very happy. It has multiple personalities as well.  With a centered stance the Jones can act like a great all mountain freestyle board.  With the stance set a little bit back it can be an all mountain directional carver.  With the stance set all the way back it can be a pretty good very easy floating powder board. So it's pretty versatile and does a better job of applying the very bold name of "all mountain" to this board. It's got a very diverse personality that can fit a wide range of riders and it does everything very well.
Powder: The -20mm setback is now identical to the now discontinued YES Big City so it will be a little short of borderline excellent and do a great job in powder.  Even with the added camber the board will be easy to negotiate between trees and excellent on a narrow chute that might require tight turning. This is about as good as you can get for a directional twin. The YES Optimistic was probably the only other Directional Twin shape that did better in powder but that was only because it had a bigger set back.
Turn initiation and Carving- The turn initiation is a little more work than the older version mainly due to more camber between the feet. It felt like a little bit of work to make quick edge to edge turns but you are working harder than you would with the older version. Most of us actually liked that. It eliminated the loose feel you can have with the older Jones All Mountain Twin. Carving was fun on the old jones but the added camber of the 2013 and 2014 Jones makes it much more fun to carve and it's one of it's better qualities.
Speed: The Jones Mountain Twin 2014-2013 is great at almost any speed. If you were to compare this to other all mountain boards with a similar flex and base it would be excellent. However if you compare this to something like the Jones Flagship it's going to come up a short.  That's why this has a rating of great instead of excellent. The 2013 Base is one of the fastest bases we came across and if well waxed can glide through almost any extended flat area without issue.  All of us who rode it found us passing everyone on long flat cat tracks. The only thing that keeps it from being excellent is the flex.  It's a little bit chattery in the tip and tail when you are bombing but you get use to it pretty quick.
Uneven Terrain: It's medium flex and somewhat forgiving nature so it can handle bumpy end of the day snow rather well.  With a good set of bindings it will not pass up too much shock back to your feet if you have to go through Bumps or end of the day groomers with snow all sprayed around .  It's still not fun but it's more bearable.  It's also not bad if you have to deal with icy off piste kind of snow that you might find on the way to a powder stash or on a slack country adventure.
Approximate Weight– Feels pretty normal or just a shade on the light side of normal. Jones pushes the environmental thing and tries to work with less toxic and more sustainable materials and it's still pretty light.
Edge Hold: The Jones Mountain Twin in our opinion has just the right amount of edge hold.  It inspires confidence in harder conditions and acts just like a regular old school side cut in soft snow which means it doesn't grip. The 2013 is also a slight improvement over the 2011 and 2012 models because of the added camber.  If you ride in icy conditions a lot it can hang but you would probably want something stronger like an aggressive magnetraction board. For the rider who rides in hard to soft and only occasional ice you will be more than happy with the edge hold.
Flex:  It's a medium flex and it sits right in the middle of medium.  Still the ride of the board feels a little more aggressive than it's flex.  Not a lot but a little.  It's nowhere near as easy to jib or butter around as some of the other more freestyle focused hybrid camber boards like the YES Jackpot or even the old Jones Mtn Twin but it isn't bad for a board that focuses more on carving and mountain riding.  It's much easier to butter than a camber board of this flex due to the rocker at the tip and tail.
Switch: If you want to center up the stance and ride switch it's still a directional twin that will almost ride like a true twin.  Because of the set back stance it won't be as easy as the older models but it's still pretty close.
Jibs– Probably one of the only areas where it doesn't do very well. You can have fun on little bonks and such but it's no technical rail/jib board.
Pipe: It's a great pipe board. The added camber makes it carve up the pipe wall better than the older model.  If you keep the edges sharp the Mountain Twin would be a great dedicated pipe board.
Jumps: Much better pop than the old design. Much more fun to ollie and about the same on the roller coaster line in the park.  It's a shade less forgiving than the older model but still a great time.
 2012-2011 Jones Mountain Twin Review
The Jones Mountain Twin 2012-2011 is a pretty fun ride that many of us here at The Good Ride really enjoy.
2011-2012 Size 159.  
2012 and 2011 Jones All Mountain Twin Review
Groomers– The Jones Twin is a good all conditions groomer board and works well for a directional twin.  It has many similarities to the YES The Basic  but it's a step up in tech and performance.  The Jones Twin is pretty loose and playful but when you want to step it up and make some more directional groomer riding it does a great job.
Powder: The Jones Twin is not going to have the float that the Yes Big City does but it floats very well for a directional twin without a set back.  There seems to be more rocker in the nose/tail than many other mostly rocker hybrid twins or directional twins with a centered stance out there. Still this is going to be a fun ride in powder.
Turn Initiation and Carving: The Jones Mountain Twin is very fun to make short radius turns.  The hybrid camber under the feet makes for a very lively easy to turn board. If you are new to hybrid camber it will take a bit of getting use to but after a few runs it will be really fun.  When it comes to long radius turns the Jones is almost as fun.  When it comes to carving it's really good for a board that looks like it's almost a continuous rocker board.  It's not going to carve like a camber board but it's pretty close.
Speed: Pretty fast. The Jones Mountain Twin's base is pretty fast and the board is pretty damp.  It's nothing like it's bigger brother the Jones Flagship or it's cousin the Yes Big City but it does a good job with most speed.  There is little to no chatter when you pick up speed either.  This is no freeride board built for speed but it's very good for its shape and riding style.  You can straightline most runs at moderate to high speeds with confidence and the way it rides won't sketch you out.
Weight– The Jones Mountin Twin is not terribly heavy but definitely more on the light side of things.
Edge Hold:  We like the mellow magnetraction that comes with the Jones Snowboards.  Unlike normal Magnetraction this is hardly noticeable unless you look close.  It has much more of a normal snowboard feel and isn't over grippy but when you hit a hard patch it's definitely helpful compared to a board without it. It's like there is a long extension of the edge at the middle of the board and the rest is almost un-noticable.  The more we ride this board the more it feels like the edge hold is good but closer to the excellent side of good.
Flex: This has a medium flex but it still has a very playful buttery feel for how stiff it is. We were impressed with it's ability to flex when you need it on the tip/tail.  We'd say this is almost on the soft side of medium.
Switch: Felt more like a twin than a directional twin when riding switch. We did not notice a difference with the centered stance.
Rails and Jibbing– You can hit rails and go through the jib park but there are many better boards out there than the Jones Mountain Twin.  That's why it isn't called the Jones Park Twin.  Still this does a good job with most small to medium rails and makes for a good board if you occasionally like to hit the jib park.  We'd say this is closer to the average side of good.
Pipe: Soo much fun in the pipe.  The flex is perfect for the pipe.  Not too stiff and not too soft.  There is much more control between the feet, excellent edge hold and a good rocker shape after the bindings to make this a great pipe board.  If you are all about lapping the pipe then the Jones Mountain Twin will do a good job for most riders out there. Well at least it did a great job for us.
Jumps: There is good pop and we found it pretty easy to generate our own air. It was also very easy to pop off natural terrain.  We didn't lap the roller coaster park but felt this could do a great job with just about any size kicker the average to good rider can tackle.
The Jones Mountain Twin didn't out shine any of the other mostly rocker hybrid camber boards we tried but seemed to tie with them in terms of performance.  The more we rode this the more we liked it.  So in conclusion this is another excellent board from the Nidecker Umbrella that is Jones Snowboards.
Jones Mountain Twin Specs
Jones Mountain Twin Images

We try to get as many images of the Jones Mountain Twin, but forgive us if they're not all there.
2021
2020
2019
2018
2017
2016
2015
2014
2013
2012
2011
Jones Mountain Twin User Reviews
Jones Mountain Twin 2011-2023 Snowboard Review
SKU
UPC
Model
Great board - wider than specified
Dec 16, 2020
by
Philipp
Ability Level: 30 seasons; 60 boards •
Riding Style: All-Mtn slashing, Freeride/Pow, Carving •
Days You Ride A Year: ~20+ •
Height, Weight And Boot Size (for Boards, Boots & Bindings): US10
Dear James,
thanks for your always great reviews! And also thanks for the improved measurments of the foot placement width/board width at the binding positions, which are really helpful for all those people out there who shop snowboards online.
The Jones Mountain Twin is a good example why your measurements are important: Jones specifies the Mtn Twin 157 as 25.4 cm "shaping waist width". Actually, my 2021 157 is 25.9 cm wide, measured on the base from edge to edge. 0.5 cm can make a significant difference, as it equals nearly a full boot size, for example between US9 and US10. With a size 10, I am happy about this now that I own the board, but before I was skeptical whether 25.4 cm would be wide enough for me. Your review helded me with the buying decisions, as I learned it would be wide enough at the binding area.
BTW: Measured on the topsheet, the board has a waist width of 25.5, which is close to the catalog specs. This all sounds nitty gritty nerdy stuff, but for me, I like my boards as narrow as possible at the waist, but wide enough at the bindings to do serious carving without toe drag.
Also BTW: the 25.9cm ww might explain the impression of the reviewers and some readers, why the board is not so quick from edge to edge as expected...
I cannot say more about the Mtn Twin yet, as I haven't ridden it so far ->lockdown :-(.
But since I also own some other Jones boards, I am convinced this one will not be dissapointment either.
(...hope that the black print-on-print graphic details will not chip off too easily...)

---
2020 Mountain Twin
May 08, 2020
by
Tim
Ability Level: Intermediate •
Riding Style: Rad dad - Resort Cruiser •
Days You Ride A Year: 20-25 •
Height, Weight And Boot Size (for Boards, Boots & Bindings): 5'8" 155lbs Burton 9 Boot
The Good Ride review could not be more spot on for this board. This board is damp when it needs to be, blasts through rutted out terrain and stays glued to the hill until you need it to. I only hit kickers and small jumps (15ft) and thankfully for my old bones it is super stable and forgiving on landings.

My only knocks on not giving this board a 5, is it's not as quick edge to edge as hoped. Coming off a Yes Typo, where I could react at the last second to a bump, or situation, the Jones MT needs a little prep time and distance, so I had to more aware of what's ahead in case a quick turn was needed. Also edge hold on hard pack is good but not great like underbite or magnetraction, but still competent. I'm going to keep it, but the Jones Stratos has my eye.

---
A solid ride
Jan 06, 2020
by
Jaron Benton
Ability Level: Intermediate •
Riding Style: All mountain •
Days You Ride A Year: 15+ •
Height, Weight And Boot Size (for Boards, Boots & Bindings): 5'10", 205#, 9
Love this board, only disappointed in it's edge to edge speed. It may not be that bad, but come from the Nitro Quiver Fury, it's noticeably replayed. That said, it's extremely stable, fun to slash on, and doesn't give me any fits. I'll absolutely keep riding Jones bc of this one

---
If you can't buy through the links above, you can support the site with: