Nidecker Smoke 2022-2023 Snowboard Review
| | |
| --- | --- |
| Riding Style | Freeride |
| Riding Level | Advanced - Expert |
| Fits Boot size (US) | 8-10, 10-12 |
| Manufactured in | Tunnisia by Nidecker |
| Shape | Tapered Directional |
| Camber Profile | Directional Camber |
| Stance | Setback -20mm |
| Approx. Weight | Feels Normal |
| Split | No |
| | |
| --- | --- |
| On Snow Feel | |
| Turn Initiation | |
| Skidded Turns | |
Where To Buy
No obligation, but these links & ads support the site.
Nidecker Smoke 2023 - 2022 Review by The Good Ride
Nidecker Smoke Snowboard Video and Written Review
You have entered the Nidecker Smoke Snowboard Review from The Good Ride.
Turn Ons/Swipe Right: Great Down the Line carver. Very damp. Excellent base glide. Competent Float.
Turn Offs/Swipe Left: Not very circle carvy. Can get a little cranky in hard micro bumpy snow.
Summary
The Nidecker Smoke has a fast base and is a very satisfying ride for those that want fast down the line carves. One thing to mention is this is the 2021/2022 model we tested but, other than graphics,  it doesn't seem to be any different than the 2022/2023.
Ethics Statement: We don't get paid by the manufacturer to write these reviews and this is our unfiltered opinion. We do make money from the "Where To Buy" links, but this is our best attempt at an honest and objective review from an average riders' perspective.
Nidecker Smoke Review- How it rides and who it is for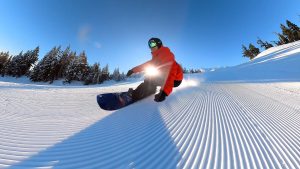 How This Review Happened:
Borrowed this for an extended demo and sent it back.
Size: 158
Days: 10+
Conditions: Summer Mt. Hood snow, Mixed Spring conditions, excellent mid winter groomers, Ok pow, Good pow and pretty deep pow with the help from Drift Boards
Riders: James (Size 9, 5'10" 185-190lbs), Davey (Size 12, 240lbs, 6'4")
Boots: Burton Kendo, Burton Ion, Nidecker Rift, ThirtyTwo TM-3XD
Insoles: F.I.T. Gamechangers
Bindings: Union Atlas, Union Force
Jacket: Burton AK Gore-Tex Pro 3L Tusk Jacket, Volcom Guide Jacket, Burton Gore-Tex 3L Treeline Jacket, Jones Peak Bagger Jacket. Burton AK Helitak Gore-Tex Jacket
Pant: Burton AK Gore-Tex Pro 3L Hover Pant, Burton AK Gore-Tex 2L Swash Pant, Burton Gore-Tex Ballast Pant
Helmet: Smith Maze
Goggle: Smith 4D Mag
Gloves: Burton AK Clutch Mitt, Burton AK Clutch Glove, Burton AK Tech Leather Glove, CG Habitats Work Glove, Drop Tahoma Mitt,
Similar Boards (but not the same): YES PYL Uninc, Burton Flight Attendant, Jones Flagship, Rossignol XV, Lib Tech BRD, Weston Backwoods, Cardiff Bonsai, Prior Spearhead, Cardiff Powgoda, Jones Mind Expander,
James's Set Up: 21.5" Wide. Sance Angles +18/-3, +21/+3. Close to Reference and Set all the way back.
Davey's Set Up: 23" Wide. Sance Angles +18/-3, +18/+3. Close to Reference and Set all the way back.
Approximate Weight
(We don't put in the exact weight because with wood cores there is no consistency in a boards weight)
Sizing

So the Nidecker Smoke felt great for me (James Biesty) in a 158. The 154 would be too small and the 162 a bit too big. All sizes were a little too small for Davey  but the 162 would be almost doable with his size 12 Reduced footprint Burton Ion's
Here are some ideal US boot sizes for these boards. You can of course go bigger or smaller depending on your riding style and boot's footprint, but these work best for not turning the board slower than it should be and not having the dreaded Toe & Heel Drag.
154: 8-9
158: 9-10
162: 10-11
For weight I would stay close to Nidecker's recommended weight ranges but they didn't fall apart for us going over. If it comes down to boot size or weight, I would make sure it fits your boot first and then your weight a close second.
Shape/Camber/On Snow Feel/Ability Level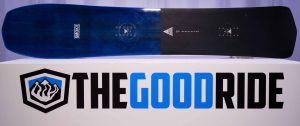 The Nidecker Smoke has a pretty directional set back shape but not a ton of taper. There isn't a lot of set back on side cut but there is on board due to the massively longer nose vs. the tail. So in pow it feels very directional but on groomers having only a -20mm set back on sidecut you have a less directional tapered feel than you would think. With a posi stance you can really drive with your front foot but this is a stance agnostic snowboard that works with any angles you would like.

The directional camber of the Nidecker Smoke is pretty set back so there is a lot of rocker before the big long nose. I thought the board would feel more forgiving like the Mellow but the camber feels more engaged and locked in than it's height. So overall not super technical and a strong intermediate could handle it and skid their turns easy enough. I would say it is most at home for an advanced to expert rider because this isn't a chill ride. It's for people who like to carve hard and go fast.
Flex Personality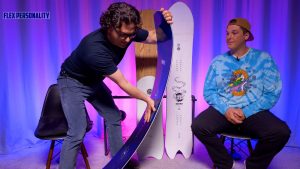 So the Nidecker Smoke is pretty stiff between the feet to the little nub of a tail. The nose is more mediumish in flex. You can nose butter pretty easy, but the tail takes some work. The Smoke takes some work to Ollie but there good pop for a stronger rider.
Uneven Terrain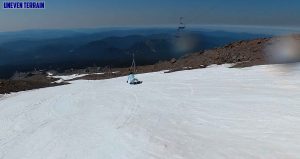 So in wet messy snow the Nidecker Smoke is pretty good but it does get a little cranky in harder uneven snow. Overall, it's a pretty good all conditions ride and the edge stays quiet in most uneven snow so you can go fast.
Edge Hold

Very competent grip for not having anything crazy disruption wise.
Speed

/Base Glide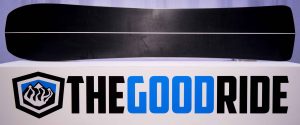 The Nidecker Smoke has a fast ass base. It's got easy glide to it and its almost all black for easy repair. This is in the same world as the Jones bases and its up there with the fastest of the fast.
You can go straight for a long time with the smoke. It really shines going fast. That is when you really feel the positive qualities of this ride.
Turning Experience/Carving
So if you like more longer down the line carves that build speed on each turn the Nidecker Smoke is for you. If you want more across the groomer to circle carves the Mellow is for you. Each ride has ample spring out of the turn and both are very satisfying carvers.
Powder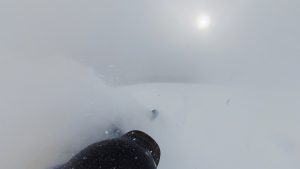 So you get really solid directional float with the Nidecker Smoke. We liked the float of the Mellow a little better but they are both very competent in really deep pow. I got it in about 2' of powder but my camera iced over so I have nothing to show for it but it floated very well. Davey got it in some pretty deep pow too.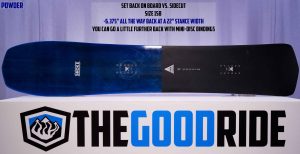 With a 22" stance width you can get 6.375" back from center of board. That is really set back. We both liked the Mellow a little better in how it turned in pow but both float really well. There is a lot of early rise before the nose as well.
Conclusion
So while the Nidecker Smoke wasn't as much Davey's or my style of ride (we like turny boards) I could see how this would have excellent appeal to those that want a more straight line friendly hard carving freeride board with lots of directional float and a fast ass base.
If this review helped, we'd appreciate if you:
Nidecker Smoke Images

We try to get as many images of the Nidecker Smoke, but forgive us if they're not all there.
2023
Nidecker Smoke User Reviews
If you can't buy through the links above, you can support the site with: