Cardiff Goat 2021-2023 Snowboard Review
| | |
| --- | --- |
| Riding Style | Freeride |
| Riding Level | Intermediate - Expert |
| Fits Boot size (US) | 8-10, 10-12 |
| Manufactured in | China |
| Shape | Tapered Directional |
| Camber Profile | Hybrid Camber |
| Stance | Setback -15mm |
| Approx. Weight | Feels Normal |
| Split | Comes in split |
| | |
| --- | --- |
| On Snow Feel | |
| Turn Initiation | |
| Skidded Turns | |
Where To Buy
No obligation, but these links & ads support the site.
Cardiff Goat 2023 - 2021 Review by The Good Ride
Update 2023: The Cardiff Goat has not changed for 2023 so this review still stands. 
Turn Ons/Swipe Right: Damp but not super stiff. Skids a turn/pivots easy. Straight lines like a champ.
Turn Offs/Swipe Left: Not for those that want a turny ride.
Summary
The Cardiff Goat is an incredibly fun big mountain ride for those that isn't super stiff but still is damp and straight line friendly.
Ethics Statement: We don't get paid by the manufacturer to write these reviews and this is our unfiltered opinion. We do make money from the "Where To Buy" links, but this is our best attempt at an honest and objective review from an average riders' perspective.
Cardiff Goat Snowboard Review- How it rides and who it is for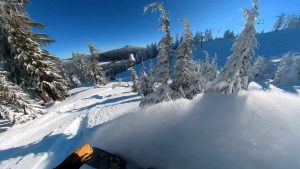 How This Review Happened:
Borrowed this for an extended demo and sent it back.
Size: 154
Days: 3
Conditions: Mid summer Mt. Hood snow and cold early winter powder.
Riders: James (Size 9, 5'10" 185-190lbs)
Boots: Burton Kendo
Insoles: F.I.T. Gamechangers
Bindings: Union Atlas, Union Force, Union Strata, Union Contact Pro/Union Superpro, Union Falcor, Burton Genesis X, Burton Cartel, Burton Mission, Burton Malavita, Salomon Quantum, Salomon Highlander, Salomon Hologram, Salomon District, Nitro Team Pro, Nitro Team, Nitro Phantom Carver, Now O-Drive, Now Drive, Now Pilot, Now Select, Now IPO, Rome Cleaver, Rome Katana, Rome Vice, Rome DOD, Rome 390 Boss
Jacket: Burton AK Gore-Tex Pro 3L Tusk Jacket, Volcom TDF Infuse 3L Gore-Tex Jacket, Burton Banshee Gore-Tex Jacket
Pant: Burton AK Gore-Tex Pro 3L Hover Pant, Burton AK Gore-Tex 2L Swash Pant, Burton Gore-Tex Ballast Pant
Helmet: Smith Maze
Goggle: Smith IO Mag, Smith 4D Mag
Gloves: Burton AK Guide Glove, Burton AK Clutch Mitt, Burton AK Tech Glove, Drop Tahoma Mitt
Similar Boards (but not the same): Yes Pick Your Line,  Burton Flight Attendant, Jones Flagship, Rossignol XV, Lib Tech BRD, Weston Backwoods, Cardiff Bonsai, Prior Spearhead
Set-Up: 21.5" Wide. Sance Angles +18/-3, +18/-9. Close to Reference and Set all the way back.
Approximate Weight
(We don't put in the exact weight because with wood cores there is no consistency in a boards weight)
Sizing
So the 154 felt a little small for me with my specs mentioned above. The 158 in the Crane felt a little too hard to manage with my size 9 boots so I opted not to go for the 158 but it seems to be a closer match vs. the 154.
Here are some ideal US boot sizes for the Cardiff Goat. You can of course go bigger or smaller but these work best for not turning the board slower than it should be and not having the dreaded Toe & Heel Drag.
150: 7.5-8.5
154: 8-9
158: 9.5-10.5
162: 10.5-11.5
166: 11.5-12.5
Shape/Camber/On Snow Feel/Ability Level
The Cardiff Goat has a tapered directional shape with almost 11mm of taper but it doesn't feel super washy if you don't lean too much into the back foot and try to ride it more like a double ender/twin. It is pretty set back on board but not too much and it has a mellow setback on sidecut compared to many freeride boards like it. Maybe that is why.

The camber profile of the Cardiff Goat has some early rise in the tip and tail with camber well past the inserts. You feel that stable camber feel without the unforgiving nature of camber. It is easy to skid a turn when you get off your game and it one foots/flat bases well.
Flex Personality
What I love about the Cardiff Goat is the flex. Actually, I love the flex personality with all Cardiff rides. It has this medium bordering on medium stiff flex that feels easy to butter or ollie but also is damp and it never shits the bed in any condition you want to ride. Micro bumpy hard poorly groomed runs are doable and messy to bumpy snow is doable if you size this board right.
Speed
Cardiff charges a little more than most but at least you get a top notch base that glides super easy. This is in that same realm as Jones and Gentemstick when it comes to base tech. It is also very damp on a straight line. The sidecut likes a straight line but also something is going on inside that allows the Cardiff Goat to be very damp and stable at high speeds despite its mellower flex for a freeride board.
Edge Hold
There is great grip happening here that is very hard snow friendly.
Turning Experience/Carving
So this has well over a 10 meter sidecut radius. That is seriously shallow but somehow it can pivot well in a tight spot or initiate a turn quicker than you would think. When I had the sidecut fully engaged I thought it wouldn't be as balanced as it felt. Don't get me wrong. This is not a circle carver but it did better than I thought it would for this straight-line oriented sidecut.
Powder
So I forgot to measure the setback on board before I sent it back. Sorry! I will say that it is less than the Powgoda but more than the Crane by a good bit. The little 154 Cardiff Goat floated really well when set all the way back though in up to knee high powder. I was really impressed with how well it planed above the snow. It isn't a full on low angle pow specialist but can for sure do well. That is hard to do. It excels in steeper angles though and it is a great big mountain kind of pow ride.
Switch/Pipe/Jumps
Very doable switch and the Cardiff Goat loves to track into a big air. There is more than enough tail to land easy too with how it is pretty centered on board.
Conclusion
So even though I felt in between sizes with the Cardiff Goat I could see why so many of my friends with bigger boots but my specs love this ride. It is a very forgiving big mountain bomber.
If this review helped, we'd appreciate if you:
Cardiff Goat User Reviews
If you can't buy through the links above, you can support the site with: