Ride Torrent 2024 Snowboard Boot Review
Where To Buy
80% of outdoor sports products are not listed or sold online.
Our team has relationships with hundreds of local snowboarding and outdoor sports shops.
We'll call the shops and email you a list of stores along with pricing and availability.
---
Not sure what to buy?
Get custom advice from Good Ride editors James and Steph.

Get Advice
Ride Torrent 2024 Review by The Good Ride
Ride Torrent Snowboard Boot Video and Written Review
Here sits the Ride Torrent Snowboard Boot Review from an average rider that's ridden a ton of boots and has an exceptionally objective perspective.
Positives/Swipe Right: Excellent 1 boot solution for split and solid snowboarding. Excellent absorption for a split friendly boot. Easy forward flex for uphill travel. Good response down hill.
Negatives/Swipe Left: Some fraying/wear near the tongue.
Summary
The Ride Torrent is a very unique hybrid split/solid snowboard boot because it's just as good on the down as it is touring. What really wins the day for me is the shock absorption. Its so good I don't realize I'm on a split boot when riding the lifts. It's the first split boot I can ride before and after the lifts.
Ethics Statement: We don't get paid by the manufacturer to write these reviews.  We do make money from the "Where To Buy" links, but this is our best attempt at an honest and objective review from an average riders' perspective.
Snowboard Boot Review: How It Rides And Who It Is For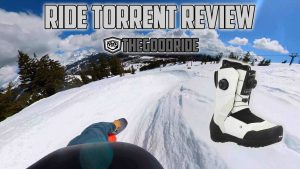 How This Review Happened:  Borrowed this for an extended demo and liked the Ride Torrent soo much I'm keeping it.
Size: 9
Days: 15-20 but many more coming.
Conditions:    and an early morning slackountry time with Drift Boards & Union Rovers
Riders: James (Size 9, 5'10" 185-190lbs)
Insoles: Footprint Insole Technology Gamechangers, Footprint Insole Technology Gamechangers Lite, Footprint Insole Technology Gameghangers Low Profile, Sandsole Custom Insoles
Bindings: Union Atlas and many other bindings
Boards: Korua Dart, Korua Pencil, Korua Café Racer, Café Racer Plus, Jones Frontier, Ride Algorythm, Yes Basic Uninc and many other boards.
Jacket: Jones Mtn Surf Anorak, Jones Shralpinist Stretch Jacket, Burton AK Gore-Tex Pro 3L Tusk Jacket, Volcom Guide Jacket, Burton Gore-Tex 3L Treeline Jacket, Jones Peak Bagger Jacket. Burton AK Helitak Gore-Tex Jacket
Pant: Jones Mountain Surf Bib, Jones Shralpinist Stretch Bib,  Burton AK Gore-Tex Pro 3L Hover Pant, Burton AK Gore-Tex 2L Swash Pant, Burton Gore-Tex Ballast Pant
Helmet: Smith Maze
Goggle: Smith 4D Mag
Gloves: Burton AK Guide Glove, Burton AK Clutch Mitt, Burton AK Clutch Glove
Similar (but not the same) Boots: Burton Tourist, Jones TM2, K2 Aspect
James' Foot Specs
Foot Size: 9 US
Foot Width: E
Arch Length: Right 9.5 and Left 9
Calf Circumference: Top of boot 17" & Bottom of boot 12"
How These Were Tested
I rode this a lot of days with a lot of bindings and a lot of boards. I also compared it to the Ride Fuse, Burton Kendo, Ride Deadbolt, Burton Tourist and a few other boots on same day tests with the same board and binding.
Weight:
2.2lbs per foot.
The Ride Torrent isn't heavy but it's more heavy than the Fuse at 2.0lbs, Deadbolt at 1.8lbs and lasso Pro at 2.0lbs. I'm ok with the extra weight but this is very much personal preference.
Fit/Sizing
The Ride Torrent fits incredibly well for a size 9 E. With many boots my wideish foot requires a heat mold like it did with my Fuse. The Torrent was fine out of the box and I didn't even have pressure points day one. This and the Deadbolt seem to have a new shell construction that is made wider.
For length it fits very true to size and fit my 9's very well.
Flex vs. Response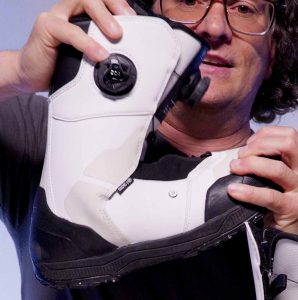 They say this is an 8 out of 10 flex/feel wise. I would say I was surprised at the response for having such an eassy forward/hike friendly flex but I'm not sure it's that stiff/responsive. I'm cool with whatever this is though and I never felt under gunned with any demanding board.
Flex Retention/Construction
I personally like the rubberish construction of the Fuse and Lasso Pro's tongue. It seems like it is going to last longer but I'm not sure. I don't like the fraying that's happening to sides by the tongue. All that being said after about 15-20 days I haven't noticed a change in flex.
Side Hilling
The Ride Torrent has pretty good side hilling support. It's not super stiff but it is way better than my Burton Tourists.
Uphill Travel
The easy forward flex of the Ride Torrent is great for my short but pretty steep up hill route I often do in the morning before the lifts open. I haven't had much flat touring but when I did I tried the Velcro release in the back and there is a good bit more negative flex. I really like this feature and hope the Velcro holds up over time.
Adjustability/Heel Hold
I love upper and lower separation with double boas because I like a little more loose lower and a little tighter upper. The Ride Torrent has that kind of BOA I love so if you love adjustability this is a good choice. If you have heel lift issues you might like boots like the Lasso Pro that have a single boa on the outer and a single boa for the inner by the heel. It really provides a more wrapped fit.
Shock Absorption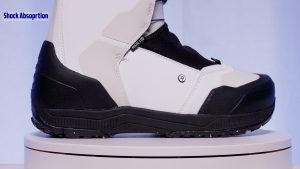 So the Ride Torrent is much more shock absorbent than I've experienced with any split friendly boot I've tried. In fact it has more shock absorption than many other Ride boots in the line like the Lasso Pro, Fuse and The 92. The Deadbolt has more shock absorption but I think only because there is a lot of reinforcement with dense rubber running from the heel to the sole so it keeps most of the foam a bit below it from flexing.
On & Off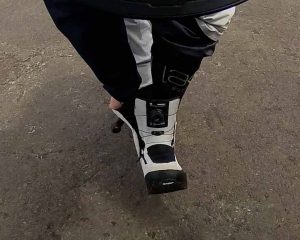 The Ride Torrent is not that easy on. I've never found Double BOA to be fast but at least you don't have a lot of lace to tangle up. Off is pretty quick like most BOA boots.
Traction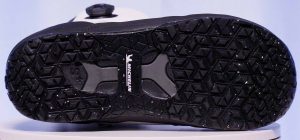 I really like this traction. I didn't like the traction with my Fuse boots. For some reason it was slippery. This isn't. I would trust it in almost any situation within reason.
Reduced Footprint
The Ride Torrent isn't super reduced in footprint but it feels pretty warm. There is also a lot more rubber on the outside to make it more reliable for touring.
Conclusion
So overall, I was super impressed with the Ride Torrent. It's exactly the kind of boot I have been looking for. It gives me the shock absorption and feel of a resort boot but also tours really well. I barely feel like I'm compromising and for the first time I feel like I don't need 2 boots. If you don't travel uphill with split boards, Union Rovers or Drift Boards I'm not sure this is worth it for just resort riding. However if you are like me it is.
If this review helped, we'd appreciate if you:
Ride Torrent User Reviews
If you can't buy through the links above, you can support the site with: