Ride Deadbolt 2024 Snowboard Boot Review
Where To Buy
80% of outdoor sports products are not listed or sold online.
Our team has relationships with hundreds of local snowboarding and outdoor sports shops.
We'll call the shops and email you a list of stores along with pricing and availability.
---
Not sure what to buy?
Get custom advice from Good Ride editors James and Steph.

Get Advice
Ride Deadbolt 2024 Review by The Good Ride
Ride Deadbolt Snowboard Boot Video and Written Review
Welcome to the carefully crafted Ride Deadbolt Snowboard Boot Review from an average but very experienced and objective rider.
Positives/Swipe Right: Excellent fit for D-E foot widths. Upper level shock absorption. Upper and lower adjustability. Good mid level but supportive response.
Negatives/Swipe Left: Flex Retention could be a little better. Liner doesn't have Velcro at the top.
Summary
The Ride Deadbolt might not keep its flex like the Fuse and Lasso Pro but it offers a wider footbed, great adjustability and a softer sole. It will be a good ride for a 10-30 day a year rider and should last a long time.
Ethics Statement: We don't get paid by the manufacturer to write these reviews.  We do make money from the "Where To Buy" links, but this is our best attempt at an honest and objective review from an average riders' perspective.
Ride Deadbolt Snowboard Boot Review: How It Rides And Who It Is For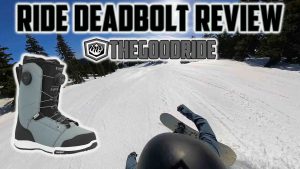 How This Review Happened:  Borrowed this for an extended demo and not sure if they will take it back after I tested this. Size:
Days:  6+ and might test it more this year.
Conditions: Everything from good powder to varied spring conditions.
Riders: James (Size 9, 5'10" 185-190lbs),
Insoles: Footprint Insole Technology Gamechangers, Sandsole Custom Insoles
Bindings:
Union Atlas, Union Force, Nitro Phantom +, Nitro Team Pro, Nitro Team, Rome Katana, Rome Vice, and Rome Black Label
Boards: Burton Gril Master, Jones Frontier, Jones Stratos, Jones Ultra Mtn Twin, Jones Mtn Twin, Agent, Agent Pro.  Gentemstick Mantaray 156, Yes Hybrid, Jones Hovercraft, Nidecker Mellow, Rome Stale Fish, Jones Frontier, Ride Shadowban, Yes Greats, Ride TwinPig,
Jacket: Burton AK Gore-Tex Pro 3L Tusk Jacket, Volcom TDF Infuse 3L Gore-Tex Jacket
Pant: Burton AK Gore-Tex Pro 3L Hover Pant, Burton AK Gore-Tex 2L Swash Pant, Burton Gore-Tex Ballast Pant
Helmet: Smith Maze
Goggle: Smith 4D Mag
Gloves: Burton AK Guide Glove, Burton AK Clutch Mitt, Burton AK Tech Leather Glove, Drop Tahoma Mitt,
Similar (but not the same) Boots: Ride Lasso Pro Ride Fuse, Ride Deadbolt, Burton Ion, Burton Photon Step On, Burton Kendo, Burton Imperial, Burton SLX, Vans Infuse, Vans Baldface,
James' Foot Specs
Foot Size: 9 US
Foot Width: E
Arch Length: Right 9.5 and Left 9
Calf Circumference: Top of boot 17" & Bottom of boot 12"
How These Were Tested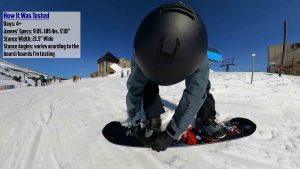 I rode the Ride Deadbolt a lot of days on a lot of different bindings and boards. I even did a same day comparison against my Ride Fuse boots just to see how they faired.
Fit
The Ride Deadbolt fit my size 9 E foot super well. Unlike the Ride Fuse and Lasso Pro there was no heat molding necessary. This and the Ride Torrent are a little wider inside so I felt no pressure/cramping/numbness on the sides of my wideish feet. The 9 fit pretty true to size. Maybe a touch big but not big enough to want to size down to 8.5's. That would be too tight. If they ever pack out too much and my feet start to slide I would rather add boot fitting foam. If you are really wide the safer play is to go to the Lasso Pro Wide or another wide boot from another brand.
Flex/ Flex Retention/Construction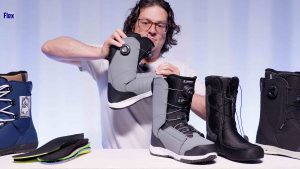 There is a pretty mediumish flex but with good support. They have it rated at 7 out of 10 but I think after 15-20 days the flex should mellow out to a 5 or 6. In the video review I did not elaborate enough about this boots flex retention. It's pretty good compared to many snowboard boots out there but its just not at the standard of higher end Ride boots like the Torrent, Lasso Pro, Insano, Fuse and The 92. I would have liked to see more flex retention in the back stay here. I wish they had some rubber or urethane instead of just extra material to help preserve the flex. Same for the tongue vs. the Fuse. My Fuze broke down a little near the articulation point but because of the hard urethane back stay and soft urethane tongue, it didn't loose any flex.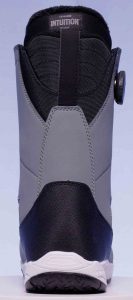 Response
Pretty good response. I got a more out of my Fuse's with about 40 days on them as well as a little more out of the Torrents but these are very good for most mid response boards.
Adjustability/Heel Hold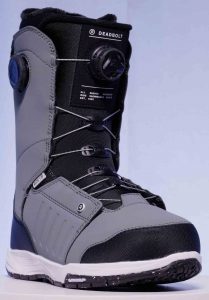 I love the Ride Deadbolts adjustability. I'm personally way more into Zonal BOA that has separate upper/lower adjustability. I have bigger ankles, wider feet and even featured calves. But if you have narrower feet with smaller ankles you might want to look into the Lasso Pro or Lasso with a BOA for the outside and BOA for the inside.
Shock Absorption
I really like the Ride Deadbolts shock absorption and I wish I had this on the Fuse, a boot I often ride. Its softer sole is better at slower speed shock absorption and off landings while still not eliminating too much board feel.
On & Off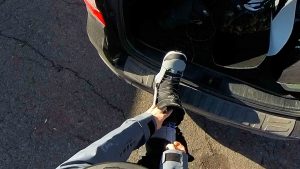 Double BOA's with a pretty complicated Liner like the Ride Deadbolt are slow on but super easy off. At least the laces aren't everywhere though when putting them on or taking them to your car.
Traction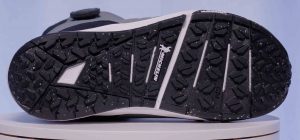 The Michelin traction on the Deadbolt felt much better than the high end Michelin on my Fuse, Lasso Pro and others. Those feel slippery until you scrape that first milimiter of rubber away. They they are good. Again I wish I had this sole on my Fuse boots.
Reduced Footprint
Just a shade behind Burton which leads the industry in footprint reduction. As you can see it was somewhat close close that I almost didn't really need to re-adjust my binding straps when putting on Burton Boots. Both of these boots are a size 9 and there was about 1cm difference.
Conclusion
I think the Ride Deadbolt is a great boot for those that are riding 10-30 days a season and want comfort day one. I like the sole, shock absorption, adjustability and wider inside. I'll be recommending this to a lot of riders who have medium bordering on wide feet like I do.
If this review helped, we'd appreciate if you:
Like & Subscribe on YouTube https://www.youtube.com/@thegoodridesnow
Ride Deadbolt User Reviews
If you can't buy through the links above, you can support the site with: