Vans Baldface 2022 Snowboard Boot Review
Where To Buy
No obligation, but these links & ads support the site.
Vans Baldface 2022 Review by The Good Ride
Swipe Right: A Durable, Comfortable, Mid Flexing boot. Excellent Board Feel. Very reduced footprint.
Swipe Left: Minimal shock absorption on the front part of the foot.
Summary
The Vans Baldface isn't shock absorbent on the front of the foot but has excellent board feel, is well made, has a reduced footprint and is easy on and off.
Ethics Statement: We don't get paid by the manufacturer to write these reviews.  We do make money from the "Where To Buy" links, but this is our best attempt at an honest and objective review from an average riders' perspective.
Vans Baldface Snowboard Boot Review: How It Rides And Who It Is For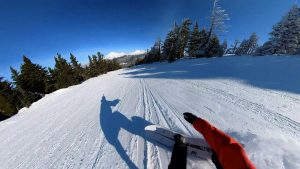 How This Review Happened:  Borrowed this for an extended demo but it's a snowboard boot…they don't want it back now that I used it…no matter how pristine and clean my feet are.
Size: 9
Days: 3
Conditions: Everything from some perfect groomers to hard snow, to uneven snow and an early morning slackountry time with Drift Boards.
Riders: James (Size 9, 5'10" 185-190lbs)
Insoles: Footprint Insole Technology Gamechangers
Bindings:
Union Atlas
Boards: Lib Tech Lost Retro Ripper, Jones Storm Wolf, Weston Japow.
Jacket: Burton AK Gore-Tex Pro 3L Tusk Jacket, Volcom TDF Infuse 3L Gore-Tex Jacket
Pant: Burton AK Gore-Tex Pro 3L Hover Pant, Burton AK Gore-Tex 2L Swash Pant, Burton Gore-Tex Ballast Pant
Helmet: Smith Maze
Goggle: Smith 4D Mag
Gloves: Burton AK Clutch Mitt, Drop Tahoma Mitt
Similar (but not the same) Boots: Burton Kendo
James' Foot Specs
Foot Size: 9 US
Foot Width: E
Arch Length: Right 9.5 and Left 9
Calf Circumference: Top of boot 17" & Bottom of boot 12"
How These Were Tested
I Did a sampler same day with the Lost Retro Ripper and rode the Vans Baldface, Vans Infuse and Burton Kendo all on the same board with the same Union Atlas Bindings.
Weight
2.6lbs
Fit
These boots fit perfectly length and width wise for my size 9 E feet. I feel like these fit true and if you are E width and below the Vans Baldface will work. They might pack in a little but some boot fitting foam should do the trick.
Flex/ Flex Retention/Construction
The Flex is pretty medium and it feels a touch on the medium soft side. With the tongue stiffeners in it feels more true medium in terms of flex and response. Response is smooth and predictable too. As the flex softens you can put in the tongue stiffeners/inserts. I would like to see more ankle articulation to preserve the flex like my Burton Kendo's have. The Kendo's preserve the flex but the outer material is not durable. After 90+ days I had holes and serious wear. The Baldface will probably be the opposite.
Adjustability/Heel Hold
There is a pretty simple one rung traditional lacing system at the bottom of the foot with a strap above it. That is it but I still feel like I have upper and lower separation. If you want more heel hold than you can have from the Vans Baldface it's all about the Infuse. What I like about this system is its faster on than most double BOA boots and not bad off either. It's much faster than traditional lace.
Shock Absorption vs. Board Feel
There is pretty good shock absorption under the heel of the Vans Baldface but as it transitions to the toes/front part of the foot there is not much there. This is to enhance board feel and give that skate/surf feel without sacrificing too much shock absorption. For me I'm not too into that minimal shock absorption but I know many riders that feel the exact opposite of me so it's all personal preference.
Traction
The grip on the Vans Baldface sole is excellent and it has deep tread. It is all rubber and I felt it's up there with some of the best soles out there.
Reduced Footprint
So in comparison to a very reduced footprint Burton Kendo, the Vans Baldface is right there. I didn't even have to adjust my binding straps when I rode these. These are a great choice for someone who wants a little less overhang to reduce toe and heel drag. They don't feel too cold for me either in days with a wind chill of -5 but I run warm.
Conclusion
So overall the Vans Baldface is a very recommendable boot for those that like board feel and want a simple but reliable boot.
Vans Baldface User Reviews
If you can't buy through the links above, you can support the site with: