Vans Infuse 2013-2022 Snowboard Boot Review
Where To Buy
No obligation, but these links & ads support the site.
Vans Infuse 2022 - 2013 Review by The Good Ride
Swipe Right: Excellent construction, adjustability, response, board feel and heel hold.
Swipe Left: Some might not like minimal shock absorption on the front of foot.
Summary:
The Vans Infuse is a well made, responsive boot for those that want feel underfoot but don't want to sacrafice too much shock absorption in the heel.
Ethics Statement: We don't get paid by the manufacturer to write these reviews.  We do make money from the "Where To Buy" links, but this is our best attempt at an honest and objective review from an average riders' perspective.
Vans Infuse 2022 Snowboard Boot Review: How It Rides And Who It Is For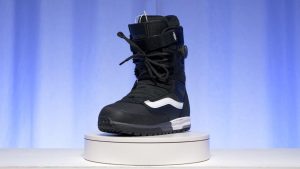 How This Review Happened:  Precious Good Ride dollars were spent to buy this and review it. I almost chose to use this as my daily driver this year.
Size: 9
Days: 3
Conditions: Pretty good mid winter snow.
Riders: James (Size 9, 5'10" 185-190lbs)
Insoles: Footprint Insole Technology Gamechangers and the Vans Factory Insole
Bindings:  Union Atlas
Boards: Jones Storm Wolf, Lib Tech Lost Retro Ripper, Weston Japow and a few others.
Jacket: Burton AK Gore-Tex Pro 3L Tusk Jacket, Volcom TDF Infuse 3L Gore-Tex Jacket
Pant: Burton AK Gore-Tex Pro 3L Hover Pant, Burton AK Gore-Tex 2L Swash Pant, Burton Gore-Tex Ballast Pant
Helmet: Smith Maze
Goggle: Smith 4D Mag
Gloves: Burton AK Guide Glove, CG Habitats Work Glove, Drop Tahoma Mitt
Similar (but not the same) Boots: Adidas Tactical ADV, Burton SLX, DC Judge,
James' Foot Specs
Foot Size: 9 US
Foot Width: E
Arch Length: Right 9.5 and Left 9
Calf Circumference: Top of boot 17" & Bottom of boot 12"
How These Were Tested
I rode this same day against my Burton Kendo's and Vans Baldface just to get a base liner. I always rode these on Union Atlas.
Fit
The Vans Infuse size 9 fits true and worked perfectly with my size 9 E feet. Speaking of they work well for people with wide feet like me. I was really impressed with how much room I had on the sides of the boot.
Flex/ Response
The flex on the Vans Infuse is for sure on the medium stiff side and even though Vans rates this as very stiff it doesn't feel like some of those ultra stiff/ultra responsive boots out there like the Malamute or Driver X or others like it. I personally like this flex better than the boots mentioned above. It can power just about any board without making it feel twitchy or overpowered
Flex Retention/Construction
So the flex retention tech isn't ideal compared to some boots with fully articulating cuffs but it has a little flex tech and excellent construction. You can also use the plastic inserts to preserve the flex. I think overall my Kendo's will keep their flex longer but the Vans Infuse but the Kendo's won't hold up to wear an tear on the outer shell like the Infuse. They just build out this outer shell really well. From the hard plastic toe to the reinforced heel you can see they built this with durability in mind.
Adjustability/Heel Hold
The Vans Infuse has excellent adjustability and Heel Hold. The combo of a power strap, traditional lace and a BOA coil around the ankle really dials out adjustability as well as heel hold.
Shock Absorption
So there is pretty decent shock absorption in the heel but it tapers quickly into almost nothing by the time you get to your metatarsal and toes. This gives amazing board feel but it can be tough on the front of your feet depending on the shock absorption of your binding.
On & Off
Slow on and off but I didn't care with all that adjustability.
Traction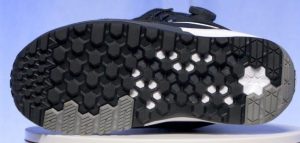 The Vans Infuse sole is done right. Excellent grip and no awkward disco splits happening with these in an icy lift line.
Reduced Footprint
The Vans Infuse matched up almost exactly the same when mounted in my Union Atlas. I didn't even have to adjust the strap. That means it is very reduced in footprint so this is great for reducing toe/heel drag when in steep terrain or hard carves.
Conclusion
So overall, the Vans Infuse isn't for me because I need lots of shock absorption throughout the sole. That being said I still think this is an exceptional boot and I'll be recommending it a ton. If you love board feel, want medium/fast response, excellent construction and adjustability this is an excellent choice.
Vans Infuse Past Reviews

The Vans Infuse BOA Boot is very interesting and offers a lot of stiffening tech to vary the flex of the boot from Med to Med/Stiff out of the box.  We like the way they used BOA and traditional lace.  For 2018 the footprint is incredibly reduced and we found these boots to be right up there with Burton and Adidas.  These are great for anyone who wants to prevent toe drag.

Ethics Statement: We don't get paid by the manufacturer to write these reviews.  No one is perfect and we do make money from the "Where To Buy" links below, but this is our best attempt at an honest and objective review from an average riders' perspective.

James' Foot Specs
Foot Size: Right 9 and Left 8.75
Foot Width: Right and Left between a D/E
Arch Length: Right 9.5 and Left 9
Calves (Widest Point): 17"
Calves (At top of boot): 12"
Jimbo's Take
Rider: Jimbo
Size- 11
Flex:  With all the tech in it starts out as a medium stiff boot. Without using all the stiffening tech it's a medium boot out of the box. 

Comfort:   It's also comfortable for most on day one.
Heel Hold:  Van's has been making boots for a long time and this mixed lacing boot does a great job wrapping around your ankle and giving you great support.
Adjustability:  You can really dial out this boot to fit around your foot. The combo of lace and BOA works well.

Flex Retention:  Our only problem with many Van's boots we have owned is what makes them comfortable for most day one also makes them break down quicker than some high end boots.  It's great for a rider  So what starts out stiff can become a mid flexing boot pretty quick into a 100 day a year rider's season. What starts out stiff can noodle out pretty quick for those who ride a lot.  If you don't ride a lot and want comfort day one then this isn't a bad sacrafice.
Response:  With the additional tech to stiffen the boot it gives you a little more response than we are normally use to with Van's boots and especially so with all the tech in making it a stiffer boot than we rate it but as it stands on it's own it's medium but with the extra tech it's Med/Stiff to Stiff.
Traction:  Great traction and we are glad to see Van's has a nice rubber sole under foot.

Shock Absorption:  Nice balance between giving you some shock absorption but still giving you good response too.
Footprint: It's a bigger boot on the outside and a size 11 is more like an 11.  For me Van's boots fit about 1/4 size bigger so a size 9 is a little too big and a size 8.5 is a little too small.
On & Off Ease: The lacing is slow on and off but it's not that slow compared to Speed Lace and BOA. It's a good trade off for someone who knows how to tie a few knots.
All in all this isn't bad if you want a higher end boot with lot's of ankle wrap/support. We'd like to see a boot that has more longevity and has more of a reduced footprint but if it fit's you well then go with it.  It's nice to see Van's back this year because feet are different so the more boots the merrier.
Vans Infuse Images

We try to get as many images of the Vans Infuse, but forgive us if they're not all there.
2022
2017
2016
2014
2013
Vans Infuse User Reviews
---
---
Vans Infuse 2013-2022 Snowboard Boot Review
SKU
UPC
Model
Good boots, some significant design flaws
Apr 06, 2022
by
Luke
Ability Level: Instructor •
Riding Style: All mountain freestyle / boarder X •
Days You Ride A Year: Used to do 30+ now mainly holidays •
Height, Weight And Boot Size (for Boards, Boots & Bindings): 186/79kg/mondo 29.5
Tech wise there's a lot going on, strangest feeling is the outer tongue is very stiff and is designed to control the flex of the boot. I could see this breaking down in flex over time and the boots getting softer, out of the box they are quite stiff. This is very different feel to say, burton ions, where the flex is as a result of the whole boot tightened around your foot and calf.

There's a lot of scope for adjustability but a tendency for pressure points from the multiple harnesses etc and heat moulting is a must.

The hooks for the laces frustratingly don't have any tension locks like hiking boots, so you can't tighten the laces and have the boot hold the tension, a basic design omission for those that like tight laces over the foot.

Heel hold with the x cage is superb though, and I don't need to overly tighten the boots to get good response here, a big positive compared to burtons.

Probably the largest negative is the liners - the string closure doesn't come up to the top like salomons etc, as a result the top of the liner isnt fastened by anything, as a result, it tends to come away from your shin as you ride, which really is a poor design. Overall they are a good boot - I'm just tempted to get some better liners and glue the x cage to them. Power strap I'm also not a fan of - Velcro wears out over time, just give us an upper boa or laces to the top... with some tension cinches.

Reduced footprint is very good, comparable to burtons.

---
Great Boot with a few caveats
Jan 17, 2020
by
Benjamen J Buglovsky
Ability Level: Intermediate •
Riding Style: All Mountain •
Days You Ride A Year: 25 •
Height, Weight And Boot Size (for Boards, Boots & Bindings): 5'7" 160lbs size9
Really great boots! The heel hold is unlike any other boot I tried on and the insole is crazy comfy. The feel definitely matches their price point (higher-end). Being able to adjust the flex/stiffness is a unique and awesome feature as well. But there are a few caveats for me that limit the boot to being perfect for me. I have to agree with James on these:
1. I've found that the boot runs at least a half size small (I would recommend sizing up). I bought a size 9 and they felt incredible in store but after 7/8 days on the mountain and having them heat molded twice, my toes are just too tight in the toe box and are going numb. I may have to bite the bullet and buy a new size up :-(
2. It's impossible to get the boot tight around the shin, despite the power-strap. for some reason there is always a gap between the boot tongue and insole. Fortunately this doesn't really affect the responsive, but for someone who like, and is used to having my boots tight to my shin, its something new to get used to.
3. If you're used to the speed of being able to get on/off a BOA or speed-lace boot, there's some compromise here. Like James mentioned they're just not easy to get on/off and it definitely slows down the start and finish of the day. The key is to "over loosen" every single component of the boot to get your foot in and out more easily.

If it wasn't for the sizing issue (not really the boot/manufacturers fault) I wouldn't be able to recommend this boot highly enough. they're worth checking out, they're pretty sick!

---
Best boot
Dec 29, 2018
by
shane
Ability Level: Advanced •
Riding Style: Steep and deep •
Days You Ride A Year: 20+ •
Height, Weight And Boot Size (for Boards, Boots & Bindings): 5-9, 150#, sz 9
I've had 32s, Salomon Malamute and F4.0, Adidas Tactical ADV and I can say these boots are ahead of all of them. They are the perfect balance between comfort and response. The heel hold is incredible and the zone tightening is so perfect.

---
Why does TGR say this is a soft boot
Jan 23, 2016
by
Kaz
Ability Level: Advanced •
Riding Style: All-mountain •
Days You Ride A Year: 30 •
Height, Weight And Boot Size (for Boards, Boots & Bindings): Sz 9
With the inserts in, these feel plenty stiff. About a 7. Without the inserts, they feel like a 4-5. TGR description of this being noodly to mid stiff is way off....not sure what they're talking about? It gets noodly if the inserts are off and the x-thing in the back of the heel is taken completely off.

Anyways, great boot with all the bells and whistles. Wonder if anyone at the TGR even rode this boot other than the dude in the video? Awesome adjustability too.

---
If you can't buy through the links above, you can support the site with: