Union Force 2024 Snowboard Binding Review
Where To Buy
80% of outdoor sports products are not listed or sold online.
Our team has relationships with hundreds of local snowboarding and outdoor sports shops.
We'll call the shops and email you a list of stores along with pricing and availability.
---
Not sure what to buy?
Get custom advice from Good Ride editors James and Steph.

Get Advice
Union Force 2024 Review by The Good Ride
Union Force 2024 Snowboard Binding Video and Written Review
Here we labored quite hard to give you the 2024 Union Force Snowboard Binding Review from average objective riders with extensive gear knowledge.
Positives/Swipe Right: Fast Response, More cush ankle strap, More balanced edge to edge response. Excellent Adjustability.
Negatives/Swipe Left: Not as damp as some bindings.
Summary
The Union Force got a complete remodel giving it a more cush ankle strap, the same excellent adjustability and more symmetrical response. It's a very well built and reliable binding. It doesn't have the dampness of the Atlas but does have better shock absorption. It is a very versatile binding that we both really enjoyed.
Ethics Statement: We don't get paid by the manufacturer to write these reviews.  We do make money from the "Where To Buy" links, but this is our best attempt at an honest and objective review from an average riders' perspective.
A Breakdown of How the Union Force rides and who it is for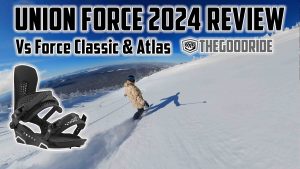 How This Review Happened: The Union Force was sent for an extended demo but Davey liked it so much, asked to keep it (only do this with favorites).
Size: Medium for James and Large for Davey
Days: 10+ for James and 25+ for Davey
Conditions: Everything from hard snow to deep pow.
Riders: James (Size 9, 5'10" 185-190lbs), Davey (Size 12, 240lbs, 6'4")
Boots: Ride Fuse, Burton Tourist, Burton Ion
Insoles: F.I.T. Gamechangers
Redunancy: Strapins in case boots or bindings break.
Jacket: Jones Mtn Surf Anorak, Jones Shralpinist Stretch Jacket, Burton AK Gore-Tex Pro 3L Tusk Jacket, Volcom Guide Jacket, Burton Gore-Tex 3L Treeline Jacket, Jones Peak Bagger Jacket, Burton AK Helitak Gore-Tex Jacket
Pant: Jones Mountain Surf Bib, Jones Shralpinist Stretch Bib, Burton AK Gore-Tex Pro 3L Hover Pant, Burton AK Gore-Tex 2L Swash Pant, Burton Gore-Tex Ballast Pant
Helmet: Smith Maze
Goggle: Smith 4D Mag
Gloves: Burton AK Clutch Mitt, Burton AK Tech Leather Glove, Drop Tahoma Mitt,
Boards: Too many to mention.
Similar (but not the same) Bindings: Union Atlas, Union Force Classic, Union Strata, Union Falcor, Rome Cleaver, Rome Katana
How It Was Tested
We rode the hell out of this binding. Especially Davey. One day I mounted the Force on the front foot, my Atlas on the back, took a run, switched and then took another. The other days I just rode the Force together.
Weight
2.0 Lbs and seems to be the same weight as the Force Classic. It's right in the middle.
Highback Flex
So the new Union Force changed the high back a good bit. It is very reminiscent of the older force from like 10 years ago but has a whole new modern flex pattern. The top is a little softer but about ¾ of an inch down it widens out and stiffens up. I love the twist and especially the little bit of give at the top of the binding. It didn't bite into our even featured calves at all.
Flex Underfoot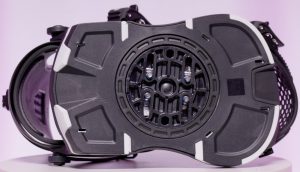 So the design of the base of the 2024 Union Force is very similar to the Force classic when it comes to how the board flexes underfoot. It's very good for a full disc binding. The board feels stiffer underfoot but doesn't deaden the flex either. If you want a more buttery binding go with the Stratos, Ultra or Falcor.
Turn Initiation/Response
So the redesign of this 2024 Union Force improved the response. The new gas pedal has more toe side response but the high back little more mellow. So to us that made the response more symmetrical vs. the Force Classic. The Atlas is a touch faster but it's pretty close. I only really noticed the difference in somewhat uneven snow. The Atlas kept the edge more quiet and the board more damp so it could continue to respond without bucking.
Shock Absorption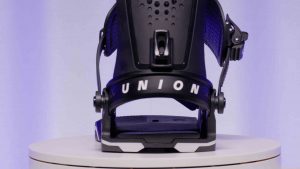 The shock absorption of the Force is just about the same as the Force Classic but its hard to tell. If you look at the total design of the Force Classic part to part there is less foam there than it looks. It does have more foam in the toe but almost the same in the heel. On snow it felt very similar.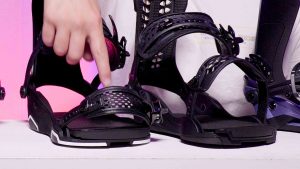 One thing I forgot to mention in the video is the canted footbed really helps align your joints so there is less stress there.
Dampness/Chatter Absorption
The Union Force isn't as good as the rubber bottom and rubber footbed Atlas but it's definitely upper middle. It's only a deal breaker if you like the dampness of the Atlas and other bindings like Jones and NOW.
Boot Support
The new Union Force 2024 straps are softer and more cush but still very supportive in all conditions you want to ride. The toe straps are just like all Union toe straps and that is excellent. They hold on any boot I tried them with very well.
Ratchets
Very smooth but reliable ratchets. They never came loose on me.
Adjustability
Union's all mountain bindings are the best in the business when it comes to stance width and boot to binding adjustability. So is the 2024 Union Force. You can slide the heel loop and gas pedal in or out to get your boot perfectly centered in the binding and therefore the board. Then you can turn the disc sideways to get your perfect stance width too. I'll trade excellent adjustability like this for quick release with little to no adjustability any day.
Forward lean adjustability was pretty standard. The tooless straps work very well too. You can rotate the high back to line it up with your heel side edge.
Conclusion
So overall we both really liked the Union Force and felt it was a nice improvement over the Union Force Claseic. What I liked about it the most was how it had a very similar overall response to the Classic but with more symmetry heel to toe. Cush ankle straps don't hurt either.
If this review helped, we'd appreciate if you:
If you can't buy through the links above, you can support the site with: