Rome Katana 2015-2022 Snowboard Binding Review
Where To Buy
No obligation, but these links & ads support the site.
Rome Katana 2022 - 2015 Review by The Good Ride
Turn Ons/Swipe Right: Super adjustable. Adjustable Response. Damp & Shock Absorbent. Great feel underfoot.
Turn Offs/Swipe Left: Not much. A little worried about the ankle strap adjuster's reliability but not a deal breaker.
Summary
The Rome Katana has a lot of unique features that make it very adjustable but it didn't forget to make it a great ride underfoot.
Ethics Statement: We don't get paid by the manufacturer to write these reviews.  We do make money from the "Where To Buy" links, but this is our best attempt at an honest and objective review from an average riders' perspective.
Rome Katana Snowboard Binding Review- How it rides and who it is for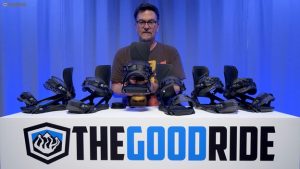 How This Review Happened:  Borrowed this for an extended demo and sent it back. Didn't want to though.
Days: 4+
Conditions: Pretty rough spring conditions to pretty great spring conditions. That is all we had in the time I had to test these.
Riders:  James (Size 9, 5'10" 185-190lbs)
Boots: Burton Kendo
Insoles: Footprint Insole Technology Gamechangers
Boards: Jones Mountain Twin, Rome Stale Fish, Rome Ravine Select, Rome Stale Crewzer
Jacket: Burton AK Gore-Tex Pro 3L Tusk Jacket, Volcom TDF Infuse 3L Gore-Tex Jacket
Pant: Burton AK Gore-Tex Pro 3L Hover Pant, Burton AK Gore-Tex 2L Swash Pant, Burton Gore-Tex Ballast Pant
Helmet: Smith Maze, Smith Vantage
Goggle: Smith IO Mag, Smith 4D Mag
Gloves: Burton AK Clutch Mitt, Burton AK Tech Leather Glove, Burton AK Tech Glove, CG Habitats Glove,
Similar (but not the same) Bindings: Union Atlas, Union Falcor, Union Force, Salomon Highlander, Nitro Phantom Carver, Now O-Drive, Now Drive
How These Were Tested
I did a sampler with my Jones Mountain Twin the first day with Rome Vice, Rome Cleaver, Rome DOD, Rome 390 Boss & my Union Atlas. Then I just put them on Rome boards each day and tweaked the ankle strap angles from run to run.
Weight
The Rome Katana lightened up a good bit to 2.0 Lbs. Not sure on the weight of the older model but it used to feel a lot heavier. We always noticed the weight when riding these at the demos. Especially when the boards they were on were pretty light. It is great to see that they didn't go super light but brought down the weight to what I think is a normal weight. Not too light, not too heavy & just right.
Highback Flex
A little stiffer than the Vice but the Rome Katana isn't that stiff. It is still medium and very cool to have a not very stiff high back paired with a very damp and responsive base plate.
Flex Underfoot
The quasi-mini disc is smaller than a full size for added flex underfoot but bigger than a mini disc so you can mount it like a full size disc to get a little damper feel underfoot. Great idea. Then you have this foam on the bottom of the binding that looks/feels exactly like what I had in my old Adidas Tactical ADV boots. It doesn't do too much to interrupt the natural flex of the board. The Rome Katana is very easy to butter and it blended well with every board I tried.
Turn Initiation/Response
I love the Pivotmount Max (adjustable ankle strap angle) and it helped the Rome Katana blend incredibly well with just about any board or boot out there. Most bindings have no positions for the ankle strap, some have 2, a few have 3, the Rome Vice has 4 and the Katana has 8 per side. That is a shit ton of response adjustability. Might be overkill but I would like to spend a season playing around with it. I had a blast scratching the surface at the extended demo I had.
You can get almost there with the Black Label and Cleaver and it is a really responsive/freeride oriented binding when you put the ankle strap up high. Then you lower it and it becomes more of a mountain freestyle to park binding.
On top of the adjustability there is a smooth feel to the response overall and it feels consistent throughout the turn.
Shock Absorption
I would say this is getting very close to the NOW/Jones bindings but without the cramping in the arch of my foot. They do an incredible job with this. It felt about the same as my Union Atlas when it came to dampness at speed but more shock absorbent.
Boot Support
This adjustable ankle strap angle/Pivotmount Max is pretty special when it comes to support. The straps of the Rome Katana sits much further outside your ankle than other bindings but being able to put it up higher or lower really changes the support. I put it up pretty high and I had a very supportive/locked in feel around my ankle. I felt like I could charge through uneven terrain all day. Then lowered most of the way down I felt like I had a much more free/skate/surfy feel underfoot.
Ratchets
Seemed good. Nothing amazing and nothing terrible either. Never glitched so that is all I can hope for.
Adjustability
The Rome Katana has more adjustability than about any other binding out there. There is an adjustable gas pedal and heel loop. That is great for centering the boot in the binding and this eliminates a lot of turning issues people face like not having the heel side turn the same as the toe side.
On top of good high back rotation you can also cant your high back to match the cant of the base plate. I love this idea.
You have all the other quick and easy tooless adjustability as well. Tooless toe straps, ankle straps, high back forward lean etc. You still need a screwdriver for the Pivotmount Max, High back canting, rotation and discs.
The best is the quasi-mini disc on the Rome Katana and all Rome binders. It is bigger than a regular mini disc. Because you can center just about any boot in this binding, you can center it on board and get exceptional tip to tail/stance width adjustability when set up like a mini disc. The kicker is you can also set this up like you can with a full size disc. It's like Burton Re:Flex bindings that can't slide at all but it can be done. That is more than any other mini-disc I've tried.
Conclusion
So all this adjustability, especially when it comes to adjustable response makes the Rome Katana a very recommendable and versatile binding. All these extra parts do cause more chances of failure but I personally think it is more than worth the moderate to minor risk.
Rome Katana Past Reviews

The Rom Katana is more on the heavier side of normal and feels a bit large in terms of footprint on board in relation to some bindings we have compared it against in the past but it offers up a lot of unique ankle strap adjustability, has some serious dampness to it and a good amount of response compared to what you would think.

Ethics Statement: We don't get paid by the manufacturer to write these reviews.  No one is perfect and we do make money from the "Where To Buy" links below, but this is our best attempt at an honest and objective review from an average riders' perspective.

Days:  1 and a few days on past years models.
Riders: James (Size 9, 5'10" 185-195lbs),  Peter (Size 8, 5'11" 185lbs), Grant (Size 11 6' 160lbs)
Boots: Adidas Tactical ADV, Burton SLX,
Insoles: Sandsole Custom Insoles, Footprint Insole Technology Gamechangers,
Boards: Rome Tramline

The Rome Katana Snowboard Binding is a new and kinda fun looking binding in Rome's line.  I'm pretty familiar with D30 for body armor and it's a great idea and this is the first time I have seen it on a binding.

Days: 3
Riders: James, Peter
Boots: Burton Imperial, Nike Kaiju,
Boards: Dupraz

Flex: Interesting flex that's softer than you would think for the response.

Adjustability: Takes a bit of work but you can dial out this binding to fit most boots out there.

Comfort: One potential issue could be the toe strap for some is because it never locks down over your toe. It just keeps stretching over your toe and that was bothersome.  It also pinched the sides of our boots and we weren't into that feeling.

Turn Initiation: It feels a touch less responsive than the Targas but in that same general area which is pretty unique because they are not as stiff as the Targas so it makes it a much more well rounded binding without having to add/remove the inserts in the Targa's ankle straps.


Buttering: The Dupraz board we were riding the Katana's on wasn't really butter boards so we didn't really get to understand how it can allow a more normal flexing board to bend in a butter.

Boot Support: Loved how the ankle strap wrapped around our boots and felt like there was decent support.  It's not a tight wrap but it for sure wraps.

Ratchet System: Felt pretty smooth but nothing exceptional.

Shock Absorption: It was hard to tell if the D30 putty on the base plate was working or not.  I know for a fact it works on body armor and it's saved my ass (litterally) a few times. D30 looks like a doughy rubbery substance and acts like it until it's hit and then it instantly forms an exoskeleton.  So it's a great idea for the bottom of a binding.  Seems like it would make the ride more damp but I'd like to go out and do some A B testing to know for sure.  Regardless of weather D30 works like it does for body armor the binding was damp.

So all in all other than the toe strap we liked the Rome Katana and found it to be an interesting binding.  The D30 is a cool idea for a dampening system and we'd like to ride this binding more. The only other thing I'd mention is Rome bindings generally run on the heavy side.  This doesn't feel as heavy as the Targa but it still feels heavier than many bindings we tried.
Rome Katana Images

We try to get as many images of the Rome Katana, but forgive us if they're not all there.
2022
2020
2019
2017
2016
2015
If you can't buy through the links above, you can support the site with: