Rome Katana 2015-2022 Snowboard Binding Review
Where To Buy
No obligation, but these links & ads support the site.
Rome Katana 2022 - 2015 Review by The Good Ride
Turn Ons/Swipe Right: Super adjustable. Adjustable Response. Damp & Shock Absorbent. Great feel underfoot.
Turn Offs/Swipe Left: Not much. A little worried about the ankle strap adjuster's reliability but not a deal breaker.
Summary
The Rome Katana has a lot of unique features that make it very adjustable but it didn't forget to make it a great ride underfoot.
Ethics Statement: We don't get paid by the manufacturer to write these reviews.  We do make money from the "Where To Buy" links, but this is our best attempt at an honest and objective review from an average riders' perspective.
Rome Katana Snowboard Binding Review- How it rides and who it is for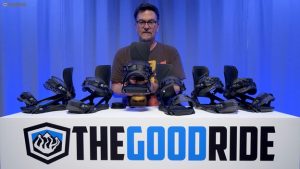 How This Review Happened:  Borrowed this for an extended demo and sent it back. Didn't want to though.
Days: 4+
Conditions: Pretty rough spring conditions to pretty great spring conditions. That is all we had in the time I had to test these.
Riders:  James (Size 9, 5'10" 185-190lbs)
Boots: Burton Kendo
Insoles: Footprint Insole Technology Gamechangers
Boards: Jones Mountain Twin, Rome Stale Fish, Rome Ravine Select, Rome Stale Crewzer
Jacket: Burton AK Gore-Tex Pro 3L Tusk Jacket, Volcom TDF Infuse 3L Gore-Tex Jacket
Pant: Burton AK Gore-Tex Pro 3L Hover Pant, Burton AK Gore-Tex 2L Swash Pant, Burton Gore-Tex Ballast Pant
Helmet: Smith Maze, Smith Vantage
Goggle: Smith IO Mag, Smith 4D Mag
Gloves: Burton AK Clutch Mitt, Burton AK Tech Leather Glove, Burton AK Tech Glove, CG Habitats Glove,
Similar (but not the same) Bindings: Union Atlas, Union Falcor, Union Force, Salomon Highlander, Nitro Phantom Carver, Now O-Drive, Now Drive
How These Were Tested
I did a sampler with my Jones Mountain Twin the first day with Rome Vice, Rome Cleaver, Rome DOD, Rome 390 Boss & my Union Atlas. Then I just put them on Rome boards each day and tweaked the ankle strap angles from run to run.
Weight
The Rome Katana lightened up a good bit to 2.0 Lbs. Not sure on the weight of the older model but it used to feel a lot heavier. We always noticed the weight when riding these at the demos. Especially when the boards they were on were pretty light. It is great to see that they didn't go super light but brought down the weight to what I think is a normal weight. Not too light, not too heavy & just right.
Highback Flex
A little stiffer than the Vice but the Rome Katana isn't that stiff. It is still medium and very cool to have a not very stiff high back paired with a very damp and responsive base plate.
Flex Underfoot
The quasi-mini disc is smaller than a full size for added flex underfoot but bigger than a mini disc so you can mount it like a full size disc to get a little damper feel underfoot. Great idea. Then you have this foam on the bottom of the binding that looks/feels exactly like what I had in my old Adidas Tactical ADV boots. It doesn't do too much to interrupt the natural flex of the board. The Rome Katana is very easy to butter and it blended well with every board I tried.
Turn Initiation/Response
I love the Pivotmount Max (adjustable ankle strap angle) and it helped the Rome Katana blend incredibly well with just about any board or boot out there. Most bindings have no positions for the ankle strap, some have 2, a few have 3, the Rome Vice has 4 and the Katana has 8 per side. That is a shit ton of response adjustability. Might be overkill but I would like to spend a season playing around with it. I had a blast scratching the surface at the extended demo I had.
You can get almost there with the Black Label and Cleaver and it is a really responsive/freeride oriented binding when you put the ankle strap up high. Then you lower it and it becomes more of a mountain freestyle to park binding.
On top of the adjustability there is a smooth feel to the response overall and it feels consistent throughout the turn.
Shock Absorption
I would say this is getting very close to the NOW/Jones bindings but without the cramping in the arch of my foot. They do an incredible job with this. It felt about the same as my Union Atlas when it came to dampness at speed but more shock absorbent.
Boot Support
This adjustable ankle strap angle/Pivotmount Max is pretty special when it comes to support. The straps of the Rome Katana sits much further outside your ankle than other bindings but being able to put it up higher or lower really changes the support. I put it up pretty high and I had a very supportive/locked in feel around my ankle. I felt like I could charge through uneven terrain all day. Then lowered most of the way down I felt like I had a much more free/skate/surfy feel underfoot.
Ratchets
Seemed good. Nothing amazing and nothing terrible either. Never glitched so that is all I can hope for.
Adjustability
The Rome Katana has more adjustability than about any other binding out there. There is an adjustable gas pedal and heel loop. That is great for centering the boot in the binding and this eliminates a lot of turning issues people face like not having the heel side turn the same as the toe side.
On top of good high back rotation you can also cant your high back to match the cant of the base plate. I love this idea.
You have all the other quick and easy tooless adjustability as well. Tooless toe straps, ankle straps, high back forward lean etc. You still need a screwdriver for the Pivotmount Max, High back canting, rotation and discs.
The best is the quasi-mini disc on the Rome Katana and all Rome binders. It is bigger than a regular mini disc. Because you can center just about any boot in this binding, you can center it on board and get exceptional tip to tail/stance width adjustability when set up like a mini disc. The kicker is you can also set this up like you can with a full size disc. It's like Burton Re:Flex bindings that can't slide at all but it can be done. That is more than any other mini-disc I've tried.
Conclusion
So all this adjustability, especially when it comes to adjustable response makes the Rome Katana a very recommendable and versatile binding. All these extra parts do cause more chances of failure but I personally think it is more than worth the moderate to minor risk.
Rome Katana Past Reviews

The Rom Katana is more on the heavier side of normal and feels a bit large in terms of footprint on board in relation to some bindings we have compared it against in the past but it offers up a lot of unique ankle strap adjustability, has some serious dampness to it and a good amount of response compared to what you would think.

Ethics Statement: We don't get paid by the manufacturer to write these reviews.  No one is perfect and we do make money from the "Where To Buy" links below, but this is our best attempt at an honest and objective review from an average riders' perspective.

Days:  1 and a few days on past years models.
Riders: James (Size 9, 5'10" 185-195lbs),  Peter (Size 8, 5'11" 185lbs), Grant (Size 11 6' 160lbs)
Boots: Adidas Tactical ADV, Burton SLX,
Insoles: Sandsole Custom Insoles, Footprint Insole Technology Gamechangers,
Boards: Rome Tramline

The Rome Katana Snowboard Binding is a new and kinda fun looking binding in Rome's line.  I'm pretty familiar with D30 for body armor and it's a great idea and this is the first time I have seen it on a binding.

Days: 3
Riders: James, Peter
Boots: Burton Imperial, Nike Kaiju,
Boards: Dupraz

Flex: Interesting flex that's softer than you would think for the response.

Adjustability: Takes a bit of work but you can dial out this binding to fit most boots out there.

Comfort: One potential issue could be the toe strap for some is because it never locks down over your toe. It just keeps stretching over your toe and that was bothersome.  It also pinched the sides of our boots and we weren't into that feeling.

Turn Initiation: It feels a touch less responsive than the Targas but in that same general area which is pretty unique because they are not as stiff as the Targas so it makes it a much more well rounded binding without having to add/remove the inserts in the Targa's ankle straps.


Buttering: The Dupraz board we were riding the Katana's on wasn't really butter boards so we didn't really get to understand how it can allow a more normal flexing board to bend in a butter.

Boot Support: Loved how the ankle strap wrapped around our boots and felt like there was decent support.  It's not a tight wrap but it for sure wraps.

Ratchet System: Felt pretty smooth but nothing exceptional.

Shock Absorption: It was hard to tell if the D30 putty on the base plate was working or not.  I know for a fact it works on body armor and it's saved my ass (litterally) a few times. D30 looks like a doughy rubbery substance and acts like it until it's hit and then it instantly forms an exoskeleton.  So it's a great idea for the bottom of a binding.  Seems like it would make the ride more damp but I'd like to go out and do some A B testing to know for sure.  Regardless of weather D30 works like it does for body armor the binding was damp.

So all in all other than the toe strap we liked the Rome Katana and found it to be an interesting binding.  The D30 is a cool idea for a dampening system and we'd like to ride this binding more. The only other thing I'd mention is Rome bindings generally run on the heavy side.  This doesn't feel as heavy as the Targa but it still feels heavier than many bindings we tried.
Rome Katana Images

We try to get as many images of the Rome Katana, but forgive us if they're not all there.
2022
2020
2019
2017
2016
2015
Rome Katana User Reviews
---
---
Rome Katana 2015-2022 Snowboard Binding Review
SKU
UPC
Model
Hopefully you ride with a vice grip
Jan 07, 2020
by
Andrew
Ability Level: Advanced •
Riding Style: All Mountain •
Days You Ride A Year: 40+ •
Height, Weight And Boot Size (for Boards, Boots & Bindings): 5'10' 180 Large
Haven't even had a chance to ride these things yet. I pulled them out of the box and the ratchet wouldn't work. Finally pried that off and it's functional now. You better pray to god you don't have to tighten your screws on a powder day. You need a vice grip to snap the base pad back into place and I can see this being a nightmare on a powder day.

---
katana
Mar 04, 2019
by
Mark
Ability Level: Advance •
Riding Style: Various •
Days You Ride A Year: 40+ •
Height, Weight And Boot Size (for Boards, Boots & Bindings): 59 150 9
dont buy these! claim dep sucks!

Baseplate broke the third time i used it, heel cup got bent cheap quality plastic! 400$ No!!!

---
If you can - don't buy these bindings
Mar 16, 2018
by
Jurgis
Ability Level: Advanced •
Riding Style: Various •
Days You Ride A Year: 20
Was happy with Katana bindings until toe buckle got damaged (picture attached) - sign of poor quality ? Let's say it was just me - unlucky guy... But hey, I do have lifetime warranty for my bindings! Good opportunity to check how it works thought myself. Opened ticket in Rome warranty support page and then the fun started. Got first reply just after one week. Warranty guy said that he's going to send a new toe buckle and it should be at my place until next week. Two weeks passed and have received nothing. After two weeks asked where's that toe buckle and got response:
"I have already sent you a toe buckle. But it seems that you didn't received it. So I'm going to send you another one. This time it'll be on which is trackable. Because the parcel before coudn't be tracked because our local post office doesn't provide tracking"
What a joke thought myself ;) And guess what? again two weeks have passed and have nothing. Neither package tracking no. neither new toe buckle.
Conclusion is quite simple here: Rome lifetime warranty is just a bad joke which does not work in reality, so you might be in a big trouble if something will go wrong with your bindings... Will never ever buy something from Rome again

---
Nov 26, 2017
by
Denis
Ability Level: Advanced •
Riding Style: Aggresive all mountain •
Days You Ride A Year: 20-30 •
Height, Weight And Boot Size (for Boards, Boots & Bindings): 75kg, 11.5 US
Hello there! I am writing the second review of this binding here, just to highlight one super important fact for me - Adjustability. I have a little story for you, but feel free to skip it and go straight to the point.

I was always struggling to find a right boot for me. My feet is in-between the sizes and I have a flatfoot. This year my exact foot length is 28.8mm which is approx. 11US. I used to have a Flow boots of 10.5 and they were really comfortable. I used them with Rome Katana of M size (the first Katana production line had only 1 size of bindings). Then I switched to Ride Lasso of 11 but those turned to be a nightmare for me (before the order I've tried 10.5 in a local shop and thought that 0.5 different in sizes would be perfect, how wrong I was then). I rode my Ride boots with Union T.Rice of M size. It was pretty happy with them, but bindings wouldn't handle a bigger boot. This year I decided that I won't ever buy boots which I hadn't tried and walked at least 10 min. So I came up with Deeluxe Spark XV. Those aren't small boots I tell ya :) I really enjoyed T.Rice bindings, but unfortunately, they aren't able to handle such boots. Not because of the base plate size, but because of straps. However, my old Katanas have no such issue at all!

The awesome thing is that you can adjust the straps position on the tongues. I've moved staps to almost max allowed length on the tongues and now I'm fine. No need to buy a new bindings just to ride a board, yay!

One thing I really wish for these bindings is better buckles. They are OK, but T.Rice leveled up a bar for me.

---
Bought my 3rd pair
May 15, 2017
by
Max
Ability Level: Advanced •
Riding Style: All mountain freestyle •
Days You Ride A Year: 60+ •
Height, Weight And Boot Size (for Boards, Boots & Bindings): 5'8" 165lbs
I just wanted to write another review. I purchased the 15/16 binding and fell in love. I purchased the 16/17 model this year and felt the same way.

I ended up selling them as I like to try out almost as much gear as the GoodRide guys themselves. Went through about 6 pairs of different bindings this year and saw a 40% off deal on these again so I picked up another pair.

This past weekend I rode saturday on Union Super force (with the new union ankle straps) and Sunday on the Rome Katana. I have to tell you. The Rome was better in every way.

I was more responsive (especially with toe side turns), more comfortable on the boot, more playful, buttered better, and absorbed chop WAY WAY WAY better. I was on a proto type 2 and the difference from saturday and sunday was amazing in the same conditions. I could basically close my eyes and ride over chop with the Rome bindings.

I'm now calling every shop in my area to try to find another set for 40% off because they didn't change anything for 2018 models.

Note: The only thing that I don't like about these bindings is that the highback is mounted quite high on the heel cup so depending on your boots, they may chew through the sides and bit. Unions do that also, so it might just be something that I have to live with.

---
I Actually Love the Toe Straps
Mar 12, 2017
by
TheBrambster
Ability Level: Advanced •
Riding Style: Agressive All-Mountain •
Days You Ride A Year: 30-40 •
Height, Weight And Boot Size (for Boards, Boots & Bindings): 5'11 180lbs 11.5 boot, 157 board
Great responsive, yet not too stiff, all around binding. I have the 2017 model.

Let me clear the air on the toe straps. They are great, you just don't use them like you use other toe straps. They do stretch, no doubt, but you don't have to keep cranking them. They don't come off, and they hold your toes down from the top and your bood in from the front. At first I would re-check the crank every so often, and I learned that I don't need to actually crank them unless by chance they are actually lose. It's that simple. Resist the urge to re-crank or over-crank. It's that simple.

The toe straps are very friendly to your boots and they are probably least likely to create pressure points or crush your toe box of any of the bindings I have used. Rome is generally good about this with their various designs. Thumbs up. It's an improvement.

I do worry about the longevity of the toe straps, but mine have held up for 25 days of hard riding without any signs of failure. I figure at one point the really flexy stuff will start to become more brittle and tear on the lower edge. I don't know if that will take another month or 3 years of hard riding, but I expect it to happen at some point. Then again, how long do some ratchets last?

The ankle strap is OK, but not great. It is a little stiff and presses a little bit on the lower edge in the middle. The ankle strap adjustments are awesome however. There are three positions for how high up or down your ankle you want the strap to be. Higher for a stiffer and more responsive ride, lower for less response, or wherever to suit your comfort. I ride mine high. I wear Burton AMBs with 50 days on them, so they have plenty of ankle flex, but the high position of the ankle strap really helps provide the support that the boot is lacking.

The footbeds are just right between cushy and hard, and they are responsive. I've ridden Burton Genesis before and found them to be way too soft and less responsive. The 2.5 degree cant is something that I look for as this helped resolve some thigh pain, but people get used to whatever they ride I'm sure. It's not really noticeable between no cant and the 2.5 degree except for my thigh strain. It's just more anatomical. I ride a 23 inch duck stance.

The only real flaw in the binding is the channel just beyond the ratchet that holds the strap closer in. Most let the plastic straps just stick out, and these help keep them tight to the straps. The flaw is that you can miss that channel on occasion, and it binds the plastic strap in such a way that you need a flat piece of metal to free up the ratchet and get it off. This has happened to me twice. So here's the pro tip, bend the tip of the strap in a bit in order to put a curve on it so that it isn't as likely to miss that channel. I managed to get it off once without a tool after playing with it for a couple minutes, the other time required a flathead screwdriver from the liftie.

Overall, great lightweight and responsive binding that can probably match most any riding style or conditions.

---
2016 Katana FTW
Dec 06, 2015
by
Max Nguyen
Ability Level: Strong intermediate •
Riding Style: All mountain freestyle •
Days You Ride A Year: 60 •
Height, Weight And Boot Size (for Boards, Boots & Bindings): 5'8", 165lbs, 9.5 boot
I love these bindings! I read that Rome decided to look at all the bindings out there and make a super binding. It really feels this way. You can adjust everything! Which for a tinkerer like me is perfect! I found them to be more comfortable than any bindings I've tried before (2016 now pilot, 2016 atlas, 2015 burton genesis/malivita, 2016flux sf).

And they are super cushy under my feet and VERY responsive.

Love them!

---
Great bindings from Rome
Feb 17, 2015
by
Danny
Ability Level: Intermediate •
Riding Style: All-mountaine freestyle •
Days You Ride A Year: 20-30
It is my first bindings from Rome, but I always watched closely to their products and I really think that these bindings are huge improvements in their line.
First of all, they are really user-friendly in terms of customizing. It is ridiculously easy and except for highback and "PivotMount strap tech" rotation, everything is tool-less! Finally :)
Next long-awaited thing that I like is a mini-disk. They call it "minimalist disk", which is 8.5 cm in diameter against their standard 11 cm disk (link to the photo of comparison: http://bit.ly/1AhqDCp). I really noticed the difference in presses against my old SP slr duo bindings, which had a huge disk.
I like their "autostrap" tech. And it seems that katana got better ratchets. Can't really compare against other Rome bindings, but I had no issues with them, and strapping in and out really quick.
Also liked their highback with that asymmetrical flex. It is tweakable in the upper part, but solid and responsive closer to the bottom. I think it fits my riding style really well.
Last but not least - straps. At first, their toe strap was kinda weird for me. But after few runs I found an optimal set-up. With katanas, I do not fell toe strap at all, however, turn initiation is quite fast and your boot is locked securely. And their ankle strap fits my Flow Rival boot really well. I have no pressure points at all. And thanks to the PivotMount tech, ankle strap can be really supportive and lock your boot, but also quite comfortable in the park. I know one guy that even jibs in them :)

All in all, I think these are great bindings. Excellent adjustability and shock absorption. Great comfort and ratchets. I am thankful to the folks from TheGoodRide, but I think they need to pay more attention to these bindings :)

---
If you can't buy through the links above, you can support the site with: