Salomon Wolle Nyvelt Fish 2023 Snowboard Review
| | |
| --- | --- |
| Riding Style | Snowsurf |
| Riding Level | Advanced - Expert |
| Fits Boot size (US) | 8-10, 10-12 |
| Manufactured in | China |
| Shape | Tapered Directional |
| Camber Profile | Directional Camber |
| Stance | Setback over 20mm |
| Approx. Weight | Feels Light |
| Split | No |
| | |
| --- | --- |
| On Snow Feel | |
| Turn Initiation | |
| Skidded Turns | |
Salomon Wolle Nyvelt Fish 2023 Review by The Good Ride
Turn Ons/Swipe Right: Excellent Float. Carves Well. Poppy.
Turn Offs/Swipe Left: Not ideal in uneven snow. Not a fan of the Cork/Bamboo sidewalls.
Summary
The Salomon Wolle Nyvelt Fish doesn't have as much dampness but really floats well in deep powder and carves clean groomers well too.
Ethics Statement: We don't get paid by the manufacturer to write these reviews and this is our unfiltered opinion. We do make money from the "Where To Buy" links, but this is our best attempt at an honest and objective review from an average riders' perspective.
Salomon Wolle Nyvelt Fish Review- How it rides and who it is for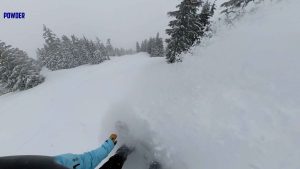 How This Review Happened:
Borrowed this for an extended demo and sent it back.
Size: 157
Days: 4+
Conditions: Almost waist deep pow, a few inches of pow, Decent groomers, semi-tracked up groomers and some early morning slackountry time with Drift Boards
Riders: James (Size 9, 5'10" 185-190lbs)
Boots: Burton Kendo
Insoles: F.I.T. Gamechangers
Bindings: Union Atlas
Jacket: Burton AK Gore-Tex Pro 3L Tusk Jacket, Volcom Guide Jacket, Burton Gore-Tex 3L Treeline Jacket, Jones Peak Bagger Jacket, Burton AK Helitak Gore-Tex Jacket
Pant: Burton AK Gore-Tex Pro 3L Hover Pant, Burton AK Gore-Tex 2L Swash Pant, Burton Gore-Tex Ballast Pant
Helmet: Smith Maze
Goggle: Smith 4D Mag
Gloves: Burton AK Clutch Mitt, Burton AK Clutch Glove, Burton AK Tech Leather Glove, Burton AK Tech Glove, CG Habitats Work Glove, Drop Tahoma Mitt, Drop Web Glove,
Similar Boards (but not the same): Capita Spring Break 158 Powder Glider, Capita Spring Break 161 Tree Hunter, Burton 3D Fish, Soul Blower, Korua Dart, Weston Japow, Moss Jellyfish, Gentemstick Barracuda, Season Forma, Soul Shift
James's Set Up: 21.5" Wide. Sance Angles +18/-3, +24/+6 Close to Reference and Set all the way back.
How It Was Tested
I compared the Salomon Wolle Nyvelt Fish against the Korua Dart, Capita Spring Break Powder Pill 158, and my Cardiff Powgoda 158 to see how it floats against some of my favorites. I also tried it same day with the Lib Tech Lost Retro Ripper and Rad Air Tanker. These aren't my personal favorites but they are very fun rides. These boards aren't alike, but they all float really well in the deep deep.
Approximate Weight
The Salomon Wolle Nyvelt Fish feels pretty light for its surface area. (We don't put in the exact weight because with wood cores there is no consistency in a boards weight)
Sizing

So in powder the 157 Salomon Wolle Nyvelt Fish felt really good and maybe just a touch wide for me. Still very doable as long as I was in deep powder. I think that is it's intended design. When the powder was more varied or when I was on groomers it was difficult to control with my size 9 boots. The 153 would be a better daily driver but the 157 was a much better deep pow ride.
Here are some ideal US boot sizes for these boards. You can of course go bigger or smaller but these work best for not turning the board slower than it should be and not having the dreaded Toe & Heel Drag.
Size Recommendations for Deep Pow
153: 8-9
157: 9-10
162: 10-11
Size Recommendations for a daily driver in all conditions.
153: 9-10
157: 10-11
162: 11-12
For weight I think the Salomon Wolle Nyvelt Fish likes a lighter rider. You don't have to be really light and the 157 handled my 185lbs well but it I was for sure on the heavy side.
Shape/Camber/On Snow Feel/Ability Level

The Salomon Wolle Nyvelt Fish has a pretty set back, tapered directional shape. There is 20mm of taper with a really big nose going to a small and modest swallow tail. You are definitely riding off the back foot with this. It isn't super surfy/set back but it is set back more than most snowsurf boards but it's more than most freeride boards for sure.

There is a pretty healthy bow of camber on the back half of the Salomon Wolle Nyvelt Fish. It then transitions into flat to a mellow early rise before the nose. It feels pretty technical compared to many directional camber boards out there like the Nidecker Mellow or Cardiff Powgoda but it is still a far cry from full camber like you get with the Lib Tech Retro Ripper. Strong intermediates can handle it but it is better for advanced to expert riders.
Flex Personality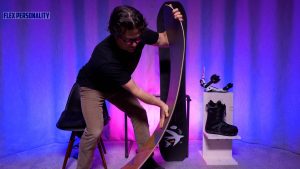 The Salomon Wolle Nyvelt Fish has a medium to medium soft flex in the nose, medium/stiff flex between the feet and medium flex in the tail. I could butter off this pretty easy. There is also a lot of lively pop happening. You can see they made it so you can easily ollie in pow and I really like this feel. Most average riders, like me, will have a time getting air with this.
Uneven Terrain
This is the Salomon Wolle Nyvelt Fish's Achilles heel. In perfect groomers or perfect powder this board shines. However, when conditions start to get tracked up I could feel this buck and bounce a little too much for my taste.
I've noticed this trait with almost every Salomon board I've tried that has Bamboo and Cork sidewalls. ABS is so toxic and I love they are trying to do something else. It's just hard to ride when conditions start to turn. I didn't even get it in truly messy, uneven snow but even slightly messy started making it hard for me to keep my lines. With the Salomon Dancehaul and Highpath (use ABS) they were poppy and bucky but not as unruly/cranky in uneven snow. They didn't pass up the chatter into my joints like the Salomon Wolle Nyvelt Fish did.
Base Glide/Speed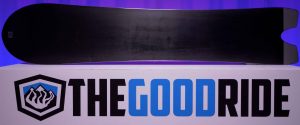 You have a very fast base with the Salomon Wolle Nyvelt Fish and if you wax this up properly it will glide with the best of them. It is also very easy to repair being almost all black. Love black bases!
Edge Hold

There is very competent grip with the Salomon Wolle Nyvelt Fish. It doesn't grab in soft snow but the wind blown suprice patches I hit weren't too scary. It held well.
Turning Experience/Carving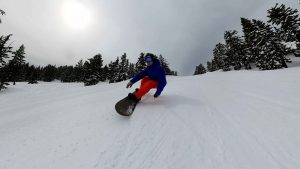 So obviously the Salomon Wolle Nyvelt Fish is an excellent pow ride but I wouldn't put this away on groomers. On good clean groomers you can rail a turn. The overall turning experience is balanced but if anything it leans more towards the less turny side of the spectrum. had more fun going slightly posi on the back foot and driving a little more off the front foot. You can set this up slightly duck as well and lean into the back foot without it getting weird.
Powder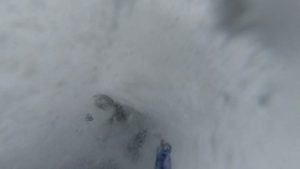 This is what you get the Salomon Wolle Nyvelt Fish for. It is up there with the best of the best when it comes to keeping afloat in the deep deep. I was in knee to waist high pow with this and I felt like I was in less that 1 foot of pow. It had that pure pow board feel like my Spring Break Powder Pill 158. When you are in deep untracked snow it feels magical. However, as the conditions start to turn or it's a pow day where you bottom out the magic fades just like my Spring Break does. What I do like about this fish is you can still ride clean groomers with this and it turns very well so it's not just a pure pow board.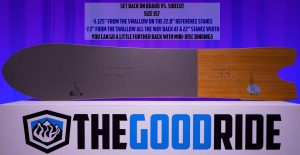 The set back on board vs. sidecut is as follows
-5.375″ @ 22″ or 7.2″ from the U in the swallow tail
-3.25 on reference of  22.8″ or 5.125″ from the U in the swallow tail
Conclusion
So overall, I really enjoyed the Salomon Wolle Nyvelt Fish in what it is mainly intended for…Deep Powder. It really shined. I even liked it carving up clean groomers when the pow was gone. It's not ideal in uneven pow or groomers but I think this could be a good addition to someone's quiver if they are ok with that.
Salomon Wolle Nyvelt Fish Specs
Salomon Wolle Nyvelt Fish Images
Salomon Company Information
Salomon Wolle Nyvelt Fish User Reviews
The Good Ride
Average rating:
0 reviews
If you can't buy through the links above, you can support the site with: