Lib Tech Orca 2019-2021 Snowboard Review
| | |
| --- | --- |
| Riding Style | Alternative Freeride |
| Riding Level | Intermediate - Expert |
| Fits Boot size (US) | 10-12 |
| Manufactured in | USA by Mervin |
| Shape | Tapered Directional |
| Camber Profile | Hybrid Rocker |
| Stance | Setback over 20mm |
| Approx. Weight | Feels Normal |
| Split | No |
| | |
| --- | --- |
| On Snow Feel | |
| Turn Initiation | |
| Skidded Turns | |
Where To Buy
No obligation, but these links & ads support the site.
Lib Tech Orca 2021 - 2019 Review by The Good Ride
Lib Tech Orca 2021 Snowboard Review Video Review Markers
Summary 0:05, Sizing 1:42, Camber 2:54, Flex 4:07, Speed 4:45, Uneven Terrain 5:31, Edge Hold 6:12, Turning/Carving 6:59, Powder 8:50
Swipe Right: Excellent Grip. Turns easy for a T.Rice board. Excellent Ollie Power.
Swipe Left: Grabs a bit much in soft to wet snow. Loose between the feet one footing and flat basing.
Summary
I guess we are technically the same species as Travis Rice but his boards never made us feel like we were. The main thing is his boards don't like to turn. However, this somewhat short/wide, tapered directional, easy turning, semi-buttery, slashy, forgiving board works really well for us. In fact, I've owned a 153 in the past and now own a 150.  This still has that aggressive straight line kind of Travis personality to it but for the first time it also works with us mellow riding mortals.
The 2019-2021 hasn't changed but we get to know it better each year and try different sizes so we updated it.
Ethics Statement: We don't get paid by the manufacturer to write these reviews.  We do make money from the "Where To Buy" links, but this is our best attempt at an honest and objective review from an average riders' perspective.
Lib Tech Orca 2021 Snowboard Review- How it rides and who it is for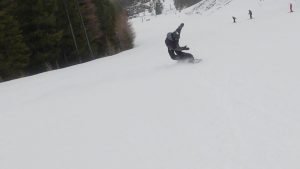 How This Review Happened: We had some demo laps, owned a 153, and now own a 150
Size: 150 and 153
Days:  5+
Conditions: Everything from really hard snow, to good snow to a few laps in some deep (approx 2′ of powder)
Riders: James (Size 9, 5'10" 185-190lbs), Peter (Size 8, 5'11" 185lbs), Jimbo (Size 11, 5'11" 160lbs), Grant (Size 11 6' 160lbs),
Boots: Adidas Tactical ADV
Insoles: Sandsole Custom Insoles,  Footprint Insole Technology Gameghangers Low Profile
Bindings: Union Atlas, Union Strata, Bent Metal Axtion
Set-Up: 21.5"-22.5" Wide. 21 front -6 back, 21 front -3 back, 21 front 0 back.  Close to Reference and Set all the way back.
Similar Boards (but not the same): Gnu Gremlin; Never Summer Harpoon; Lib-Tech Quiver Killer, Yes Y, Yes Hybrid, Endeavor Scout, Prior Legacy, Jones Hovercraft, Burton Kilroy Pow, Korua Dart, Korua Pencil, Korua Café Racer,
Approximate Weight
The Lib Tech Orca feels pretty normal for its overall surface area.
Sizing 
We all matched up well the the 150 Lib Tech Orca but it was best for Peter and I. The 153 we rode and owned before worked well too but that was better for Jimbo and his size 11 US boots. 
Boot Sizing Break Down
147: 7-9
150 : 8-11
153: 9-12
156: 10-12
159: 11-12
Shape/Camber/On Snow Feel/Ability Level
We are not that into the loose feel underfoot when one footing or flat basing in harder conditions. The Orca does skids turns easy and once that edge is set, it grips like a champ.  While we have had more pleasure carving with lots of C3 camber boards like the Rocket, this does really well for a C2 board. Even though its edges can be grabby in soft to wet snow it has a very set back easy floating ride in powder that's way better than any other T.Rice model.
Flex/Pop/Buttering
So the surprise here is the 150 can butter really well. So could the 153. This Lib Tech Orca is stiff but the rocker in the middle seemed to make it all much easier to butter than you would think. It also pops hard and has lots of energy underfoot. It had really easily accessible Ollie power and had great pop from the center or tail of the board.
Speed
The base on the Lib Tech Orca isn't going to win the glide award on a long traverse but it doesn't suck. It is a great base for those that don't like to wax all the time. The overall construction is damp and if you set the edge a little when pointing it the Lib Tech Orca can point it.
Uneven Terrain
It doesn't have that bucky bouncy feel that many shorter/wider boards have in uneven terrain which is pretty cool.
Edge Hold
The massively disrupted sidecut with the Lib Tech Orca grabs hard in hard to icy snow but does a little too much in soft to wet snow. If you tell us that you ride in hard to icy conditions like the East Coast US then we say get this.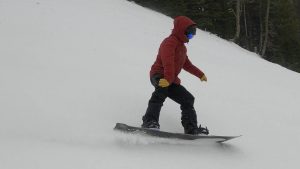 Turn Initiation
The 150 Lib Tech Orca had that quick easy turn initiation that I really liked. So did Peter and Jimbo. The 153 felt a little slow for my size 9 boots and rode a lot bigger than a 153 when it came to turning. Even with that much deeper sidecut it was slow. The 150, however was just about right. I'd rather have a board err on being too quick than too slow as I like turny rides.
Turning Experience/Carving
Hybrid rocker boards like the Lib Tech Orca aren't usually ideal for laying into a hard carving turn because the rocker in the middle hurries you up through the turn. This does have some of that hurry up, but does a very good job laying out a hard turn.

Peter Carving
Powder
I only had one powder day on this. There was about 2 feet and my friend let me take a few runs on his. The Orca floats really well. It should with the decent amount of taper, rocker in the middle pointing the nose up and a setback on board of 4.125″ back from center of board with a 21.6″ stance width set all the way back.  Even though the tip/tail don't come all the way back to the snow after the camber there seems to be a little early rise in the nose.
Getting Air
What we liked about the Lib Tech Orca is that even though it is pretty far back towards the tail, there is still enough there to feel comfortable launching it. There is some tail there for awkward landings and it approaches a jump well.
Conclusion
The Lib Tech Orca is especially great for those that see hard to icy snow often but want to be ready for the deep days.The only drawback is…It's so popular you might find yourself skating up to an Orca Pod in the lift line and feel like you haven't made an original choice.
Lib Tech Orca Past Reviews

The Lib Tech Travis Rice Orca continues on from the Climax and Gold Member and goes shorter, fatter, more set back, more directional in shape, has a deeper sidecut and a decent amount of taper. It's one of the first Travis Rice boards that we felt we had a connection to and it is a great choice for those that want an alternative to freeride shape that can hold an edge in just about anything but also be a fun board to bomb and carve with. Especially for a hybrid rocker shape.

The 2020 Lib Tech Travis Rice Orca is the same as the 2019 model but the review has been expanded and updated for 2020.

How This Review Happened:  We had a couple of laps at a frantic manic demo day so take it with a grain of salt. Then I bought it, rode it a few more days, and gave it to a friend.
Size: 153
Days: 5
Conditions:  Firm to hard CO snow, Firm PNW snow and bumpy groomer snow and pretty clean well-groomed med/soft snow.
Riders: James (Size 9, 5'10" 185-195lbs), Jimbo (Size 11, 5'11" 160lbs),Grant (size 10.5, 165lbs 6′)  Peter (Size 8, 5'11" 185lbs)
Boots: Adidas Tactical ADV for all
Insoles: Sandsole Custom Insoles,  Footprint Insole Technology Gameghangers Low Profile
Bindings: Bent Metal Transfers, Union Atlas, Union Strata, Union Falcor,
Set-Up: 21.5″ to 22" Wide. 21 front -6 back. 21 front 0 back.  Close to Reference and Set all the way back.


Similar Boards (but not the same) That We Compared This To:
Burton Skeleton Key, Gentemstick Mantaray 156, Korua Dart, Korua Pencil, United Shapes Orbit, Yes Optimistic, Rome Pow Division MT, Salomon Sick Stick and a few more.

Approximate Weight: You can feel a little weight to this for a 153 but for the surface area it's about on par with being a middle ground weight.

Sizing: I felt like the 153 might be a little bit much for me to handle but as long as I wasn't in tight spots it works. Weight wise the 153 was fine but boot wise the 153 felt a little slow. Now that there is a 150 option that would have been the one I would have liked to try. Still, the 153 felt like it was the closest a T.Rice board ever came to fitting my specs as it usually makes a better experience for those with more of a mid/wide boot size. If you are more like a size 10-11 boot the Lib Tech T.Rice Orca will be a great fit but it can work with a little bigger boot size and it's still very doable with a little smaller boot size like mine.

Flex/Buttering: I could butter off the tail a bit but it's not the easy buttery feel you get from a lot of hybrid rocker boards like this but there is lots of potential energy underfoot pop wise if you have the strength to make it do so. It feels like there is some stiff wood underfoot and it pops well off the tail with good effort.

On Snow Feel/Ability Level/Skidded Turns: While the Lib Tech T.Rice Orca  still one of the most aggressive hybrid rocker boards I've tried and it has a little more consequence than most hybrid rocker boards if you get off your game and need to skid a turn but less than most of its hybrid camber peers. I think this will play out well for those that want a shorter fatter aggressive ride but with less consequence than you would think for its stiff flex/the way it rides. The hybrid rocker profile with not much going on in the front half but then going to a pretty short, curvy camber in the back foot makes for a somewhat stable ride in harder snow that can feel a little loose one footing off a chair or flat basing on a cat track but overall it's more stable than most hybrid rocker boards. When the snow is softer it feels close to some hybrid camber boards but not quite there. It has that T.Rice let's go straight personality but it isn't as overboard as some of his other rides.

Edge Hold: Super strong grip that is great for those that often see hard to icy snow. Some might complain about it being overly grabby in softer conditions like a foot of thick wet powder but it's not a deal-breaker for all. Some get used to it and some don't.

Turn Initiation: It isn't a quick turner but it turns easier/tighter than most of the super straight liner T.Rice boards in the line we tried… and we tried them all.

Turning Experience/Carving: The Lib Tech T.Rice Orca carves pretty hard and while it isn't a super carver compared to some boards we compared it to above it is the one I want to take out when its hard to icy and I still want to have strong carvy turns. Like a lot of T. Rice boards, it's more of an across the groomer carver turner but I felt like I could force this into a circle carve easier than most T.Rice boards. So it really likes more of a longer S-Turn over tighter turns it's a fun board to turn and it has good spring throughout. There isn't much of a washy feel off the back foot but it does still like a little more

Powder: At a 21.75″ stance width when set all the way back it has a difference between nose and tail of 8.25″ and a 4.125″ set back from the center of the board. That is a lot of directional float and even more than the already generous 2.5″ setback on sidecut would lead you to believe. Combine that with 10mm of taper, a big ass nose with a very mellow camber under the front foot that rises up before and a small tail you have a very floaty small ride. The grab in thicker powder might turn some people off but it's not like the old full mag days.

Speed: This can bomb for having rocker in the middle. It's very damp too and the base has good upper tier but not the best glide.

Uneven Terrain: Going through bumps is not particularly easy for my size 9's on this ride but it's the best it's ever been with a T. Rice board. I could actually weave through bumps with a bit of work. It can power over things.

So overall the Lib Tech T.Rice Orca does a lot more to appeal to more average riders and it's a great call for those that want an alternative freeride/shorter somewhat fatter hard snow specialist that can still

This is the review of the board we tried at the demo was not ready for primetime. The edges weren't properly de-tuned and it did not feel right. However, the production model that Grant and I got on was much much better.
Lib Tech Company Information
Lib Tech Orca User Reviews
---
---
Lib Tech Orca 2019-2021 Snowboard Review
SKU
UPC
Model
Not Only Hype
Dec 17, 2019
by
Benjamin Colla
Ability Level: Advanced •
Riding Style: Freeride / All mountain •
Days You Ride A Year: 30 •
Height, Weight And Boot Size (for Boards, Boots & Bindings): 178cm, 70kg, UK 9
Where to start?
Well obviously a lot of hype but finally managed to take this baby out.
For long time I was on the cuspid of choosing the 153 or 150 version, I was afraid that the 153 was going to to much to handle for my 70kg.
In the end, base on my riding style I went for the 153 and man if it was the right choice. I usually ride twin boards 155/156.
Let's start with the cons, as there are none. Well it's not a easy board so you will need leg strength to pilot the predator.
My riding style is POW, carving and boosting down piste.
I was able to try the board on each of these terrains and man it's been the best board ever. Stable as a train on track and floats with no effort at all. Amazing how you get to the end of the day with way more less fatigue. I binded the board with some union atlas.
I tried initially with a set back stance (aligned with second hole of the board) result was even more float but a bit slow in turning as there was some lag from nose to tail. Aligned the bindings to the first hole and I definitely think it's be setup for all mountain.
Rips ice like a bulldozer, and weirdley in anyway feels large. Freestyle is not definitely the thing. But it has good pop and closing those 180 360 I didn't feel any difference from my old twin board (the hybrid profile really gives you a lot of margin correction)
My 95kg mate (that rides usually a custom 163cm) tried it out and he was not believing how could a 10 cm shorter board be such a bomb.
Couldn't be happier. Best board ever tried

---
excellent
Sep 10, 2019
by
scottberin
Ability Level: Upper intermediate •
Riding Style: All mountain •
Days You Ride A Year: 20+ •
Height, Weight And Boot Size (for Boards, Boots & Bindings): 178cm 80kg 10
I am an all mountain rider, with a focus on pow. This board is by far the best board I have ever used! Turns and floats effortlessly in powder, and very stable on groomers and hard pack. Excels in tree lines. You need to size down a bit for orca. I ride a 156 normally, for orca I ride a 153 and it is perfect.

---
Feb 21, 2019
by
ShredderMcShredsalot
Ability Level: Shredder - No Way! •
Riding Style: Supper shreddy •
Days You Ride A Year: Buckets •
Height, Weight And Boot Size (for Boards, Boots & Bindings): 6'3 175 12wide
Bro! This board is siiiiiiiccckkkk!!!

---
LIB Tec Orca
Jan 29, 2019
by
Anders Bengs
Ability Level: Expert •
Riding Style: Powder and carve •
Days You Ride A Year: 70 •
Height, Weight And Boot Size (for Boards, Boots & Bindings): 171 cm, 80 kg, size 9
Love your site and reviews, very spot on in so many cases but I think you got on the wrong foit with the Orca. Spotted Rice ride in Japan on youtube in November, came to Zillertal the other week with our RV after a long Wepowder.com inspired mega dum forecast drive from Sweden. 3m if snow in one week in Austria. It was so deep and you had to ride the trees for the first part of it. My Nitro Mountain 160 was too small, my Jones Flagship 164 to big in the trees but luckulky they had the Orca in the shop. Albeit wit many other short fatty powder surfers but Orca stood out, no competition in the shop.

And, yes, it did deliver from the first turn. I even owned the Ride War Pig 154 last year, to try out the short and fatty trend but it was very bad, very akward in the trees. The Orca was a dream, very good float and very nimble and fast in the powder, like my old Salomon Sickstick.

Now in Livigno, Italy and after 9 days with powder and a couple of very loong carving runs I must say what an all rounder. So good also on the groomers. I have to toe orient my Cartel M binding on the rear foot but then it is a dream also in the piste. Shure, it is a charger but you can also keep the speed down with tight carves. And it is so good looking.

I have, inspired by this and your reviews also bought a Burton Skeleton Key 158 as the waiting for next dump - tool. Really nice also, and more relaxing and playfull in the slopes but not the same bite on the hard and not the same totally right feeling in the powder as what the Orca has.

Thank you for your good work, just became a patreon.

---
If you can't buy through the links above, you can support the site with: