Jones Ultra Mountain Twin 2016-2023 Snowboard Review
| | |
| --- | --- |
| Riding Style | All Mountain |
| Riding Level | Intermediate - Expert |
| Fits Boot size (US) | 8-10, 10-12 |
| Manufactured in | Dubai by SWS |
| Shape | Directional Twin |
| Camber Profile | Hybrid Camber |
| Stance | Centered |
| Approx. Weight | Feels Normal |
| Split | No |
| | |
| --- | --- |
| On Snow Feel | |
| Turn Initiation | |
| Skidded Turns | |
Where To Buy
80% of outdoor sports products are not listed or sold online.
Our team has relationships with hundreds of local snowboarding and outdoor sports shops.
We'll call the shops and email you a list of stores along with pricing and availability.
---
Not sure what to buy?
Get custom advice from Good Ride editors James and Steph.

Get Advice
Jones Ultra Mountain Twin 2023 - 2016 Review by The Good Ride
Jones Ultra Mountain Twin Snowboard Video and Written Review
Welcome to The Good Ride where we carefully carve, optimistically ollie and review the Jones Ultra Mountain Twin Snowboard. 
Update 2023: The Jones Ultra Mountain Twin hasn't changed much since this review so it still is relevant in 2023
Turn Ons/Swipe Right: Damper and Faster than the Jones Mountain Twin
Turn Offs/Swipe Left: Cranky in hard snow, feels more dead than the Jones Mountain Twin.
Summary
The Jones Ultra Mountain Twin has less pop and more fatigue in harder uneven snow but it is damper and faster than the regular model.
Ethics Statement: We don't get paid by the manufacturer to write these reviews and this is our unfiltered opinion. We do make money from the "Where To Buy" links, but this is our best attempt at an honest and objective review from an average riders' perspective.
A Break Down of How it rides and who it is for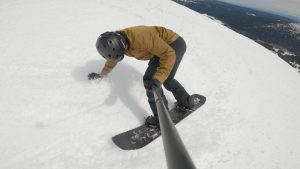 How This Review Happened: We borrowed this for an extended demo and sent it back.
Size: 157
Days: 3
Conditions: Pretty soft, wet uneven late spring snow and some early summer slackountry time with Drift Boards after this review.
Riders: James (Size 9, 5'10" 185-190lbs), Peter (Size 8, 5'11" 185lbs)
Boots: Adidas Tactical ADV, Northwave Decades
Bindings: Union Strata, Union Atlas FC
Similar Boards (but not the same): Korua Otto, Lib Tech Terrain Wrecker, Capita Mercury, YES NSB, Endeavor Pioneer, Jones Mountain Twin, Endeavor Ranger, K2 Manifest, Yes Typo, Jones Frontier, Ride Algorythm, Ride Wild Life,
Set-Up: 21.5"  Wide. 15 front -15 back. Close to Reference
Approximate Weight
Does not feel like the other Ultra boards in the 2021 line. It feels similar in weight to the Jones Mountain Twin and doesn't feel likght.
(We don't put in the exact weight because with wood cores there is no consistency in a boards weight)
Sizing
Here are some ideal US boot sizes for the Jones Ultra Mountain Twin. You can of course go bigger or smaller but these work best for not turning the board slower than it should be and not having the dreaded Toe & Heel Drag.
154: 8-9
157: 9-10 Width over inserts Front Inserts: 27(Top), 26.7( Freestyle Ref), 26.3 (Freeride Ref) & 26.1(Bottom) Back Inserts: 26.2(Top), 26.6( Freestyle Ref), 26.8 (Freeride Ref) & 27.2(Bottom)
160: 10-10.5
163: 10-11
156W: 10-11
159W: 10.5-11.5
162W: 10.5-12
165W: 11-12

Shape/Camber/On Snow Feel/Ability Level


The Jones Ultra Mountain Twin has a directional twin shape that is pretty close to being a true twin except for a longer nose than tail and a little softer flex in the nose. For 2021 the nose/tail is a little shorter and there is a longer effective edge. The camber profile is a mellow camber going a little past the inserts leading into a mellow rocker in the nose/tail. It is very stable one footing/flat basing and very easy to skid turns with. Jones added lifted sides in the tip/tail but that didn't really bleed much or at all into the camber profile. It seems to end where the rocker begins so it doesn't make the board feel washy or edgeless in harder snow.
Flex/Pop/Buttering
Pretty stiff for a Directional Twin. The nose is a little softer than the rest of the board but overall its not an easy board to butter. Its doable mainly because the rocker in the nose tail helps you get it going.  The one thing we don't like about the Jones Ultra Mountain Twin vs. other Ultra boards in the Jones line is the pop. It feels less lively than the Jones Mountain Twin and what pop is there doesn't feel as easily accessible.
Speed
So you don't have the pop of the regular Jones Mountain Twin but the Jones Ultra Mountain Twin has a faster base and it is pretty damp at higher speeds. If you want a Directional Twin that can bomb this could work.
Uneven Terrain
The stiffer flex of the Jones Ultra Mountain Twin really helps in most uneven snow except for hard micro bumpy snow. In those conditions it can send chatter up into your joints and fatigue you quickly. However in softer uneven snow it is better than the Jones Mountain Twin at higher speeds and about the same at slower speeds. It isn't bad for all day resort riding but the Jones Mountain Twin is what we would choose for a crowded saturday.
Edge Hold
They changed up the Jones Ultra Mountain Twin's sidecut. We didn't get to test it against the older version but it still has a good grip in hard snow without grabbing in softer snow. Not an ice specialist but great for most conditions you want to ride. Feel free to go out a little early on those spring days when it is hard in the morning and then transitions to soft and wet. That way you are on it right when it transitions from hard to edgeable fast and fun.
Turn Initiation
Not sure what tech changed the overall turn initiation of the Jones Ultra Mountain Twin or Jones Mountain Twin this year but both turn a little faster than last year. They still track really well into a kicker like the older models did.
Turning Experience/Carving
Good but nothing super exciting. This has never really been the Jones Ultra Mountain Twin's strong point.
Powder
What we love about the Jones Ultra Mountain Twin is the fact it is a true one board quiver. It really shines for those that can only have one board and need to ride it centered/like a twin or set back like a directional board. Many twins have little to no set back on board but Jones gives you a good bit of set back from center of the board. So you can get -.25" back with the 22.8" Freestyle Ref Stance, -1" Back with the 22.8" Freeride Ref Stance and -1.75" All The way Back with a 22.8" stance width. Going all the way back really helps you stay afloat in deeper powder. Then you add in the spoon tech (lifted sides in the tip/tail) and the rocker you have a pretty good board for powder. It's no Jones Freeride board but its way better than most twins out there.
Conclusion
So the lack of pop was not ideal but Peter actually prefered the Jones Ultra Mountain Twin over the regular model. That being said we both feel that 7 times out of 10 we would both recommend the Jones Mountain Twin over this. So for those 3 out of 10 this could be your ride.
If this review helped, we'd appreciate if you:
Jones Ultra Mountain Twin Past Reviews

The Jones Ultra Mountain Twin and Mountain Twin have a lot of overlap. Lately, we have been more into the Jones Mountain Twin over the Ultra Mountain Twin because of its ability to handle uneven snow better. However, if you ride in better conditions, want a really fast base, like a stiff twin and live to point it the UMT will stand out. It's still a good board for those that need one board to do everything.

The 2019 and 2020 Jones Mountain Twin have an Ash Venere top sheet. It has a similar ride to the 2018 and 2017 models we rode/owned but it feels a little damper at the expense of being a little less poppy to us.

Ethics Statement: We don't get paid by the manufacturer to write these reviews.  We do make money from the "Where To Buy" links, but this is our best attempt at an honest and objective review from an average riders' perspective.

The 2017-2019 Jones Ultra Mountain Twin was made by SWS instead of GST and it's got a new nose/tail shape.  I'd say maybe a touch softer but it feels more dynamic and just as damp. The 2017-2018 specs say centered and that might be true on side cut but it's still got the same 3.5″ set back on board that it had in the past that gives it good directional float in powder. So it leads us to beleive the actual set back on sidecut is -20mm.

Size: 157
Days:  15+
Conditions:  Good mid-season Sierra snow and late-season mostly good spring conditions
Riders: James, Peter, Jimbo, Matt, Jack and a few others
Boots: Burton Almighty, Adidas Tactical ADV, Burton SLX, Burton Rover, Burton AMB,
Bindings: Union Atlas, Burton Genesis X, Burton Cartel, Union Force, Union T.Rice, Now Drive, Now Pilot, Now Select, Now O-Drive (Did a binding test with this board)
Set-Up:  Centered approx 22.75″/58cm 15 front -15 back

Approximate Weight: Feels normal bordering on light.

Flex: It's a very interesting flex because it feels med stiff until you get it out on the snow. Then on snow, it butters and flexes from tip to tail more like it's a medium flexing board. The torsional flex it's pretty stiff. The SWS version's flex of the 2017 model doesn't feel quite as stiff as past years models that were made in GST. It feels a little more dynamic.  Yes has been making their boards at SWS for a few years now and the Jones Ultra Mountain Twin, as well as all Jones boards, have been YES'd but just with a stiffer flex.

On Snow Feel:  Just like always that hybrid camber profile is nice and stable.  It tracks well, doesn't feel catchy, one foots well and flat bases well.  It's got that all condition ride and what I mean by that is it feels the same underfoot no matter what the conditions are from hard to soft. In this world of hybrid shapes, there are many boards that change personality from hard snow to soft snow and the Jones Ultra Mountain Twin Doesn't.

Edge Hold: Same great edge hold and it seems that SWS made the mellow mag almost the same.  It holds in hard and doesn't grab hard in the softer snow.

Turn Initiation: The SWS model feels almost the same and maybe it's just in my head it feels a touch quicker edge to edge but only by a little bit.  When I rode both on the hill on the same day the SWS/2017 model seems to turn just a little quicker than the 2016 GST model and seemed to have a little more pop out of the turn.

Skidded Turns: Very easy to skid turns and we all felt that even though this board can be aggressive and pick up good speed it's not a real consequence heavy ride. The Jones Ultra Mountain Twin is a very forgiving all-mountain ride that can be aggressive or just cruise and skid turns.

Carving: Its fun to carve with and although I like the new shape of the tip/tail I wish they would have added a little bit extra camber to give it a harder carving ride.  Still, it carves pretty well for a board with camber just past the bindings.

Speed: It's stable and fast and even though its a touch softer than before it feels just as damp.

Uneven Terrain: It's pretty good for a med/stiff board that doesn't turn too fast and if you ride messy Saturday resort snow it's gonna be ok. We like the Jones Mountain Twin a little better and especially so when it comes to those hard micro-bumps in groomers, you can find when it's on the harder side.

Powder:  Even though SWS specs this as centered you can still set the 2017 Jones Ultra Mountain Twin back the same as you can with 2016.  So yes it's centered on side cut but not on board.  I can set this back all the way with 58cm or approximately a 22.75″ stance width.  Setting it all the way back gives you a 3.5″ difference between nose and tail, or a 1.75″ difference back from the center of the board which is good for an all-mountain ride and far better than many twins. That, combined with the good bit of rocker in the nose makes for pretty easy float for this kind of shape.

Switch: The Jones Ultra Mountain Twin feels very good switch and although not perfect it's great for those, like Peter and I, who like to ride switch on groomers but love to get set back and surfy on powder.

Jibbing: It's not the best jibber because of the stiffer flex between the feet and we'd rather be on the Mountain Twin with it's softer flex instead.

Pipe: Pretty good in the pipe and although we like the Yes Standard a little better because it likes to turn faster and it's easier to throw it around easier. However, we wish the Yes Standard had that little extra edge hold from the mellow mag as the Ultra Mountain Twin does.

Jumps: The new and improved flex from GST makes it a little more springy and it's got a good snap to it.  It's also the kind of board we would all like to hit kickers with.  It's stable approaching and forgiving landing. The only thing we'd like to see is just a little more camber.  We don't want a lot but just take it maybe 1 cm on each side.

All in all, we like the new design from SWS and feel it's an improvement from GST.  It's a touch softer and a little bit more lively.  Also, the new tip/tail make the board feel a little easier to throw around.
This is a comparison of Jones Mountain Twin vs. Never Summer West vs Yes 2017 Standard vs. Oz Custom Woody
It's still relevant with all boards except the 21017 Yes Standard.  That board dramatically changed in width and shape for 2018 and 2019 so it's no longer relevant.
2016 Jones Ultra Mountain Twin Review
The Jones Ultra Mountain Twin is basically a lighter snappier version of the Jones Mtn Twin and we like it much better than the LTD from last year.  Normally I'd say that the higher price point isn't worth the "Ultra" tech but at $79 more why the hell not!  Also if you can't get the right size in the Ultra then the regular version is still a great choice and an honorary favorite.
So here are some of the differences between the Jones Ultra Mountain Twin and the Jones Mountain Twin:
The Ultra has carbon so it holds it's flex longer and also acts a little more snappy. In comparing production models in the shop the Ultra Mtn Twin is a little stiffer.
Faster Base. The regular model is very fast but this is a touch faster.
Lighter Core…well generally lighter core.  You never know for sure because wood isn't consistent so it's not guaranteed it's always going to be lighter compared to the standard twin but it should be most of the time.
Size: 157
Days:  15+
Conditions:  Hard Pack with only a few softer patches here and there, 1-2 feet of powder and everything in between. No ice though.
Riders: James, Matt, Peter, Jack, Jimbo and a few others
Boots:  Burton Fiend LTD, Burton SLX, Burton AMB, Burton Imperial, Nike Kaiju and a few others
Bindings: Union Atlas, Burton Cartel, Burton Genesis, Burton Genesis X, Burton Diode, Union Contact, Union T.Rice, Union Force, Union Ultra and a few others.
Bindings: Salomon Defender
Set Up: Centered to set all the way back 15 front -15 back almost 23″
Approximate Weight: Felt normal to bordering on light. It's not a featherweight like the Aviator but it feels much more sturdy and reliable.
On Snow Feel: The Jones Ultra Mountain Twin ame great on snow feel as the Jones Mountain Twin that's stable and consistent in all conditions but a little more stiff, lively and snappy which is always a bonus. Such a massive improvement from the Jones Mtn Twin LTD from last year. That board felt kind of dead where this feels the exact opposite. This set back hybrid camber acts the same in all conditions. It's reat for one footing and flat basing but still catch free.  It's the kind of board that has personality that likes to go straight but also says hey if you want to slow down, cruise and make some good turns I'm down for that too.  It can handle the aggressive and moderate rider almost equally well.
Powder: I didn't have any powder with the Ultra but had more powder days than I can count with the standard model.  There shouldn't be any difference between the two boards because they have the same very powder friendly camber profile.  I can only imagine that the Ultra will be better at keeping speed with the faster base and stiffer flex. You are looking at a -20mm set back on the effective edge but with the longer nose than tail the set back on side cut is a good bit more.  Also with approximately a 22.75″ stance width on the 157 you can get get 3″ back on the board which is pretty far. Our only complaint with the Jones Ultra Mountain Twin is it's a little slow turning in trees or tight spots in the deep stuff so if you want it to turn better more responsive bindings are pretty important.
Turn Initiation: Still the same kind of moderate turn initiation but feels just a little bit quicker edge to edge compared to the standard model. Not enough really to rate it higher but instead just a shade better. Even though the Jones Ultra Twin isn't a super aggressive board I generally like paring up mid to responsive bindings with it to help turn the board quicker. I'd love to see just a little quicker turn initiation because it can be a little slow in tight spots.
Carving: The camber between the feet allows for a pretty surfy fun carve.  Unlike many hybrid rocker boards this hybrid camber doesn't require you to get your knees out towards the tip/tail to make it hold.  You can if that's your style because it handles just as well if you make a surfy carve with your knees closer together or a carve with your knees out in more of a gorilla squat.
Speed: From what little time I had on the Ultra and a ton of time I've had on the Twin I feel its kind of a wash between the standard model and Ultra. The faster base has a longer glide that picks up speed vaster on the ultra but I think the standard Twin feels more damp going faster despite the lack of carbon.  I'm hoping to test this more and get an on snow a/b test but you never know how it plays out.
Uneven Terrain: Very close to the regular Mtn Twin but I felt just a little more bucked around in uneven snow than I did with the standard model.  It's not a lot but just a little.
Edge Hold: Same great mellow mag edge hold that does great in hard snow, ok in ice and doesn't grab at all in softer snow. It's a great all condition ride. I noticed that it felt a little more chattery in harder uneven snow and the edge didn't seem to want to bite in as much but it's hard to tell for sure unless I took the standard twin up right after.
Flex: The Jones Ultra Mountain Twin feels like it has a little more stiffness and pop in the flex.  You can still butter the tip and tail but it's just a little more work than the Standard Mountain Twin.
Switch: There isn't much "Twin" left in the name but It still rides pretty well switch when centered or close to center. The tip butters different than the tail and the set back camber makes it a little different but its still an easy board to ride switch and you can get use to it pretty quick.
Jibbing: Not really a solid jibber. Neither is the standard Mtn Twin but I liked the standard a little better for stopping in the progression park which is about all I'm good for with jibbing.
Pipe: Same great feel in the pipe. Personally I'd like to see a little faster turn initiation for quick adjustments from wall to wall but it's still fun to lap the pipe with.  If the turn initation was quicker it could be a great dedicated pipe board.
Jumps: There is a little bump in terms of pop and it makes the Jones Ultra Mountain Twin more easy and more fun to ollie and hit kickers with. It's very stable and confidence inspiring when approaching a kicker.
So all in all the Jones Ultra Mountain Twin is a great snowboard that improves upon the already great Mountain Twin.  The only slightly higher price range makes me wonder why not just bump the price up of the standard Twin and give it this tech instead of have 2 models.
Jones Ultra Mountain Twin Specs
Jones Ultra Mountain Twin Images

We try to get as many images of the Jones Ultra Mountain Twin, but forgive us if they're not all there.
2021
2020
2019
2018
2017
2016
Jones Ultra Mountain Twin User Reviews
Jones Ultra Mountain Twin 2016-2023 Snowboard Review
SKU
UPC
Model
Converted diehard camber guy
Jan 14, 2018
by
Dan
Ability Level: Advanced •
Riding Style: Skateboard influenced carver •
Days You Ride A Year: 25+ •
Height, Weight And Boot Size (for Boards, Boots & Bindings): 6'3 205lbs size 12boot 164 wide
Coming from traditional camber,my first couple days on this board were strange .
I couldn't get used to not having the "locked in" feeling camber gives you.
It Didn't have the spring out of turns I was used to. It carved pretty well,but different.
One thing I noticed right away was it rode switch really well. I wasn't completely sold.
My next trip with this board was different. It's like a light switch went on and I was absolutely in love with this board. A little modification in carving technique and this board was just ripping turns like nobody's business .
Basically you can't really carve through the tail like on full camber. The magic on this board is in the middle section. Now if you want to layback and push through a surfy carve on a bank it's fineThough .
The un catchy feeling while approaching
Tight or rutted out, side hits was confidence inspiring. This board is very stable and absolutely boosts off anything.
And wants to be in the air!
This board in a 3 day trip has brought my switch riding to the next level, almost getting euro carves switch.
Its at home digging trenches
On long drawn out carves and medium ones. It CAN whip back and forth kinda quick but it's not it's strong point .
If you're a guy that likes to hit every jump
There is in your path but also takes carving very seriously . I would say this board fits the bill.

---
If you can't buy through the links above, you can support the site with: