Jones Stratos 2020-2024 Snowboard Review
| | |
| --- | --- |
| Riding Style | Freeride |
| Riding Level | Intermediate - Expert |
| Fits Boot size (US) | 8-10, 10-12 |
| Manufactured in | Dubai by SWS |
| Shape | Tapered Directional |
| Camber Profile | Hybrid Camber |
| Stance | Setback -20mm |
| Approx. Weight | Feels Light |
| Split | Comes in split |
| | |
| --- | --- |
| On Snow Feel | |
| Turn Initiation | |
| Skidded Turns | |
Where To Buy
80% of outdoor sports products are not listed or sold online.
Our team has relationships with hundreds of local snowboarding and outdoor sports shops.
We'll call the shops and email you a list of stores along with pricing and availability.
---
Not sure what to buy?
Get custom advice from Good Ride editors James and Steph.

Get Advice
Jones Stratos 2024 - 2020 Review by The Good Ride
Jones Stratos 2024 Snowboard Video and Written Review
Welcome to the Jones Stratos Snowboard Review from an average rider with extensive and objective board knowledge.
Positives/Swipe Right: Sooo Poppy. Forgiving. Fun To Turn In Pow. Great Pow Set Back. Fun To Carve On Groomers.
Negatives/Swipe Left: Still is still a very chattery bucky bouncy board in moderately uneven snow. Not great for those that see anything other than clean perfect conditions.
Summary
The Jones Stratos does soo many things well. This is my favorite shape, sidecut and overall ride in Jones' line but there is one big but…dampness. It just doesn't have the chatter absorption for all day or even mid day riding. This is best for really light riders that want a lively poppy board.
Ethics Statement: We don't get paid by the manufacturer to write these reviews and this is our unfiltered opinion. We do make money from the "Where To Buy" links, but this is our best attempt at an honest and objective review from an average riders' perspective.
A Breakdown Of How It Rides And Who Its For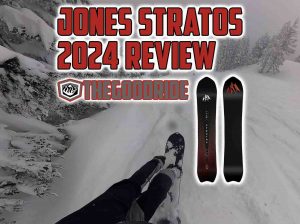 How This Review Happened:
Borrowed this for an extended demo and sent it back.
Size: 159
Days:  3
Conditions: Some Great spring pow, Good Groomers and Ok but kinda messy groomers.
Riders: James (Size 9, 5'10" 185-190lbs)
Boots: Ride Fuse, Nidecker Rift Lace
Insoles: F.I.T. Gamechangers
Bindings: Union Atlas
Redunancy: Strapins in case boots or bindings break.
Jacket: Jones Mtn Surf Anorak, Jones Shralpinist Stretch Jacket
Pant: Jones Mountain Surf Bib, Jones Shralpinist Stretch Bib
Helmet: Smith Maze
Goggle: Smith 4D Mag
Gloves: Burton AK Clutch Mitt, Burton AK Tech Leather Glove, Drop Tahoma Mitt,
Similar Boards We Like (but not the same): Amplid Souly Grail, K2 Alchemist, Burton Skeleton Key, YES PYL Uninc, Weston Backwoods, Cardiff Powgoda, Jones Mind Expander
James's Set Up: 21.5" Wide. Close to Reference on groomers +18/+3 and +18/-9.  Set as far back as 21.5" could go in powder +18/+3.
How It Was Tested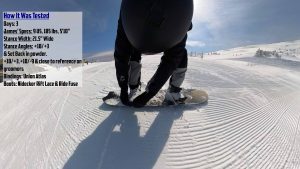 On a pow day I compared it to the Burton Gril Master, Jones Frontier & Jones Ultra Mtn Twin. On a groomer day I compared it to the Burton Power Wagon, Burton Straight Chuter and Jones Frontier.
Approximate Weight
The 2024 Jones Stratos might be a little bit heavier than the previous years models but it's still very light. (We don't put in the exact weight because with wood cores there is no consistency in a boards weight)
Sizing

The159 Jones Stratos fit my boot size very well and I love this length but it does feel chattery for me at this weight. Going up to a 162 would reduce the chatter a little but not eliminate the problem. I could handle that width/length but it wouldn't be my ideal size for how I like to ride.
If this used the same damp construction as most of the other boards Jones boards in the line this would be my perfect size like the 156 Hovercraft, 159 Frontier and 161 Flagship are for me.
the  Here are some ideal US boot sizes for these boards. You can of course go bigger or smaller depending on your riding style and boot's footprint, but these work best for not turning the board slower than it should be and not having the dreaded Toe & Heel Drag.
153: 7-8
156: 8-9
159: 9-10
162: 9.5-10.5
158w: 10.5-11.5
161w: 11-12
164w: 11.5-12.5
For weight I would stay well below Jones' recommended weight ranges with the Jones Stratos. This board doesn't do well with heavier riders. If you like a board to fit your boot size well maybe pass on this board if you are on the upper end of the recommended weight.
Shape

You have a pretty directional but not too tapered (-10mm) shape with the Jones Stratos. With the set back inserts it can feel very set back or pretty centered without.
Camber/On Snow Feel/Ability Level

There is a decent amount of camber with a good height between the feet but then the Jones Stratos transitions quickly into some pretty pronounced rocker in the nose along with some spoon nose starting mostly after the camber ends. There is a little in the tail with a touch of spoon there too.


I don't feel that washy feel like I do with some Jones boards and they seem to keep most of the spoon tech away from the camber area. Very stable and great one footing but still very forgiving skidding a turn.
Flex Personality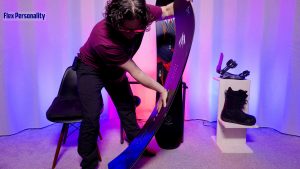 The new top sheet seems to make it stiffer. Especially between the feet but the tip/tail are still easy to butter. The only thing is the spoon tech in the nose makes it wash out on a butter a little easier than I would like.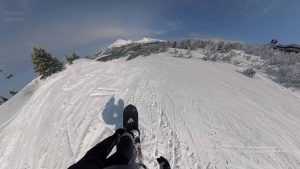 The real treat is how well the Jones Stratos Pops. It's such an easy ollie for any ability level. I just felt like I could Ollie higher.
Uneven Terrain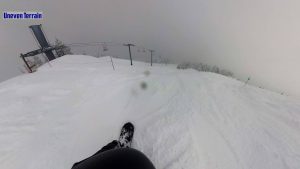 All this pop and light construction comes with a price though. The 2024 Jones Stratos is a little better than the 2020-2023 models with the hydrophobic top sheet but its still not where it should be if you ride in uneven snow a lot. On one pow day I got off the Frontier, ran to my car, grabbed the Stratos and did the same run. The difference in dampness in uneven snow was massive. The Frontier easily powerd through the soft uneven snow in such a damp easy way but the Stratos bucked and bounced me around. It jarred me and made me feel like its too tracked up…time to go home. So this is the only problem for me. If they added some dampening tech similar to the other Jones boards this would be hands down my favorite Jones Board. As it stands now I want to only ride it in clean pristine conditions.
Edge Hold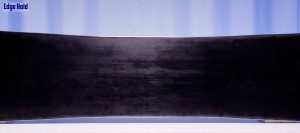 Great grip with the Jones Stratos as long as the conditions are hard and smooth. Hard uneven snow can buck the edge out of your line.
Speed
You can point this in good conditions and it does very well. If the conditions are slightly variable you will feel chatter.
Base Glide
A-game base glide here. I could get the Jones Stratos through a traverse where almost every other board couldn't that day. I couldn't even get it to go as fast as the other boards through this uneven snow before the traverse but it still got me further.
Turning Experience/Carving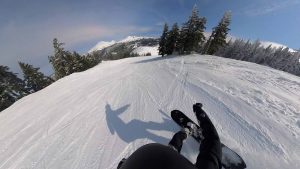 The Jones Stratos is quick to turn but far from being twitchy or hooky. Carving with this is a pleasure…as long as the snow is clean. There is such a lively spring out of the turn I prefer this over the Flagship, Flagship Plus, Mind Expander and Ultra Mind Expander. Definitely better than the Frontier but I like the similar sidecut they both share. I'll give all day turning to the Frontier though just because of how much more damp it is.
One thing I didn't mention in the video is I rode it +18/+3 one day on groomers and it was just as fun as riding +18/-9. You can drive through the turn on your front foot pretty well and it's not too washy. It center weights turns well too and of course is fun to lean into the back foot out of a turn.
Powder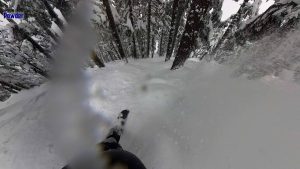 The set back inserts are glorious but just have such a wide stance width. At 22.75" wide you can use the set back inserts for both feet and get 5.75" back from center of board. That is massive for a freeride board like this and it makes for such a great floater. Even only using the set back inserts on the front foot with my 21.5" stance width I still had exceptional set back directional float. I wish they moved the reference in to 22" like most brands do as well.
Bottom line is this is a great floater for this kind of board. The set back inserts lead the charge float wise but the 10mm of taper, early rise before the spoon nose all help with great float. The turning experience in pow is pretty special with the spoon nose too. Its such an easy smooth transition in powder.
Switch/Freestyle/Park
Very doable switch when close to reference. This would be fun in smooth pipe. It tracks well into a kicker too.
Final Thoughts
So if you got to the conclusion you will see one theme in this review. This is an amazing versatile board if you mainly ride in very clean conditions. I often ride in pretty good conditions but this wasn't there for me. If they could give this more dampness without sacrificing too much pop this would be one of the most recommended boards out there for mostly directional riders. I would be riding this all the time. As it stands now though it's a great one board quiver for really light directional riders.
If this review helped, we'd appreciate if you:
Jones Stratos Past Reviews
Jones Stratos Snowboard Video and Written Review
Here is the Jones Stratos Snowboard Review from objective riders deeply committed to an open relationship with snowboard gear. 
Update 2023: The Jones Stratos hasn't changed since so the 2020 review still stands. 
Turn Ons: Light, Poppy, Set Back Inserts for pow with great float.
Turn Offs: Chatters and bucks in everything but really good snow. Only good for lighter riders.
Summary
The Jones Stratos is a light poppy super fun to turn ride. If you can get past how it doesn't ride well in uneven snow and it's wide stance using the setback inserts you could have a very versatile ride.
Ethics Statement: We don't get paid by the manufacturer to write these reviews.  We do make money from the "Where To Buy" links, but this is our best attempt at an honest and objective review from an average riders' perspective.
A Break Down of the Jones Stratos- How it Rides and who it's for

How This Review Happened:   We spent our precious Good Ride dollars to buy this and review it.
Size: 159
Days: 10+
Conditions: Some early morning slackountry time with Drift Boards before the lifts in about 4-6 inches of somewhat thick PNW powder at Mt. Bachelor. Then some resort riding in all types of conditions over 10+ days ranging from perfect corduroy to messy hard end of the day snow.
Riders: James (Size 9, 5'10" 185-190lbs), Peter (Size 8, 5'11" 185lbs), Jimbo (Size 11, 5'11" 160lbs), Zobel (Size 11.5, 6' 180lbs), Nick (Size 10, 160lbs, 5'8"), (unfortunately we didn't get the rest in on the review but they shared the same opinions)
Boots: Adidas Tactical ADV
Insoles: Sandsole Custom Insoles,  Footprint Insole Technology Gameghangers Low Profile
Bindings: Union Atlas
Similar Boards (but not the same):Yes Pick Your Line,  Burton Flight Attendant, Gnu Mullair, Jones Flagship, Never Summer West Bound, Rossignol XV, Lib Tech BRD,
Set-Up: 21.5" Wide. 21 front +3 back. Set almost all the way back.
Approximate Weight
The 159 I have is pretty light.
Sizing
The 159 matched up really well for my specs that you can see above.
Camber/On Snow Feel/Ability Level/Skidded Turns
The camber between the feet isn't enough to be catchy/locked in. The Jones Stratos tracks well and feels stable and I didn't feel the lifted edges wash on me in any condition we rode it in and neither did our crew. It might be because the sides start to lift up when the rocker rises up.  It's very predictable, stable and skids turns really easy. It feels the same underfoot in almost every condition except uneven snow.
Flex/Pop/Buttering
The Jones Stratos has a stiffer flex between the feet but it gets a bit softer in the tip/tail. It was very doable for buttering. There is also a lot of snap on an ollie and this has a lively flex to it. It's one of the poppier Jones boards we have tried and has that Aviator style pop to it.
Speed
This base has exceptional glide and it's one of the best bases we tried at this price point. It helps you traverse faster and get back to the chair on those precious powder days. It's not for bombing though and falls way short of the Flagship. This light poppy construction does not like pointing it if you are in a similar weight range as most of us above.
Uneven Terrain
The Jones Stratos turned really well through bumps but didn't power over bumps well. On a pretty clean powder day and groomer day, it was great. However, after 10+ days in varying terrain it couldn't compete with most of its peers. The chatter was significantly more than the Flagship and most jones boards and literally all of the 10+ freeride boards we tested against it. Even mid-day snow that is still fun for all the other boards had more chatter. When it got rough it bucked and bounced us around way more than we would have liked. If this had construction similar to the Frontier or even the Jones Mountain Twin this probably would have made our favorites list as the chatter was just not as fun to deal with after perfect morning groomers. Even with our damp boots and bindings.
Edge Hold
The disruption in the Jones Stratos side cut does a good job at griping in hard snow but doesn't grab when it's soft. Not an ice specialist like full Mag but good for most conditions you want to ride. The bucky/chattery nature kept the edge from holding in harder uneven snow as well as other Jones boards with normal construction.
Turn Initiation
The Jones Stratos is really quick edge to edge and it borders on being fast edge to edge.  It really gets over on edge quickly but then slows down a bit as you engage the sidecut more.
Turning Experience/Carving
What I liked the most about the Jones Stratos was how fun it was to make quicker slashy/surfy side hits and I felt like I was on a tri-fin thruster hitting the lip. In comparison to the Jones Flagship, I rode the same day, it was way quicker and turny. The Flagship liked more for longer, powerful drawn-out turns. In good snow it carves really well for this camber profile and it was a blast. The more microbumpy the snow gets the less fun turning is.
Powder
The extra set back inserts at almost 40mm apart really do a number on the directional float.. At around a 10″ difference between nose/tail, or a 5″ set back on board at a 22.75″ stance width, there is a lot of directional floats. You need full-sized discs though to use the setback inserts. In 6″ of powder the Jones Stratos wasn't even trying. It had pretty easy float and the spoon nose had a very smooth turning experience in pow.
Switch
When on reference or centered on sidecut the Jones Stratos is better than you would think. It is very doable.
Getting Air/Park
The Jones Stratos can't jib well but can ride pipe well and get air well when it's closer to the reference stance. Setting it back all the way makes it a little light on the tail but it's still doable.
Conclusion
So for us, the chatter with the Jones Stratos was a deal-breaker when it came to unseating the Flagship as a freeride favorite. If this had a more of a damp ride I would have kept it. The way this board turns and blends with soo many different types of riding styles is really unique. That being said, if you like the Aviator and other ultralight boards like that but want more set back and taper then this will be a great board for you.
If this review helped, we'd appreciate if you:
Jones Stratos User Reviews
Jones Stratos 2020-2024 Snowboard Review
SKU
UPC
Model
Great, versatile, everyday
Mar 13, 2022
by
Kurt
Ability Level: Intermediate •
Riding Style: All Mtn •
Days You Ride A Year: 10 days :( •
Height, Weight And Boot Size (for Boards, Boots & Bindings): 5'10, 145, 9 boots, M bindings
Great board! 156 but 153 may even be even better for me. Really fun everything board. Love it centered up on groomers and for most conditions. Carves very well, quick turns. It's insanely fun to set back a little bit and slash afternoon sugary slush. Honestly was exaclty what I was looking for coming from surfing. It's light and slashes turns, but a little slush or afternoon snow under the backfoot really makes it feel like you're digging in on your shortboard. Haven't had it on good powder, but a few days with about 6-8" of snow and floated so easy, could not make it sink even at the reference stance. The spoon nose does its job well. Edge hold is great, it didnt feel choppy to me, but going from Union STR to Rome Katana bindings with more cushion made a difference. Very fun and maneuverable. Perfect for all mountain, freeride, and running through the park. I don't do rails or boxes, but small features and natural little jumps are no problem. A very versatile board that can be setup for 90% of conditions.

---
Insanely good board
Sep 03, 2021
by
mike
Ability Level: Advanced •
Riding Style: Freeride •
Days You Ride A Year: 70 •
Height, Weight And Boot Size (for Boards, Boots & Bindings): 6 feet, 200lbs
Wow! I just returned from Bariloche Argentina and it was a blast! This stratos was amazing. We hit everything from pow to ice and it handled it with ease. Very solid board for almost everything. Not a park guy, so no clue on the program. Super fast! I ride a flagship as well and it is a little more playful. Pease out!

---
If you can't buy through the links above, you can support the site with: