Gnu Gremlin 2021 Snowboard Review
| | |
| --- | --- |
| Overall Rating | |
| Riding Style | Alternative Freeride |
| Riding Level | Advanced - Expert |
| Fits Boot size (US) | 8-10, 10-12 |
| Manufactured in | USA by Mervin |
| Shape | Tapered Directional |
| Camber Profile | Directional Camber |
| Stance | Setback over 20mm |
| Approx. Weight | Feels Normal |
| | |
| --- | --- |
| On Snow Feel | |
| Turn Initiation | |
| Skidded Turns | |
Gnu Gremlin 2021 Review by The Good Ride
Gnu Gremlin Review Video Markers: Summary 0:35, Sizing 1:28, Camber 1:49, Flex 2:27, Speed 3:02, Uneven Terrain 3:36, Edge Hold 4:25, Turning & Carving 5:19, Powder 6:35, Switch/Park 6:59
We have the 152 Gnu Gremlin and there is an updated in depth review coming. 
Swipe Right: Deep Circle Carve Friendly Side Cut. Great Hard to Icy Snow Ride. Good Pop on an ollie and spring out of a turn.
Swipe Left: Initiates turns slow for Under size 10 boots.  Only comes in 1 Size. Peter and Jimbo just didn't enjoy the ride as much as I did.
Summary
The Gnu Gremlin is a slightly shorter Mid-Wideish tapered directional board with a pretty deep turny side cut. Its got a semi-catchy feel to it that prefers you to be on your game. It grips in hard snow really well but grabs a bit in soft snow. If you are a size 9 like Peter and I, it won't turn super quick edge to edge in tight spots. However, once you get that edge set it accelerates into a turn and springs out of the turn really well. With a little extra back foot weight, it's also far from afraid of a circle carve. It seems like there is pretty decent float if you want to set it all the way back on a pow day. It has some early rise in the nose too.
The Gnu Gremlin Review- How it rides and who it is for.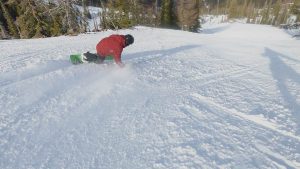 Ethics Statement: We don't get paid by the manufacturer to write these reviews.  We do make money from the "Where To Buy" links, but this is our best attempt at an honest and objective review from an average riders' perspective.
How This Review Happened: We had a few laps at a demo.
Size: 155
Days: 1
Conditions: Hard to moderate snow at Mission Ridge
Riders: James (Size 9, 5'10" 185-190lbs), Peter (Size 8, 5'11" 185lbs), Jimbo (Size 11, 5'11" 160lbs)
Boots: Adidas Tactical ADV
Insoles: Sandsole Custom Insoles,  Footprint Insole Technology Gameghangers Low Profile
Bindings: Bent Metal Core Pro
Similar Boards (but not the same): Lib Lost Quiver Killer, Lib Tech Orca, YES Hybrid, Gentemstick Mantaray 156, Korua Dart, Yes Optimistic, Weston Backwoods, Yes Pick Your Line,  Rossignol XV, Lib Tech BRD,
Set-Up: 21.5". 21 front -3 back. Close to Reference.
Approximate Weight
Feels pretty normal for a wideish 155.
Sizing
155: Best for 10-11 boots but 11.5-12 could fit with minimal toe/heel drag if they are reduced in footprint. It worked well enough for our size 9 and 8.5 boots too but could feel a bit slow/wide at times.
Shape
The Gnu Gremlin has a tapered directional shape and it's mid/wideish throughout the board. Some boards are wide in the nose and waist but narrow in the tail. The Gnu Gremlin isn't.
Camber/On Snow Feel/Ability Level
The Gnu Gremlin is mostly camber but it has a noticeable bit of early rise before the nose. The rest is the C3 shape similar to full camber but with some passive rocker between the feet. It doesn't touch the snow when un-weighted. In the tail there seems like just a little bit of early rise before the tail but it's far less than the nose. It makes for a semi-locked in feel that has much more consequence than C2/hybrid rocker Gnu boards but less than old school full on camber.  It tracks really well one footing and flat basing and the tighter side cut doesn't feel very hookey when going straight.
Flex/Pop/Buttering
Like most Gnu/Lib/Mervin boards the Gnu Gremlin has a medium to medium stiff flex with lots of pop on an ollie. That is one of those things we like about Mervin boards. Peter and I could butter this pretty well for it's flex. Jimbo had an off time on this but if he had some more time on this he could have buttered it fine.
Speed
The base doesn't have the high highs when really waxed up but It's still pretty good. However, it doesn't shit the bed if it isn't consistently waxed. If you are a diligent waxer this might not work for you. If you are like most of us and don't wax every couple days on the hill this will probably end up being a better call compared to most but not all boards out there. That is what I like about Mervin/Gnu/Lib-Tech boards.
Uneven Terrain
The Gnu Gremlin can handle bumpy uneven groomers pretty well. We could all feel it chatter a bit under foot but that chatter didn't get up into our joints. The Bent Metal Core Pro's had a lot of EVA cushioning so give some nod to the bindings for that but still it's far from being a terrible board to ride when things get messy and uneven.
Edge Hold
The Gnu Gremlin has really strong grip and it seems like it's close to or full on Magnetraction. This would be a pretty good board for those that see a lot of harder snow.
Turn Initiation
So the width of this board made it a little slow for Peter (8.5US) and I (9US) to initiate a turn but it was pretty manageable for it's width. However once we got it on edge this tighter sidecut (around 7M vs. the more common 8M) really accelerated us into a turn. This has a similar sidecut to the old Gnu SPAM and the excessively popular Orca. Throughout the rest of the turn it was pretty quick.
Turning Experience/Carving
Even though the Gnu Gremlin turns fast when that sidecut is engaged it still feels really springy and satisfying. You feel that camber spring you out of that turn to help you set up for the next one and I felt instantly at home first turn. Peter and Jimbo weren't feeling it like I was though. I felt like this could be a really fun board for those who want to make good carving turns the whole time on the hill and it's a really fun circle carver. It reminded me of the S.P.A.M's sidecut integrated into a slightly shorter/wider shape.
Powder
We didn't get any powder with the Gnu Gremlin. With the early rise in the wide/big nose, 12mm of taper in the small pointy tail and 2" setback on sidecut are great to see. We don't know the setback on board but it should be a little more than the 2" setback on sidecut so it should make this able to handle some pretty deep snow
Switch
Doable for sure but far far from a board like the Riders Choice.
Conclusion
So overall Peter and Jimbo weren't as into the Gnu Gremlin as I was. I really liked the way this The Gnu Gremlin turned and despite its wider width, that shorter sidecut radius worked for me. It's a very poppy, grippy, turny ride that I wouldn't hesitate to recommend to those that want more of a turny. We all liked the Lost Quiver Killer 154 a little better but overall it's a pretty fun tapered one board quiver that does better in hard snow than the Lost. If you liked the way the discontinued GNU S.P.A.M. turned and want it in a slightly shorter/wider package this could work for you.
If you can't buy through the links above, you can support the site with: