Gnu Gremlin 2021-2023 Snowboard Review
| | |
| --- | --- |
| Riding Style | Alternative Freeride |
| Riding Level | Advanced - Expert |
| Fits Boot size (US) | 8-10, 10-12 |
| Manufactured in | USA by Mervin |
| Shape | Tapered Directional |
| Camber Profile | Directional Camber |
| Stance | Setback over 20mm |
| Approx. Weight | Feels Normal |
| Split | No |
| | |
| --- | --- |
| On Snow Feel | |
| Turn Initiation | |
| Skidded Turns | |
Where To Buy
80% of outdoor sports products are not listed or sold online.
Our team has relationships with hundreds of local snowboarding and outdoor sports shops.
We'll call the shops and email you a list of stores along with pricing and availability.
---
Not sure what to buy?
Get custom advice from Good Ride editors James and Steph.

Get Advice
Gnu Gremlin 2023 - 2021 Review by The Good Ride
Gnu Gremlin Snowboard Video and Written Review
Here is an objective and honest Gnu Gremlin Snowboard Review from an average riders perspective.
Update 2023: The Gnu Gremlin is the same exact ride in 2023 as it was in 2022 so this review still stands. 
Turn Ons/Swipe Right: Excellent Edge Hold. Amazing board to turn and carve.
Turn Offs/Swipe Left: Slower base. Not great in powder compared to its peers.
Summary
The Gnu Gremlin doesn't have the best base glide or float in powder but this semi-short/semi-wide ride turns soo well and grips like a champ.
Ethics Statement: We don't get paid by the manufacturer to write these reviews and this is our unfiltered opinion. We do make money from the "Where To Buy" links, but this is our best attempt at an honest and objective review from an average riders' perspective.
An In Depth All Condition Break Down of How it Rides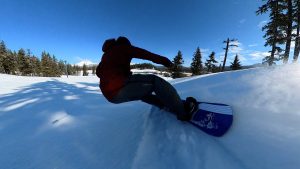 How This Review Happened:
Precious Good Ride dollars were spent to buy this and review it.
Size: 152 & 155 (own the 152)
Days: 10+
Conditions: Hard snow, Rainy snow, Great Snow, Powder, Uneven Snow and an early morning slackountry time with Drift Boards & Union Rovers
Riders: James (Size 9, 5'10" 185-190lbs) and others but mainly me during this time of covid
Boots: Burton Kendo, Burton Ion, Burton Tourist
Insoles: F.I.T. Gamechangers, F.I.T. Gameghangers LP
Bindings: Union Atlas, Union Strata, Union Contact Pro/Union Superpro
Jacket: Burton AK Gore-Tex Pro 3L Tusk Jacket, Volcom TDF Infuse 3L Gore-Tex Jacket, Burton Banshee Gore-Tex Jacket
Pant: Burton AK Gore-Tex Pro 3L Hover Pant, Burton AK Gore-Tex 2L Swash Pant, Burton Gore-Tex Ballast Pant
Helmet: Smith Maze
Goggle: Smith IO Mag, Smith 4D Mag
Gloves: Burton AK Guide Glove, Burton AK Clutch Mitt, Burton AK Clutch Glove, Burton AK Tech Leather Glove, Burton AK Tech Glove, CG Habitats Glove, CG Habitats Work Glove, Drop Tahoma Mitt, Drop Cascade Glove, Drop Web Glove,
Similar Boards (but not the same): Endeavor Scout, Prior Legacy, Jones Hovercraft, Lib Tech Orca, Never Summer Harpoon, Niche Pyre, Lib Tech Lost Quiver Killer, Yes Hybrid, Yes Y,
Set-Up: 21.5" Wide. Sance Angles +18/-3, +18/+3, +24/+3. Close to Reference and Set all the way back.
Approximate Weight:
(We don't put in the exact weight because with wood cores there is no consistency in a boards weight)
Sizing
The Gnu Gremlin 152, like many boards for my specs, is great for my boot size but the 155 would be better for my weight.
Here are some ideal US boot sizes for the Gnu Gremlin. You can of course go bigger or smaller but these work best for not turning the board slower than it should be and not having the dreaded Toe & Heel Drag.
148: 8-9
152: 9-10
155: 10-11
158: 11-12
Shape/Camber/On Snow Feel/Ability Level

The Gnu Gremlin has a tapered directional shape to it but it doesn't feel as tapered or directional as many other boards with 12mm of taper. It likes more back foot weight on groomers but still has a little of that centered double ender feel.

The Camber Profile is pretty much full camber with a very passive bend in the middle. There is minimal early rise if any. The Gnu Gremlin tracks super well one footing and flat basing but is hard to skid a turn and isn't for beginners or intermediates.
Flex Personality
There is a med/stiff flex between the feet and a similar flex in the tail but it is a little softer in the nose. The Gnu Gremlin isn't easy to butter but man does it pop hard and surprisingly pretty easy for it's flex. It makes me feel like I'm a better rider when I ollie with it. It just feels lively and snappy but not ultra chattery or bucky. That is pretty cool for a 152. It is a great all conditions ride and handles uneven terrain pretty well. It isn't super damp but it is fine for all day riding.
Speed
The base glide of the Gnu Gremlin is average and isn't up to par in its peer group. I thought I got a dud but some of my friends felt the same way about theirs. It just feels slow in powder and soft snow. In harder/firmer snow I didn't really notice it as much. The ability to keep it's composure at higher speeds isn't bad for a semi-short/semi-wide ride like this. I think I would rather be on the Banked Country or something like that but this does well for what it is.
Edge Hold
If you ride in areas with hard snow and want a board that can carve when most edges can't hold an edge, here you go. The combination of camber stability and aggressive magnatraction makes this one of my favorite boards in harder snow.
Turn Initiation
The Gnu Gremlin is pretty quick edge to edge if sized correctly. This little 152 snaps super well edge to edge without feeling hookey or twitchy. This is pretty cool for having such a deep sidecut.
Turning Experience/Carving
The Gnu Gremlin is all about the across the groomer to circle carve. It isn't super strong when it comes to more narrow down the line turns but it is doable. The spring out of the turn is pretty exceptional and it's the kind of board I love to carve with. It is one of my favorite rides to take out when it's hard. The Magnetraction doesn't turn ice into powder but it turns hard snow into softer more carveable snow.
Powder
So powder, like the base, is another place it doesn't do as well as it's peers. I thought that despite the camber, the taper and 4" back from center of board at a 21.5" stance width would make this a pretty good floater. It isn't bad for a camber 152 but it just isn't there with other boards like the Orca 150, Yes Hybrid 153, Lib Tech Quiver Killer and many others like this.
I would love to see a longer nose or a little early rise and a longer width so it wouldn't loose that carving power. The base felt slow in powder with the same wax on it as I had on the Orca. Both were waxed at the same time too and in the same way. Not sure why this happened but everyone I know that tried this board felt the same way about the base in softer snow to powder.
Switch/Pipe/Jumps
Doable switch and really fun in the pipe. A great board for launching off hits around the mountain. I would imagine it wouldn't be bad in the kicker line.
Conclusion
So despite the below average powder performance and base glide the Gnu Gremlin more than makes up for it when it comes to great turning and hard snow riding. If you like the idea of the Orca but want pretty much full camber the Gremlin could be a good call.
If this review helped, we'd appreciate if you:
Gnu Gremlin Past Reviews

Gnu Gremlin Review Video Markers: Summary 0:35, Sizing 1:28, Camber 1:49, Flex 2:27, Speed 3:02, Uneven Terrain 3:36, Edge Hold 4:25, Turning & Carving 5:19, Powder 6:35, Switch/Park 6:59

We have the 152 Gnu Gremlin and there is an updated in depth review coming. 

Swipe Right: Deep Circle Carve Friendly Side Cut. Great Hard to Icy Snow Ride. Good Pop on an ollie and spring out of a turn.
Swipe Left: Initiates turns slow for Under size 10 boots.  Only comes in 1 Size. Peter and Jimbo just didn't enjoy the ride as much as I did.
Summary
The Gnu Gremlin is a slightly shorter Mid-Wideish tapered directional board with a pretty deep turny side cut. Its got a semi-catchy feel to it that prefers you to be on your game. It grips in hard snow really well but grabs a bit in soft snow. If you are a size 9 like Peter and I, it won't turn super quick edge to edge in tight spots. However, once you get that edge set it accelerates into a turn and springs out of the turn really well. With a little extra back foot weight, it's also far from afraid of a circle carve. It seems like there is pretty decent float if you want to set it all the way back on a pow day. It has some early rise in the nose too.
The Gnu Gremlin Review- How it rides and who it is for.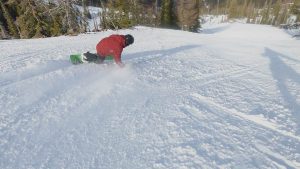 Ethics Statement: We don't get paid by the manufacturer to write these reviews.  We do make money from the "Where To Buy" links, but this is our best attempt at an honest and objective review from an average riders' perspective.
How This Review Happened: We had a few laps at a demo.
Size: 155
Days: 1
Conditions: Hard to moderate snow at Mission Ridge
Riders: James (Size 9, 5'10" 185-190lbs), Peter (Size 8, 5'11" 185lbs), Jimbo (Size 11, 5'11" 160lbs)
Boots: Adidas Tactical ADV
Insoles: Sandsole Custom Insoles,  Footprint Insole Technology Gameghangers Low Profile
Bindings: Bent Metal Core Pro
Similar Boards (but not the same): Lib Lost Quiver Killer, Lib Tech Orca, YES Hybrid, Gentemstick Mantaray 156, Korua Dart, Yes Optimistic, Weston Backwoods, Yes Pick Your Line,  Rossignol XV, Lib Tech BRD,
Set-Up: 21.5". 21 front -3 back. Close to Reference.
Approximate Weight
Feels pretty normal for a wideish 155.
Sizing
155: Best for 10-11 boots but 11.5-12 could fit with minimal toe/heel drag if they are reduced in footprint. It worked well enough for our size 9 and 8.5 boots too but could feel a bit slow/wide at times.
Shape
The Gnu Gremlin has a tapered directional shape and it's mid/wideish throughout the board. Some boards are wide in the nose and waist but narrow in the tail. The Gnu Gremlin isn't.
Camber/On Snow Feel/Ability Level
The Gnu Gremlin is mostly camber but it has a noticeable bit of early rise before the nose. The rest is the C3 shape similar to full camber but with some passive rocker between the feet. It doesn't touch the snow when un-weighted. In the tail there seems like just a little bit of early rise before the tail but it's far less than the nose. It makes for a semi-locked in feel that has much more consequence than C2/hybrid rocker Gnu boards but less than old school full on camber.  It tracks really well one footing and flat basing and the tighter side cut doesn't feel very hookey when going straight.
Flex/Pop/Buttering
Like most Gnu/Lib/Mervin boards the Gnu Gremlin has a medium to medium stiff flex with lots of pop on an ollie. That is one of those things we like about Mervin boards. Peter and I could butter this pretty well for it's flex. Jimbo had an off time on this but if he had some more time on this he could have buttered it fine.
Speed
The base doesn't have the high highs when really waxed up but It's still pretty good. However, it doesn't shit the bed if it isn't consistently waxed. If you are a diligent waxer this might not work for you. If you are like most of us and don't wax every couple days on the hill this will probably end up being a better call compared to most but not all boards out there. That is what I like about Mervin/Gnu/Lib-Tech boards.
Uneven Terrain
The Gnu Gremlin can handle bumpy uneven groomers pretty well. We could all feel it chatter a bit under foot but that chatter didn't get up into our joints. The Bent Metal Core Pro's had a lot of EVA cushioning so give some nod to the bindings for that but still it's far from being a terrible board to ride when things get messy and uneven.
Edge Hold
The Gnu Gremlin has really strong grip and it seems like it's close to or full on Magnetraction. This would be a pretty good board for those that see a lot of harder snow.
Turn Initiation
So the width of this board made it a little slow for Peter (8.5US) and I (9US) to initiate a turn but it was pretty manageable for it's width. However once we got it on edge this tighter sidecut (around 7M vs. the more common 8M) really accelerated us into a turn. This has a similar sidecut to the old Gnu SPAM and the excessively popular Orca. Throughout the rest of the turn it was pretty quick.
Turning Experience/Carving
Even though the Gnu Gremlin turns fast when that sidecut is engaged it still feels really springy and satisfying. You feel that camber spring you out of that turn to help you set up for the next one and I felt instantly at home first turn. Peter and Jimbo weren't feeling it like I was though. I felt like this could be a really fun board for those who want to make good carving turns the whole time on the hill and it's a really fun circle carver. It reminded me of the S.P.A.M's sidecut integrated into a slightly shorter/wider shape.
Powder
We didn't get any powder with the Gnu Gremlin. With the early rise in the wide/big nose, 12mm of taper in the small pointy tail and 2" setback on sidecut are great to see. We don't know the setback on board but it should be a little more than the 2" setback on sidecut so it should make this able to handle some pretty deep snow
Switch
Doable for sure but far far from a board like the Riders Choice.
Conclusion
So overall Peter and Jimbo weren't as into the Gnu Gremlin as I was. I really liked the way this The Gnu Gremlin turned and despite its wider width, that shorter sidecut radius worked for me. It's a very poppy, grippy, turny ride that I wouldn't hesitate to recommend to those that want more of a turny. We all liked the Lost Quiver Killer 154 a little better but overall it's a pretty fun tapered one board quiver that does better in hard snow than the Lost. If you liked the way the discontinued GNU S.P.A.M. turned and want it in a slightly shorter/wider package this could work for you.
Gnu Gremlin User Reviews
Gnu Gremlin 2021-2023 Snowboard Review
SKU
UPC
Model
Gremlin 2021/2022
Feb 24, 2022
by
MikeP
Ability Level: Light Advanced •
Riding Style: Directional, Surf Style •
Days You Ride A Year: 30+ •
Height, Weight And Boot Size (for Boards, Boots & Bindings): 5'7" 155lbs Size 10 boot (I have big feet for my height)
The Gremlin is everything the review above says for sure. I own a 152 and have put it through the paces this year. It is by far my go-to for hard snow and hard carving. It is reasonably quick edge to edge and ultra-stable/predictable. As a back foot rider, I really like the setback on board feel, but the camber really stores some significant power for rocketing in and out of turns. The only reason I'm at 4 stars is the dreaded base glide, it's true, it isn't great. On powder days I simply don't reach for it despite its powder friendly shape.

I do find myself saying "if Gnu puts out a new model with exceptional base glide, this thing could be the true quiver killer and I'm going to upgrade to that version" and I don't use the "quiver killer" phrase lightly.

---
If you can't buy through the links above, you can support the site with: