Burton 3D Fish 2021-2024 Snowboard Review
| | |
| --- | --- |
| Riding Style | Powder |
| Riding Level | Expert - Intermediate |
| Fits Boot size (US) | 8-10 |
| Manufactured in | China |
| Shape | Tapered Directional |
| Camber Profile | Flat to Rocker |
| Stance | Setback over 20mm |
| Approx. Weight | Feels Normal |
| Split | No |
| | |
| --- | --- |
| On Snow Feel | |
| Turn Initiation | |
| Skidded Turns | |
Where To Buy
80% of outdoor sports products are not listed or sold online.
Our team has relationships with hundreds of local snowboarding and outdoor sports shops.
We'll call the shops and email you a list of stores along with pricing and availability.
---
Not sure what to buy?
Get custom advice from Good Ride editors James and Steph.

Get Advice
Burton 3D Fish 2024 - 2021 Review by The Good Ride
Burton 3D Fish In Depth Snowboard Video and Written Review
Welcome to an average riders honest and objective review of the Burton 3D Fish
Update 2024: The Burton 3D Fish hasn't changed from the 2021 model here except for one thing. The Base seems to not have less of the glide issues described in this video. So other than that, this video still stands. 
Turn Ons/Swipe Right: Amazing Float, quick slashy turning and great for trees.
Turn Offs/Swipe Left: Base can get chalky and needs lots of maintenance.
Summary
The Burton 3D Fish is one incredibly fun slashy quick turning little fish. Other than the base getting chalky after a wax it's been an amazing board.
Ethics Statement: We don't get paid by the manufacturer to write these reviews and this is our unfiltered opinion. We do make money from the "Where To Buy" links, but this is our best attempt at an honest and objective review from an average riders' perspective.
Burton 3D Fish Snowboard Review- How it rides and who it is for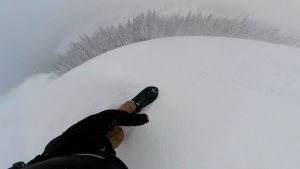 How This Review Happened:
We spent our precious Good Ride dollars to buy this and review it.
Size: 156
Days: 6+
Conditions: Shallow to very deep pow and an early morning slackountry time with Drift Boards.
Riders: James (Size 9, 5'10" 185-190lbs)
Boots: Burton Kendo, Burton Ion, Burton Tourist,
Insoles: F.I.T. Gamechangers, F.I.T. Gameghangers LP, Sandsole Custom Insoles,
Bindings: Union Atlas, Union Contact Pro/Union Superpro,
Jacket: Burton AK Gore-Tex Pro 3L Tusk Jacket, Volcom TDF Infuse 3L Gore-Tex Jacket, Burton Banshee Gore-Tex Jacket
Pant: Burton AK Gore-Tex Pro 3L Hover Pant, Burton AK Gore-Tex 2L Swash Pant, Burton Gore-Tex Ballast Pant
Helmet: Smith Maze
Goggle: Smith IO Mag, Smith 4D Mag
Gloves: Burton AK Guide Glove, Burton AK Clutch Mitt, Burton AK Clutch Glove, CG Habitats Work Glove, Drop Tahoma Mitt, Drop Cascade Glove, Drop Web Glove,
Similar Boards (but not the same): Capita Spring Break 158 Powder Glider, Capita Spring Break 161 Tree Hunter, Jones Mind Expander,
Set-Up: 21", 21.5" Wide. 21 front -6 back, 24 front +3 back. Close to Reference and Set all the way back.
Approximate Weight:
The Burton 3D Fish is on the lighter side of normal but it isn't really in that ultra-light category.  (We don't put in the exact weight because with wood cores there is no consistency in a boards weight)
Sizing
There is a wide waist but the narrower tail is best for keeping it under size 11.
Here are some ideal US boot sizes for the Burton 3D Fish boards. You can of course go bigger or smaller but these work best for not turning the board slower than it should be and not having the dreaded Toe & Heel Drag.
152: 8-9
156: 9-10
160: 9.5-10.5
Shape/Camber/On Snow Feel/Ability Level
The Burton 3D Fish is pretty tapered and directional but it doesn't feel like 30mm of taper. Burton does cool things with the sidecut to make it not feel as washy on the tail.



The Camber profile is flat to rocker with lifted sides in the nose and some funky bends in the tail. It makes for a very cool feel transitioning from edge to edge in powder but you don't feel it if you happen to be on groomers.
Flex Personality
The Burton 3D Fish has a pretty mellow flex for boards like this. It is med/stiff between the feet but soft in the nose and medium stiff in the tail. Still, this board butters really easy and it's probably due to the rocker in the nose/tail. There is good but not exceptional pop on an ollie.
Speed
The base glide was exceptional out of the box but after my fist wax the base got chalky and weird. This happened with other Burton boards from 2021 as well. I waxed it with One Ball Jay All Temp which was never an issue in the past. Other friends with Burton boards had similar issues. I got some high end Burton wax and after a few waxes it was back to the easy glide that I had when I first got it.
Uneven Terrain
The Burton 3D Fish isn't about bombing but more for those that like to turn. It isn't for powering over chopped up snow or bumps either but is all about turning through it. I never felt this board get cranky even when there was only a little pow on top of harder uneven snow.
Edge Hold
Not bad but nothing you want to ride hard snow with.
Turn Initiation
Super quick. It just went wherever I wanted it to go. Great for trees. The waist is wide and so is the nose but all that taper makes this a tree chetah in powder.
Turning Experience/Carving
I took a hard turn or two on perfect soft groomers on the way back to the chair and it was doable but far from ideal.
Powder
So with a 23" stance width you can get -4.75" back from center of board. I couldn't go that wide so not as far back but even with a 21.5" stance width I felt pretty far back but not on the tail. Still the float was exceptional and even in waist high pow it didn't feel like the Burton 3D Fish was having trouble staying afloat. It might not have the speed of longer boards in the deep deep but it was having zero issues floating. This is my favorite board for jamming through trees. I don't see many tight tree runs where I ride at Mt Bachelor but this is the kind of board I want to be on when I do. The way the 3D Tech/Lifted Sides work when turning in powder is really cool. It just has this smooth easy transition that makes turning more fun.
Conclusion
The Burton 3D Fish is a board I bought to review. I planned on selling it after but now its in my quiver. I love it for those storm days and it is one of my favorite boards in trees/tight spots.
If this review helped, we'd appreciate if you:
Burton 3D Fish User Reviews
If you can't buy through the links above, you can support the site with: