Arbor Satori Camber Men's Snowboard Review
| | |
| --- | --- |
| Riding Style | Alternative Freeride |
| Riding Level | Beginner - Expert |
| Fits Boot size (US) | 8-10, 10-12 |
| Manufactured in | Dubai by SWS |
| Shape | Tapered Directional |
| Camber Profile | Mostly Camber |
| Stance | Centered |
| Approx. Weight | Feels Normal |
| Split | Comes in split |
| | |
| --- | --- |
| On Snow Feel | |
| Turn Initiation | |
| Skidded Turns | |
Where To Buy
80% of outdoor sports products are not listed or sold online.
Our team has relationships with hundreds of local snowboarding and outdoor sports shops.
We'll call the shops and email you a list of stores along with pricing and availability.
---
Not sure what to buy?
Get custom advice from Good Ride editors James and Steph.

Get Advice
Arbor Satori Camber 2024 - 2023 Review by The Good Ride
Arbor Satori Camber Men's Snowboard Video and Written Review
Welcome to the Arbor Satori Camber Snowboard Review from an average rider with extensive board knowledge and an exceptionally objective perspective.
Turn Ons/Swipe Right: Great Pop. Very Forgiving. Good Centered Mtn Freestyle Type Float.
Turn Offs/Swipe Left: Lifted Edges are washy in all but soft snow.
Summary
We couldn't really utilize the Arbor Satori well on most groomers but it really shines as an ultra poppy mtn freestyle ride in powder.
Ethics Statement: We don't get paid by the manufacturer to write these reviews and this is our unfiltered opinion. We do make money from the "Where To Buy" links, but this is our best attempt at an honest and objective review from an average riders' perspective.
A Breakdown Of How It Rides And Who Its For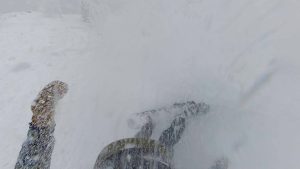 How This Arbor Satori Camber Review Happened:
Borrowed this for an extended demo and sent it back. 1 day demo. A few laps at a demo. Liked it so much, asked to keep it (only do this with favorites).  Liked it so much we bought it.  Precious Good Ride dollars were spent to buy this and review it.
Size: 154
Days: 15+
Conditions:  and an early morning slackountry time with Drift Boards & Union Rovers
Riders: James (Size 9, 5'10" 185-190lbs), Davey (Size 12, 240lbs, 6'4")
Boots: Burton Kendo, Burton Ion, Burton Tourist, Ride Fuse
Insoles: F.I.T. Gamechangers
Bindings: Union Atlas, Union Force
Jacket: Burton AK Gore-Tex Pro 3L Tusk Jacket, Volcom Guide Jacket, Burton Gore-Tex 3L Treeline Jacket, Jones Peak Bagger Jacket. Burton AK Helitak Gore-Tex Jacket
Pant: Burton AK Gore-Tex Pro 3L Hover Pant, Burton AK Gore-Tex 2L Swash Pant, Burton Gore-Tex Ballast Pant
Helmet: Smith Maze
Goggle: Smith 4D Mag
Gloves: Burton AK Clutch Mitt, Burton AK Clutch Glove, Burton AK Tech Leather Glove, CG Habitats Work Glove, Drop Tahoma Mitt,
Similar Boards (but not the same): YES 2020, YES Warca, Jones Mind Expander Twin, Capita Spring Break Powder Twin, Weston Hatchet The Arbor Satori does not compare well to many tapered directional/Alternative Freeride boards.
James's Set Up: 21.25"-21.5" Wide. Sance Angles +18/-9, +15/-15. Close to Reference on groomers and Set all the way back in powder.
Davey's Set Up: 23" Wide. Sance Angles +18/+3 Close to Reference on groomers and Set all the way back in powder.
How It Was Tested
We rode this extensively and tested it against many other boards same day with the same boots and bindings. Often times even the same run.
Approximate Weight
The Arbor Satori feels pretty normal for it's length and exceptional width.
(We don't put in the exact weight because with wood cores there is no consistency in a boards weight)
Sizing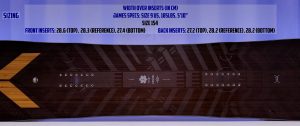 The Arbor Satori Camber is a board you ride shorter and wider for sure. The 154 felt fine for my weight but a little big for my boot size. In powder it worked fine and I wouldn't want to go down to the 151.
Here are some ideal US boot sizes for the Arbor Satori. You can of course go bigger or smaller depending on your specs and riding style but most under 12.5 US shouldn't have dreaded Toe & Heel Drag. thanks to the extensions/grip tech bumps in the middle of each insert pack.
148: 8-10
151: 9-11
154: 9.5-12
157: 10-12.5
For weight I would stay close to the Arbors recommended weight ranges but the are pretty good with those who run on the heavier side. If it comes down to boot size or weight, I would make sure it fits your boot first and then your weight a close second.
Shape/Camber/On Snow Feel/Ability Level

There is 6mm of taper but it doesn't feel very tapered and barely directional. It feels more like a directional twin. When centered/on reference stance the nose almost feels smaller than the tail. It reminds me of the first version of the Clovis. It had a different shape nose/tail but a centered stance and was more like a twin on sidecut. The Arbor Satori Camber has a similar feel but it isn't as pronounced as the Clovis. When I had this feeling I rode this almost on the silver reference stance markers provided by Arbor at 15/-15 angles at a 21.5″ stance width. So just 0.125″ outside each reference stance marker. I had almost 1.25″ more nose length than tail so I wasn't too far forward. It was just a weird feeling like there was more surface area and weight behind me than in front of me. That is why I said it was light in the nose in the video review because I made sure I wasn't forward in any way. Of the close to 1,000 boards I've tried I only felt this on the first version of the Clovis and the Satori.
I would ride this a little set back and especially so if you don't ride duck. In powder, set all the way back at 18/-9, I didn't have this nose light feel.

Then you throw in this rather excessive lift on the sides along with a lot of camber from tip to tail, you have a very forgiving board. It also doesn't quite feel stable in some conditions because the edges are pretty far from the snow. It feels like the entire sidecut is off the snow. In medium to hard snow it can feel edgless and washy but in good powder it has a unique/fun stable feel.

It takes a lot of getting used to in medium to hard snow so it's not an all condition ride for everyone.
Flex Personality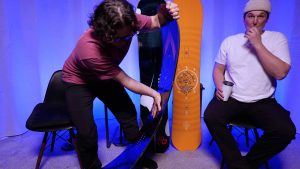 There is a medium bordering on medium/stiff flex happening between the feet with a medium flex in the tip/tail. In powder is was pretty easy for me to wheelie up on the tail. I didn't express this enough in the vid but I really liked the feel of leaning back into the tail and having it butter up. The pop on an ollie is pretty exceptional if you load from the middle of the tip/tail and not off the lifted edges. Then it washes out.
Uneven Terrain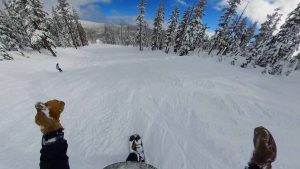 In soft uneven snow the Arbor Satori Camber does pretty well. This isn't an ideal hard snow but it would do fine with hard microbumpy snow.
Edge Hold
So you have these pretty aggressive Grip-Tech bumps happening but it was hard to tilt the edge down enough into the snow to get it to grip. In medium snow it felt pretty edgeless and washy. I wouldn't want to try it in hard to icy snow.
Speed
Pretty competent at higher speeds in good snow.
Base Glide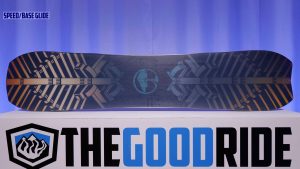 Pretty middle ground base glide. I waxed this a few times before a pow day and it did pretty well but it didn't have that super easy glide some boards do in this price point.
Turning Experience/Carving
In some soft groomers on the way back to the chair on a pow day it railed a turn pretty well and has a very springy turny feel to it. In soft snow the Arbor Satori Camber is really fun but in medium to hard snow it's hard to access the edges to get it to hold on a hard carve. It washed out on me a lot.
Powder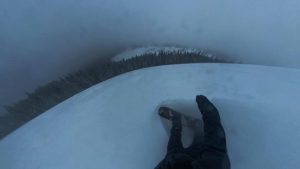 So in comparison to many super set back tapered directional boards out there the Arbor Satori Camber isn't that great but its right there with most floaty tapered short/wide twinish like rides. It floated really well for being pretty centered on board and it's a very good board for riding switch or landing switch in pow.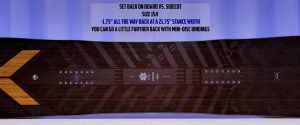 With the Arbor Satori Camber set all the way back at a 21.75″ stance width you can get 1.75″ back from center of board. That isn't much compared to many alt freeride boards. They are usually 3.5″ or more back so don't get this for set back surfy pow riding. Its not bad for being this centered but had more rear leg burn than the set back boards. Get this for poppy centered mountain freestyle pow riding. That is where it shines and does very well compared to those type of boards. There are some out there that are more floaty but this is more than competent and way better than most mountain freestyle twins.
Conclusion
So I had higher hopes for the Arbor Satori when it came to all conditions groomer riding but it does for sure deliver as a unique and very poppy mtn freestyle pow ride.
If this review helped, we'd appreciate if you:
Arbor Satori Camber Specs
Arbor Satori Camber Images
Arbor Satori Camber User Reviews
If you can't buy through the links above, you can support the site with: