Union Explorer Splitboard Binding Review
Where To Buy
No obligation, but these links & ads support the site.
Union Explorer 2023 - 2022 Review by The Good Ride
Union Explorer 2022-2023 Snowboard Binding Video and Written Review
You have arrived at the Union Explorer Snowboard Binding Review from an average rider with an exceptionally objective perspective.
Update 2023: Other than a slight tweak to the ankle strap (a little more stiff) the Union Explorer reviewed here is almost the same so this review still stands. 
Turn Ons/Swipe Right: Great down for split board bindings. Light for the price point.
Turn Offs/Swipe Left: Only one riser setting. Twist in set up can be problematic.
Summary
The Union Explorers have some quirks on the up hill and with the set up but they have one of the best downs we have experienced with Split Board Bindings.
Ethics Statement: We don't get paid by the manufacturer to write these reviews.  We do make money from the "Where To Buy" links, but this is our best attempt at an honest and objective review from an average riders' perspective.
A Break Down of How this hybrid split board binding rides and who it is for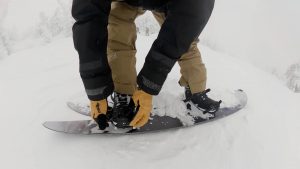 How This Union Explorer Review Happened:  I bought these to test them
Days:  20+
Riders:  James (Size 9, 5'10" 185-190lbs)
Boots: Burton Kendo, Burton Tourist,
Insoles: Sandsole Custom Insoles, Footprint Insole Technology Gamechangers, Footprint Insole Technology Gameghangers Low Profile
Boards: Capita Spring Break 158 Powder Glider, Capita Spring Break Twin, Yes Pick Your Line, Lib Tech Split Brd, Cardiff Swell Split, Cardiff Powgoda Split, and many others.
Jacket: Burton AK Gore-Tex Pro 3L Tusk Jacket, Volcom TDF Infuse 3L Gore-Tex Jacket
Pant: Burton AK Gore-Tex Pro 3L Hover Pant, Burton AK Gore-Tex 2L Swash Pant, Burton Gore-Tex Ballast Pant
Helmet: Smith Maze
Goggle: Smith IO Mag, Smith 4D Mag
Gloves: Burton AK Guide Glove, Burton AK Clutch Mitt, Burton AK Clutch Glove, Burton AK Tech Leather Glove, CG Habitats Work Glove, Drop Tahoma Mitt, Drop Cascade Glove, Drop Web Glove,
Similar (but not the same) Bindings: Karakoram Prime Connect, Spark R&D Arc, Burton Hitchers.
How These Were Tested
I've used the Union Explorer and Expedition bindings for a few years now starting back when I mounted them on Drift Boards. I've also tested the Carbon version as well. Then I used them for split boards and rovers. I've ridden these in a wide variety of conditions.
Set Up/Uphill Travel
One of the problems with the Union Explorer is the twist in design. With many clips, including Union, the board can slide back and fourth when you twist the bindings in. Then you can't get the pins to fit in and you spend a lot of time trying to adjust to make it work instead of going down.
The other thing is Union Expeditions can't be set all the way back on board with many clips/splitboards. The bindings hit the clips on a twist in and you can't get the bindings in.
The last thing that I forgot to mention in the vid is the stance angles are limited to 24 degrees on the front foot so if you like a very directional stance these won't work.
Risers
The Riser/elevator on the Union Expedition is reliable and works well but it's only one instead of 2 like most. I found that in comparison to almost every other split binding I miss the dual setting on my short uphill route. It has a lot of varied terrain on the way up and often the big riser is too tall and lowering it is too short.
Solid Quiver Discs
This is a good option for someone who primarily rides split boards but occasionally needs their bindings for solids. Split board bindings are just not there with solid bindings so if you want a better all around experience buy Union solid bindings instead. All are better with solid boards. However if you are looking at these or the Karakoram Prime connects the Union Explorer is far more reliable, doesn't have an uneven footbed and has a feel under foot we like better.
Highback Flex
There is an easy twist with the Union Explorer and easy overall flex that doesn't really need to be rotated.
Flex Underfoot
This is one of the only split board Bindings I've tried that actually has a good flex underoot and allows the board to flex more evenly. If this is important to you then the Union Explorer is the best choice.
Turn Initiation/Response
No split board binding I have tried is very responsive and the Union Explorer is no exception. It is more responsive than most split bindings and riding this in powder isn't bad. You just really feel the difference on groomers set up with the quiver discs you really feel the difference vs. most solid bindings.
Shock Absorption
Not much happening here but a little more going on than all but the Karakoram Prime Connect bindings. Conversely, you don't have the flex underfoot or better response with the Prime Connects.
Boot Support
I love this ankle strap and only the Burton Hitch Hiker is more supportive.
Ratchets
The Union Explorer Ratchets are super reliable and work perfectly. I haven't had issues in years now.
Adjustability
So the Union Explorer has an adjustable heel loop like most Union mini disc bindings so you can adjust the binding to fit your boot size. Other than highback rotation, you have all the adjustability that you normally would.
Conclusion
So the Union Explorer comes with lots of compromises with set up/the up it offers a really good feel on the down and it can work well, for split bindings, with solid boards. Whenever you try to allow a binding to do this many things there will be many compromises.
If this Union Explorer review helped, we'd appreciate if you:
Union Explorer User Reviews
If you can't buy through the links above, you can support the site with: