Burton Hitchhiker 2021-2023 Splitboard Binding Review
Where To Buy
No obligation, but these links & ads support the site.
| | | |
| --- | --- | --- |
| Loading Amazon Results... | | |
Where To Buy
80% of outdoor sports products are not listed or sold online.
Our team has relationships with hundreds of local snowboarding and outdoor sports shops.
We'll call the shops and email you a list of stores along with pricing and availability.
---
Not sure what to buy?
Get custom advice from Good Ride editors James and Steph.

Get Advice
Burton Hitchhiker 2023 - 2021 Review by The Good Ride
Burton Hitchhiker Splitboard Binding Video and Written Review
You have arrived at the Burton Hitchhiker Splitboard Binding Review from an average rider with an exceptionally objective perspective
Update 2023: The Burton Hitchhiker hasn't changed since the initial review. 
Turn Ons/Swipe Right: Great support, simple & reliable.
Turn Offs/Swipe Left: Burton Double Take Straps aren't the same as Spark replacement Straps.
Summary
The Burton Hitchhiker isn't the best on the down but is excellent on the up, light, very reliable & really well designed.
This is the Spark R&D Arc base plate with a different high back, ankle strap and toe strap. It makes for a heavier ride but you get a more supportive ankle strap that also helps a little with response. It is close to the Spark R&D Surge ankle strap but a little more responsive and supportive. I have found that all the parts are interchangeable and I actually bought and used the Arc High Back, Surge Ankle Strap, Arc Ankle Strap and Pillow line toe straps. The review is coming but just a spoiler its lighter and I prefer the high back on the Spark a little better.
Ethics Statement: We don't get paid by the manufacturer to write these reviews.  We do make money from the "Where To Buy" links, but this is our best attempt at an honest and objective review from an average riders' perspective.
A Breakdown of How this Binding works on the up and down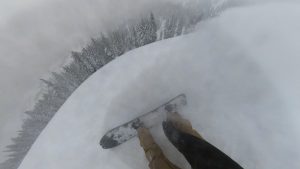 How This Review Happened:  Precious Good Ride dollars were spent to buy this and review it. It is now the binding Clint and I use to ride splits.
Days: 10+ and many more to come.
Riders:  James (Size 9, 5'10" 185-190lbs) & Clint (size 10, 170lbs, 5'11"),
Boots: Burton Tourist, K2 Aspect
Insoles: Sandsole Custom Insoles, Footprint Insole Technology Gamechangers, Footprint Insole Technology Gameghangers Low Profile
Boards: Korua Escalator Plus, Cardiff Powgoda Pro Carbon Split, Jones Mind Expander Split, Jones Mountain Twin Split,
Jacket: Burton AK Gore-Tex Pro 3L Tusk Jacket, Volcom TDF Infuse 3L Gore-Tex Jacket
Pant: Burton AK Gore-Tex Pro 3L Hover Pant, Burton AK Gore-Tex 2L Swash Pant, Burton Gore-Tex Ballast Pant
Helmet: Smith Maze, Smith Vantage
Goggle: Smith IO Mag, Smith 4D Mag
Gloves: Burton AK Guide Glove, Burton AK Clutch Mitt, Burton AK Clutch Glove, Burton AK Tech Leather Glove, Burton AK Tech Glove, CG Habitats Glove, CG Habitats Work Glove, Drop Tahoma Mitt, Drop Cascade Glove, Drop Web Glove,
Similar (but not the same) Bindings: Union Explorer, Spark R&D Arc, Karakoram Prime Connect.
How These Were Tested
I (James Biesty) tested them with several different splits and compared them to the Karakoram Quiver Prime Connects & Union Explorer in everything from good spring snow to messy powder to decent powder but not great.
Uphill Travel
These and the Spark R&D Arc were hands down my favorites for uphill travel. It is just so easy with 2 whammy bar settings for varied terrain. I also liked how they side hilled in compared to other bindings as well. Transitions from touring to ride mode are super easy. It is just as fast as Karakoram but I like how the Burton Hitchhiker does it better.
Construction/Design
The Burton Hitchiker is incredibly well made and well though out. No split binding set up is easy but this was the easiest for me. The design is really well done with minimal parts so less chance of failure.
Highback Flex
The Burton Hitchhiker has a highback flex that feels somewhat inbetween the Cartel and Malavita flex. It has some twist but not a lot of give going back.
Flex Underfoot
None. It's a split board binding. You have a lot of contact with the board deadening up that spot. It's not better or worse than most split bindings out there.
Turn Initiation/Response
Medium slow like most split bindings. Nothing special to write home about. I got a little more response out of the Union Explorers but the Burton Hitchiker is pretty close. You really want to pair up the bindings with a splitboard that you can easily turn because it isn't like solid bindings where you can just get a more responsive binding to compensate.
Shock Absorption
Almost none but that's expected. With the Spark R&D Prime Connect padding on there (fits perfect) for $20 extra it works well and I'm stoked to have it on. It helps you feel like you aren't riding on metal as much and it's very important for me.
Boot Support
The ankle straps are super supportive and I had great boot support in uneven snow and a little mor response as a result in comparison to bindings like the Spark R&D Arc with more minimalist ankle straps.
Ratchets
Pretty smooth. Sometimes I've had issues with double take straps in the past but this time it's been good. What I don't like is if you order spare parts for the Arc they won't work with the Burton ones. You have to change everything out. It's easier to order spare Spark R&D parts as well.
Adjustability
You can rotate the high back and even better slide in and out the heel loop to fit your boot perfectly. This is actually better than Burton Solid bindings. You have forward lean. You also have a little bit of stance witdth adjustability but not much. Still, it's more than most other split bindings that have none. You can slide the pucks forward and back to
Conclusion
So the Burton Hitchhiker might not be the best down but it's close to other split bindings and comes with the least quirks and by far is the most reliable. This is what you want even in the slackcountry. I actually prefer these Burton Hitchhiker's with Spark Arc High Backs, Surge Ankle Straps and Pillow Line toe straps but as it stands out of the box it is a great binding and it's very recommendable. Just get the base plate padding kit.
If this Burton Hitchhiker review helped, we'd appreciate if you:
 

Burton Hitchhiker Images

We try to get as many images of the Burton Hitchhiker , but forgive us if they're not all there.
2022
2019
2017
2015
Burton Hitchhiker User Reviews
---
---
Burton Hitchhiker 2021-2023 Splitboard Binding Review
SKU
UPC
Model
Not bad, but Spark Arcs are better
Jan 02, 2022 
by
David
Ability Level: Advanced • 
Riding Style: Freeride • 
Days You Ride A Year: 40 
The Hitchhikers share the same chassis as the Spark Arcs. The Hitchhikers are not bad but in my opinion the Arcs are clearly superior. The forward lean adjuster on the Hitchhiker is straight trash, super fiddly and difficult to deal with when it's cold out. Most other splitboard bindings do it right, with a simple way to set the forward lean for the downhill and take it off for the uphill. The fact that Burton hasn't changed the design on these bindings for over 6 years is a pretty clear signal they're just phoning it in on their splitboard program. Also these bindings weight quite a bit more than the Spark Arcs, and in my opinion are less responsive. One positive is that I prefer the toe strap on the Hitchikers, but other than that I think the Arcs are better in every way.

---
If you can't buy through the links above, you can support the site with: