Burton Cartel X EST 2021-2023 Snowboard Binding Review
Where To Buy
No obligation, but these links & ads support the site.
Burton Cartel X EST 2023 - 2021 Review by The Good Ride
Burton Cartel X EST Snowboard Binding Video and Written Review
You have arrived at the Burton Cartel X EST Snowboard Binding Review brought to you by average riders with extensive binding experience.
Turn Ons/Swipe Right: Best flex underfoot we have found. Very smooth turning binding with great board feel.
Turn Offs/Swipe Left: Only for Burton Channel System boards. So as of 2021 only Burton, Endeavor & Signal.
Summary
The Burton Cartel X EST limits your snowboard choices to 3 brands out of hundreds. But, if you are all in with Burton, then this offers exceptional board feel and a smooth response.
Ethics Statement: We don't get paid by the manufacturer to write these reviews.  We do make money from the "Where To Buy" links, but this is our best attempt at an honest and objective review from an average riders' perspective.
A Breakdown of How it rides and who it is for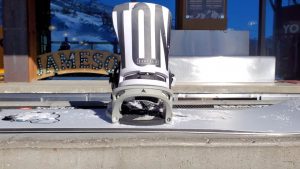 How This Review Happened:  We kept using this during the demos and got a few days on it.
Days: 3
Riders: James (Size 9, 5'10" 185-190lbs), Peter (Size 8, 5'11" 185lbs), Jimbo (Size 11, 5'11" 160lbs), Zobel (Size 11.5, 6' 180lbs)
Boots: Adidas Tactical ADV
Insoles: Sandsole Custom Insoles, Footprint Insole Technology Gamechangers, Footprint Insole Technology Gameghangers Low Profile
Boards: Burton Kilroy Twin, Burton Big Gulp, Burton Kilroy 3D Camber
Similar (but not the same) Bindings: Union Atlas, Union Falcor, Burton Genesis X, Salomon Quantum, Salomon Highlander, Nitro Carver, Nitro Phantom Carver, Now O-Drive
Approximate Weight
Burton does light right. The Burton Cartel X EST is really light but not chattery.
Highback Flex
There is a noticeably stiffer flex than the standard Cartel models while still having a little bit of twist.
Binding to Boot Adjustability
Burton EST bindings like the Cartel X are very easy to adjust to dial out to your boot so it is centered on the board. The channel on the sides of each binding do two things. It adjusts stance angles and helps center the boot on the board to make turning symmetrical. Because it is optimized to work with Burton Channel System boards only it does a better job than Re:Flex. It comes at the cost of only being able to use less than 5% of the boards for sale though.
Stance Width Adjustability
Infinite with the Channel System. There isn't a stance width you can't set up within the Burton Channel.
Boot Support
The ankle strap of the Burton Cartel X EST is the star of this binding. It is very supportive without being restrictive and feels great. Now the Toe Strap, however, is another story.  We fount it very hard to center on your toe so it feels right. We have found the toe strap off our toe at the bottom of the run. The ankle strap is so good than we can deal with it but we don't like it.
Ratchet System
Our crew only wants to crank down the toe strap because it locks your heel into the high back and doesn't hurt your foot. Cranking down the ankle strap can cause permanent damage to your feet. Every time we try it pops out and doesn't allow it to crank.
Turn Initiation/Response
Burton bindings, including the Cartel X EST are not about being super responsive but they are one of the most responsive bindings in their line. It still has a smooth fluid consistent response throughout the turn that we all really like. If you want sharp quick response it would be best to check out other brands but if you want smooth this is where it's at.
Flex Under Foot/Buttering
The Burton Cartel X EST is a little better than the Cartel X Re:Flex. That says a lot because any Re:Flex binding is at the top of the industry when it comes to natural flex underfoot and easy butterability. You can't ride em with normal boards though so it comes with a huge cavoite. Still, this is the kind of binding that makes the board almost flex naturally. On top of that it has a little more pop/ollie power with the hinge tech springs in the base plate. We have done an A/B test in the past and all noticed a little more ollie power.
Shock Absorption/Dampness
There is just about the same shock absorption as the Re:Flex Cartel X.
If this review helped, we'd appreciate if you:
Burton Cartel X EST Images
Burton Cartel X EST User Reviews
If you can't buy through the links above, you can support the site with: