YES Optimistic 2011-2023 Snowboard Review
| | |
| --- | --- |
| Riding Style | Alternative Freeride |
| Riding Level | Advanced - Expert |
| Fits Boot size (US) | 8-10, 10-12 |
| Manufactured in | Dubai by SWS |
| Shape | Tapered Directional |
| Camber Profile | Hybrid Camber |
| Stance | Centered |
| Approx. Weight | Feels Normal |
| Split | No |
| | |
| --- | --- |
| On Snow Feel | |
| Turn Initiation | |
| Skidded Turns | |
Where To Buy
No obligation, but these links & ads support the site.
Where To Buy
80% of outdoor sports products are not listed or sold online.
Our team has relationships with hundreds of local snowboarding and outdoor sports shops.
We'll call the shops and email you a list of stores along with pricing and availability.
---
Not sure what to buy?
Get custom advice from Good Ride editors James and Steph.

Get Advice
YES Optimistic 2023 - 2011 Review by The Good Ride
YES Optimistic Snowboard Video and Written Review
You have entered the YES Optimistic Snowboard Review from a rider that has ridden many Optimistic's for many years. 
Turn Ons/Swipe Right: Special kind of circle carver. Great banked Slalom board. Great float in powder. Not hooky for such a deep sidecut. Great grip for hard to icy snow.
Turn Offs/Swipe Left: Base was downgraded for 2023. Only 5×2 inserts instead of 6×2. More of a specialized ride compared to the Hybrid.
Summary
The YES Optimistic is one of those specialized rides for those that like across the groomer and carves but also want's easy directional float in powder.
What changed about the YES Optimistic in 2023:
Price Dropped from $669 to $549
Less camber but more rocker.
There is a little slower base
Reverted back to 5×2 Inserts per foot vs. 6×2
Ethics Statement: We don't get paid by the manufacturer to write these reviews and this is our unfiltered opinion. We do make money from the "Where To Buy" links, but this is our best attempt at an honest and objective review from an average riders' perspective.
YES Otpimistic 2023 Snowboard Review- How it rides and who it is for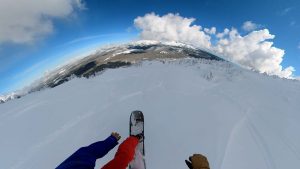 How This Review Happened:
Borrowed this for an extended demo and sent it back.
Size: 154
Days: 8+
Conditions: Mixed Spring conditions along with some pretty special late spring pow that felt more like mid-winter pow.
Riders: James (Size 9, 5'10" 185-190lbs), Davey (Size 12, 240lbs, 6'4")
Boots: Burton Kendo, Burton Ion,
Insoles: F.I.T. Gamechangers
Bindings: Union Atlas, Union Atlas Pro, Union Atlas FC, Nidecker Kaon X
Jacket: Burton AK Gore-Tex Pro 3L Tusk Jacket, Volcom Guide Jacket, Burton Gore-Tex 3L Treeline Jacket, Jones Peak Bagger Jacket.
Pant: Burton AK Gore-Tex Pro 3L Hover Pant, Burton AK Gore-Tex 2L Swash Pant, Burton Gore-Tex Ballast Pant
Helmet: Smith Maze
Goggle: Smith 4D Mag
Gloves: Burton AK Clutch Mitt, Burton AK Tech Leather Glove, Burton AK Tech Glove, CG Habitats Work Glove, Drop Tahoma Mitt, Drop Web Glove,
Similar Boards (but not the same): Gentemstick Mantaray 156, Yes Hybrid, Jones Hovercraft, Lib Tech Orca, Never Summer Harpoon, Yes Hybrid,  Gnu Gremlin, Ride Psychocandy, Telos Backslash, Korua Transition Finder, Salomon Dancehaul, K2 Excavator,
James's Set Up: 21.5" Wide. Sance Angles +18/-3, +18/+3. Close to Reference and Set all the way back.
Davey's Set Up: 23" Wide. Sance Angles +18/-3, +18/+3. Close to Reference and Set all the way back.
How It Was Tested
I mainly rode this with my Union Atlas but I also tested some Nidecker and Union Bindings with it because I'm so familiar with this board. I've been riding this since before it came out in this shape in 2017 in a wide variety of conditions so I know this a lot more than the 8+ days I rode it last season. This is actually a lot like the 2017-2018 models that I spent a lot of time on in everything from waist deep pow to hard snow.
Approximate Weight
The YES Optimistic is a pretty wide board for its size but it isn't heavy by any means (We don't put in the exact weight because with wood cores there is no consistency in a boards weight)
Sizing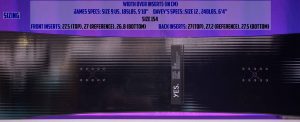 The Yes Optimistic is pretty wide over the inserts even though it has some indentions by them. There is a deep sidecut so it get's pretty wide pretty quick after the waist. The 154 is better for my weight but hard to control in messy/uneven snow. The 151 isn't super easy either in messy snow but it is much more manageable compared to the 154. For Davey he would be best with he 161 but he would probably be happier with the 157 because he likes to ride smaller boards for his specs.
Here are some ideal US boot sizes for these boards. You can of course go bigger or smaller but these work best for not turning the board slower than it should be and not having the dreaded Toe & Heel Drag.
151: 9-10
154: 10-11
157: 11-12
161: 11-12 and some 13's depending on footprint.
I was surprised to see such low weight recommendations on YES's site. I felt like the 154 could handle a lot more than my 185-190lbs at the time I was riding this. YES is going pretty conservative here.
Shape/Camber/On Snow Feel/Ability Level

The YES Optimistic has the same shape it's had since 2017 which is not super tapered but very set back and directional. What is interesting is there is no set back on sidecut. Whatever YES is doing here makes this board feel good for all kinds of riders and it doesn't have that typical tapered washy feel like some do. For example, if you compare this to the YES PYL and PYL Uninc they need much more back foot weight to keep the tail from washing in groomers.

The 2023 YES Optimistic's camber profile returned to Camrock and there is no more modern camber. I personally liked the Modern Camber/Extra Camber with a little rocker but this is more forgiving which is good. It is still very stable for one footing and flat basing and it tracks really well for having such a deep side cut.
Flex Personality & Uneven Snow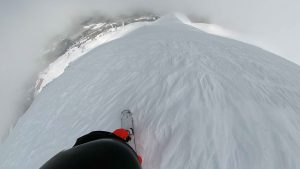 The YES Optimistic's flex is the same but the construction changed so it does feel a bit different. There isn't as much snap back as there used to be with the higher end/lighter construction. You can't butter it super easy for having rocker in the nose/tail but it is doable. It makes it feel a little stiffer but more damp compared to the previous model. It can handle chunder very well for a shorter wider ride. The extra width can be fatiguing if you are like me with size 9's and pretty far away from the edges.
Base Glide/Speed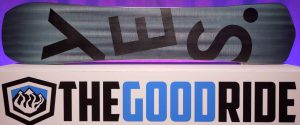 The YES Optimistic's base glide isn't perfect but it's about average for the industry. The 2022 had a faster base and I liked that better but it wasn't a deal breaker with the 2023. If you want to go straight and pick up some speed the Sidecut won't fight you. This is pretty unique for boards with this deep of a side cut. You can go pretty fast here. If you like to point it the Hovercraft might be a better call.
Edge Hold

The Underbite tech (indention in the sidecut near the inserts) is excellent at holding on in hard to icy snow. This is a great board for those that ride in harder conditions. You also don't get that grab that some boards get in softer snow. The YES Optimistic does it a little but it isn't as noticeable as some disruptions out there.
Turning Experience/Carving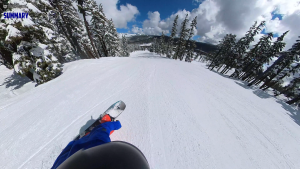 Hard across the groomer and circle carves are what this is all about. What surprised me is the YES Optimistic can also make more down the line turns too without the board trying to fight you. Usually a sidecut this deep doesn't like down the line high speed turns but this is ok at it. I miss the spring out of the turn with Modern Camber but the turning experience is still very rewarding.
Powder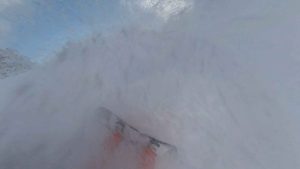 So with a 22" wide stance you can set the YES Optimistic -4" back from center of board. That is pretty far back but not as far as the 2019-2022 Optimistic. The 2019-2022 had 6×2 inserts instead of 5×2 inserts per foot. You needed this though because there was more camber so overall it evens out. I've tried older models of the Optimistic very close to this model in a 151 with 5×2 inserts and camrock in waist deep pow. It floated like a champ and almost like a dedicate pow board.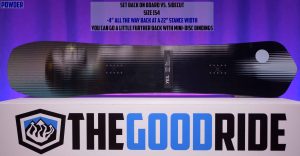 Conclusion
So the Optimistic isn't the mostly camber, light poppy ride it used to be. However, you get more dampness and a little easier ride. It is still a great board to carve and ride pow with. I think most will get more out of the YES Hybrid vs. the Optimistic if you are looking for a daily driver. It just gives you a more balanced ride in all conditions. That being said the Optimistic is still a great choice if you like banked slalom, hard circle carves and want a good board for deep powder.
If this review helped, we'd appreciate if you:
 

YES Optimistic Past Reviews
Yes Optimistic 2020-2022 Review- How it rides and who it is for
Turn Ons/Swipe Right: Really Poppy. Hard dynamic circle carver. Great for banked slalom
Turn Offs/Swipe Left: Chatters and bucks more in uneven snow.
Summary
The YES Optimistic is a more lively poppy counterpart to theY. It isn't damp in all conditions like the Y but has a lot more spring out of turn.
Ethics Statement: We don't get paid by the manufacturer to write these reviews and this is our unfiltered opinion. We do make money from the "Where To Buy" links, but this is our best attempt at an honest and objective review from an average riders' perspective.
The 2020-2022 Yes Optimistic had a bump in price as well as tech. Usually, a model that changed the year before doesn't usually change it up much the following year, but never underestimate YES when it comes to when/how they update their line. In addition to the change to the Optimistic, they brought back the old Camrock (mellower hybrid camber) Optimistic and called it The Y. It also comes in a 161 as well as the other sizes to fit bigger riders. We did not ride the 2022 model but over than a slight change up to the base (a little softer/more wax absorbent) it is the same ride.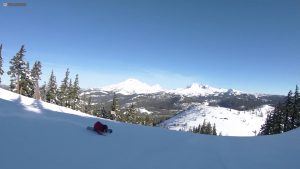 How This Review Happened
We borrowed this for an extended demo and then returned it. We also owned a 151 for a while as well.
Size: 157 &151
Days: 10+
Conditions: Pretty good mid-winter snow that was generally soft and fun.
Riders: James (Size 9, 5'10" 185-195lbs),Grant (Size 11 6' 160lbs)
Boots: Adidas Tactical ADV
Insoles: Sandsole Custom Insoles,  Footprint Insole Technology Gameghangers Low Profile
Bindings: Union Atlas, Union Falcor
Similar Boards We Like That We Compared This To- Burton Skeleton Key, Gentemstick Mantaray 156, Korua Dart Korua Dart, Rome Pow Division MT, United Shapes Orbit, Yes Optimistic 2019
Set-Up: 21.5 to 22" wide, 21-18 front -3 to +6 back, Close to Reference & Set all the way back.
Approximate Weight
The Yes Optimistic Feels pretty light. I have one concern because it seems to have a similar tech that the Basic Decade had
Sizing: The 157 was way big for my size 9 feet.  The 151 is more my type of ride turn initiation wise but the 154 was a better match for my weight. The 154 is probably best for Grant but he could have a great life with the 157.  It's a very wide platform and I would not ignore what Yes says about sizing down. For most, I would suggest erring on the smaller side than bigger. Another thing to consider is the sidecut is pretty deep so the width over the binding is wider than you would think in relation to the waist width.
Flex/Buttering
The Yes Optimistic 2020 has a lot more energy underfoot. It has more pop and more overall spring back into place. I worry about the durability but it is super hard to make it a deal-breaker with that appealing snappy flex.
On Snow Feel/Ability Level/Skidded Turns

Semi-Locked in is a good way to describe the Modern Camber profile. The little bit of early rise makes it less gnarly than it would be with a full camber profile and the camber isn't super aggressive at 4mm rise in the middle. Still, it's not for intermediates and it's all about the advanced to the expert rider looking to get more out of their turn. It isn't for skidded turns. The board has a pretty consistent feel underfoot in most conditions you want to ride.
Edge Hold
Really strong grip here with the Yes Optimistic 2020. It's almost there with the full magnetraction you can find from Lib-Tech/Gnu/Rossignol/Niche but not as grabby in the harder snow.  If you want more grip then maybe the Lib Tech Orca might be a good alternative.
Turn Initiation
Pretty slow to get it from edge to edge but once the sidecut is engaged the board accelerates pretty quickly into a pretty tight radius turn. So slow at first but it picks it up pretty quick.  It's a cool sensation.
Turning Experience/Carving
Like we touched on in Turn Initiation the Optimistic can turn a quick tight circle really fast with that deep sidecut. It really shines on a circle carve but doesn't lose much glow when making other kinds of turns. It is one of the first boards we all here at The Good Ride think about when there are perfect morning groomers. It is a fun board for a banked slalom but not ideal in uneven terrain in the trees.
Powder
The Yes Optimistic 2020-2022 is very close to the 2019 model in terms of powder float. It has a 4.625″ setback from center of the board board with the 157, 154 and 151 at a 23″ stance width. The Optimistic has 6×2 inserts per binding and a little more set back on board than the Y (5×2) to compensate for the extra camber it has. So they are pretty similar in terms of float and both give you a little more directional/easy float than the Hybrid but are a touch behind the 420 models. So for many who are looking for a second board in the quiver, this could double as your groomer carver and powder board.
Speed
More chatter this year but this isn't really the kind of ride for bombing. It is more for turning all the time as much as you can.
Uneven Terrain
More chatter here too but on the same day we broke out the cameras we swapped back and forth with the damper Yes Y.  It wasn't as bad as we thought and this lighter snappier top sheet didn't seem to make it super messy in the little bit of hard snow we found. Still, it's best to keep this to good powder and clean groomers. In hard micro bumpy snow it vibrates a lot more than the Y or Hybrid and sometimes the edge bucked out mid turn and we lost our line.
Switch
Not ideal but doable if you want to force it.
Jumps
There isn't a super amount of Tail going on here but there is still enough for a little air. It's got a pretty lively pop to it so it makes it more fun than last years Yes Optimistic.
Jibbing
Nofuckingway would I even try.
Pipe
Some like this kind of board in pipe but I sure didn't. It's just too short and wide for my tastes but I know some friends that own this and love riding pipe with it.
So, all in all, the lighter snappier core has some drawbacks in uneven snow but the turning experience in good conditions is even better than before.
Ethics Statement: We don't get paid by the manufacturer to write these reviews.  We do make money from the "Where To Buy" links, but this is our best attempt at an honest and objective review from an average riders' perspective.
2019 Yes Optimistic Review
The 2019 Yes Optimistic looks the same until you lay it on a table.  Then you will see that it's got a little more camber than before but still rocker in the tip/tail and it turns better than before. It's a great all-condition short fatty for those who like to turn, carve and ride powder.  The 151 really is a fun ride for me and by far my favorite size.
Ethics Statement: We don't get paid by the manufacturer to write these reviews.  We do make money from the "Where To Buy" links, but this is our best attempt at an honest and objective review from an average riders' perspective.
Size:  157 and 151
Days:   10+
Conditions: All types of conditions from hard snowment to about 2′ of good powder with the help of Drift Boards 
Riders: James (Size 9, 5'10" 180-195lbs)
Boots: Adidas Tactical ADV, Adidas Acerra
Insoles: Sandsole Custom Insoles,  Footprint Insole Technology Gameghangers Low Profile
Bindings: Union Atlas
Set Up: 22.5" close to reference stance 15 front -6 back
Approximate Weight: Feels pretty normal.
Flex: Feels pretty medium/stiff
Sizing: The 157 I rode was way too big and the 151 fit my size 9's perfectly like my old Optimistic with less camber. I have a little too much weight for this size (180-185lbs these days) but it doesn't seem to be negatively affecting the board.  Its deep sidecut makes the board seem narrower than it is and out near the bindings it's wider than most boards with this waist width.  Still, you want to ride this shorter and wider than you normally do.
On Snow Feel: The 2019 Yes Optimistic's extra bit of camber makes the board feel a little more locked in so there is more consequence.  It's not an easy board to skid turns but it's a super fun technical turner.
Edge Hold: Really strong grip and it's and the Yes Optimistic is still something that's great for hard snow but doesn't grab in powder.  The Underbite tech is not quite like full Mag from Mervin but it's still a really competent board on hard to icy snow.
Turn Initiation: So this is still like the older model side cut wise so the turn initiation is very similar. It's not quick edge to edge but once the sidecut is engaged it turns quickly and in a tighter radius.
Turning Experience: The extra camber takes the Optimistic to the next level and even though it's not a huge bow of camber something just works with this board to make me just want to turn on good groomers all day.  It shines with a tighter radius turns but you can do every kind of turn and build out of each one.
Carving: The Yes Optimistic really carves hard and the extra camber makes it better.  If you are all about turning and carving then this is a solid choice. The deep sidecut with the extra camber and extra edge hold all come into play pretty well to make this a great all-condition carver.
Speed: Pretty fast but not a massive bomber.  The extra camber makes it a touch stiffer and a little better when bombing.  I think the 157 had more speed than I could handle but the 151 would be much more suited for my riding style.  So often a side cut that deep can often not track that well when you point it and can get a little hookey but the Yes Optimistic points it just fine.  You can also bank it around a tight turn at higher speeds than most boards can, making it a fun board in banked slaloms.
Uneven Terrain: The flex of the board and tech inside it makes it damp enough to hammer through shit and even the 151 isn't that bucky in the uneven snow.  However, it's not fun to weave in and out of bumps. I'm ok with messy resort snow but it's not good when it's harder.
Powder:  So the extra camber doesn't seem to affect the float as much as you would think and there is still a lot of rocker in the nose.  Even though it's centered on sidecut, there is still a 9.5″ difference between nose and tail and 4.75″ back on board with the 157 at a 23″ stance. The 151 I own has a set back of 4.75″ on board set all the way back with a 21″ stance width and the same 9.5″ difference between nose and tail. It used to have about an 8.75″ difference between nose and tail on board but for 2019 they added an extra insert to compensate for the extra camber so it has about the same directional float as the previous models.  I personally like the Optimistic better than the 420 or 420 PH but that's me.  The modern camber profile is not super bowed out either so it's not going to be quite a handicap for powder riding as I thought it might be.
Buttering: It was almost do-able in the past but the little extra bit of camber
Switch: There is a lot of nose going on so even though it's centered on the sidecut it's still super different.
Jumps: A little more pop off the tail if you want to stop turning and get a little air. It has a stable approach for a board with such a deep sidecut.
Jibbing: no fucking way.
Pipe: I'm not into short fatty's for pipe riding but carving the wall with the 151 I owned wasn't terrible but not anything close to the first choice for boards.  Some like this type of ride though and it grips well.
So all in all, the move to Modern Camber makes the Yes Optimistic a little better than it used to be and it's a fun board for those looking to turn, carve circles, ride powder and even pick up a little speed.
The 2017 and 2018 Yes Optimistic has been totally transformed. Its a very fun short fat snow surfer for those that love to turn.  It's a great quiver board but also a pretty good daily driver for all conditions if you are into mixing it up.  The 2018 Yes Optimistic is the same as the 2017 except they narrowed the stance width by about 1.5″ per board to allow for a more surfy narrow stance width.
Size: 154
Days: 10+
Conditions:   Everything from a little over a foot of CO and Sierra powder to pretty hard snow.
Riders: James, Peter, Jimbo, Matt, Steph, Jack and a few others.
Boots:Burton Almighty, Burton SLX, Burton AMB, Burton Imperial, Burton Rover, Nike Lunarendore
Bindings: Union Atlas, Burton Cartel,  Burton Genesis X, Now Drive, Now Pilot,
Set Up:  23″ wide and then multiple places on the board. 15 front -15 back and 15 front -6 back.
Approximate Weight: Feels normal bordering on light.
Flex: Medium stiff on snow and off.
On Snow Feel: Really stable and catch free between the feet. It feels like it's locked in but without any catch.  It's a very directional ride that wants to carve tight turns and float in deep powder. It's super short wide shape gives it a very surfy look but it has a very carve friendly groomer loving edge to edge drive. Usually, these type of shapes disappoint on groomers but this doesn't at all. You don't even notice the minor taper and it only gets really surfy like a fat fish when it's on top of the powder.  So it's not like most of the short fatty's out there these days.
Edge Hold: Really strong edge hold that is almost as good as Magnetraction and it's a board that you can take out in hard to icy snow.  That under bite tech in the Yes Optimistic really grips well but doesn't grab in the softer snow like it should.
Turn Initiation:  So The Yes Optimistic is very interesting when it comes to turn initiation. It's got a very deep side cut so even on a 26 cm waist the 154 turns well for my size 9 boot.  I think it's actually made for a size 10 boot but still, it turned no problem.  It wasn't a fast turner but a tight turner if that makes sense. To elaborate it took a little bit of time to get the side cut to engage and once it does it engages into a pretty tight carvy turn.  So it's not quick edge to edge for quick side to side turns but when committed to the edge medium to wider radius turns seems to accelerate and make a tight fast turn.  If you know the correct mechanics of turning it will tickle your taint. It's the kind of board that is fun for riders who know the mechanics of turning well and like to turn all day.  I'm excited to see how the 151 turns which is probably best for my boot size.
Skidded Turns: Kind of a slow skidded turner and it's not super easy to throw the board around as you would think but it's not catchy and doable if you get off your game.
Carving: Carving on the Optimistic is a lot better than I would have ever expected.  It's got a good amount of camber, combined with the edge hold tech and that super deep side cut makes it a unique carver. Also, the wider width really allows you to lay it over. You would never think a short fatty like this would carve in such a tight circle. The sensation of laying it on to a rail is unique and all I wanted to do was carve on this board.  We all loved how when on rail it accelerates giving it a great mid carve sensation. There is isn't as much camber as other hybrid camber boards but it still it has enough to give it a good spring out of the turn.  I'd like to see a little a little higher arc of camber but it's still an excellent carver.
Speed: The Yes Optimistic can bomb but it's not perfect.  The big shovel nose can chatter a bit but it's not a clown shoe mess.
Uneven Terrain:  It's pretty good in chunder and going over uneven snow. It can bend pretty well over stuff compared to some freeride boards and doesn't have an unforgiving feel for the flex/shape.  That being said it's a very short wide board and especially so in the tip/tail.  It's not that great weaving in and out of the messy bumpy end of the day snow or getting a good flow going through moguls. It's not as nimble making quick turns as the PYL but it has a flex that allows for messy resort riding as long as the bumps aren't big and tight.  For Peter and I, the 154 was a little slow with our 8.5 and 9 boots because it's better with a size 10 but the 151 is better for us but we'd both still like to be on the Yes PYL 159 instead.
Powder:  The light CO powder was incredibly easy and we didn't even notice it.  The Sierra Powder was thick and the other boards I rode that day needed a bit more attention to the nose but the Yes Optimistic did it again and we didn't even feel like we needed to even lean back.  Didn't even notice the powder in that way and we had that Hovercraft style ride where it just sit's on top of the snow.  One thing also to mention is YES says the board has a centered stance and yes it's centered on sidecut but not on board.  As you can see it's set way back on board and with a 23″ stance width you can get back 7.75″ which is pretty far.  We actually like the Yes Optimistic better than the 420 because it's got better pop off the tail and in our opinion the same easy float. But mostly because you can take it out and have a blast after the powder is gone.
Switch:  Well it's a lot better than you would think but it's really tail light so when flipped around you really feel the difference weight wise.  On edge it's ok but it's made for riders who prefer one direction a lot more than the other.
Jibbing: Nope.
Pipe: I took it in the pipe.  It held well and drove well from wall to wall but it's pretty wide and not my type of pipe board.  I'd much rather be on the Standard in the pipe because it's not that easy to throw around.
Jumps: Nice pop off the tail and it's a good board for directional mountain air but not a real spinner.
So over the years the Yes Optimistic has had a lot of re-designs as well as a few years even being out of commission. Who knows what other factors other than how it rides play into a board's termination or continuation but the 2017 model is truly unique and we hope it sticks around.
2017-2018 YES Optimistic Review
2016 Yes Optimistic Snowboard Review

The Yes Optimistic has been revived from the long dead and it has a strong but differen pulse. After a few turns it quickly won us over as one of the better one board quiver rides we encountered. It feels like the Optimistic was made for our specs and riding style.
The Yes Optimistic was the second YES board I owned years ago when the site was younger.  It was stiff, very set back and had a directional rocker similar to the older Yes Pick Your Line. As Yes evolved they added more boards to the line the Optimistic morphed into the Pick Your Line. Almost 5 years later they brought the Optimistic back.  If any of you are familiar with the Old Optimistic it's nothing like the old board are the major differences:
The New Optimistic has camber that goes past the bindings where the old one had camber between the bindings. There is much more spring out of the turn and much more pop.
The New Optimistic has their directional volume twin shape where the tail is the same width but the volume is less so the tail sinks more like a tapered board does. The Old Optimistic had a more traditional twinish to directional twin shape similar to the Jones Mountain Twin.
The set back on the Old Optimistic was more like -20mm on the sidecut where the new has a -10mm setback on sidecut. However the set back on board with the new Optimistic is closer to -20mm and the setback on board with the old Optimistic was more like -25mm which is very similar to the Jones Mountain Twin at -20 on sidecut and about -25mm on board.
The tip/tail are not as long where the nose was longer than the tail with the old optimistic. There is much more contact on the snow and the 158 rides much bigger on groomers than the old 159.  This combined with less of a setback on sidecut you have a board with much more of a centered stance/all mountain freestyle feel on groomers.
The new Optimistic has a much more dynamic lively feel to it that pops and butters much better.
So to sum up the differences they are almost nothing alike.  The 2016 Yes Optimistic is actually more like a little bit softer version of the 2015 Yes Standard (when it was Set back Camrock and not Centered Modern Camber) than the 2011 Optimistic.
Size: 158
Days: 5+
Conditions: Everything from messy but good snow groomers to 1.5′ of powder to perfect soft groomers to hard snow in the Sierras and CO.
Riders: James, Peter, Jimbo and a few others
Boots: Burton SLX,Burton Imperial, Burton AMB, Salomon F3.0, Burton Fiend LTD
Bindings: Burton Cartel, Burton Genesis, Union Atlas, Union Contact,  Flux SF
Set Up:  Centered 23″ wide 15 front -15 back.
Approximate Weight: Felt on the light side of normal.
On Snow Feel: So like I said before it's a slightly mellowed out version of the Yes Standard with Camrock instead of Modern Camber made to ride the whole mountain and it's got a very versatile feel. It's the kind of board that allows you to center it up and ride like an all mountain freestyle board but then it has a little set back and a directional powder riding friendly tail that allows you to get more float than a twin with a centered stance on powder days.  That makes it a modern all mountain ride that works with a wide variety of riders.  It's stable underfoot for one footing and flat basing and has a really lively snappy feel to it. It's got a camber feel to it but because of the medium rocker in the tip/tail it doesn't catch so it's a great balance.  There is none of that loose auto spin feel you get from many hybrid rocker boards. Also with the 23″ reference stance it's perfect for us to center up but even better we can set it all the way back using the all the inserts.
Powder: I got 1-1.5 feet of snow with some areas that wind loaded up to 2 feet and set all the way back the Optimistic surfed and floated in powder really well.  The -10mm set back is on the Side Cut but the Set Back on the board actually -20mm so if your stance width matches the reference stance you can get back a good bit on the board. That's actually just -5mm less than the Jones Mountain Twin 157.  The Directional Volume Twin tech means the tail is as wide as the nose but just has less volume as it get's to the end of the board so it sinks more like a tapered board in powder. That tech combined with a mellow rocker makes it a better board for powder than you would think by just looking at the specs.  It's a great idea but my guess is it won't float like the old Optimistic that had more rocker and over 1″ set back on the board or the Jones Mountain Twin but it's still going to do a great job. The one positive over the Jones though is the Turn initiation is quicker so it's going to be easier to make tight turns in the trees or in tight spots.
Turn Initiation: One of the few complaints I had with the Jones Mountain Twin was that it didn't make short to medium radius turns quickly and the Optimistic has much much quicker turn initiation…well if you know how to make turns correctly. Skidded turns are pretty forgiving but not totally forgiving.  The extra camber makes it really springy and dynamic edge to edge. It's almost too quick edge to edge and feels like a needle. Turning is fun and the way it should be for those who like the mountain a lot. Wide radius turns are good too and this side cut really works for our crew.
Carving: Now carving was a treat too.  Not quite as good as the Yes Standard but all of us could really lay into an edge, set it and turn a complete circle. Turning and Carving is pretty important for an all mountain board and where most riders get the majority of their joy from and there is little compromise here. The only complaint would be to see just a little more edge hold because you can't really lay it out in harder snow. It's a great good snow carver though and you can really feel the camber hold the carve and then spring you out of a turn.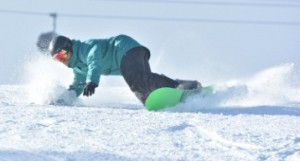 Speed: Stable and pretty fast. Unless you like to straight line everything then you will have all the speed you will want on the mountain. It's got a nice balance between being playful and fast.
Uneven Terrain: The new design from SWS has a very good feel in the uneven snow we had and it seems like a great board for those who ride all day into the late messy afternoon.
Edge Hold: Pretty good grip that is perfect for medium snow, doesn't over grip in soft snow but also can keep it's edge in harder snow.  Not really an ice specialist or a real hard snow stand out and you do have to dial back your carving turns when it's hard but you won't slip out.
Flex: Really good flex that allows good buttering without feeling like you are going to butter right on to your ass but also snappy and dynamic between the feet.
Switch: Very good switch and you do feel a little different buttering switch but edge to edge is just like a twin when centered on the side cut.  We all like to ride all mountain boards switch a lot on groomer days so this is great for that. What's also cool is even though the tip/tail are different volume they are the same length so it does make it feel much closer to a true twin compared to other boards that have longer nose.
Jibbing: More at home on jumps or in the pipe but not bad for an all mountain board.  Wouldn't be my first jib board choice and most of us at The Good Ride prefer softer boards but its for sure doable.
Pipe: No pipe but after riding the 15 Standard in the pipe which has very similar specs we know this will be just as fun. It will be forgiving and perfect for those that like to spend a good portion of their day in the pipe or hit it like we do at the end of each run when it's open.
Jumps: There is really good pop with the new SWS design and it's really easy to ollie.  It's a twin between the tip/tail so it's also great for landing switch. Also the camber that extends past the bindings combined with a slow rise rocker holds well when making that awkward landing a bit on the back seat.
So all in all the 2016 Yes Optimistic is one of those boards that will work with a wide variety of riding styles. Other than increasing the -10mm set back to -15 or -20 there isn't much else we would change about this all mountain board.  It's a very recommendable one board quiver.  All Mountain boards are a series of compromises but with the Yes Optimistic you don't compromise as much across the board.
2011 Yes Optimistic Review
The Yes Optimistic is pretty much the only directional board in YES's line up. The Optimistic is a solid performer all over the mountain and does an excellent job for a non tapered directional board in the powder.  For 2011 YES added a faster base and more of Nideckers high end tech to make this board a lot more aggressive and performance oriented.  The best part of the upgrade is the faster base.  Just so you know Nidecker is the company who makes these boards and they have been around since 1984.  They are one of the best snowboard manufacturers out there but have never gained any recognition in the US.  Not only is the Optimistic an all mountain ride it is what you would call an all condition ride as well.  There are many hybrid shape snowboards that are great when the conditions are good but you find a boards true qualities when the conditions are less than ideal.  The Yes Optimistic creates a consistent ride in almost any condition you would want to ride on.  CamRock will have the stability and speed of a camber snowboard with the float of a rocker snowboard. It's not as catch free as rocker in the middle but is much more catch free than a cambered snowboard. A Former Good Ride Favorite. 
Board Size 162 and 159 but the 159 was used all day's except one.
Riders: 4
Rider Specs- 5'10" 200lbs size 9 shoe, 5'7″, 150lbs, Size 9.5 shoe, 5'11" 165lbs Size 9 shoe, 6′ 170 size 10.5 shoe and a few more. 
Bindings Used- Burton Co2's, Flux SF45 aka Feedback, Burton Cartel Re-Flex,  Union Force, Union Force SL
Boots: Burton Ions, Celsius Opus, Burton SLX. Burton Ruler, K2 T1 DB
Days: 30+

The Yes Optimistic has had a lot of buzz lately because it won a Good Wood All Mountain award and it's always tough to ride a board that has a lot of high expectations and rave reviews.  It can often make you more critical of the board.  In the Yes Optimistic's case this did not happen and the name held true. This is a very stiff aggressive board but for some reason it doesn't ride 100% that way.   We can see why Transworld gave it an all mountain Good Wood Award.  So far this year the YES optimistic is my (the editors) favorite board for my riding style.  Some of the riders found it a bit too stiff and like a more playful ride but for those who like the stiffer all mountain flex the YES Optimistic is going to be up there at the top. If you can only afford one board for everything, like a more aggressive ride and aren't that into rails the YES Optimistic might be one of the best choices out there.
On Snow Feel– The YES Optimistic is very fun on groomers of almost any type.  It's fun on hard pack up to day after powder groomers.  It's fast base, hybrid camber and fun shape makes it a good ride carving regular or switch down any groomer.  This has a fast, stable, predictible ride.  If you are all about groomers then this is a great board. It's stiff and aggressive but very forgiving with all the rocker in the tip/tail.
Powder: It looks like a directional twin but the CamRock (Nideckers Rocker) is directional or set back to provide more float in deeper powder.  The Optimistic also has a decent set back that that seems like it's 1.75 inches back which is huge. I must be wrong in my measurements because I've never seen a directional twin this far back. We have been very lucky this year to get a lot of powder days in and the Optimistic was used on a few of those powder days.  The YES Optimistic bordered on excellent when it came to powder.  Most of the riders were fairly large and use to riding bigger boards when it gets deep.  The 159 Optimistic had an effortless float and a very fast base that made traverses and flat spots easy to negotiate through.  Also when we got into thick trees the Optimistic turned very well.  Also the Optimistic has a pretty good set back combined with the directional rocker (longer rocker at the nose) that made it incredibly easy to stay a float in deep powder.
Turn Initiation– The Optimistic is very easy to turn but it might be a bit on the Good side of excellent.  For a board this stiff its really easy to initiate a turn.  It was fun to make short radius or long radius turns and whenever you needed the board to be somewhere it went without much fight.
Speed: We didn't wax the base like we normally do when we get a board because it looked pretty good out of the factory.  We were expecting for it to ride a little slower but this 159 kept pulling away from everyone on the flats.  The one thing about this board is it would pick up speed quickly so you had to plan your line in trees well or you might end up eating pine.  Not only is the base really really fast but the board is very damp and chatter free for a board with it's nose/tail sticking up.  It's also very comfortable flat basing in a straight line and you don't get that squirrelly loose trucks on a skate board feeling.  Another thing we noticed is the base seems pretty sturdy.
Weight– The YES Optimistic runs a bit on the heavy side of things but it isn't terrible.  Despite some early problems with the build the YES is very well made and very sturdy.  We would like to see it shave off a little weight for next year but it's hard to really rip.
Edge Hold:  The Optimistic holds an edge well in all conditions but that crazy blue east coast ice.  Maybe it's the side cut or the hybrid camber pressing the edges down between the feet but something about the optimistic creates great edge hold.  It's not going to have that crazy bite that many boards with magnetraction side cuts have but it has a very stable feel in most conditions.
Flex: Really stiff at first but after a few days it started to feel more on the medium side of stiff.  Still this is right up there with the Capita Black Death in terms of a stiff flex but for some reason it's more forgiving.
Carving– For a hybrid camber board that is almost like a rocker board the Optimistic is really fun to carve.  It's not as much fun as theRome Anthem or the Burton Custom X.   It is still good for a belly scratching turn or two if the mood strikes you.  It will be great holding an edge up a pipe wall as well.  It still has a better feel on an aggressive carve than most hybrid rocker boards.
Switch: The marketing material of the YES Optimistic is very confusing.  They say it's a directional twin in some places and a directional shape in other.  The reality is that the Optimistic is a Directional Twin that has a directional rocker which makes the nose rise up earlier than the tail.  What does that mean when riding switch?  If you have the Optimistic centered in stance the ride is a little off but if you set the stance back a little it seems more even.  Either way you get use to it.
Rails/Jibbing: The YES is almost borderline rough when it comes to rails and jibbing.  If this is your thing then the YES Optimistic isn't your board.  It's just too stiff and will bonk you on any technical rails or jibs.  Take a look at the Great Dudes of History for this task.
Pipe: Just the opposite of Rails.  The Optimistic is going to be the Editor's pipe board this year if Mammoth can ever make a damn pipe!  What is up with all those stupid landing bags?  Where is the efing pipe?!  Ok sorry for the rant but our local mountain has not made a pipe yet and they have a ton of snow.
Jumps: For some this board might be too stiff but for others this could be ideal.  If you are into back country booters the Optimistic will be one of the best choices out there.  The Optimistic has decent pop and can be pretty springy for a board that looks so rocker like.
All in all the YES Optimistic is one hell of an all mountain board that will ride well in almost any condition.
 

YES Optimistic Images

We try to get as many images of the YES Optimistic, but forgive us if they're not all there.
2023
2022
2020
2019
2018
2017
2016
2011
YES Optimistic User Reviews
YES Optimistic 2011-2023 Snowboard Review
SKU
UPC
Model
W. O. W.
Dec 07, 2021 
by
Viktor
Ability Level: Advanced • 
Riding Style: Technical freeride with freestyle • 
Days You Ride A Year: 40 • 
Height, Weight And Boot Size (for Boards, Boots & Bindings): 180lbs, 6', US9.5 
I rode the 2017 version with camrock, and it was awesome. Maybe it's the new Now binding with the Hangar 3.0 chassis or my incredible snowboarding skills, but this deck felt nimble.If you know how to ride it, this beast will turn on a dime. It's also very stable, but can be a bit demanding on technical terrain. But you really dont' want to be laid back there :D
I don't know if I would use it as an all-rounder, but for pow days, when you wan't to ride until you are completely exhausted, this is a perfect choice. For jerking around, being laid back and doing werid stuff, I recommend pairing it with a softer twin board, or anything freestyle focused wth a more forgiving flex.

---
Fun while it lasted, which wasn't long
Jan 13, 2021 
by
Brinkley
Ability Level: Advanced/fast for a dad • 
Riding Style: Freeride/big mtn • 
Days You Ride A Year: 30ish • 
Height, Weight And Boot Size (for Boards, Boots & Bindings): 6'1" 190 size 11 
This board shreds hard, really hard!!! Then it breaks after 5 runs.

Should you buy a Yes.? Nope, definitely not, not if you're planning on riding it, but if it's going to lean against the wall in a corner or hang out in the gear closet by all means go for it, waste your money.

Day one on the Yes. Optimistic, after babying this board on groomers for a few runs it started catching when on the toe edge. Underneath I found a 4" long bubble under the base. Tried to warranty it but of course it's my fault that this board is laminated with and elmers glue sticks and cookie dough, and at Backcountry.com the customer is always wrong. I know I know, I shouldn't have bought there, lesson learned.

Regardless of how fun this thing was, how fast, how much pop, and how it feels like it can read your mind because it's so responsive, I absolutely positively discourage anyone from buying a Yes, unless you just need a board for an hour. Booooooooooo!!!!!!!

---
I Truly Love The Optimistic!
Dec 24, 2019 
by
Tompa
Ability Level: Upper-Intermediate • 
Riding Style: Sexy • 
Days You Ride A Year: 10-30 • 
Height, Weight And Boot Size (for Boards, Boots & Bindings): 5'11'' 250lb US10 
I just wanted to show some love for one of the most fun snowboards I have ever ridden (since I started in the late 80's) = The Yes Optimistic!

I bought the first production model second hand (I'm not rich in any way) late in the season when it first came out, and have since ridden it absolutely everywhere.... groomers, pow, moguls, trees, half pipe, jumps, park, rails, in my dreams... in freezing cold on boiler plate ice to warm slushy spring conditions and even in rain... and it handles everything without hickups. Sincerely a super-fun all mountain quiver-of-one-type-board, with great construction and a great design. I rate it five stars out of five :)

I am old and heavy, so I ride the 157... meaning if you are of regular or petite size you should either scale down in length or choose The Y model.

Besides for freestyle competitions, or if you love riding fakie all the time, I really think anyone would have a blast on this snowboard... so a big thank you to Alex Warburton for designing it!!!

// TT

---
If you can't buy through the links above, you can support the site with: