Drift Boards Hybrid Snowshoe Review for Backcountry Snowboarding
Drift Boards 2019 - 2018 Review by The Good Ride
The Drift Boards are a hybrid of a touring ski and a snowshoe with skins permanently attached to the bottom that, unlike snowshoes, can travel efficiently in skin tracks. It's not as much of a comparison to snowshoes but instead, much more of an alternative to split boarding in a lot of situations. We don't get paid for this but you can find them Drift's Website if you are interested.
Ethics Statement: We don't get paid by the manufacturer to write these reviews.  No one is perfect and we do make money from the "Where To Buy" links below, but this is our best attempt at an honest and objective review from an average riders' perspective.
Here is a not so quick initial take on the Drift Boards under the pretty lights after a few days on them.
Here is our follow up review after spending a lot of time on these little guys.
How This Review Happened:  After a demo, I liked these Drift Boards so much I bought 3 pairs so I can Drift before the lifts with friends.
Days: 20+
Snow Conditions: Everything from firm snow to over waist deep powder and a lot in between.
Terrain: For Peter, some of my friends and I. We went in bounds in a regularly patrolled area that has some steeper ups and some traversing on a somewhat steep slope. Just the 3/4 mile uphill travel route I have at Mt. Bachelor. Steph took this out around Mammoth.
The plus side of Drift Boards: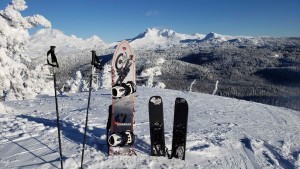 You can ride any board you want out of bounds or in the backcountry and you now have easy access for any solid you choose to ride. Having these little snowshoe hybrid Drift Boards with skins on the bottom changed the way I look at uphill travel with solid boards. As a person that owns a sizeable quiver of solids, this is a truly welcome addition that gives my boards access to places that were barely possible before.
They are massively faster as well as more efficient than snowshoeing.  It's to the point that I'd never like to snowshoe again.  After slogging around at snail speeds on snowshoes for the last few months to having Drift Boards feels like I went from taking the bus everywhere to getting my own all-wheel-drive car with snow tires.
These Drift boards allow you to go up in the skin track with splitters which is huge. You are no longer in the nasty uneven boot pack.  You are going up the same way with the same technique as split boarders do.
These are very light and efficient. What really makes these little things keep up with normal split's is they are super stiff (can't even flex em) and the weight.  Here is some rough math I did on it that might have something to do with it based on a study showing that 1 lb off the foot is equal to 6.4lbs off the back. [Authors: S. J. Legg a; A. Mahanty – This study was conducted in partial fulfillment of an MSc in Human and Applied Physiology, London University 1982. Published in: Ergonomics, Volume 29, Issue 3 March 1986, pages 433 – 438]
Drift weight: 2.4 lbs per board
Avg Split Setup Per foot: 6.25 lbs
Difference: 3.85 lbs per foot. So based on that study it takes 24.64 lbs off back per foot or 49.28 lbs total. Take -11 lbs for the average board on your back you get 39.28 lbs.  I haven't dried Mtn Approach but the older models were about 6lbs per foot each and had a pretty big footprint on the back. I think they are making a newer and lighter model and hope to test it.
So…yeah whatever that means…….but I can say that using Drift Boards instead of Snowshoes felt like it was almost twice as fast and massively less exertion even on the first day I did it with really shitty form.  A few days before in about the same depth of snow, it took me about 40-45 min to get up about a 3/4 mile ascent in snowshoes. On Drift Boards, I was up in about 20-25 minutes but I felt like it was massively less exertion.  Being able to hop on the skin track and not worry (well too much) about frothing pre-work skinners passing my out of shape ass was really cool.  For once I felt like I took the red pill and I was traveling near Matrix speeds.  The cool part was I was on my solid really fast. They also have crampons to put on if you hit some hard to icy snow to keep your traction. Also, you have a much more normal gait width when going up. At 6.75″ wide they aren't spreading your legs out as much as snowshoes do so that's easier too. The bottom line is everything about these is easier except for having to put on the Drift Crampons if you hit hard snow but who cares when you are that far ahead compared to snowshoeing.
5. They are 1/3 the cost of an entry level split set up.
There are a few drawbacks of Drift Boards vs. Split Boarding:
 On some ascents near the top where it was pretty steep, I felt like I could use more ankle support out of these Drift Boards.  I put on real split bindings on these because they are mounted with the standard split screw set up and the ankle strap from the bindings made the support much better.  This is really cool but I could feel the added weight on the ascent.  You lose a pound on the Drift Boards but gain close to 2lbs with most reasonably priced bindings.  For example, my Union Expedition FC's weigh about 1.8 lbs mounted on the Drift boards so the total weight rises from 2.4lbs per foot to 3.2lbs.  Still, it's almost half the weight of the average split per foot.  You save a few pounds on the back going up and down but that doesn't seem to matter that much compared to the feet.  I'd love to see them create some sort of additional support like a better ankle strap.  Maybe adding a light flip up highback like attachment or just some rod that flips up along the side of the boot with an additional strap near the top would really help with support and maybe even be better than most split bindings.
The surface area of the Drift Boards isn't as much as a standard split so in some situations with harder snow or a well-tracked skin route the skins don't quite grip as well. Still, with proper technique, it's not a deal breaker.
The Drift Boards don't have the glide of a regular split board.  In long flat situations split boards are faster here.  This is minimized a bit because there is less weight per foot so, as discussed above, there is less effort every stride.
I wish the hill assist lifts had a little rubber on them so it wouldn't be metal on metal every step. They don't have the shock absorption that a mostly camber or hybrid camber split has. a little dampening rubber in the right places would go a long way.
You have to put the board on your back and this can suck on a windy ascent. With a good pack, it's not as bad but still nothing like having just a backpack on.
Also if you plan to go out for a long adventure or tour from hut to hut with a loaded backpack having a board there as well isn't ideal.
So I wouldn't say these are going to make people pissed they just bought a split and used splits will start popping up everywhere on Craigslist. Far from it. However, these Drift Boards for sure do kill it for people who dabble in safe uphill travel at their local resort or for people that like to ride different boards for different conditions. It's about 1/3 the price of an average split set up and it opens up your whole quiver to new terrain. So I think in many situations going with Drift Boards over Split Boards is the call.  I can now ride whatever I want and not have to ride the same split every day.  For a gear whore like me, that is glorious and it makes drawbacks far from being a deal breaker. The positive aspects of the Drift Boards outweigh the drawbacks.
Just please be safe! Don't go stampeding off to the Backcountry and kill yourself. Take an Avy class, get the right safety equipment, use common sense and do it right.  It's dangerous out there.
Drift Company Information
Drift Boards User Reviews