Season Forma Snowboard Review
| | |
| --- | --- |
| Riding Style | Snowsurf |
| Riding Level | Advanced - Expert |
| Fits Boot size (US) | < 8, 8-10, 10-12 |
| Manufactured in | Dubai by SWS |
| Shape | Tapered Directional |
| Camber Profile | Mostly Camber |
| Stance | Setback over 20mm |
| Approx. Weight | Feels Normal |
| Split | No |
| | |
| --- | --- |
| On Snow Feel | |
| Turn Initiation | |
| Skidded Turns | |
Season Forma 2022 - 2021 Review by The Good Ride
Turn Ons/Swipe Right: Amazing set back, directional carver. Does not need a positive rear stance angle. Great float for pretty much full camber.
Turn Offs/Swipe Left: Technical and very catchy.
Summary
The Season Forma is really locked in/catchy but it turns and carves like a champ. It also did better than expected in powder for all this camber.
Ethics Statement: We don't get paid by the manufacturer to write these reviews and this is our unfiltered opinion. We do make money from the "Where To Buy" links, but this is our best attempt at an honest and objective review from an average riders' perspective.
Season Forma Snowboard Review- How it rides and who it is for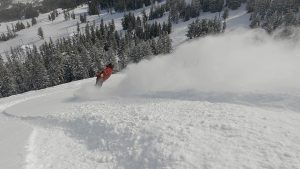 How This Review Happened:
We borrowed this for an extended demo and sent it back.
Size: 153
Days: 10+
Conditions: Everything from hard snow to knee high powder.
Riders: James (Size 9, 5'10" 185-190lbs), Nick (Size 10, 160lbs, 5'8")
Boots: Burton Kendo, Burton Ion, Burton Tourist, Burton Imperial & a few others.
Insoles: Sandsole Custom Insoles, F.I.T. Gamechangers, F.I.T. Gameghangers LP
Bindings: Union Atlas, Union Contact Pro/Union Superpro
Jacket: Burton AK Gore-Tex Pro 3L Tusk Jacket, Volcom TDF Infuse 3L Gore-Tex Jacket
Pant: Burton AK Gore-Tex Pro 3L Hover Pant, Burton AK Gore-Tex 2L Swash Pant, Burton Gore-Tex Ballast Pant
Helmet: Smith Maze
Goggle: Smith IO Mag
Gloves: Burton AK Guide Glove, Burton AK Clutch Mitt, Drop Tahoma Mitt, Drop Cascade Glove,
Similar Boards (but not the same):
Korua Dart, Korua Pencil, Korua Café Racer, Weston Japow, Moss Jellyfish,
Set-Up: 21.5" Wide. 18 front -3 back, 21 front +3 back, 27 Front +6 back.  Close to Reference, Set all the way forward, and Set all the way back.
Approximate Weight:
The Season Forma isn't light but is far from heavy for this 153
Sizing
The 153 Felt just like what I want to feel when a shortish/wideish ride like this. For the month I rode this my weight was over 190 and then high 180's so I was right at or above the weight recommendation.  It worked fine with my boot size.
Here are some ideal US boot sizes for these boards. You can of course go bigger or smaller but these work best for not turning the board slower than it should be and not having the dreaded Toe & Heel Drag.
153: 9-10.5
159: 11-12.5
Shape/Camber/On Snow Feel/Ability Level
The Season Nexus has a really set back directional shape. You are riding pretty much on the tail like you do when you are on a surfboard but it doesn't feel super tapered.
The Camber profile might have a cm of early rise but it looks like full on camber. It is catchy and very unforgiving when you get off your game but man it tracks soo well and is an amazing turner. We'll get to that later though. It is one of those boards you have to be careful with and it wasn't the first I wanted to grab if my morning coffee wasn't doing it's job.
Flex/Pop/Buttering
I was surprised at how easy it was to access the pop of the Season Forma because it has such a stiff flex. It could butter with a good bit of effort. That surprised me. I thought I wouldn't even be able to bend it.
Speed
The Season Forma can bomb for a 153. You can point this. It doesn't seem like you can because you are so far back on the tail, but you can. It has a super fast base that can hang with the best of the best when it comes to glide.
Uneven Terrain
So often such a stiff flex would be pretty unforgiving in uneven terrain. However the Season Forma does an amazing job for it's flex. Hard micro bumpy snow was fine, Messy tracked up snow (within reason) was fine too. It turned pretty well in the occasional bump run too.
Edge Hold
The Season Forma doesn't have any disruption in the sidecut but it holds and edge pretty well. It isn't as good as some with a disrupted sidecut in hard to icy snow but it doesn't grab in soft snow either.
Turn Initiation
I thought this little wide guy would be slower edge to edge but my size 9's could initiate a moderate but really predictable and fun turn. Making quick short turns on the Season Forma was pretty fun. It turned faster in powder and it worked well for me in all but really tight tree runs.
Turning Experience/Carving
So when you get the Season Forma on edge that is when the magic happens. There is soo much drive and spring out of a turn. It has a deep sidecut that does really well on a committed circle carve. However it could make long drawn out S-Turns really well. This is a really diverse taint tickling turner. It was probably my favorite board to turn last season and I'm smiling while I type this up.
Powder
I was a bit worried about how all the Season Forma's camber would do in powder but it surprised me. The long nose helped, the taper helped and the moderate swallow tail helped too. However, I think what helped the most was the massive setback on board. At a 22" reference stance you could set it back -8.75". The 22" stance width is the same set all the way back at 10.25" as well. That is massive and I think that is why it could handle knee high pow without even trying. It isn't quite as good as some of it's peers but man it does well for all that camber. Old school riders will love this.
Conclusion
So the Forma has a lot of consequence if you get off your game but man what a satisfying board to turn. Like I said in the vid, this was one of the highlights of my season. It even did really well in powder.
Season Company Information
Season Forma User Reviews
If you can't buy through the links above, you can support the site with: