Korua Pin Tonic Snowboard Review
| | |
| --- | --- |
| Riding Style | Snowsurf |
| Riding Level | Advanced - Expert |
| Fits Boot size (US) | 8-10, 10-12, > 12 |
| Manufactured in | Poland |
| Shape | Tapered Directional |
| Camber Profile | Directional Camber |
| Stance | Setback -20mm |
| Approx. Weight | Feels Heavy |
| Split | |
| | |
| --- | --- |
| On Snow Feel | |
| Turn Initiation | |
| Skidded Turns | |
Where To Buy
80% of outdoor sports products are not listed or sold online.
Our team has relationships with hundreds of local snowboarding and outdoor sports shops.
We'll call the shops and email you a list of stores along with pricing and availability.
---
Not sure what to buy?
Get custom advice from Good Ride editors James and Steph.

Get Advice
Korua Pin Tonic 2024 Review by The Good Ride
Korua Pin Tonic Snowboard Video and Written Review
Welcome to the Korua Pin Tonic Snowboard Review from average riders with extensive board knowledge and an exceptionally objective perspective.
Positives/Swipe Right: Floats like its big and turns like its small. Excellent low angle pow float. Pretty fun to turn on groomers.
Negatives/Swipe Left: Not much ideal for beginners or intermediates.
Summary
The Korua Pin Tonic's marketing statement about this board is legit. I basically wrote this statement before going to their site and then realized I pretty much said the same thing. It has a very easy turning small board feel on snow but still has excellent float for a board this size. This is the kind of board I like to ride when its 2-4 feet of pow but I also had a pretty fun time turning on groomers.
Ethics Statement: We don't get paid by the manufacturer to write these reviews and this is our unfiltered opinion. We do make money from the "Where To Buy" links, but this is our best attempt at an honest and objective review from an average riders' perspective.
A Breakdown Of How It Rides And Who Its For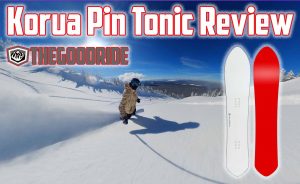 How This Korua Pintonic Review Happened:
Liked it so much, asked to keep it (only do this with favorites).
Size: 164 & 172
Days: 10+ combined but many more coming now that we own it.
Conditions: Everything from good groomers to slightly firm to decent pow to really good pow along with early morning slackountry time with Drift Boards & Union Rovers
Riders: James (Size 9, 5'10" 185-190lbs), Davey (Size 12, 240lbs, 6'4")
Boots: Ride Torrent, Ride Fuse, Ride Deadbolt, Burton Tourist
Insoles: F.I.T. Gamechangers
Bindings: Union Atlas, Union Force
Redunancy: Strapins in case boots or bindings break.
Jacket: Jones Mtn Surf Anorak, Jones Shralpinist Stretch Jacket
Pant: Jones Mountain Surf Bib, Jones Shralpinist Stretch Bib
Helmet: Smith Maze
Goggle: Smith 4D Mag
Gloves: Burton AK Clutch Mitt, Burton AK Tech Leather Glove, Drop Tahoma Mitt,
Similar Boards We Like (but not the same): Korua Dart, Korua Café Racer, Weston Japow, Moss Jellyfish, Gentemstick Barracuda, Soul Shift, Nidecker Beta
James's Set Up: 21.5" Wide. Sance Angles +18/-3,+24/+6, +27/+9 back. Close to Reference on groomers and Set all the way back in powder.
Davey's Set Up: 23" Wide. Sance Angles +18/-3, +18/+3, +24/+6. Close to Reference on groomers and Set all the way back in powder.
How It Was Tested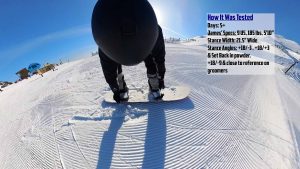 I often compared this same day to the Korua Pencil, Café Racer and Café Racer Plus.
Approximate Weight
It's a big board and it doesn't feel light. It feels heavy but only because of the size and surface area. (We don't put in the exact weight because with wood cores there is no consistency in a boards weight)
Sizing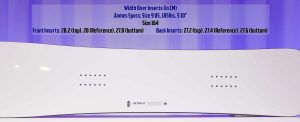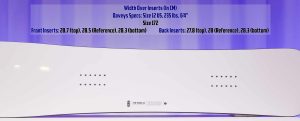 Here are some ideal US boot sizes for these boards. You can of course go bigger or smaller depending on your riding style and boot's footprint, but these work best for not turning the board slower than it should be and not having the dreaded Toe & Heel Drag.
164: 9-11
172: 11-13
For weight I would stay close to the Brands recommended weight ranges but its ok to go over. With Korua its not that critical to keep the width with your boot size.
Shape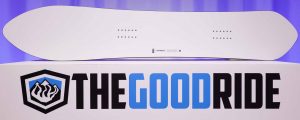 Very tapered and directional. Because of the difference in size between the nose and tail you have much more set back on board. My 164 Korua Pin Tonic looks like the 164 Pencil with a Pin Tail but on snow it feels more set back, more directional and a little more turny. Especially doing the same run with the same bindings. It feels a little smaller too. The 172 is very similar but just much longer and a little wider. Davey had fun really leaning into the back foot turning and I had a lot of fun driving off the front foot.
Camber/On Snow Feel/Ability Level

Same float camber as most of the other Classic Models with camber almost to the tail but transitioning to a decent amount of rocker before the board. It's pretty technical but not as much as you would think vs. full camber or for this length. You do feel that taper in the sidecut but it's not twitchy or hooky.
Flex Personality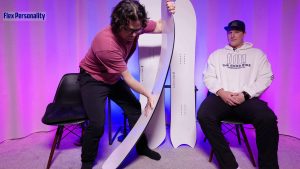 The Korua Pin Tonic is pretty stiff from the tail to about where the rocker begins. Then the flex goes to more of a medium flex. I was surprised that with just a little work you can butter on the tail well enough but it wheelied up pretty easy in powder. To get the Korua Pin Tonic to ollie takes a little work but when you do it pops. You feel really far back on the tail so its not the best for lots of air. Its no Transition Finder or Otto.
Uneven Terrain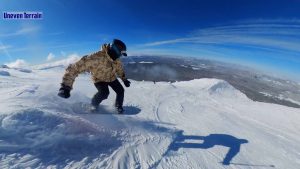 In hard micro bumpy snow it's not bad but that might be its weakest point. The Korua Pin Tonic handles soft uneven snow very well. It turns through bumps for its size pretty well too.
Edge Hold
Very competent grip. There are some slight variations between some of the boards like the Pencil and Café Racer who have a touch more grip but they are all pretty close. Good up to hard snow but not ice specialists.
Speed
I felt a little too far back on the tail to really point it but the speed is very good for this much taper and sidecut.
Base Glide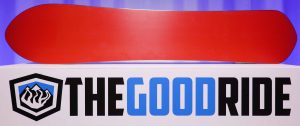 Yeah the plus models in Korua's line are faster but this is pretty fast and has a great powder/easy good snow glide tune to it.
Turning Experience/Carving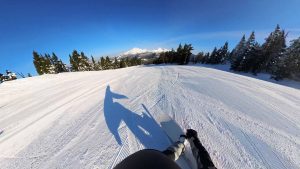 I couldn't believe how quickly a board this wide turned. Korua jus makes em feel quicker when wider. Just like when I tried to size down to the 159 Pencil from the 164 I felt like I was on a toy board. It felt soo small and wrong. I couldn't wait to get back on the 164
So I personally got a lot more out of the Pencil and even more so out of the Café' Racer but the Korua Pin Tonic does have it's own cool turning experience. It is much more turny than you would think for an 8.2 (164) and 8.6 (172) meter sidecut. It across the groomer carves and circle carves really well but it can still make some down the line/narrower turns. I personally liked riding this +27/+9 and weighting it pretty hard off the front foot best but I could back foot weight it pretty well too. I couldn't back foot carve as easy as the Pencil
Davey really summed it up well with how he back foot weighted the carves with a posi stance as well. He really leaned into it and engaged the tail through most of the turn. He said it felt really unique compared to most boards he rode and also felt like he could feel a really smooth transition through that pin tail.
Powder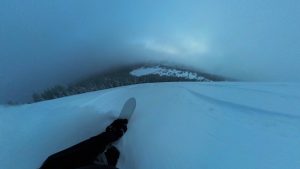 The Korua Pin Tonic is a pretty amazing low angle pow ride. Especially for a board with this much camber. I felt like it was an equal to the Dart but only better in low angle pow due to its longer length. It turns so quickly in the trees too which I wasn't expecting.
So like the Pencil it has almost the same set back on board of -6.25" @ a 21.75" stance width. That is if you measure from the end of the very shallow somewhat swallow tail. If you measure from the middle of the Pencil's tail where it swoops in there is more set back. But here is the thing. The Pin Tonic feels more set back and has less tail in pow than the Pencil. There just isn't that much tail happening with a pin tail like this so it just sinks in pow. The Dart sinks a little more and this longer length planes a little better but don't misunderstand Davey in the vid. This tail easily sinks and the nose really rises up easy.
Final Thoughts
So I really thought the Korua Pin Tonic would be a Pencil with a pin tail but this really had its own unique ride.
If this review helped, we'd appreciate if you:
Korua Pin Tonic User Reviews
If you can't buy through the links above, you can support the site with: