Jones Frontier 2020 -2023 Snowboard Review
| | |
| --- | --- |
| Riding Style | All Mountain |
| Riding Level | Beginner - Expert |
| Fits Boot size (US) | 8-10, 10-12 |
| Manufactured in | Dubai by SWS |
| Shape | Directional |
| Camber Profile | Hybrid Camber |
| Stance | Setback over 20mm |
| Approx. Weight | Feels Normal |
| Split | Comes in split |
| | |
| --- | --- |
| On Snow Feel | |
| Turn Initiation | |
| Skidded Turns | |
Where To Buy
No obligation, but these links & ads support the site.
Jones Frontier 2023 - 2020 Review by The Good Ride
Jones Frontier 2020-2023 Snowboard Video and Written Review
Here we have the Jones Frontier the Snowboard Review from an average but objective perspective.
Update: The Jones Frontier has not changed from 2020-2023 so this review still stands and is still current. 
The Jones Frontier continues on where the Explorer left off and it is very similar to that ride. Like it's predecessor, it is very recommendable for those that want an all-mountain/one board quiver ride that leans a little more on the directional freeride side of the spectrum.
Ethics Statement: We don't get paid by the manufacturer to write these reviews.  We do make money from the "Where To Buy" links, but this is our best attempt at an honest and objective review from an average riders' perspective.
How The Jones Frontier Review Happened:  We borrowed this for an extended demo and then returned it.
Size: 162
Days: 3
Conditions:  Some really good groomers after a storm, some pretty wet/thick powder and an early morning slackountry time with Drift Boards in some pretty decent powder.
Riders: James (Size 9, 5'10" 185-195lbs), Peter (Size 8, 5'11" 185lbs)
Boots: Adidas Tactical ADV
Insoles: Sandsole Custom Insoles,  Footprint Insole Technology Gameghangers Low Profile
Bindings: Union Atlas, Union Strata, Now Drive
Similar Boards (but not the same) That We Compared This To:
Jones Flagship, Jones Mountain Twin
Set-Up: 22" Wide. 18 front -9 back and close to reference. Set as far back as we could with a 22" wide stance 21 front -3 back.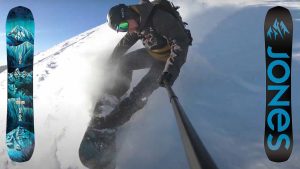 Approximate Weight
Feels pretty normal. Not heavy or light.
Sizing
The 162 felt a little big but doable. The 159 would have been great for my specs and my size 9 boots would have turned it a little faster. Still, the Jones Frontier can match up well with boot sizes 8-10 in the regular range and do pretty well with 10 to 12 in the wides.
Flex/Buttering
The flex definitely feels like a bump up from the Jones Mountain Twin but a little softer than the Flagship. It's got good pop in relation to the hybrid camber that ends just past the bindings. So it's not a super lively board but not dead by any means either.
On Snow Feel/Ability Level/Skidded Turns
The Jones Frontier, and it's predecessor the Explorer, is its ability to be forgiving but consistent underfoot in all conditions you want to ride. The camber between the feet going to rocker after makes for a very stable ride to one foot off a chair lift or flat base down a long flat run very well. You can skid turns very easy with this ride and it works with riders of any ability level without being boring if you are an advanced to expert rider on a budget.
Edge Hold
This mellow mag is pretty mellow but the Jones Frontier still grips well in hard to even borderline icy snow and doesn't grab in soft snow.
Turn Initiation
Faster than the Jones Mountain Twin for sure and you can get this board to react pretty quickly to initiate a turn and it responds quickly in tight spots. Once you are on edge the Jones Frontier doesn't make super tight circle carves but it seems like it's there for you with any kind of radius turn you want to make.
Turning Experience/Carving
There isn't a ton of camber in comparison to many rides out there these days but it's almost always a trade-off between having a fun turning/carving experience and a forgiving ride. You can layout hard carving turns in most conditions though and it does a good job for what it is.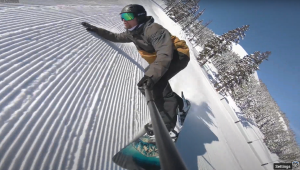 Powder
The Jones Frontier is one of the better all-mountain boards out there. It is a little bit better than the Jones Mountain Twin for directional float but a bit behind the Flagship.that has a good bit of taper for 2020 and set's further back on board as well. Still, at a 22.75″ stance width the Jones Frontier has a difference between nose/tail of 4.5″ and a set back from the center of the board of 2.25″ which is pretty good for an all-mountain board.
There is more surface area in the nose than the tail as well. If you haven't heard enough about powder already here is more as well as Peter's take after multiple drinks on the last night he was with me for the season. Can't wait to have that lad back next season.
Speed
The base of the Jones Frontier, although not as high end as some in the Jones line, glides really well. It keeps its speed better than most in this price range as well as many above it. It is also stiffer and damper than the Jones Mountain Twin so it can do well for those who like to bomb.
Uneven Terrain
Powers over uneven snow well and weaves around bumps pretty well too. Great for all-day crowded resort riding.
Switch
The Jones Mountain Twin is better for riding switch and this has a pretty directional feel to it. Still, the Jones Frontier is fine for anyone who wants to ride switch and after a little time, you can get used to it.
Jumps
Same thing with the Mountain Twin here if you plan to take off and land switch/fakie. The Jones Frontier is no slouch though and the stiffer flex can help you go a little bigger than the mountain twin if you have a health insurance policy to match.
Jibbing
Not a great jibber. Pretty stiff.
Pipe
The Jones Frontier can ride pipe pretty well thanks to the edge hold, quickish turn initiation and I have had fun riding the pipe on this and the older model Explorer.
Conclusion
The Jones Frontier sits nicely in between the Jones Mountain Twin and Flagship. I wouldn't consider this as a beginner/intermediate board. I would consider it as a more damp more directional version of the Mountain twin for riders of all levels.
If this review helped, we'd appreciate if you:
Jones Frontier User Reviews
Jones Frontier 2020 -2023 Snowboard Review
SKU
UPC
Model
Great 1st Board
Mar 18, 2020
by
Kitari
Ability Level: Intermediate •
Riding Style: Freeride •
Days You Ride A Year: 10 •
Height, Weight And Boot Size (for Boards, Boots & Bindings): 178cm, 110kg, 9.5US
Picked up a 165 Jones Frontier as my first snowboard (I've done a few trips with rental gear before), and I love it.
We just got back from a week in Japan, seeing all kinds of snow from Ice to 40cm powder, and it's a great all-rounder to deal with everything.
I moved from skidding turns to finally learning to carve on this thing (only board I've ever carved on, so no other context to this) - I'd definitely agree with the review that it's fairly mellow when carving turns on the groomers - there's not a huge amount of pop and it doesn't really want to turn super-hard, but it's super forgiving, and you really feel that you did something very wrong when you stack it on this.
We had a couple of decent powder days, and I tried setting it back as far as I could - it floated okay, I guess but didn't really feel that it was gliding on top (to be fair, I'm a pretty heavy guy, so I sink fast).
Likewise, a couple of days had really choppy icy slopes, and this just powered through, dampened the shock and saved the knees nicely.
Swapping boards around with other on the trip, everyone agreed that this board wants to go fast compared to everything else we tried - it really does pick up speed quick, and was great fun for bombing.
Overall, a great board for an intermediate freeride wannabe to pick up and learn to carve on.

---
THANKS FOR YOUR ADVISE
Jan 02, 2020
by
Oleg
Ability Level: Intermediate •
Riding Style: SHRED, NO SKID •
Days You Ride A Year: 20-40 •
Height, Weight And Boot Size (for Boards, Boots & Bindings): 182 cm, 77-80 kg, 9.5 US
Dear James! Many thanks for you brilliant advise to replace my old camber Lib TRS to Jones Frontier. Now I can shred at any speed and control board 100% even slowly. Now I can ride in the same manner but nearly effortless. Board do not push me to accelerate more and more to be on carve as used to be with pure camber. There is less edge hold on ice but still reasonable. The only I have not tried is to push it to maximum speed yet. But for this reason I have my 10 y.o. old school Lib TRS. Many thank and Happy New Year!

---
If you can't buy through the links above, you can support the site with: