Cardiff Crane 2020-2023 Snowboard Review
| | |
| --- | --- |
| Riding Style | All Mountain |
| Riding Level | Intermediate - Expert |
| Fits Boot size (US) | 8-10, 10-12 |
| Manufactured in | China |
| Shape | Tapered Directional |
| Camber Profile | Hybrid Camber |
| Stance | Setback -20mm |
| Approx. Weight | Feels Normal |
| Split | Comes in split |
| | |
| --- | --- |
| On Snow Feel | |
| Turn Initiation | |
| Skidded Turns | |
Where To Buy
No obligation, but these links & ads support the site.
Cardiff Crane 2023 - 2021 Review by The Good Ride
Update 2023: The Cardiff Crane has not changed since 2021 so this review still stands. They did add more sizes though. 
Turn Ons/Swipe Right: Stable, Good Pop, Tracks well into Jumps. Rides Switch well for having a little taper.
Turn Offs/Swipe Left: Turn Initiation a little slow for its size.
Summary
The Cardiff Crane offers up a slightly tapered all mountain one board quiver ride that appeals to a mid/wide footer that see's a little more powder than most.
Ethics Statement: We don't get paid by the manufacturer to write these reviews and this is our unfiltered opinion. We do make money from the "Where To Buy" links, but this is our best attempt at an honest and objective review from an average riders' perspective.
Cardiff Crane 2021-2023 Snowboard Review- How it rides and who it is for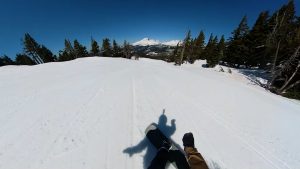 How This Review Happened:
We borrowed this for an extended demo and sent it back.
Size: 154
Days: 4+
Conditions: Spring Conditions but it felt better than it looked.
Riders: James (Size 9, 5'10" 185-190lbs) & Clint (Size 10, 175lbs 5'11")
Boots: Burton Kendo, Burton Ion
Insoles: Sandsole Custom Insoles, F.I.T. Gamechangers, F.I.T. Gameghangers LP
Bindings: Union Atlas, Union Contact Pro/Union Superpro,
Jacket: Burton AK Gore-Tex Pro 3L Tusk Jacket, Volcom TDF Infuse 3L Gore-Tex Jacket, Burton Banshee Gore-Tex Jacket
Pant: Burton AK Gore-Tex Pro 3L Hover Pant, Burton AK Gore-Tex 2L Swash Pant, Burton Gore-Tex Ballast Pant
Helmet: Smith Maze, Smith Vantage
Goggle: Smith IO Mag, Smith 4D Mag
Gloves: Burton AK Guide Glove, Burton AK Clutch Mitt, Burton AK Tech Leather Glove, Burton AK Tech Glove,
Similar Boards (but not the same):
Korua Otto, Lib Tech Terrain Wrecker, Capita Mercury, Capita BSOD, Jones Mountain Twin, K2 Manifest, Jones Frontier, Ride Algorythm, Ride Wild Life, Yes Basic Uninc 158
Set-Up: 21.5" Wide. 18 front -9 back & 15 front -15 back. Close to Reference
Approximate Weight:
(We don't put in the exact weight because with wood cores there is no consistency in a boards weight)
Felt normal for a 154. Not to heavy and not too light.
Sizing
Here are some ideal US boot sizes for these boards. You can of course go bigger or smaller but these work best for not turning the board slower than it should be and not having the dreaded Toe & Heel Drag.
154: 9-10
158: 10-11
162: 11-12
The 154 Cardiff Crane worked no problem for my weight. I was actually too heavy at 190-195lbs. The 158 felt right for my weight but it felt slow with my size 9 boots. I think this sizing matches up better with more of a mid/wide boot. The 158 was a touch slow for Clint (size 10 boots) as well but it was more manageable.
Shape/Camber/On Snow Feel/Ability Level
There is only a little taper (2.5mm) so the Cardiff Crane feels pretty close to a double ender. It has a pretty centered ride. I compared it to the Jones Mountain Twin. It obviously felt more directional but it was way closer to the JMT than I thought it would be.

The Camber underfoot is not super pronounced but goes a good bit past the inserts to give it a stable but not locked in feel. It one footed and flat based really well. You could skid a turn pretty easy with this. Especially if you match the boards width to your boot size.
Flex/Pop/Buttering
The Cardiff Crane pops pretty easy for this medium to medium/stiff flex. It has the everyman's ollie power that I truly appreciate. Buttering was more work than we though it would be but it is more than doable. I actually like it to be a little more work compared to most hybrid camber rides. Some give up too easy and you butter right onto your ass.
Speed
The Cardiff Crane, like all Cardiff boards, has a super fast base. It just has an easy glide to it and it is up there with Weston, Jones and other super fast bases we love. This isn't a Bonsai bomber but it has a really stable short distance straight line. It really feels stable tracking into a jump or when you have to point it to make a flat traverse.
Uneven Terrain
The Cardiff Crane isn't a chunder buster but it is a great all day resort ride for those normal snowboarders that slow down when things get uneven. There is a nice balance between being poppy and damp here.
Edge Hold
The Cardiff Crane has pretty competent grip without being grabby at all.
Turn Initiation
So even the 154 was a little slow for me but it was more than manageable at this size. It got where I wanted it to go and while it wasn't fast it was smooth and predictable.
Turning Experience/Carving
I really liked how this turns for a 154 and also liked how it turned in a 158 split. It is not a super hard carver but you can for sure lay it over. The overall turning experience is fun. It definitely lies on the more turny side but doesn't stray away from more longer narrower down the line high speed turns either. Medium to tighter radius across the groomer turns are the sweet spot for sure.
Powder
With a set back on board of -1.625 on reference and -2.675 set all the way back with both at a 22" stance width the Cardiff Crane has pretty good directional float for an all mountain ride. You factor in the bigger nose and the little bit of taper it should do really well compared to most of it's peers.
Switch/Mtn Freestyle
Very doable Switch. I also took the Cardiff Crane in the pipe and it did well. That being said I just carved the walls. I think this is best for kickers of any size. It tracks soo well into the small hits we did you can see this can go exponentially bigger.
Conclusion
Overall, the Cardiff Crane is a very versatile mid/wide one board quiver that can do a little better in powder than most All Mountain boards.
Cardiff Crane User Reviews
Cardiff Crane 2020-2023 Snowboard Review
SKU
UPC
Model
Elegance in motion
Jan 09, 2022
by
Grant
Ability Level: I can rip •
Riding Style: Freeride •
Days You Ride A Year: 50 •
Height, Weight And Boot Size (for Boards, Boots & Bindings): 5,7" - 165 - 10.5
For me, this is about as close to a unicorn quiver board as I have ever found. It is a really really nice board - so well conceived! I'm more a free-rider than anything else, but at a late age, I've decided to have fun working on my pops, spins, butters, rolls... and incorporating that it into what has normally been a carve and fly style of freeride. I'm in trees. I'm in bumps. I'm on steeps and I ride fast. That's the foundation I'm coming from. At 55, I'm a little more mellow, and I want to ride more playfully now. The Crane is perfect for what I'm trying to build into my game. So.. here's what I know. I've had it in steep 2' bottomless. I've had it on a couple lower gradient 1' pow days and I've had it on a couple days of soft groomers lined with side hits. I'm too old to ride hard conditions any more. First - Don't be fooled by the specs - The Crane is amazing in powder. When I rode the 2' day, I had my front foot back, and my back foot centered. I wasn't even shifted all the way back. ( I ride between 10 and 15 matching positive/negative front/back, and I ride a little oversized - I'm on the 162 ) I never once had trouble with the nose staying afloat. It has a big nose with a nice soft rocker flex. Its soft but its also stable and easily dealt with how steep the terrain was - even when I really needed a hard carve. Honestly - I couldn't believe how fun it was to ride in deep cold pow. Blew me away! I never thought it would ride that well bc it has so little taper. However, the setback, the nose and the medium flex make it a great pow board. Its not a fast turner - bc of the medium flex - but in good snow, I had a great time in the trees and was never nervous or off balance. On my groomer days, I had a ton of fun carving, spinning 180s to switch and ollying off side hits. Crane is a very good name for this board. The board truly rides with elegance and grace. Its just moves and turns so beautifully. But don't be fooled and think its just for mellow riding. Its got a big ass end, and its got some sass in that ass. Super Poppy Tail!! - so fun to jump with, and the wide base tracks so well into and out of jumps. Just a fucking blast. Very playful. It is set back a bit (I think -20), but it rides switch really really well. I just leaned back a tiny ways to make up the difference and was making top to bottom runs with ease practicing my switch. I'm not all that great at buttering yet, but the nose is big, blunt, soft and perfect for it. The tail takes a little more work to hold a butter, but its awesome for popping out of them or just ollying all over the mountain. The base? DO NOT underestimate how awesome it is to have a really good base. (I used to ride hard-boots and ride with skiers, so I've always had really nice sintered bases so that I could keep up) This is the fastest base I've ridden and a base this good is an awesome awesome bonus that can't be discounted. The Crane picks up speed very fast, and will carry you through the worst of flat cats. Its even easy to speed it up on a cat track if you know how to use leverage and a little rear butter to gain speed. So.. those are the good things. I LOVE this board. When the snow is good - its is a dream in so many ways. Where I'm glad its part of my quiver, and why its not truly a one-board quiver for me, is when all the steep freeride runs I like get chopped up and hit by weather or wind. Once the steep stuff gets uneven and unpredictable, I want a stiffer board with more taper. I haven't ridden it, but I assume The Cardiff Goat would be perfect for that stuff. TRUTH - there really is no "one-board" quiver out there. I don't care what anyone says. So.. I did ok in the chop and the variable pow conditions of second and third day riding, but I definitely took a little something off the throttle to check my speed. If you find yourself in steep, uneven terrain with bumps and carved out trees where you might need to slash side to side a couple times to kill speed, this board isn't as quick edge to edge as I'd prefer. But.. The oh so graceful crane is dialed the fuck in if you hit fresh snow or nice groomers. Its pretty much other-level riding in those cases. You'll hear some people say that all boards ride great in champagne powder. But like Jesus turned water into wine - The Crane turns every day champagne into Dom Perignon. If you appreciate how fun it is to turn and carve on a snowboard, and if you like landing/riding switch and ollying off everything you see.... get out your fucking credit card, Bruh and just make it happen!!

I hope this helps. Peace and tight turns, y'All!

---
If you can't buy through the links above, you can support the site with: